Marvel Select: Phoenix Action Figure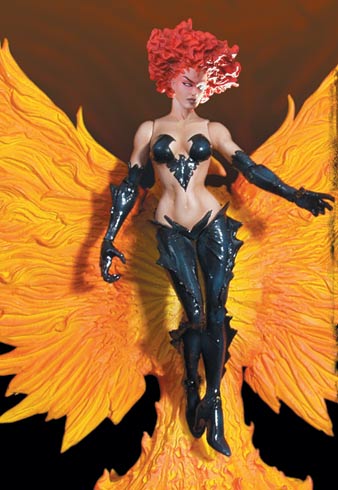 click to see larger image (102k, 675 x 978)
August 2004
MARVEL SELECT: NEW X-MEN "HERE COMES TOMORROW" PHOENIX ACTION FIGURE

A Diamond Select Release! Once again sacrificing her life in the line of duty, Jean Grey – the X-Man codenamed "Phoenix" – gave husband Scott Summers her blessing to "go on" with his life, while returning 150 years later in a shattered future where the evil Beast uses mutants as experimental weapons in his war against the world's remaining city-states. The key to the villain's success? Control of the Phoenix entity and her limitless powers.

Now, Diamond Select presents this amazing version of Phoenix from Grant Morrison and Marc Silvestri's fan-favorite story arc, "Here Comes Tomorrow" (New X-Men #151-154). Sculpted by Sam Greenwell, this figure is available as both human and fiery versions, which come with "Phoenix Effect" accessories, and are evenly packed in the assortment.
Not available in mass-market outlets – and boasting deluxe blister card packaging – these all-new figures are in scale with the rest of the best-selling Marvel Select action figure line. In stores January 2005!

The suggested retail price is $18.99.