G.I. Joe: Real American Hero To Return To Toy Stores?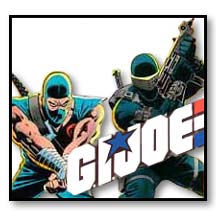 YoJoe.com is reporting that Hasbro has announced, via the G.I.Joe Collectors Club Newsletter, that the 3-3/4" G.I.Joe - Real American Hero line will be making a return to toy store shelves sometime in 2000.

Five separate 2 packs of the popular action figures will see a wide (i.e. non-exclusive) release later this year, according to the report. Be on the lookout for:

G.I.Joe Two-Packs

Snake Eyes and Storm Shadow

Dusty and Law & Order

General Tomahawk and Dial-Tone

Cobra Two-Packs


Cobra Commander and Chameleon

Firefly and Undertow
The only vehicle to accompany the figures will be the M.O.B.A.T. with Thunderwing and Heavy Duty.
Nothing else is known about the figures at this time. This isn't the first attempted re-release of this classic toyline. Toys R Us had some exclusive repainted figures a few years back that met with a less than enthusiastic response from collectors due to the sub-par quality of the plastic used. Will this line prove any different? Will there be any new sculpts? We will just have to wait until more information becomes available, perhaps at the Gung Ho For G.I. Joe Convention being held in Irvine, California from June 22 - 25.
[Updated 5/03/2000]