Legally Blonde 2: Barbie as Elle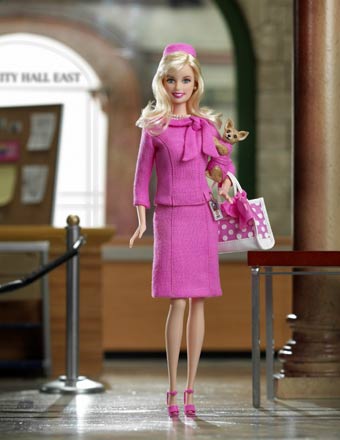 EL SEGUNDO, Calif. -- May 13, 2003 -- Fashionistas and politicos alike, look out! Elle Woods is back, and this time she is ready to work her "pink" magic in Washington, D.C., in MGM Pictures' sure-to-be summer blockbuster "Legally Blonde 2: Red, White and Blonde." Always the first to support her fellow smart, sassy and fashion-forward sisters, Barbie® doll is proud to pay homage to this blonde go-getter with the collectible "Barbie® Doll as Elle Woods."

Following on the "heels" of MGM's original box office hit "Legally Blonde," the sequel finds Elle as a rising young lawyer ready to battle animal testing on Capitol Hill. She is still with her boyfriend, Emmett... is never separated from her beloved dog, Bruiser... and still has that identifiable flair for fashion. Recognizing Elle's dedication to causes she believes in and her refusal to compromise her signature pink style -- no matter the occasion -- Barbie® doll pays tribute to the "other" blonde style maven who has a desire to make a difference.

"When she first saw 'Legally Blonde', Barbie® was thrilled with the positive message it sent to young girls about believing in their dreams and achieving goals they set for themselves," said Ria Freydl, Barbie® doll's publicist. "She is proud to be associated with the sequel 'Legally Blonde 2: Red, White and Blonde', and hopes her homage to a strong female character like Elle Woods will further the movie's message that you can have both substance -- and style."

"'Legally Blonde' was a tremendous success, and MGM looks forward to building upon that success with the release of 'Legally Blonde 2'," said Travis Rutherford, Senior Vice President, MGM Worldwide Consumer Products and Interactive. "Our partnership with Barbie® further extends the style and fun of the 'Legally Blonde' franchise to consumer products."

Barbie® captures Elle's style from a pivotal scene in the movie when Elle takes her cause to Congress. Mimicking the original design by the film's costume designer, Sophie de Rakoff Carbonell, Barbie® wears a crepe pink suit with a matching pillbox-style hat and strappy pink heels. She accessorizes with tiny pearl-esque earrings and a matching double strand pearl-esque necklace that are reminiscent of the Mikimoto® necklace and earrings seen in the film. She "carries" with her a pink and white polka-dotted tote bag, along with her beloved Chihuahua, who "wears" a matching pink suit. The finishing touch to her politico power suit is her "staff" badge, which she clips to the front of her suit jacket.

"The Barbie® project gave me a chance to celebrate Elle's spirit by making a donation, along with MGM, to the Children's Defense Fund, an organization dedicated to promoting and protecting children's health, education and welfare," said Reese Witherspoon, star of "Legally Blonde 2." "In the same way that Elle goes to Washington to speak for Bruiser and his mom, the CDF works to provide a strong effective voice for all the children of America, who cannot vote, speak or lobby for themselves."

Elle's future as a star on the D.C. scene will be summed up when "Legally Blonde 2: Red, White and Blonde" is released July 2, 2003. Without having to choose which "party" to go to in D.C., girls everywhere can play out the fun over and over again with the collectible "Barbie® Doll as Elle Woods," to be available in June at retailers nationwide for a suggested retail price of $19.99.

MGM Consumer Products and Reese Witherspoon have agreed to make a donation to the Children's Defense Fund.

About "Legally Blonde 2: Red, White and Blonde"

Reese Witherspoon is back as Elle Woods in MGM Pictures' "Legally Blonde 2: Red, White and Blonde." The film also stars Sally Field, Regina King, Jennifer Coolidge and Bruce McGill, with Bob Newhart and Luke Wilson. Directed by Charles Herman-Wurmfeld and produced by Marc Platt and David Nicksay, the screenplay is by Kate Kondell from a story by Eve Ahlert & Dennis Drake and Kondell, based on the characters from the novel by Amanda Brown.

About Mattel Girls Brands

Since the Barbie® doll's launch in 1959 as a paper-doll-inspired friend, she has firmly established herself as the most popular fashion doll ever introduced. For more than four decades, Mattel has maintained Barbie® doll's popularity by adapting her look, lifestyle and fashions to meet changing times, while evolving her world into an overall lifestyle brand for girls. While the Barbie® Brand represents Mattel's initial roots in girls' toys, Mattel Brands has several best-selling girls brands, including My Scene(TM), Polly Pocket!® and ello(TM). A natural extension of the brands to the online world, Mattel Interactive Group provides girls of the 21st century a new way to interact with their favorite toys through web sites and licensed Mattel-branded interactive software and video game titles.

Polly Pocket! (R) Used under license from Origin Products Ltd. and Bluebird Toys (UK) Ltd. (C) 2003 Origin Products Ltd. All Rights Reserved.

About Mattel

Mattel, Inc., (www.mattel.com) is the worldwide leader in the design, manufacture and marketing of toys and family products, including Barbie®, the most popular fashion doll ever introduced. Leading the toy category, the Mattel family is composed of such best-selling brands as Hot Wheels®, Matchbox®, American Girl®, Tyco® R/C, as well as Fisher-Price brands (www.fisher-price.com), including Little People®, Rescue Heroes(TM), Power Wheels® and a wide array of entertainment-inspired toy lines. With worldwide headquarters in El Segundo, Calif., Mattel employs more than 27,000 people in 36 countries and sells products in more than 150 nations throughout the world. The Mattel vision is to be the world's premier toy brands -- today and tomorrow.

About MGM

MGM Consumer Products manages Metro-Goldwyn-Mayer Studio Inc.'s retail and brand-development activities and the worldwide licensing and merchandising of MGM and United Artists characters, properties and logos.

Metro-Goldwyn-Mayer Inc., through its Metro-Goldwyn-Mayer Studios Inc. subsidiary, is actively engaged in the worldwide production and distribution of entertainment product, including motion pictures, television programming, home video, interactive media, music and licensed merchandise. The Company owns the largest modern film library in the world, consisting of approximately 4,000 titles. Its operating units include MGM Pictures, United Artists, MGM Television Entertainment, MGM Networks, MGM Distribution Co., MGM Worldwide Television Distribution, MGM Home Entertainment, MGM On Stage, MGM Consumer Products, MGM Music, MGM Interactive and MGM Online.

In addition, MGM owns a 20 percent equity interest in three of Rainbow Media Holding Inc.'s successful national cable networks: AMC (American Movie Classics), IFC (The Independent Film Channel) and WE: WOMEN'S ENTERTAINMENT, and internationally has ownership interests in television channels reaching almost 100 countries around the globe. For more information on MGM, visit MGM Online at http://www.mgm.com.