James Bond: 14" Jaws Figure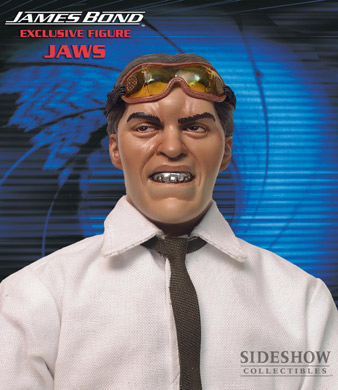 May 7, 2003 - Sideshow Toy has announced a "big" villain in their series of action figures based on James Bond films. Jaws, the memorable steel-toothed assassin from Moonraker and The Spy Who Loved Me was played by Richard Kiel, who is 7'2"... and Sideshow has recreated Jaws as a 14-inch action figure.

The 14-inch Jaws figure will have over 30 points of articulation. He was sculpted by Mat Falls and comes with a tie, dress shirt, trousers, shoes, a hand-altimeter, parachute pack, and goggles.

Jaws is a limited edition figure (edition size not yet determined) which will be shipping in September/October 2003. Jaws will be available in the US exclusively through the Sideshow Toy web site.