Marvel Select Ultimate Venom Figure
April 2003 - Diamond Select Toys has announced the next figure in the Marvel Select line of action figures to be released after the Ultimate Hulk. Ultimate Venom will be the 10th figure in a planned line of 36 total. Venom will come complete with a display base with an unmasked Ultimate Spider-Man stuck to the wall and an opening safe. The figure itself is 7" tall and is slated for an October 2003 release.

NOTE: The Venom figure will have a white spider on him when released but the prototype used for these shots and early ads does not have the spider on it. Diamond Select has informed us it will be on the production figure.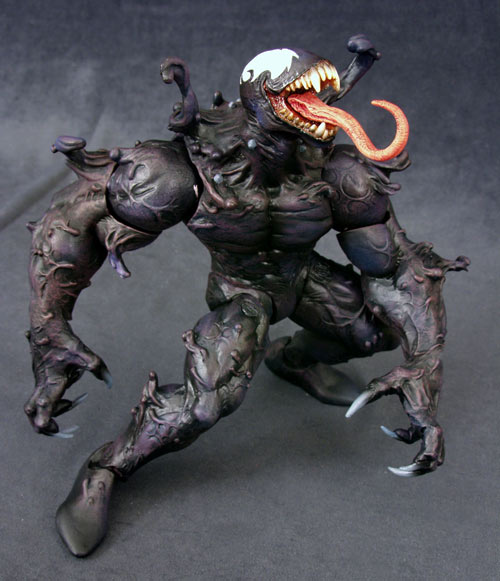 The Ultimate Venom figure was sculpted by Sam Greenwell, who also sculpted the Red Skull and Captain America statues and the Ultimate Spider-Man bust and variant for Diamond Select Toys.

Other figures in the Marvel Select line include Ultimate Spider-Man, Punisher, Elektra, Ultimate WW2 Captain America, Black Widow and Origin Wolverine, all of which are available. Also in the line are the Black Cat (mid-May 2003), Ultimate Iron Man (June 2003) and Ultimate Hulk (Release TBD).

Marvel Select is a joint venture between Diamond Select Toys and Toy Biz.