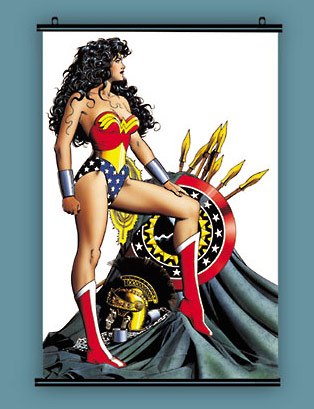 WONDER WOMAN WALL SCROLL
Art by Brian Bolland
Advance solicited; in stores May 21. Wonder Woman, the beautiful Amazon princess known to the world as the mighty warrior for truth and justice, is featured on this stunning wall scroll! Appearing originally on the cover of WONDER WOMAN #72 (March, 1993), this classic image of the Amazing Amazon has come to symbolize both her beauty and strength. This 27" x 40" full color WONDER WOMAN WALL SCROLL is printed on nylon. Wall scroll $19.95.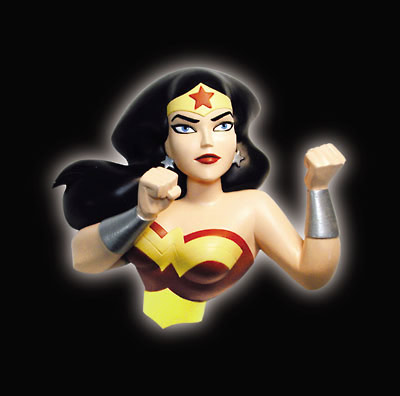 JUSTICE LEAGUE ANIMATED WONDER WOMAN WALL PLAQUE
Sculpted by John G. Mathews
Advance solicited; in stores May 14, 2003. DC Direct's exciting new series of sculpted wall reliefs based on the super heroic stars of the hit Justice League animated series on Cartoon Network continues! The Amazing Amazon Princess Diana stands poised, ready to take on the forces of evil in this plaque that is a fully sculpted, hand-painted, cold-cast porcelain wall relief, measuring approximately 4 3/4" tall, 5" wide and 2 1/4" deep. Other heroes in this series are Batman, Green Lantern, Superman and The Flash. Liven up your walls! Collect all five in 2003! Packaged in a 4-color box. Wall Plaque $39.95.