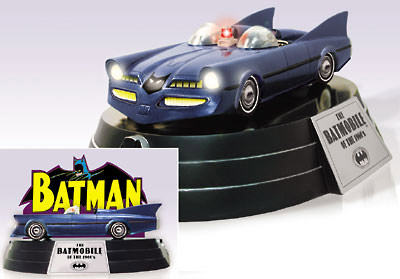 BATMOBILE REPLICA: 1960s EDITION
Advance-solicited; in stores May 28, 2003. Second in a series! Following the Batmobile Replica: 1950s Edition, DC Direct continues its line of Batmobile Replicas with the 1960s version. Its blinding headlights split the darkness, its powerful engine little more than a hum against the clamor of the Gotham City nights! Now the world-famous car that patrolled Gotham throughout the '60s is brought to life! Based on the classic Batmobile from the comics of the 1960s, this vehicle has an open cockpit to reveal its detailed design and is approximately 10 3/4" long, 4 1/2" wide and 2 1/2" tall, set on a deco-themed base and featuring a 4-color logo backdrop card. It also features light-up headlights, taillights and rear fin lights, siren, rear turbo exhaust, dashboard control panel, center console, and eyes on the Bat-emblem and grill on the front. All the lights work on a 30-second timer. Replica includes a vehicle title and a blueprint suitable for framing. Packaged in a 4-color box. Vehicle replica $195.00.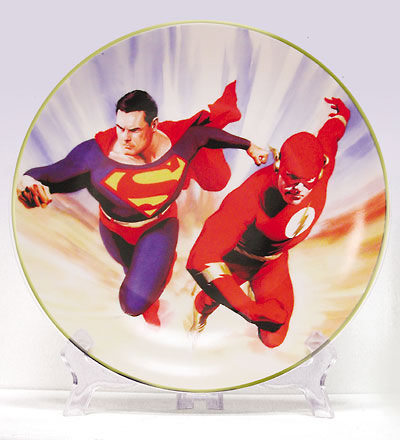 SUPERMAN VS. THE FLASH BY ALEX ROSS COLLECTOR'S PLATE
Painted by Alex Ross
Advance solicited; in stores May 14. It's one of the age-old questions: Who's faster, Superman or The Flash? Now the race to answer that burning mystery is on this stunning Collector's Plate, featuring the Man of Steel and the Fastest Man Alive as they hurtle ahead in a neck-and-neck contest, painted by acclaimed artist Alex Ross. This plate is approximately 10 1/4" in diameter and is edged with a 24-karat gold band. Packaged in a gift box. Collector's Plate $59.95.