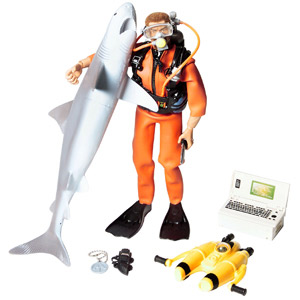 PAWTUCKET, R.I., Aug 22, 2002 -- G.I. JOE, the world's first action figure, is getting a grip -- a KUNG-FU GRIP! Hasbro, Inc. has re-introduced the popular '70s feature -- the KUNG-FU GRIP -- to selected figures throughout its 2002 G.I. JOE line.

These figures continue the reintroduction of the ADVENTURE TEAM, the nostalgic action-adventure segment that pits G.I. JOE against real and imagined adversaries such as sharks, spies, snow monsters, and mummies.

The KUNG-FU GRIP feature is one of the G.I. JOE brand's most well-known innovations. Introduced in 1974, KUNG FU GRIP is marked by soft, flexible, gripping rubber hands, compared to the more traditional hands featured on other G.I. JOE figures. Owing in part to the popularity of martial arts during the 1970s, the new grip was a hit at the time of its original release.

The KUNG-FU GRIP feature left an indelible mark on pop culture, and humorous mentions of it can be heard in movies like Trading Places and Meet the Parents.

"G.I. JOE fans have waited a long time for this. Everyone remembers their ADVENTURE TEAM figures from their childhood, especially the ones with KUNG-FU GRIP, the G.I. JOE signature, gripping rubber action hands. The phrase 'I've got you in my Kung-Fu Grip' was the touchstone of a generation of boys," said Derryl DePriest, Director of Marketing for Hasbro's G.I. JOE brand. "We're really excited about bringing back such a big part of G.I. JOE history for a whole new generation to enjoy."

The first figure fashioned with the new KUNG-FU GRIP is the G.I. JOE Danger of the Depths figure, which comes equipped with all the essential underwater mission gear (approximate retail price $29.99). The figure is now available in stores nationwide. Other figures in the line that will have the new grip are Search for the Yeti (Echo Assortment, approximate retail price $29.99, scheduled to be in stores in September), Undercover Agent (Toys "R" Us exclusive, scheduled to be in stores in October) and Black Spider Rendezvous (Target exclusive, also scheduled to be available in October).

For more information about the G.I. JOE brand, visit www.gijoe.com. For additional information about the Official G.I. JOE Collector's Club, call (817) 448-9863, or visit www.mastercollector.com.

Hasbro (NYSE:HAS) is a worldwide leader in children's and family leisure time entertainment products and services, including the design, manufacture and marketing of games and toys ranging from traditional to high-tech. Both internationally and in the U.S., its PLAYSKOOL, TONKA, MILTON BRADLEY, PARKER BROTHERS, TIGER, and WIZARDS OF THE COAST brands and products provide the highest quality and most recognizable play experiences in the world.