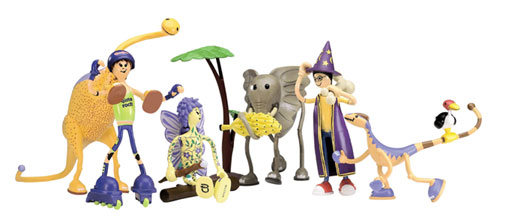 MANCHESTER, N.H., Aug. 15 -- Kid Galaxy, the home of the award-winning whimsical, bendable Bendos® characters, announces the debut of eight totally wild animals. With four brilliantly colored dinosaurs (T-Rex, stegosaurus, velociraptor, apatosaurus) and four winsome safari favorites (zebra, elephant, giraffe, gorilla) to choose from, kids can plan the ultimate animal adventure.

Like all Bendos, these critters are flexible, posable and supremely bendable. From the tips of their tails to the sweep of their necks, Bendos Animals move with kids' imaginations. Whether it's stretching Bata the Apatosaurus to his awesome full 15" length or curling Juju the Giraffe into a somersault, these wiry animals are game for anything. And for extra fun, each comes with a special accessory - be it bird buddy, banana bunch or seriously big bone.

Along with plenty of play value comes collectible charm. Each creature has a playful name, distinctive personality - captured by a trading card included in the package - and caricatured look. From their knobby knees and skinny limbs to their bright button eyes, Bendos Animals have a unique, quirky appeal. And while the four safari animals might just manage to blend in with the real savanna, the vibrant dinosaurs obviously don't plan to fade away again anytime soon. For loudest and proudest, turquoise and orange Frevo the Stegosaurus might just be a match for aqua green and navy Tumba the T-Rex.

Bendos Animals will be available in August with a suggested retail of $4.99 -- $7.99. For the shopper hunting for that perfect, please-any-kid gift, Kid Galaxy® has some simple advice: Go wild!

Kid Galaxy is committed to offering unique, high quality toys for kids and their families The animals join Bendos line-up of action figures as well as vehicles, sport sets and keychains, all designed for kids 3 and up. The company's products also include the award-winning mini RC KG Racer(TM) automites(TM), and My First RC(TM)- a new pre-school line of RC's. These exclusive products can be found at Imaginarium, Learning Express, FAO Schwarz, Amazon.com as well as specialty retailers nationwide. Visit www.kidgalaxy.com for more information.

Bendos® is a registered trademark and KG Racer(TM), automites(TM) and My First RC(TM) are trademarks of Kid Galaxy, Inc.