Malibu Barbie Is Back, with Sunscreen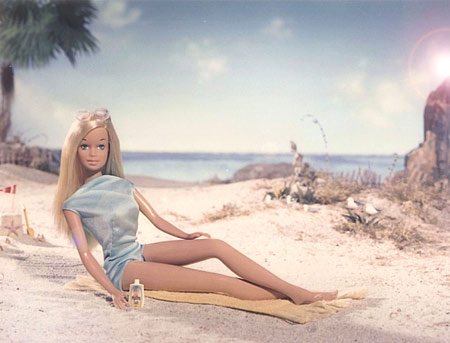 EL SEGUNDO, Calif. (May 16, 2002) - Totally groovy! Totally retro! And, totally Malibu! This year, the best of the seventies' style resurfaces as Malibu Barbie(R) returns to the beach for another day in the sun! A playtime favorite and cultural phenomenon for more than 30 years, this reproduction of Malibu Barbie will rekindle sunny memories for the more than 18 million women whose earliest Barbie(R) doll experience was with this quintessential California beach girl.

Because nothing can replace the sun-kissed skin, pale blue one-piece swimsuit and long, surfboard-straight blonde locks of the original Malibu Barbie, Mattel has replicated the 1971 original to the last detail with this special collector edition. However, this modern-makeover Malibu girl is skin care savvy in 2002 and comes with her own "faux" sunscreen bottle.

"Malibu Barbie was one of the most popular Barbie dolls ever created," said Anne Parducci, senior vice president worldwide marketing, Mattel's Girls Division and Barbie. "Her fame far surpassed playtime, transforming Malibu Barbie into an image that defined the 1970s California look and style. The re-creation of this nostalgic collector doll will allow the more than 67 million women and girls who have played with Barbie doll since her inception, to re-experience this all-time favorite."

Sporting a re-creation of the original blue one-piece bathing suit and yellow towel, Malibu Barbie will bring back beach lovin' memories for women of all ages when displayed in her cool retro package. Reminiscent of the 1971 original, Barbie doll's long, beach-blonde locks are parted to the side in the totally Malibu do. Because she loves to soak up the warm California rays, this modern-day, fun-in-the-sun collectible girl is hip when it comes to sun care - with 70s styled shades and a "faux" sunscreen bottle.

Malibu Barbie doll will be available in May at retailers nationwide for a suggested retail price of $19.95.

About Mattel Girls Division

With more than four decades as the leader in girls' toys with brands including Barbie, American Girl, and Polly Pocket!(TM), Mattel knows what girls want. It all started in 1959 with the Barbie doll's creation. Since then, Barbie has become firmly established as the world's most popular fashion doll and strongest girls' lifestyle brand. This expertise and knowledge has led to the creation of numerous best-selling girls' brands including the most recent additions Diva Starz(TM) and What's Her Face(TM). A natural extension of the brands to the online world, Mattel Girls Interactive Group provides girls of the 21st century a new way to interact with their favorite playmates through brand-specific Web sites - including Barbie.com, KellyClub.com, DivaStarz.com, WhatsHerFace.com, PollyPocket.com, and BarbieCollectibles.com - and licensed Mattel-branded interactive software and video game titles. Headquartered in El Segundo, California, Mattel has offices and facilities in 36 countries and markets its products in more than 150 nations throughout the world.

Mattel, Barbie, American Girl, Diva Starz, What's Her Face and associated trademarks are U.S. trademarks of Mattel, Inc.
(C)2002 Mattel, Inc. All Rights Reserved.
(C)2002 Origin Products Ltd. All Rights Reserved.