SAN FRANCISCO, May 13 -- Adorable and heart-warming Hamtaro and his hamster pals, the Ham-Hams, are coming to America! ShoPro USA, an affiliate of Shogakukan Production Co., Ltd. (ShoPro), will introduce one of Japan's hottest children's properties, Hamtaro, to kids across the United States this Summer. ShoPro, one of the leaders in the development of children's entertainment in Japan, is also a subsidiary of one of Japan's largest publishing companies, Shogakukan, Inc.

"The Hamtaro property has experienced tremendous success in Japan - from the television series to the licensed products, it is one of Japan's strongest children's brands, having exceeded $2.5 billion in retail sales since the television launch in July of 2000," said John Easum, vice president of licensing & sales, ShoPro USA. "Now we are bringing the heartwarming adventures and fun of Hamtaro to the U.S. so that more kids can enjoy this wonderful and endearing property."

Cartoon Network, currently seen in 80.7 million U.S. homes, will premiere Hamtaro on Monday, June 3. The series is scheduled to air weekdays at 7 a.m. and 4 p.m. (ET, PT) during Toonami. The animated television series follows Hamtaro, an insatiably curious hamster, and his group of hamster pals, known a the "Ham-Hams." Ten-year old Laura, Hamtaro's owner, and her friends are not aware that when they head to school, their pet hamsters gather together in their Ham-Ham Clubhouse and plan their next adventure. Most of the time, the Ham-Hams spend their days keeping Laura and her classmates out of trouble, but sometimes the precocious pets find themselves in a dilemma of their own.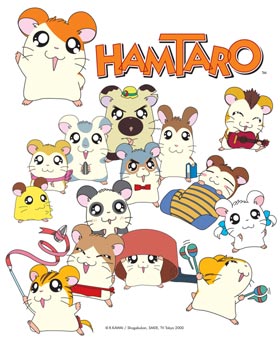 "The television series is just the beginning of our rollout into the United States," added Easum. "Later in the year we will be introducing other product lines including toys, games, home videos, books and video games."

ShoPro USA has already lined up licensing giants Hasbro, Inc. as the toy and game licensee; Nintendo of America Inc. in the video game category; and Viz Communications Inc. for publishing and home video distribution.

Based on the popular illustrated children's storybooks created by Ms. Ritsuko Kawai first published in 1997, the Japanese television series, "Tottoko Hamutaro" was introduced in Japan in July 2000. Since that time, Hamtaro has become one of TV Tokyo's top-rated kids television program.

ShoPro USA will officially introduce the Hamtaro property at the Licensing 2002 International Show June 11-13 in New York City. ShoPro USA is the master licensor for Hamtaro in North and South America. Hamtaro is produced by Shogakukan Music and Digital Entertainment and localized by ShoPro USA. Shogakukan Music and Digital Entertainment is a subsidiary of Shogakukan Production Co., Ltd. The Hamtaro website is located at http://hamtaro.com.