Custom 9" & 12" Scale Heads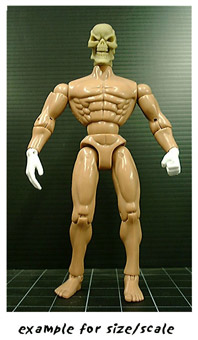 Looking for new heads for your nine-inch action figures (Famous Covers, DC, etc)? How about a zombie, vampire demon, or a mummy head in 1/6th scale (for your 12-inch action figures)? Toxic Mom and Pop to the rescue!

The 9-inch scale heads are designed to fit Famous Covers bodies (shown above), but will also fit other 9-inch action figures.

Click to see the 1/6th Heads
Each of the heads is available for $10 USD, plus $4 shipping for the first head and $1.50 shipping for each additional head in each order. Email [email protected] for more information - they accept personal checks, cashier checks and paypal.

The heads come in the colors pictured and also include a bit of magic sculpt.

All images courtesy of ToxicMom's Sculpting Studio.