Doll That Cries, Snores and Sleeps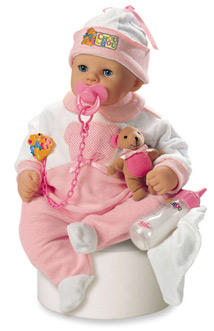 NEW YORK, Nov. 21 -- Joining the ranks of toy legends like Furby and Tickle Me Elmo, this year's only doll in the coveted DURACELL(R) Kids' Choice Toy Survey, Zapf Creation's Rock-A-Bye CHOU CHOU is this season's hottest doll. The doll's lifelike features combined with her true-to-life baby sounds, provides young children with a nurturing experience.

"My daughter held Rock-A-Bye CHOU CHOU and immediately started playing mommy to the baby. She was mesmerized by the real-life look and feel of the doll," said one parent at FAO Schwarz's Rock-A-Bye CHOU CHOU launch earlier this week.

Looking and sounding like a real baby, Rock-A-Bye CHOU CHOU is a high- tech, motion-sensitive doll that randomly responds to interaction with a child. She laughs, snores, cries or babbles - just like a real baby. When Rock-A-Bye CHOU CHOU is given her bottle, she sucks on it ... if you lie her down, she yawns ... rock her and she closes her eyes and falls asleep...pick her up and she wakes up laughing or crying.

With 428,544,000 play dolls sold in the U.S. each year (Source: NPD), dolls are classic gifts that always please and never go out of style. Rock-A-Bye CHOU CHOU also won honors in the holiday 2001 round of The National Parenting Center's and Good Housekeeping's testing by being awarded their "Seals of Approval" and was honored as one of Toy Industry Expert, Dr. Toy's, "Top 10 Products of 2001."

Rock-A-Bye CHOU CHOU is available for the suggested retail price of U.S.$39.99 at FAO Schwarz, Target, Toys R Us, Wal*Mart and online at toysrus.com, kbkids.com, walmart.com, jcpenney.com, target.com and qvc.com. She will also be available in the U.S. on-air with QVC on December 5th and December 7th. You can also find Rock-A-Bye CHOU CHOU in Canada for the suggested retail price of CA$49.99 at Wal*Mart and Zeller's and at theshoppingchannel.com and hbc.com. She will also be featured on-air with The Shopping Channel in Canada on December 6th.

Zapf Creation AG is a leading manufacturer of play, function and collector dolls as well as their accessories. Zapf Creation is striving to develop its large doll segment to become the leading large doll manufacturer in its key worldwide markets. Today's top selling brands are BABY born(R) and CHOU CHOU, which are also market leaders in North America, and Baby Annabell, the widely successful brand in Europe that will launch in the United States in 2002. All Zapf Creation brands conform to the highest demands of quality, safety and play value. Zapf Creation strengthens its global market leadership in the doll segment with its major subsidiaries in the Czech Republic, Great Britain, France, Spain, Italy, Hong Kong as well as in Australia and the United States.

The company with headquarters in Roedental, Germany currently employs 511 employees worldwide and has reported revenues of 164.9 million for the year 2000, a growth of 15 percent in respect to the previous year. Zapf Creation AG, founded in 1932 by Max Zapf, was acquired in 1992 by TA Triumph-Adler AG and in April 1999 successfully introduced to the stock market (SMAX: ZPF). For further information, please visit http://www.zapf-creation.com.