Transformers Prime, Avengers Movie, Doctor Who, Marvel Minimates at Big Bad Toy Store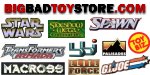 February 2, 2012 - (Sponsor Announcement) - Online retailer BigBadToyStore.com has several items of interest to collectors:

Hi - Here is a quick update from http://www.bigbadtoystore.com about a big batch of exciting new preorders as well as more cool new arrivals.

-------------
NEW PREORDERS
-------------

THE AVENGERS MOVIE FIGURES, VEHICLES, ROLE PLAY The whole line of "The Avengers" movie toys is now up for pre-order. Hasbro is releasing 3.75" figures, 8" Hero figures, Mighty Battlers 6" figures, Mini Mighty Muggs, Mission Packs, Stark Tek Assault Armors and 10" Ultimate Electronic Avengers figures. We also have listings for Stark Tek Battle Vehicles, Battle Chargers motorcycles, Communicator Chest lights, Hero Masks, and many of the Avengers' weapons and armor. Check out all of the new pre-orders at the link for more information.

TRANSFORMERS PRIME ROBOTS IN DISGUISE FIGURES Hasbro has also announced their new assortments of TF Prime Robots in Disguise toys. We have the Deluxe and Voyagers Series 01 assortments
listed by case and set, as well as some singles. We also have the Cyberverse Legion, Cyberverse Commander (with and without DVD), and three assortments of the new Bot Shots mini figures, as well a Battle Masks and an Optimus Prime Mission Helmet -- Transformers fans should be sure to check out the new items at the various menus under the link.

TRANSFORMERS PRIME ROBOTS IN DISGUISE IMPORT FIGURES Takara has also announced a number of TF Prime items. The AM line will apparently come with their own Micron figures and includes figures such as Optimus Prime, Megatron, Wheeljack, Knockout, Terrorcon Cliffjumper and more, and they are priced at $37.99 and $59.99 each. Takara is also releasing the Cyberverse Legends figures as the EZ line, with Starscream, Ratchet, Dreadwing, Breakdown and many more, and these are priced at $7.99 and $15.99 each, with Wheeljack and his ship listed at $64.99.

SHARK CITY OZARK REPLICAS These new shark replicas come from a family business in Missouri that was started by a man who decided to start a family business after a close call with the other side. All four teenage children help out, making it a real family adventure. They are producing a line of replicas of real and movie-like sharks, and we have listings for a 37.25" Killer Shark Maquette at $649.99, a 25" Ultimate Bruce Shark Maquette and a 25" Mako Shark maquette at $599.99 each, a 1/6 Scale End Scenes Battle Bruce Shark bust at $439.99 and an 18" Bruce Shark Mini-Maquette at $359.99. Make sure to take a look at these fantastic renderings.

DC DIRECT 2012 ITEMS The folks at DC Direct have released a catalog of their projected product offerings for 2012. We have listings for new Arkham City regular and deluxe figures, "The Dark Knight Rises" figures, statues and busts, Batman Black And White Statues, Ame-Comi figures, Mad's Just-Us League of Stupid Heroes, Cover Girls of the DCU, The New 52 action Justice League Figures and a Saint Walker Maquette from the Green Lantern Animated Series. The link will take you directly to a list of all of these new products, so grab your favorites now.

HAMMER OF THOR REPLICA Museum Replicas is releasing a replica of Thor's Hammer from "Thor". It is made from the original Marvel Studios prop and measures 17" long with an 8" x 5" head. This piece includes a stand as well, and we have it listed at $384.99, $15 off the MSRP.

DOCTOR WHO "THE SEEDS OF DOOM" COLLECTOR SET The latest Classic Collector Set from Doctor Who comes from "The Seeds of Doom." It includes the Fourth Doctor with a sword, a Krynoid plant creature and Open and Closed Seed Pods. We have this set listed at $44.99.

MASTERS OF THE UNIVERSE COSTUMES New listings are up for Masters of the Universe Costumes. We have He-Man and Skeletor each in size 42-46, as well as She-Ra in sizes Large, Medium and Small. Each costume is priced at $84.99.

KABAYA GUM PLUS TRANSFORMERS - SERIES 05, GAIA GUARDIAN SERIES Two new assortments of Kabaya Transformers Model Kits are on the way. Series 05 includes Deathsaurus, War For Cybertron Optimus Prime and (what appears to be) Hot Spot, and is listed at $44.99 for a display box of 8 or $5.99 for a random single. The Gaia Guardian series is a set of 6 smaller kits like the Gaiacross assortment, and by the picture four of the six are the other Protectobots, which appear to be able to join with Hot Spot and form Defensor and well as all Six Gaia Guardian robots merging. We have the Gaia Guardian assortment listed at $34.99 for a display box of 10, and $3.99 for a random single.

NEW MARVEL MINIMATES Diamond Select has announced a number of new Marvel Minimates items this month. We have new listings for Fear Itself "Worthy" and "Mighty" four-packs, priced at $15.99 each. We also have Marvel Minimates Wave 45 listed at $29.99 ($6 off the MSRP) for the set of 8 which includes Iron Man Mk VII, the Hulk, Captain America, Thor, Nick Fury, Maria Hill and two mystery foes. Finally, there is the third wave of Marvel Vs. Capcom Minimates, which includes Ryu, Captain America, Dr. Doom, Wesker, She-Hulk, Chun-Li, X-23 and Felicia, and is listed at $29.99, saving you $6 off the MSRP as well.

MARVEL SELECT MUNSTERS EDDIE & MARILYN TWO-PACK The Munster Family is complete with the addition of this two-pack. Eddie comes with his stuffed toy Wolf Wolf as well as a collar for their pet dragon Spot and his cousin Marilyn, and we have the two-pack priced at $21.99, $3 off the MSRP.

MARVEL SELECT SPIDER-MAN, LIZARD FIGURES "The Amazing Spider-Man" toy line kicks off with these two figures from Diamond Select. Both the hero and his antagonist the Lizard are up for pre-order, priced at $19.99 each.

HEROES OF THE NORTH FIGURES Ardden Entertainment is producing figurines of four heroes from the "Heroes of the North" Webseries. We have the Canadian listed at $74.99, with Fleur-De-Lys, Crimson and Hornet listed at $54.99 each.

GOLDENEYE LIMITED EDITION PROP REPLICA This piece comes from Pierce Brosnan's first outing as Agent 007. The set includes the Goldeneye, copied from the original prop, as well as two heavyweight keys and a display stand. The set is limited to just 500 pieces, and we have it listed at $429.99, $20 off the MSRP.

MARVEL COLOGNES In honor of the upcoming movie we have three new listings of Marvel Colognes. Assembled the Avengers includes Hulk, Captain America, Iron Man and Thor colognes and is listed at $57.99. We also have Loki Mischief Cologne and Nick Fury Infinity Formula Cologne, each listed at $38.99.

E.T. 30TH ANNIVERSARY FIGURES SET This set appears to include both E.T. as he originally appears as well as E.T. in "drag" as Gertie dresses him up. We have the pair listed at $33.99.

THE HUNGER GAMES SERIES 01 SET This trio of figures is to include Katniss, Peeta and Gale, and they are to include character-specific accessories. We have the set listed at $47.99, $9 off the MSRP.

HALO GOLD SPARTAN PLAY ARTS KAI FIGURE A new version of the Spartan Play Arts Kai figure has been announced. This one is done in a gold colorway and is listed at $54.99.

DARKSIDERS CHAOSEATER SWORD OF WAR United Cutlery is releasing this 46.5" replica of the sword from the game. It is cold-cast with a leather-wrapped grip, and is priced at $179.99.

12" ROBBY THE ROBOT FIGURE This figure from the classic movie "Forbidden Planet" stand 13.625" tall and is listed at $139.99, $10 off the MSRP.

NEW JAPANESE EXCLUSIVE FIGURES We have just listed a new wave of Japanese-exclusives figures. We have a Kamen Rider Kenzaki Kazuma RAH Figure, new Saint Seiya, Space Knight Tekkaman Model Kit Two-Packs, Robot Damashii Gundam figures and Gundam Model kits, as well as items from One Piece, Full Metal Panic!, Xabungle, Vocaloid and more - see them all at the link.

12" STAP & BATTLE DROID Sideshow is releasing another 12" army-builder set with the STAP with Battle Droid. The STAP comes on an articulated base and includes a 1/6 scale Battle Droid pilot. We have this set listed at $169.99, $5 off the MSRP.

DRAGON SPACE COLLECTION MODEL KITS We have three new items under the Dragon Space Collection. The 1/400 scale CZ-2F Chinese Manned Orbital Carrier Rocket is priced at $36.99, as is the 1/400 scale Delta II Rocket "7925 Heavy" with Launch Pad. The 1/40 scale Space Shuttle "Discovery" with SRB STS-124 is priced at $72.99.

TONNER DOLLS NU MOOD COLLECTION Tonner has come up with a new line of dolls with various body types. You can now get Dance body, Curvy body and Fashion body, each in two or three different styles. Each doll is listed at $59.99.

NEW LITTLEST PET SHOP ITEMS We have loads of new Littlest Pet Shop items listed. There are new pre-orders under Teeniest Tiniest, Everyday Adventure, Baby & Mommy, Enchanted Pets and Multi Packs, so take a look at them and grab your favorites.

NEW MY LITTLE PONY ITEMS We also have new MLP items up. Under Figures we have MLP with Animal Friend Series 02 set and singles, as well as Forever Friends Figure Packs set and singles, Deluxe Ponies and Vehicle Assortments. There is also a Newborn Assortment Wave 02 under So Soft Ponies.

NFL PLAYMAKERS SERIES 03 - CASE, SINGLES The third assortment of McFarlane's 4" NFL Playmakers figures includes Brian Urlacher, Calvin Johnson, Tim Tebow, Drew Brees, Patrick Willis and more, and we have them priced at $7.99 for singles, or $129.99 for the case of 19 figures.

COLLEGE FOOTBALL SERIES 04 MASTER CASE OF 8 McFarlane Toys is also releasing a second assortment of College Football Series 04. This assortment is the version that will go to the chain stores and the like, and includes a varying mix based on decimal amounts of each figure. This assortment is listed at $89.99.

------------
NEW ARRIVALS
------------

TRANSFORMERS UNITED - WARPATH, WINDCHARGER/WIPEOUT, THUNDER G2 MEGATRON, THUNDERWING, RODIMUS CONVOY Five new releases from the import Transformers United line have arrived at our warehouse. We have UN-23 Rodimus Convoy, UN-24 Warpath, UN-25 Thunder (G2) Megatron and UN-26 Thunderwing priced at $37.99 each, with the UN-27 Windcharger & Wipeout Two-Pack priced at $49.99.

MARVEL SELECT COLOSSUS FIGURE Colossus continues the Marvel Select X-Men figure line, and has 16 points of articulation. He also comes with another part of the Danger Room, which can be combined with Gambit's and Cyclops' sections to make a large diorama, and we have him listed at $19.99, $2 off the MSRP.

LOST IN SPACE JUPITER 2 18" METAL MODEL KIT This deluxe 1/35 scale piece includes metal hull parts, a fully finished and lit interior with a three-speed fusion core. It is powered by rechargeable battery or wall transformer, and is priced at $1299.99, $200 off of the MSRP for the piece.

STAR WARS 2012 CLASS I FLEET VEHICLES WAVE 01 This new vehicle and figure set includes the Sith Speeder, the Naboo Royal Fighter, the Attack Recon Fighter and the Republic Assault Submarine, each with a driver, rider or pilot. We have them listed as a case of 4 at $69.99; we also have them listed individually (except the submarine, which is sold out), priced at $19.99 each.

STAR WARS FIGHTER POD MYSTERY BAG WAVE 01 - CASE, RANDOM SINGLE These new packs include one ship and two mini figures each, and can be used for play in a number of ways. We have the case of 20 packs listed at $64.99, or you can buy them by random single packs for $3.99 each.

GI JOE SERIES 02 DVD This series continues the Real American Hero franchise and introduces new characters on both sides. The 4-DVD set includes Season 1's 24 episodes, and is priced at $29.99.

MASTERS OF THE UNIVERSE CLASSICS FIGURES For the benefit of our international and other customers we have once again received a small quantity of Masters of the Universe Classics figures. We have the Star Sisters Set of 3 priced at $94.99, with the Battleground Evil-Lyn at $34.99 and Demo-Man at $31.99.

THUNDERCATS 2011 4" FIGURE SERIES 02 - CASE, SET, SINGLES This assortment is listed as a set of 6 which includes returning favorites Cheetara and Wily Kit as well as new figures Claudus, Mumm-Ra Transformed, Lion-O Version 02 and Panthro Version 02, and is listed at $69.99. The case assortment adds two more of Lion-O Version 2 as well as two Tygra and one each of Mumm-Ra Transformed and Panthro Version 2 and is listed at $89.99. In addition, we have some of the figures listed singly, so if you need to fill any gaps in your collection, take a look at the menu for availability and pricing.

TARMAN ZOMBIE ACTION FIGURE This piece from "Return of the Living Dead" includes a display base with a Trioxin Canister as well as an opening jaw on the zombie. It is priced at $21.99.

GOKAI MACHINE 01 - MAJIDRAGON This machine is one of the Zords from Kaizoku Sentai Gokaiger used by the Red Ranger. In addition to its own form, it can combine with GoKaiOh. We have this figure listed at $39.99.

DOCTOR WHO CHARACTER BUILDING SETS We have recently received a number of Doctor Who Character Building sets. These sets contain miniature figures of the Doctor and his allies and enemies, as well as building block playsets. We have a wide variety listed, and they are priced from $3.49 for a random single Series 01 figure to $109.99 for a Box of 36 Series 02 figures, and playsets from $15.99 to $84.99.

DC SKELANIMALS 10" PLUSH SERIES 01 - SET, SINGLES This assortment of plush Skelanimals includes ChungKee as Green Lantern, Dax as Superman, Jack as the Flash and Jae as Batman. We have the set of four listed at $89.99, saving you $22 off the MSRP; we also have them listed singly at $24.99 each, saving you $3 each off the MSRP.

BigBadToyStore.com