2012 Transformers Collectors Club Exclusives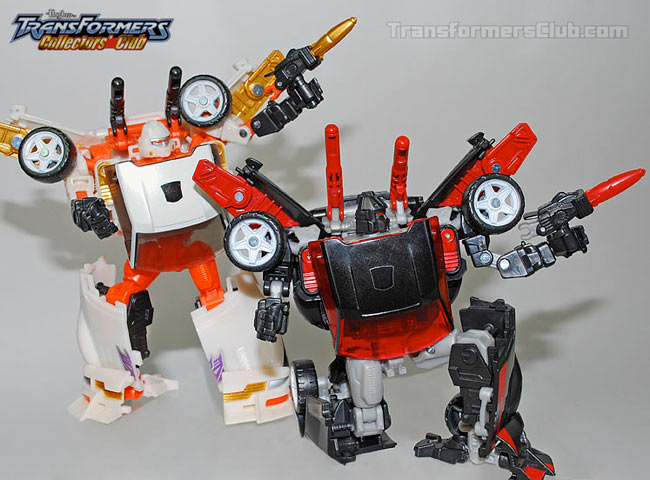 EXCLUSIVE Over-Run and Shattered Glass Drift available for Pre-order early this week!

Fort Worth, TX - January 30, 2012 - Fun Publications, Inc., licensee for Hasbro's official Transformers Collectors' Club, The TCC, is thrilled to show off the final images of this years two member exclusives... Over-Run (AKA Runabout) and Shattered Glass Drift!

The Transformers Collectors' Club features a bi-monthly magazine, discounts on product from the TCC store and packages to the official Transformers Collectors' Convention BotCon, Prizes from Club contests, Members Only Forum, Free Membership to the online auction site MCAX.com, ability to purchase Members Only exclusives and T-shirts and of course, the FREE Membership Incentive Figure shipped to members in a white mailer box! This year's FREE figure is the hotly anticipated Runamuck!

Now, the BIG news! The Over-Run package will come with a slot in the foam for members to store their Runamuck figure. These two "RUN" partners will never be far apart when chaos comes calling! Also, as previously announced, Drift will come with both his swords AND two guns. The first time this mold has been offered with a mix of both!

For more information on The TCC, please visit http://www.transformersclub.com/

About Hasbro
Hasbro, Inc. (NASDAQ: HAS) is a branded play company providing children and families around the world with a wide-range of immersive entertainment offerings based on the Company's world class brand portfolio. From toys and games, to television programming, motion pictures, video games and a comprehensive licensing program, Hasbro strives to delight its customers through the strategic leveraging of well-known and beloved brands such as TRANSFORMERS, LITTLEST PET SHOP, NERF, PLAYSKOOL, MY LITTLE PONY, G.I. JOE, MAGIC: THE GATHERING and MONOPOLY. The Hub, Hasbro's multi-platform joint venture with Discovery Communications (NASDAQ: DISCA, DISCB, DISCK) launched on October 10, 2010. The online home of The Hub is www.hubworld.com. The Hub logo and name are trademarks of Hub Television Networks, LLC. All rights reserved.

About Fun Publications, Inc.
For over 15 years, Fun Publications, Inc. has been a Hasbro licensee offering fans and collectors of pop culture memorabilia news, exclusive product and family events through different print offerings, websites, collector clubs and brand specific conventions such as GIJoeCon and BotCon. Located in Fort Worth Texas, Fun Publications reaches a large audience, serving the United States and many other countries such as Japan, Great Britain, Brazil, Australia and Canada. For more information visit TransformersClub.com, GIJoeClub.com, GIJoeCon.com, and BotCon.com. BotCon is a registered trademark of Fun Publications, Inc. (C) 2011 Fun Publications, Inc. All rights reserved.