Outer Space Men Creator to Appear at Toypocalypse 2: Futuretro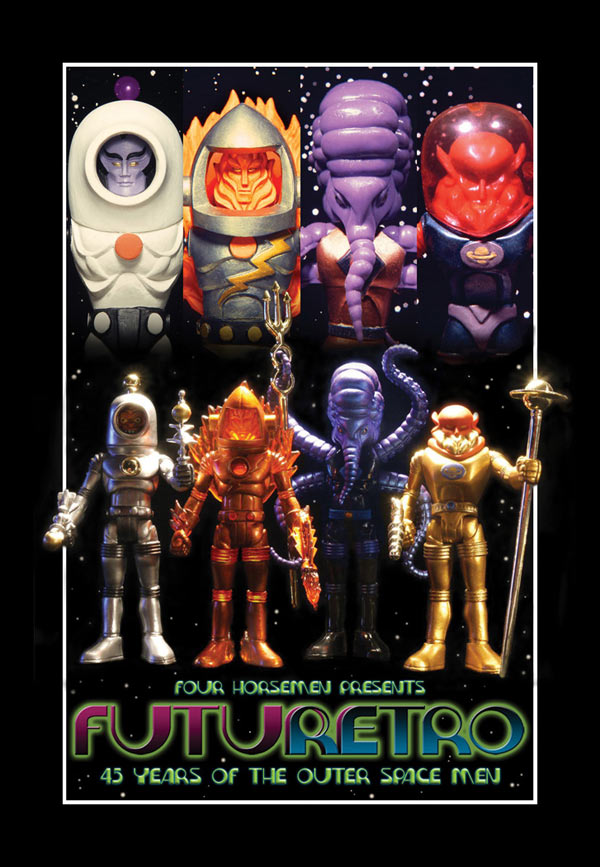 January 2012 - Toypocalypse 2: Futuretro is less than two weeks away and we've just gotten the confirmation that the original creator of the Outer Space Men and toy industry icon Mel Birnkrant will be our very special guest of honor on the opening night - February 10th, 2012 at the TT Underground Gallery in NYC!

Don't miss this rare opportunity to meet Mel and many other soon to be announced toy industry greats appearing all evening to meet and chat with action figure fans! We're really excited to announce to you the names on our growing guest list over the next couple of weeks, and you're ALL invited to come to this very special gathering of geek culture.

And speaking of geek culture, we've already gotten in a few of the Outer Space Men customs done by OSM fans and simply out, they're AMAZING! If you haven't gotten your Outer Space Men customs finished and out to us, what're you waiting for?!? We wanna' put your stuff on display right alongside our own stuff for all the world to see, and we can't wait to see what you're gonna' do with our figures! The deadline's coming up quick so be sure to go HERE the check out all the details and get your entry in to us soon.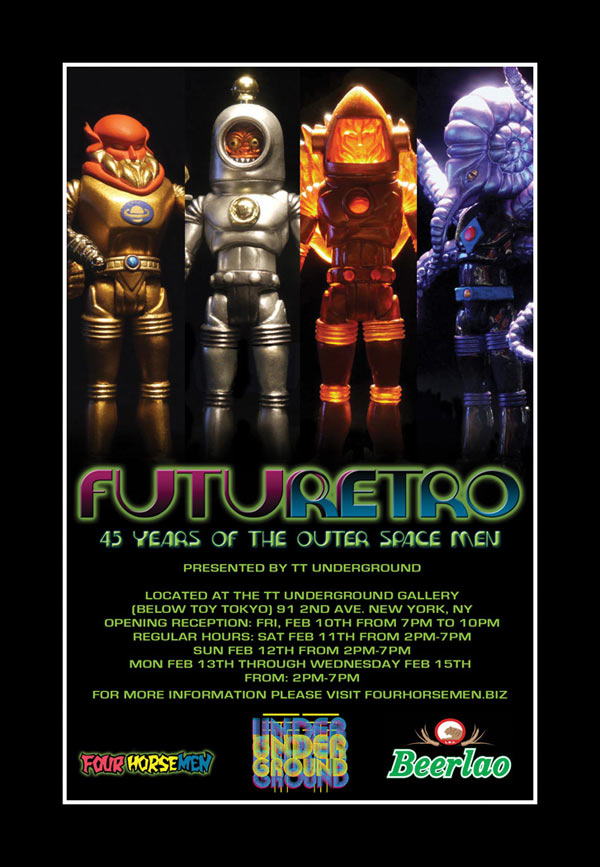 Last, don't forget about the AMAZING set of super limited Outer Space Men figures redesigned by Mel Birnkrant himself specifically for Futuretro! This extra special set of figures will be signed by Mel AND The Four Horsemen, and will also come with an exclusive Outer Space Men print by fan favorite illustrator and frequent Four Horsemen collaborator, Nathan Baertsch! All of that for only $125.00! What a steal! If you want a sneak peek into Mel's brain as he created this new variation on his old classics, check out the "Custom Colors" section of his "Sketchbook" website HERE.

The show's absolutely free, so come on by, chill out with us and some amazing toy industry dignitaries for a couple hours, have a free brewsky on us, and say 'hey' at Futuretro!

Beerlao - the official beer of Toypocalypse 2: Futuretro