Reprolabels, 2012 DC Direct at Big Bad Toy Store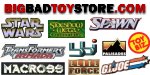 January 29, 2012 - (Sponsor Announcement) - Online retailer BigBadToyStore.com has several items of interest to collectors:

a general disclaimer on DC Direct

Please Note – Pricing May Change
The current pricing is estimated and subject to change (with notification) pending final details from the manufacturer. We have attempted to make our estimates a bit on the high end so any changes will hopefully be to reduce the pricing.

DC DIRECT - FULL 2012 LINEUP

Batman - Dark Knight Rises - Figures, Statues, Busts

Arkham City Series 3 and Deluxe Figures

Full Lineup Link also includes: Ame-Comi, Cover Girls, Batman Black & White, 1/4 Statues & More

another cool set of listings:

Reprolabels - Awesome sticker kits to enhance your Transformers! Reprolabels designs & produces custom sticker kits to make the current Transformers look more like G1 versions, replace existing damaged stickers, and generally make your TF collection even cooler.

BigBadToyStore.com