Halo, Unimax, Bowen Marvel, Real Steel, 1/4 Scale Predators at Big Bad Toy Store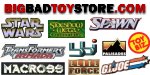 January 25, 2012 - (Sponsor Announcement) - Online retailer BigBadToyStore.com has several new items of interest to collectors:

-------------
NEW PREORDERS
-------------

HALO 4 SERIES 01, SERIES 01 EXTENDED, DELUXE McFarlane Toys has split their first assortment of Halo 4 figures into two groups. The first group will include Master Chief and three "Secret" figures and is listed at $45.99 for the set of 4, $89.99 for the case of 8 (2 of each) and $11.99 singly. The Extended series includes Cortana and three more "Secret" figures, and they are priced at $45.99 for the set of four and $11.99 singly - sorry, no case assortment on the Extended figures. They have also announced the Frozen Master Chief in Cryotube Deluxe Figure and a second TBD Deluxe Figure, which are available at $27.99 each.

HALO UNIVERSE DELUXE VEHICLE SERIES 01 ODST DROP POD This deluxe vehicle set includes a Drop Pod with removable door, weapon racks and more, along with the main player character from Halo 3: ODST, the Rookie and an Orbital Drop Shock Trooper. This set is listed at $44.99.

HALO MICRO OPS This new line is made at a 1/100 scale to allow for easy collecting and display. Most sets come with two or more figures , and are divided into Large Card and Small Card assortments. Large Card Series 01 includes a Falcon and a High Ground Bunker, and they are available at $17.99 each of $34.99 for the set of 2. Small Card Series 01 includes Warthog & Mongoose, Banshee, ODST Drop Pod Two-Pack and Ghost Vs. Wolf Spider Turret; these are listed at $8.99 each or $33.99 for the set of 4.

NEW UNIMAX 1/18 SCALE VIDEO GAME FIGURE ASSORTMENTS Unimax has announced five new licenses from which it will be releasing 1/18 scale figures. We have the Starcraft II Case of 12 listed at $99.99, with the Assassin's Creed Revelations, Ghost Recon Future Soldier, Dragon's Dogma & Asura's Wrath and Assassin's Creed III cases of 12 listed at $89.99 each.

PERFECT EFFECT RC MOTORCYCLES Perfect Effect is releasing two new transforming robots whose motorcycle and robot modes pay homage to a certain female Autobot from the Transformers Prime series as well as the movies. We have this figure in pink or blue, and each is priced at $99.99.

NEW METROID ITEMS Max Factory has announced two new items. Samus Aran in her original suit has a Figma figure on the way, priced at $64.99, while Samus in her Zero Suit is the subject of a new 1/8 scale PVC figure and is listed at $124.99.

MASTERSHOOTER SHOOTER MASTER FIGURES We have three new waves of transforming weapons for your transforming robots and other figures. The Core Assortment includes Bolt Action, BrOOMstick, Minute Bot and Shot Piece, and these figures are available individually at $13.99 each, or as a set of 4 at $44.99. We also have the BBTS Exclusive Constructs and Automated Robots trios listed, and each is priced at $32.99 for the set of 3.

GENTLE GIANT MARVEL & STAR WARS ANNOUNCEMENTS Four new Gentle Giant items are now available for pre-order. The Star Wars Dart Board & Case Set has been redone, includes darts and is now listed at $88.99, $10 off the MSRP. The 12" Kenner line continues with a 12" scale R5-D4, priced at $71.99, saving you $8 off the MSRP. Spider-Man's nemesis the Green Goblin has a mini bust coming out which is listed at $79.99, $9 off the MSRP. Finally, the Ghost Rider is being released on his motorcycle in a new 10" scale statue, priced at $412.99, which saves you $46 off the MSRP.

NEW BOWEN MARVEL STATUES Bowen Designs has announced four new items that we now have up for pre-order. The Wasp Classic Action 12" Statue has her flying atop a clear base and is listed at $74.99. The Juggernaut 16" Statue is priced at $239.99, and the 13" Faux Bronze Thing Website Exclusive is priced at $249.99. Finally, the Fantastic Four 12" Statue Three-Pack has Johnny, Sue and Reed in early versions of their costumes and are priced at $424.99 for the trio.

CAPTAIN KIRK 1/4 SCALE STATUE Hollywood Collectibles' newest Star Trek statue is Captain James T. Kirk. This piece measures 19" tall and shows Kirk with phaser in hand, standing atop a transporter base. We have this statue listed at $269.99, $10 off the MSRP.

NEW X-PLUS VINYL FIGURES Two new vinyl figures from X-Plus are now listed for pre-order. The Gigan 23cm figure is priced at $184.99, while the Manda serpent from Atragon is priced at $248.99.

REAL STEEL FIGURES, RING, GAME We have just listed a number of items from the "Real Steel" movie. We have the Deluxe Feature Figure Series 01 Set of 4 priced at $77.99 and the Versus Two-Pack Figure Sets of two (Series 01 and Series 02) priced at $42.99 each. In addition we have the Main Event Ring Play Set at $39.99 and the Battle Champions Game (not unlike Rock'Em Sock'Em Robots) at $47.99.

DOCTOR WHO TENTH DOCTOR DYNAMIX VINYL FIGURINE Big Chief Studios is producing a new line of ultra-stylized vinyl figurines from Doctor Who based on the IDW comic designs. The first is the Tenth Doctor in his pinstriped suit and trenchcoat, and he is priced at $109.99.

TOY STORY SERIES 02 SMALL COSBABIES Hot Toys is releasing a second assortment of Toy Story cosbabies. This wave includes Rex, Evil Dr. Porkchop, Buzz Lightyear, Woody, Spaceman Alien and Cowboy Alien. We have them listed singly at $9.99 each, or as a set of 6 for $57.99.

BREAKING DAWN BARBIE Mattel is releasing new Barbie dolls based on the "Breaking Dawn" movies. We have Edward and Bella listed singly at $31.99 each, or at $59.99 for the set of two.

------------
NEW ARRIVALS
------------

NEW HASBRO STAR WARS GOES LIVE ON 1-30-12 We just wanted to start this newsletter out with a friendly reminder that many new Star Wars items will be going live next week. There are new waves of Vintage Star Wars, Clone Wars, Movie Legends, Battle Packs, Vehicles, Lightsabers, Fighter Pods, Star Wars Transformers, Titanium Vehicles, Helmets and Blasters, so take a peek at the new listings at the link and get your pre-orders in on your favorites.

HERCULES NECK BREAKER, MAD BLENDER FIGURES The final two robots that make up the Hercules gestalt have arrived. Neck breaker becomes a bulldozer and the left arm of the Hercules robot, while Mad Blender becomes a cement mixer and the left leg. Each robot is priced at $99.99, and now is the perfect time to complete your set.

1/4 SCALE PREDATORS, INCLUDING GORT PREDATOR WITH MASK LIMITED EDITION FIGURE NECA has shipped us a whole bunch of new 1/4 scale Predator figures. We have the Masked, Open Mouth and Closed Mouth Predator figures priced at $119.99, $109.99 and $84.99, respectively, or $299.99 for the set of three. We also have the Limited Edition 1/4 Scale Gort Predator with Mask (never seen on screen before) in stock, priced at $84.99.

MOVIE MASTERPIECE 1/6 SCALE CLASSIC PREDATOR This new Hot Toys figure is the Classic Predator as he appeared in "Predators". He comes with interchangeable mouth and hand parts as well as a set of armor, should cannon, display base, face mask and skirt with waist band. We have this figure listed at $199.99, saving you $20 off of the MSRP.

EFX LUKE SKYWALKER "A NEW HOPE" X-WING PILOT HELMET 1:1 SCALE PROP REPLICA This new piece is of a limited edition of 750 and has been digitally scanned from an original helmet. Made from fiberglass, plastic and metal, it includes a padded interior with leather ear cups and a numbered plaque. We have it listed at $578.99.

STAR WARS INFANTRY 12" BATTLE DROID SET OF 2 Sideshow has just released a new two-pack of 12" Battle Droids. Each figure comes with a detailed backpack as well as a Blaster Rifle; we have the set of two listed at $114.99, saving you $5 off of the MSRP for each pair ordered.

GENTLE GIANT 12" KENNER STORMTROOPER We have just received a shipment of Gentle Giant's latest Kenner-style 12" Star Wars figure. The Stormtrooper comes on a 1977 Star Wars 12-Back blister card with his blaster and is priced at $67.99, saving you $7 off the MSRP.

SUPER STREET FIGHTER IV PLAY ARTS KAI SERIES 01 Chun-Li and Ryu are the figures that make up the first assortment of SSF4 Play Arts Kai, and they are now in stock. Each figure comes with additional parts and are about 9" tall; we have them listed at $54.99 each.

NEW LEGO ITEMS We have received a large shipment of new LEGO products. We have new and restocked items from the LEGO main lines, Harry Potter, Star Wars, DC Comics, Cars 2, Ninjago and Heroes, so be sure to check the menus at the link for all of the items. Don't forget about the new Star Wars LEGO items, which will also go live on 1-30-12!

FANTASY FIGURE GALLERY RITUAL 1/6 SCALE STATUE This figure was sculpted by Shin Tanabe, the same person that sculpted Black Tinkerbell; she stands 13" tall with an outstretched sword and cast-off outfit. We have this statue listed at $109.99, $10 off the MSRP.

AVATAR MOVIE BUSTS We have finally received the first two "Avatar" movie busts from Gentle Giant. We currently have Neytiri and Tsu'tey in stock, priced at $66.99 each ($8 off the MSRP).

STAR WARS LIGHTSABER RESTOCK We have received a number of Lightsabers recently. We have the Darth Maul, Luke Skywalker, Anakin Skywalker and Darth Vader FX Lightsabers with removable blades at $119.99 each and the Mace Windu FX Lightsaber at $99.99.

TRANSFORMERS CYBERVERSE ACTION SET SINGLES After a recent shipment of Cyberverse Action Set series 03, we have stock remaining of a couple of sets. We have Autobot Ratchet with Repair Crawler priced at $19.99, and Bumblebee with Mobile Battle Bunker priced at $16.99.

DEADPOOL ROCKMASTER ELECTRIC GUITAR This piece is decorated with Deadpool and his logo and symbol, and has a maple neck and rosewood fretboard. The body is made from basswood and is a full-size electric guitar, and we have it listed at $189.99, $10 off the MSRP.

COBRA COMMANDER DIORAMA Our Sideshow shipment also included a new GI Joe Diorama of Cobra Commander. It shows him in front of his throne with a raised staff, flanked by two Crimson Guardsmen. It measures 12" tall by 11" wide by 10" deep and is listed at $279.99, $20 off the MSRP.

RECOVERY AT SERPENT TEMPLE 12" FIGURE ENVIRONMENT Your GI Joe and Cobra 12" figures can have a new diorama of their own with this new Environment. This 16.5" tall piece includes a broken jungle temple wall and floor, along with a snake and a Satellite with blinking light. We have this piece listed at $189.99, $10 off the MSRP.

GI JOE 2012 SERIES 04 RESTOCK We have received a restock shipment of this popular wave of figures. We have small quantities left of the case of 12 at $84.99 and the set of 5 at $58.99; we also have stock of most of the singles from the wave, so now is a good opportunity to grab the ones you need for your collection.

WAR MACHINE 1:1 LIFE SIZE BUST This piece is taken from the design in "Iron Man 2" and includes a swiveling cannon and light-up eyes and Arc Reactor. We have the 24.5" tall bust listed at $939.99, $60 off the MSRP for the piece.

MARVEL UNIVERSE GREATEST BATTLES COMIC TWO-PACK 2011 SERIES 03 - CASE, SET, SINGLES This case assortment includes a great mix of sets, with one each of Thor & Iron Man, Wolverine & Captain America, Spider-Man & Captain Britain and Power Man & Iron Fist, along with two each of Wonder man & Quicksilver and Bullseye & Daredevil; this case is listed at $119.99. We also have the set of Wonder man & Quicksilver and Bullseye & Daredevil, which is listed at $39.99 and the set of Spider-Man & Captain Britain and Power Man & Iron Fist at $28.00. In addition, we have singles of Thor & Iron Man and Wolverine & Captain America, priced at $8.50 and $8.00, respectively.

XP-01 ADD-ON SET FOR ENCORE #20 DEVASTATOR SET This set from XTransbots contains everything you need to upgrade your Encore Devastator set. It includes new armor pieces, forearms, thighs, a gun and much more, and is listed at $49.99.

CARNAGE AXE This new version of Corbot V's axe includes a metallic dark gray handle and translucent red axe blades. We have this version priced at $19.99.

S.H. FIGUARTS ROCK BISON The latest character from Tiger & Bunny to make it into action figure form is Rock Bison. He comes with alternate parts to simulate flying mode and is listed at $59.99.

BigBadToyStore.com