GI Joe 7-packs, Enterbay T-800, DCUC 20, Sideshow Dewback at Big Bad Toy Store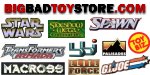 January 5, 2012 - (Sponsor Announcement) - Online retailer BigBadToyStore.com has several new items of interest to collectors:

Hi - Here is a quick update from http://www.bigbadtoystore.com about a great new batch of arrivals and many more new preorders:

------------
NEW ARRIVALS
------------

BBTS EXCLUSIVE GI JOE SEVEN-PACKS - SLAUGHTER'S MARAUDERS, DREADNOKS Our new exclusives have arrived at the warehouse. The Slaughter's Marauders pack includes Spirit, Red Dog, Mercenary (Mercer), Falcon, Low Light, Barbeque and Bull (Taurus), and the Dreadnoks pack includes Road Pig, Zanzibar, Gnaw (Gnawgahyde), Burn Out, Zanya, Zandar and Thrasher. Each pack is priced at $49.99; we also have them available as a set for $89.99, and as a four pack with the Resolute GI Joe and Resolute Cobra Seven-Packs for $139.99.

ENTERBAY HD MASTERPIECE T2 T-800 FIGURE This 1/4 scale figure includes an Arnold Schwarzenegger head sculpt, a body with over 30 points of articulation, multiple clothing pieces including Italian Sheepskin leather jacket and pants, many weapons with ammo, interchangeable hands and more. This great figure is listed at $399.99, so be sure to pick yours up before they're gone.

TRANSFORMERS GENERATIONS 2011 VOLUME 01 STEPPER EXCLUSIVE This figure continues the trend of recoloring Jazz into an alternate character known as Stepper. He includes Jazz' accessories and is priced at $119.99.

DC UNIVERSE CLASSICS SERIES 20 - SET, SINGLES The first shipment of the last Wave of DC Universe Classics has arrived. This assortment includes Reverse Flash, White Lantern Flash II, Dove, Hawk, Green Arrow, Red Arrow and Sinestro in his Sinestro Corps Uniform. We have the set of 7, along with the pieces to build the C-n-C Nekron figure, priced at $109.99. In addition, we have singles available of all seven figures as well as the All-Star Green Lantern Hal Jordan in metallic green outfit, and they are listed at $16.99 each.

TRANSFORMERS PRIME - JAPANESE COLOR EXCLUSIVES We have received our first shipment of the import versions of some of the Transformers: Prime figures. We currently have stock available of Optimus Prime at $54.99, as well as Arcee, Bumblebee, Cliffjumper, Starscream and Vehicon, priced at $37.99 each.

TRANSFORMERS NEOSCANNING BUMBLEBEE This exclusive import version of Bumblebee is done in a bright yellow and black color scheme and includes a MechTech weapon. We have it listed at $37.99.

ROBOCOP 7" FIGURE NECA has released their 7" version of Robocop. He comes with interchangeable right hands and his Auto-9 pistol, and we have him listed at $16.99.

STAR WARS DEWBACK 12" FIGURE ACCESSORY This piece is a great way to add to your Tatooine display, keeping the Stormtroopers and Sandtroopers company in the hot climate of the desert-like world. It is 30" long and includes a rider's lance, saddle with saddlebags and more, and even a roll-out shelter. We have this piece listed at $284.99, $15 off the MSRP.

SIDESHOW COMMANDER GREE 12" FIGURE The latest release in the Militaries of Star Wars line is Commander Gree, who worked under Yoda until Order 66 was given. This figure includes both helmeted and unhelmeted heads, multiple weapons, binoculars, two pairs of feet and multiple hands. We have it listed at $119.99, $5 off the MSRP.

GI JOE 12" COBRA VIPER Sideshow's 12" figure releases for this week continue with one of the main army builders of GI Joe, the Cobra Viper. These soldiers come with all manner of weapons, armor, equipment and more, and are priced at $124.99, $10 off the MSRP.

COBRA COMMANDER 21" PREMIUM FORMAT FIGURE This new statue has the Commander in his reflective mask and helmet, and includes a removable cape to finish out his cloth uniform. This 21" tall statue is listed at $284.99, saving you $15 off the MSRP.

SNAKE EYES & TIMBER 20" STATUE The Joe Team is not without a release of its own this week. Snake Eyes is accompanied by his wolf Timber in this new piece which includes switchable heads (visor or goggles) and right hands (katana or pistol), and we have it listed at $299.99, $25 off the MSRP.

NICK FURY 16" COMIQUETTE This statue shows the comic version of the head of SHIELD, complete with eyepatch and twin pistols at the ready. He stands atop a SHIELD logo base, and is priced at $264.99, saving you $15 off the MSRP.

DOCTOR WHO CLASSIC FIGURE COLLECTORS SETS Three new Collectors' Set from the Doctor Who Classics line have arrived. "The Chase" includes a Mechonoid and two "The Chase" Daleks; "Enemies of the First Doctor includes a "Master Plan" Dalek, a Roboman and a 10th Planet Cyberman; "Enemies of the Third Doctor" includes an Auton, Omega and a Drashig figure. Each set is listed at $49.99.

NEW MASTERS OF THE UNIVERSE CLASSICS For the benefit of our international and other customers we have been able to procure a small quantity of this month's MOTU Classics items. We have the Wind Raider priced at $74.99, along with the Skeletor Re-Issue at $34.99. We are waiting for our Battleground Evil-Lyn and Demo-Man, and they are priced at $34.99 and $31.99, respectively.

DC BISHOUJO BATGIRL STATUE RESTOCK We have just received a small restock shipment of this popular piece. It shows Batgirl in a black and metallic gold outfit standing with one foot atop a gargoyle, and we have it priced at $49.99, saving you $10 off of the MSRP.

MK9 EXCLUSIVE FIGURE ASSORTMENT - CASE, SET, SINGLES This assortment ended up being three each of Sub-Zero and Scorpion and two each of Baraka, Raiden and Reptile. We have the case listed at $119.99; we also have the five figures listed as a set, priced at $59.99. Finally, we have singles remaining of Sub-Zero and Scorpion, and they are listed at $11.99 each.

-------------
NEW PREORDERS
-------------

HOT TOYS MOVIE MASTERPIECE RED SKULL Straight from his appearance in "Captain America: The First Avenger" comes the Red Skull. He comes with interchangeable heads (Red Skull and Johann Schmidt [Hugo Weaving]) as well as multiple hands, a black leather-like trench coat, a 'Hydra' uniform, the Cosmic Cube/Tesseract and more. We have this figure listed at $189.99, saving you $10 off the MSRP.

ENTERBAY / KOTOBUKIYA ELVIS 1/6 SCALE FIGURE These two great companies are working together on a 1/6 scale Elvis Presley figure from his 1968 Comeback special. It includes his 'leather' outfit, guitar, display stand, amplifier, alternates hands and microphone with stand. We have this great collectible figure listed at $224.99, saving you $25 off of the MSRP for the piece.

HEADROBOTS CENTURION The next release from the Headrobots line is called Centurion, and is primarily designed for the intermediate robot of a rather large 'double' Headmaster. The set includes both Japanese and American versions of the Headrobot (two different styles) as well as a clear red bladed power sword. This limited edition set is listed at $59.99.

"BACK TO THE FUTURE" FLUX CAPACITOR UNLIMITED EDITION PROP REPLICA Diamond Select is going back for a second run of these, and we have them ready for pre-orders. The MSRP has gone up to $394.99, but we have them listed at $299.99, saving you $95. If you missed this piece the first time around, now if your chance to pick one up.

"THE AVENGERS" FUNKO ITEMS Funko has announced their first waves of items from the upcoming "Avengers" movie. The POP! Marvel line includes Captain America, Hulk, Iron Man, Nick Fury and Thor, and each is priced at $9.99. Funko's Plushies releases include Captain America, Hulk, Iron Man and Thor and are listed at $10.99; finally, their Wacky Wobbler line starts with Captain America, Hawkeye, Hulk, Iron Man and Thor and these are listed at $12.99.

MARVEL & MORE - NEW WESTLAND GIFTWARE ITEMS A number of new Westland Giftware items are now listed for pre-order. These includes mugs, water globes, nightlights, figural lamps, wall clocks, salt & pepper shakers, cookie jars and more, from licenses like Marvel Comics, Cars 2, Finding Nemo, the Muppets and the Flintstones. Be sure to check these new items out at the menu under the link.

HOT TOYS MOVIE MASTERPIECE WAR MACHINE SPECIAL VERSION This new version has a new battle-damaged matte color scheme along with the light-up functions, weapons and armor pieces. It also includes a Special version nameplate and stand, and is priced at $239.99.

BATMAN LEGACY SINGLES SERIES 03 - CASES, SET, SINGLES We have just learned that two new assortments of Batman Legacy Singles Series 03 are going to be released. Assortment B includes two each of First Appearance Batman and Catwoman and one each of Arkham City Nightwing and Arkham City Harley Quinn, while the Assortment C case includes one each of the first two and two each of the Arkham City figures. Each case assortment is listed at $109.99. We have also restocked the Set of four, priced at $72.99, and each single figure, priced at $18.99 apiece.

HANNIBAL LECTER 1/6 SCALE STATUE The newest "The Silence of the Lambs" collectible is a great new 1/6 scale statue from Hollywood Collectibles. It shows Hannibal Lecter in his prison jumpsuit, strapped to a dolly, and is listed at $199.99.

NEW BANDAI JANUARY ITEMS We have added nine new Bandai Japan items to the pre-order list for this month. We have regular and Super Deformed Gundam model kits, Gundam model stands and add-on sets. and even a Kamen Rider S.I.C. figure, so check the list for your favorites.

JEWEL M MARVEL PRODUCTS We have just started with a new vendor that is producing Marvel accessories such as web belts, belt buckles, dog tags, bracelets, cufflinks, rings, keyrings, money clips and more. There are almost 200 new listings with characters like Captain America, Thor, Spider-Man, the Punisher and Wolverine, so take a peek at the new listings and find your favorite characters and items.

FEWTURE EX GOKIN GATCHAMAN VEHICLES Fewture is releasing three new versions of the Gatchaman vehicles, each comprised of a mix of die-cast and plastic. The G-1 measures 6.3" long, the God Phoenix G-5 measures 7.25" long and the New God phoenix measures 12" long; each comes with a display stand, with the new God Phoenix including five mini-vehicles as well. We have them listed at $159.99 each for the G-1 and G-5, and $389.99 for the New God Phoenix.

DR. WU P02 DUEL UPGRADE SET This second upgrade set from Dr. Wu complements the recent release of the Hound and Ravage two-pack and includes a replica of Hound's cartoon gun as well as two side missiles for Ravage. This set is listed at $13.99 and should arrive later this month.

1/400 SCALE SPACE SHUTTLE "CHALLENGER" Dragon has produced a new 1/400 scale die-cast model of the Space Shuttle "Challenger". It includes the external tank, booster rockets and a vertical stand, and is listed at $72.99.

1/400 SCALE TITAN IIIE WITH LAUNCH PAD The Titan rocket series was used for everything from the Voyager probes to the Viking missions to Mars, and now is available to join your home collection in the form of this die-cast set. It includes the Centaur upper stage, two solid rocket boosters and the launch pad display base, and is listed at $37.99.

Thanks for your interest in www.bigbadtoystore.com and be sure to check out some of the many cool new items mentioned above.

Thanks!

BigBadToyStore.com