Sci-Fi Revoltech Iron Man Mark III, DC Universe All Stars, Gears of War 3, MLB 30 at Big Bad Toy Store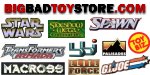 December 29, 2011 - (Sponsor Announcement) - Online retailer BigBadToyStore.com has several new items of interest to collectors:

Hi - Here is a quick update from http://www.bigbadtoystore.com about a variety of new arrivals as well as more new preorders, and a reminder about our Year-End Sale.

YEAR END SALE - ENDS JANUARY 2ND You still have a few more days to take advantage of great pricing on a variety of GI Joe, Transformers, DC, Marvel and various other figures. Take a look at the list here:
http://www.bigbadtoystore.com/bbts/list.aspx?list=8364

-------------
NEW PREORDERS
-------------

MOVIE MASTERPIECE 1/6 SCALE BLACK SUIT SPIDER-MAN Hot Toys goes back to "Spider-Man 3" for their latest Movie Masterpiece figure. This one is of Spider-Man in his black costume, and includes a Sandman diorama base, a Tobey Maguire head, alternate hands, webs and more, and is listed at $194.99 saving you $15 off the MSRP.

GEARS OF WAR 3 7" FIGURE SERIES 02 - CASE, SET The new series of Gears of War 3 figures includes Augustus Cole, Damon Baird and Dominic Santiago, each with weapons and/or accessories. They are available as a set of three for $44.99, $9 off the MSRP; we also have them listed as a case of 14 at $199.99, saving you $52 off the MSRP - we are awaiting details on the case packout.

BATMAN BLACK COSTUME 1/6 SCALE ARTFX VINYL STATUE This new black and grey version is a recolor of a popular figure from a few years ago. He is dressed in his black and grey outfit and is currently priced at $149.99, although that price may decrease once domestic supply information is released.

SCI-FI REVOLTECH IRON MAN MARK III Another new Iron Man Revoltech figure has been announced. The Mark III comes with an alternate Tony Stark head, multiple hands and a name plate, and is priced at $54.99.

THE DARK KNIGHT RISES MEZ-ITS We already have listings up for items from the upcoming Batman movie. For 6" Mez-Itz we have Bane and Catwoman, which are priced at $13.99 singly or $25.99 for the set of two. In the 2" Mini Mez-Itz line we have a number of items; first it the two-packs - Batman & Bane or Batman & Catwoman, each at $11.99 singly or $20.99 for the set of two two-packs. We also have 2" Bane with Tumbler at $21.99, and 2" Catwoman with Batpod at $19.99.

STAR WARS 2012 Hasbro has announced their first 2012 releases from the Star Wars line. We have the first series of 3.75" Clone Wars, Movie Legends and Vintage figures available in cases of 12 and singly. We also have the first series of Battle Packs, Lightsabers in three styles, die-cast Titanium three-packs, Star Wars Transformers in three sizes, and Class I and Class II vehicles as well as Vintage Class II vehicles. Role Play items are also included, with Action Blasters, Electronic Blasters, Electronic Helmets and Basic Masks. We even have the new Fighter Pod items listed - check all of these new toys out at the menus under the link.

DC UNIVERSE ALL STARS SERIES 01, SERIES 01 REVISION 01 CASES Two cases have been listed for this new assortment of figures. The Series 01 case includes two each of all four figures, while the Series 01 Revision 01 includes two each of Superboy Prime and Flashpoint Plastic Man, plus one of Larfleeze and three of Batman Beyond. Each case is listed at $139.99.

FWI-02 WEAPONS KIT Fans Want It is releasing a second add-on set. This set goes with Leader class Ironhide from Dark of the Moon and includes two arm blades as well as two different guns, and each can be attached to his arms with some able to be handheld as well. We have this set listed at $32.99.

EFX LIGHTSABER STUNT REPLICA RESTOCK – COUNT DOOKU, LUKE SKYWALKER A new shipment of Lightsaber Stunt Replicas is coming. This one includes Count Dooku's Lightsaber from "Revenge of the Sith" and Luke Skywalker's Lightsaber from "Return of the Jedi"; each is priced at $109.99.

SPARTACUS: BLOOD & SAND REPLICAS The first of five categories with new Museum Replicas items, this TV series offers Arena Briefs, Helmets, Belts, Weapons and Armor. Take a look at all of the new pieces at the link for more information.

GLADIATOR REPLICAS Museum Replicas also offers items from the movie "Gladiator". An Axe, three swords, a helmet and an armor set are all available here, priced from $120.99 to $280.99.

CONAN THE BARBARIAN REPLICAS This lineup offer 3 swords – the Atlantean Sword, the Fathers Sword and the Valeria's Sword, and they are priced at $254.99, $254.99 and $168.99, respectively. We also have letter opener versions of each, and they are priced at $24.99 apiece.

STEAMPUNK REPLICAS New steampunk-inspired items include a compass, a telephone, multiple wall clocks, a mantle clock, a Navitron and more, and these items are priced from $34.99 to $109.99 each. Take a look at these items at the link.

ASSASSIN'S CREED REPLICAS This line offers two new items – the Smoke Grenade which is priced at $35.99 and the Seeker's Halberd, priced at $128.99.

MLB SPORTSPICKS SERIES 30 - CASE, SINGLES McFarlane Toys has announced their latest assortment of MLB figures. This series includes Prince Fielder, Albert Pujols 5, Jacoby Ellsbury 2, Curtis Granderson 2, Brian Wilson and Justin Verlander 2. We have the singles listed at $11.99 each, and the case of 8 (with an extra Albert Pujols 5 and a Chase or Collector level figure) for $89.99.

ELEVENTH DOCTOR'S TARDIS PLAYSET WITH BONUS FIGURES Underground Toys has just announced that the Eleventh Doctor's TARDIS Playset will now come with both 5" and Micro-Figure versions of the Eleventh Doctor himself. This playset is listed at $74.99, so get your order in before it disappears!

SOUTH PARK CLASSICS SERIES 04 - SET, SINGLES Mezco's latest wave of South Park Classics figures includes Beefcake Cartman, Timmy and Tweek. You can get Beefcake Cartman and Tweek singly at $12.99 each, or at $34.99 for the set of 3.

DOCTOR WHO 2011 5" ACTION FIGURES SERIES 04 SET This assortment includes the Eleventh Doctor, Ganger Eleventh Doctor, a Cyberman, the Astronaut and River Song, each with a 'Flesh Mask' and two Flesh Sachets. This set of 5 is listed at $79.99.

MARVEL HEROCLIX - GIANT-SIZE X-MEN COLOSSAL FIGURE SERIES 02, AVENGERS MOVIE More Heroclix are on the way. First is the second wave of Giant-Size X-Men Colossal figures with new paint details and more - Holocaust, the Frost Giant with a morningstar and a clear version of Onslaught; we have them as a set of three for $41.99, a case of 8 with four frost giants and two each of Holocaust and Onslaught for $99.99 and singles of the Frost Giant at $13.99. With the Avengers movie coming up, we also have listings for Avengers Movie Heroclix. The Starter Set includes 6 figures with unique dials, maps, dice, instructions and more, and is priced at $22.99. We also have the Countertop Display of 24 figures plus four Team Packs of 3 figures each, and this is listed at $89.99.

WIZARD OF OZ PULLIP - DOROTHY, SET Jun Planning is having an end-of-year special release of their Pullip figures done in the style of "The Wizard of Oz". We have Dorothy listed singly at $129.99, and we also have the set of four (Dorothy, Tin Man, Scarecrow, Cowardly Lion) priced at $324.99.

BIG BANG THEORY KITTY HOODIE This hoodie is adorned with the Soft Kitty whose song Sheldon loves to hear when he is sick. We have it in Men's sizes Medium to XXL and Women's Small to XXL, with prices ranging from $43.99 to $45.99.

ES ALLOY FIGURES – GAIKING, RAIKING & BALKING SET Fewture and Artstorm are producing a new set of ES Alloy figures. These figures measure approximately 5" tall and have die-cast and plastic components. Gaiking comes with multiple weapons and is listed at $84.99, while Raiking & Balking come as a set complete with weapons and are priced at $134.99.

FATHOM ASPEN STATUES A new statue of Aspen Matthews has been announced. This 16" piece is limited to 300 pieces and has her in her Black Armor; we have this version priced at $374.99, $55 off the MSRP. A matched-number set of the regular and Black Armor versions is also being released, and it is listed at $599.99, saving you $100 off the MSRP for the set.

STAR WARS CUFFLINKS Six new items are up for pre-order that will allow you to show your Star Wars love with style. We have head-shaped cufflinks of Darth Vader, Boba Fett, Darth Maul and a Stormtrooper, as well as symbols of the Rebel Alliance and the Galactic Empire, and each pair is listed at $59.99.

EARLOOMZ GL-500 HEADSETS – STAR WARS, STAR TREK New GL-500 Earloomz Bluetooth headsets are available for pre-order. For Star Trek we have the Starfleet Command Shield and the U.S.S. Enterprise, while Star Wars has the Flames of Darth Vader and a Stormtrooper head. Each piece is priced at $59.99.

PEAVEY MARVEL ACOUSTIC GUITARS These new Junior Acoustic guitars are just the right thing to start a budding musician on a musical path. We have them with Spider-Man, Hulk, Iron Man or Wolverine artwork, and each is listed at $59.99.

------------
NEW ARRIVALS
------------

EFX LUKE SKYWALKER "REVEAL" LIGHTSABER LIMITED EDITION REPLICA The two pre-orders listed above are joined by a new item that has just come in to stock. The "Reveal" Lightsaber version from "Return of the Jedi" was part of a scene long thought lost, which has been found and edited in to the Star Wars Blu-Ray release set. This piece can be displayed opened or closed and has new details and more. We have this piece listed at $499.99, and it is limited to a maximum of 1000 pieces worldwide.

TRANSFORMERS REISSUES - SIDESWIPE, RODIMUS PRIME Our shipment of the Asian reissue Transformers has arrived, although it is hard to tell from the packaging. Sideswipe is in stock now, priced at $47.99, as is Rodimus Prime, who is priced at $62.99. If these figures were missing from your collection, now is a great time to pick them up.

IGEAR - RAGER & SPRAY Igear has released their first two minibots - a couple of familiar-looking figures named Rager and Spray. Each is about 25% bigger than their original counterparts, and come with weapons as well. We have each of these figures in stock, priced at $19.99 apiece.

TFC TOYS HERCULES RESTOCK We have just restocked three of the Hercules transforming robots, so anyone that missed out on them now has a second chance. Dr. Crank, Structor and Exgraver are back in stock, priced at $99.99 each.

COVER GIRLS OF THE DC UNIVERSE - STARFIRE STATUE This 9.25" tall statue of Teen Titan Starfire shows her in her purple outfit, smiling and holding her long hair in her left hand. We have this piece listed at $84.99, saving you $15 off of the MSRP.

BATTLESTAR GALACTICA VIPER MARK II REPLICA KEYCHAIN Show your fandom with this 2" pewter-finish keychain of the Viper Mark II from BSG. It was created from the special effects files from the show, and is listed at $9.99.

DOCTOR WHO 2010 5" AMY POND ACTION FIGURE We have recently happened upon a small cache of the original Amy Pond figure from 2010. She is dressed in jean skirt, red shirt and jacket, and is listed at $16.99.

HOT WHEELS ELITE COLT CLASSICS 1:18 SCALE A-TEAM VAN Fans of the 80's action-adventure "The A-Team" can now enjoy this 1:18 scale version of their famous van as part of their collection. It includes a detailed front section, opening rear doors and more, and is listed at $114.99.

BATMAN ARKHAM CITY ACTION FIGURE SERIES 01 - SET, SINGLES The new Batman Arkham City game spawns its first figure assortment with these pieces from DC Direct. The assortment includes Infected Batman (Cowl Down), Robin and Harley Quinn; we have them listed as a set for $49.99 ($7 off MSRP). We also have singles available of Infected Batman and Harley Quinn, priced at $17.99 each.

THE WALKING DEAD TV SERIES 01 ACTION FIGURES RESTOCK We have just received a restock shipment of these popular figures. We have Deputy Rick Grimes, Zombie Walker and Zombie Biter available as singles, priced at $14.99 each. We also have the set of four, including Daryl Dixon, and that is priced at $54.99, $5 off the MSRP. Finally, we have the case of 12 (four Rick, two Daryl, three of each Zombie) priced at $149.99, saving you $30 off of the MSRP.

LIVING DEAD DOLLS 13TH ANNIVERSARY SERIES - CASE, SINGLES This series brings back the original series of Living Dead Dolls with new details, new bodies and more. The assortment includes Sadie, Posey, Sin, Eggzorcist and Damien, and they are available as a set of 5 for $99.99, saving you $25 off of the MSRP for the set. We also have them listed singly at $24.99 each.

LIVING DEAD DOLLS PRESENTS SCARY TALES - BEAUTY & THE BEAST 10" FIGURE SET We have also restocked this popular set of LDD Presents figures. They each come in their own coffin, and we have the set priced at $44.99, $11 off the MSRP.

MARVEL VS. CAPCOM MINIMATES SERIES 01 SET This assortment comes from the new Marvel Vs. Capcom 3 game, and includes Iron Man, Deadpool, Phoenix and Dormammu vs. Arthur, Dante, Trish and Morrigan. We have the set listed at $29.99, $6 off the MSRP.

YOUNG JUSTICE 6" FIGURE SERIES 03 - SET, SINGLES Series 03 of this figure line includes Sportsmaster and Superboy in Solar Suit, and we have them in stock now. The figures are available singly at $23.99 each, or as a set of two for $44.99.

DC UNIVERSE VS. MASTERS OF THE UNVIERSE TWO-PACKS SERIES 01, 02 We have received a shipment of DC Vs. MOTU Two-Packs. Series 01 incldues Aquaman Vs. Mer-Man and Hawkman Vs. Stratos; we have them listed singly at $34.99 per two-pack, and as a set at $63.99. Series 02 includes Green Lantern Vs. Zodac and Supergirl Vs. She-Ra; they are available at the same prices as Series 01, although the Supergirl Vs. She-Ra Set is sold out as a single, and the rest are going fast.

FANTASY FIGURE GALLERY - LUNA BY DORIAN CLEAVENGER This statue of a beautiful girl riding a golden crescent moon stands 9.75" with the base and features cast-off and translucent parts. We have this great piece listed at $89.99, $10 below the MSRP.

DW-P01 FACE OFF UPGRADE SET FOR PROTECTOR ARMOR This set of two new faces is a great way to customize your Hot Rod/Rodimus and Protector armor. There is a regular face and a face with a lens screen going all the way across it, and the set is listed at $17.99.

GREEN LANTERN ACTION FIGURE SERIES 05 - SET, SINGLES Green (and Blue) Lantern fans will likely be pleased with this assortment. It includes newly rechristened Green Lantern Sinestro, along with his daughter Green Lantern Soranik Natu, Green Lantern Guy Gardner and Blue Lantern Brother Warth. These are available singly at $17.99 each, or you can get the set of 4 for $64.99, saving you $11 off of the MSRP.

BigBadToyStore.com