Alien Chopsticks, Walking Dead, Gentle Giant, Galactic Guardians Heroclix at Big Bad Toy Store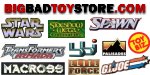 December 22, 2011 - (Sponsor Announcement) - Online retailer BigBadToyStore.com has several new item of interest to collectors:

Happy Holidays from BBTS! - Here is a quick update from http://www.bigbadtoystore.com about a huge list of new preorders and new arrivals:

-------------
NEW PREORDERS
-------------

NEW GENTLE GIANT ITEMS - STAR WARS, MARVEL, SUCKER PUNCH Gentle Giant has announced five new items this month. The 12" Kenner-redo line continues with Hammerhead, priced at $71.99 ($8 off MSRP), while the Mini Bust line adds Lando's co-pilot Nien Nunb at $67.99 ($7 off MSRP). The Marvel statue series gets a new version of Hawkeye riding his Sky-Cycle, and it is priced at $414.99, saving you $43 off of the MSRP. "Sucker Punch" adds two new statues - 17-1/2" Blondie and 16-13/16" WWI German Zombie; each of these two statues is priced at $269.99, saving you $30 per statue off the MSRP.

SWORD, SHIELD OF THE LEGEND These products will definitely evoke a familiar adventurer. We have the shield listed at $74.99, while the two differently-colored sword sets are priced at $44.99 each.

MARVEL BISHOUJO STORM Kotobukiya continues their line with the weather-controlling X-Man, Storm. She is dressed in an outfit similar to her original Cockrum-designed suit, and we have her listed at $53.99, saving you $6 off the MSRP.

ACTIVE GEAR COLLECTION IRON MAN MARK VI 1/9 SCALE FIGURE This brand new listing from Art Spirits is for an Iron Man Mark VI that measures over 8.25" tall and includes loads of articulation as well as opening flaps to see the machinery underneath. This figure is listed at $139.99, and should arrive in May of 2012.

NEW INFLATABLES Our new vendor Jet Creations produces a line of inflatable products that we now have up for pre-order. The dinosaurs line includes Velociraptors, Triceratops, Pteranodons and more, priced at $4.99 - $299.99 each, including a Velociraptor that measures 13.5' long and 8' tall. Animals are split into two lines - the regular line that is priced at $11.99 - $79.99 and the life-like Animals line that measure about full size and are priced at $77.99 - $449.99, including an elephant that is almost 9' long and 7' tall. Many of the larger items include electric air pumps. Make sure to take a look at these menus - you will be amazed at these great new items.

TEKKEN BISHOUJO ALISA BOSCONOVICH FIGURE Kotobukiya continues their line of Tekken Bishoujo pieces with Alisa Bosconovich. This Russian android uses fluid dance fighting moves and makes a perfect counterpart to the Christine Monteiro Bishoujo statue. We have this one listed at $59.99, saving you $5 off the MSRP.

WALKING DEAD PREVIEWS EXCLUSIVE RICK GRIMES & MICHONNE TWO-PACK This exclusive set includes blood-spattered, black & white versions of the comic versions of Rick Grimes and Michonne. It is listed at $33.99.

HALO PLAY ARTS KAI - SPARTAN MARK V RED, BLUE Two new figures from the Halo franchise are on their way from Square Enix. The Spartan Mark V comes in either red or blue, with extra hands and multiple weapons. We have them listed at $59.99 currently, although that price may decrease if a domestic supply is found.

ALIEN CHOPSTICKS Kotobukiya has announced three new pairs of chopsticks from the movie "Alien". The Big Chap, Face Hugger and Chest Burster are all available for pre-order, priced at $9.99 per pair.

ALICE: MADNESS RETURN FIGURES American McGee has created a sequel to his famous Alice video game, and Diamond Select is releasing a 7" figure line from it. The first wave includes Alice, the Cheshire Cat and a Card Guard, and these figures are priced at $19.99 each or as a set of three for $56.99, or as a case of 8 (4 Alice, 2 each of the other two) at $134.99. In addition, we have the Previews Exclusive Hysteria Mode Alice listed, priced at $19.99.

SERENITY - MALCOLM REYNOLDS METAL-PLATED PISTOL REPLICA This new version of Mal's Pistol measures 14" long and is cast in polystone and then metal-plated. it also comes with a black display base with transparent risers, and we have it priced at $69.99, $10 off the MSRP.

XP-01 ADD-ON SET FOR ENCORE #20 DEVASTATOR This add-on set by XTransbots is a great way to upgrade your new Encore Devastator. it includes an LED-lit head, two forearms, two elbows, 2 fists with finger action, Chest Armor, Waist Armor, an Abdomen, two thighs, two revolving waist parts, a gun, a G1-colored Cement Mixer, 7 bio cards and an instruction manual; you get the whole upgrade set for $49.99.

BRAVE GOHKIN 37 BIG SHOOTER This huge add-on set can upgrade your Kotetsu Jeeg robot with weapons, boosters and more. It can work as one ship, or be split up into a variety of units, and is priced at $274.99.

AVENGERS MOVIE MARVEL SELECT ENEMY FIGURE Diamond Select has announced a third figure from the upcoming "The Avengers" movie. This time it is an enemy figure, but the sculpt and identity are being held back for the time being. We have this mystery figure up for pre-order, priced at $19.99.

KM-01X KNIGHT MORPHER COMMANDER-X WITH GREEN AXE We have now listed a special edition version of this figure, in addition to the regular exclusive listed last week. This version is priced at $159.99 and includes the special green energy axe made especially for this convention piece. Each box with the green axe is individually numbered.

TRANSFORMERS PRIME JAPAN EXCLUSIVE MICRONS Takara is producing three new exclusive figures in conjunction with a number of Japanese retailers. We have Autobot Peaceman, Fracas and Misfire listed now, priced at $54.99 each.

MARVEL HEROCLIX GALACTIC GUARDIANS - CLIXBRICK, PRIMER DISPLAY, FAST FORCES The upcoming Galactic Guardians Heroclix wave will be available in a number of ways. First, the Primer Display will release a week earlier than the rest of the set and includes a subset of 10 different figures from the full set, but with all new dials, and this box of 24 figures is listed at $66.99. A week later the actual wave arrives, and each ClixBrick will include 8 regular Booster Packs as well as a Super Booster Pack with one of the new Colossal figures, as well as a Marquee Super Nova figure; we have the ClixBrick listed at $129.99 (saving you $10 off the MSRP) and also as a case of 2 ClixBricks (with 2 Marquee figures) for $239.99 (saving you $40 off the MSRP). Finally, the Fast Forces 6-Pack for this wave includes figures from this (and possibly other) wave(s) with new dials, maps and more, and is priced at $15.99.

TRANSFORMERS CYBERVERSE LEGION SERIES 04 REVISION 02 CASE This assortment of 8 includes two of Bumblebee and Soundwave, along with one each of Crankcase, Sideswipe, Flak and Roadbuster, and is priced at $44.99.

NEW BANDAI & IMPORT EXCLUSIVES We have just listed ten new import exclusive items for the benefit of our customers. The One Piece line gets four new Figuarts Zero Artist Special figures - real animals taking the places of Monkey, Nami, Usopp and Tony Tony Chopper, and they are priced at $119.99 - $139.99 each; there are also two additional One Piece figures. We also have a new version of the Miku Hatsune Hajimete Nendoroid, an Esmeralda VCD from Mawaru Penguindrum, a new SRC Key to Victory set and a clear figure model kit of Jehuty from Zone of the Enders.

ROCKY 7" FIGURES CASE OF 8 We finally know what the case assortment is for this series. It includes three regular Rocky, two each of fight-damaged Rocky and regular Apollo, and one of fight-damaged Apollo. We have this case up for pre-order, priced at $119.99, $24 off the MSRP.

STAR TREK: THE NEXT GENERATION CLOTH RETRO SERIES 01 - SET, SINGLES The newest wave of Cloth Retro figures moves up the Next Generation of Star Trek history. It includes Captain Picard and a Borg, and they are available singly at $17.99 each, or as a set of two for $32.99, which saves you $5 off the MSRP.

LITTLEST PET SHOP WALKING PETS 2012 SERIES 01 CASE OF 6 The newest assortment in this line includes Walking Bunny, Walking Cat, Bumblebee, Elephant, Fish and Octopus, some of which appear to stretch the definition of 'walking'. This case is priced at $49.99.

LITTLEST PET SHOP FAVORITE PET PAIRS 2012 SERIES 02 CASE OF 6 This new case assortment is priced at $29.99 and includes Long-Haired Cat & Butterfly, Koala & Camel, Raccoon & Anteater, Blue Heron & Great Dane, Lion & Kitten and Flamingo & Crocodile.

MY LITTLE PONY WITH ANIMAL FRIEND SERIES 05, 06 Two new assortments are listed in this MLP line. Series 05 is more of a catch-up line, with one each of Rarity, Applejack, Rainbow Dash, Honeybuzz, Plumsweet and Flitterheart as well as two each of Feathermay, Snowcatcher and Twinkleshine, and is listed at $61.99. The Series 06 set of 6 with suitcases includes one each of Twilight Sparkle, Pinkie Pie, Rainbow Dash, Applejack, Rarity and Fluttershy, and is priced at $32.99.

STRAWBERRY SHORTCAKE BERRY DAZZLING FIGURE SERIES 01 - SET, SINGLES This new mix of figures includes Plum Pudding, Lemon Meringue and Raspberry Torte, and they are priced at $11.99 each, or as a set of three for $32.99.

NEW EAGLEMOSS FIGURINES, CHESS PIECES Six new items by Eaglemoss are up for pre-order. The Marvel figurines are joined by former X-Man Thunderbird (#171) and Dracula (#172), priced at $13.99 each; the DC side gets two new chess pieces - Batgirl White Knight (#007) and Riddler Black Bishop (#008), priced at $15.99 each, as well as two new figurines - Elasti-Girl (#105) and Stargirl (#106), which are listed at $13.99 each.

REVOLTECH PIXAR MR. INCREDIBLE The first of two new Revoltech figures in this update is the hero of "The Incredibles". He comes with a display stand, interchangeable hands, an alternate expression and a non-scale Omnidroid; we have this figure listed at $37.99.

REVOLTECH BABY MILO The second new Revoltech figure is Baby Milo, the mascot for Bathing Ape. He comes with an alternate face, bananas, a guitar, a hat and more, and is listed at $39.99.

MASTERS OF THE UNIVERSE CLASSICS We will be receiving a small shipment of the new MOTU Classics items for the benefit of our international and other customers. This month includes the Wind Raider at $74.99, Battleground Evil-Lyn at $34.99, Demo-Man at $31.99 and the Reissue of Skeletor at $34.99.

GHOSTBUSTERS We also have a small amount of new Ghostbusters on the way. We have "Ghostbusters II" 6" Vigo at $31.99 and 12" two-packs of "Ghostbusters II" figures (Ray & Egon or Winston & Peter) at $199.99 per set.

EXCLUSIVE JLU THREE-PACKS Finally, we have stock on the way of three exclusive JLU three-packs. We have Goldface/Evil Star/Kyle Rayner, Angleman/Firestorm/Killer Frost and Heatwave/The Flash/Mirror Master listed right now, priced at $31.99 per three-pack.

ULTRAMAN C-TYPE COMPLETETD COLDCASE 1/5 SCALE STATUE This piece stands 36 cm tall (about 14.15") and shows Ultraman as he appeared in the last part of the original TV show. It is priced at $269.99 and should arrive this coming February.

GARFIELD GALLERY EDITION SIGNATURE SERIES STATUE Everyone's favorite lasagna-eating cat is back, this time as a statue by Factory Entertainment. It shows him standing in front of a mirror holding his tummy up, and this limited edition of 500 pieces is numbered and includes a plaque signed by Jim Davis. We have this statue listed at $374.99, saving you $25 off the MSRP.

POP! ROCKS MICHAEL JACKSON FIGURES Three figures of the King of Pop are up for pre-order. We have the Billie Jean, Smooth Criminal and Beat It versions ready, priced at $9.99 each.

HIT FIGURE 1/6 SCALE MUSCULAR BODY New Vendor Hit Figure has announced a brand new 1/6 scale Muscular body. This piece comes with an Asian head sculpt, and is priced at $35.99.

1/6 SCALE VALERIUS ROMAN LEGIONARY - LEGIO XIV GEMINA Kaustic Plastik continues their line of Roman-era figures with a Legionary. This figure includes a number of die-cast weapons, armor pieces, bonus helms and more, and is priced at $124.99. This figure is especially great for history buffs.

ZY TOYS 1/6 SCALE ACCESSORIES Six new 1/6 scale accessories from ZY toys are up for pre-order. We have an MGL pouch Belt at $7.99, a pair of sneakers at $7.99, and 1/6 scale Weapons Cases in Camo, Tan, Green or Black, priced at $12.99 each.

BONSAI DRAGON - SPRING, SUMMER, FALL, WINTER These half-tree, half-dragon sculptures are done in four different colorways, one each for each season of the year. We have them listed at $119.99 each.

MARVEL SPEAKER BALL KEYCHAINS Marvel is releasing a line of palm-sized keychain balls that double as speakers for your MP3 player and more. We have listings for Captain America, Silver Surfer, Incredible Hulk, Iron Man, Thor and Wolverine, and each is priced at $14.99.

MARVEL SLINGERS - STARTERS, BOOSTERS, BATTLE PACKS Marvel's newest line is an electronic game using yo-yo type spinners with booster discs to score points in a variety of games. The Starter Packs are priced at $14.99 singly or $174.99 for a case of 12 and the Boosters are priced at $6.99 singly or $319.99 for a case of 48. The Battle Pack includes two starters and more, and is priced at $27.99 each of $164.99 for a case of 6.

------------
NEW ARRIVALS
------------

MAKETOYS BATTLE TANKER UPGRADE This new set attaches to the Generations G2 Optimus Prime figure, and can convert to a trailer, a battle base and an armor set. This first shipment also includes a bonus sword for Optimus; we have the set listed at $102.99.

GI JOE 2012 SERIES 03 & 04 We have received a restock shipment of the new Series 03. This assortment includes Ripcord, Scarlett, Tunnel Rat and Cobra Trooper from the
Renegades TV show, along with the Techno Viper, Hazard Viper and more. We have the case of 12 listed at $84.99, and singles of most of the figures available as well - be sure to grab what you need for your collection today.

ALTERNITY A-03 SUZUKI SWIFT GOLDBUG The Alternity Goldbug is an asian exclusive figure, and we are happy to have received a shipment of this great new toy. He has a gold vehicle paintjob with blue robot mode detailing and is priced at $74.99.

ENCORE #19 CASSETTE BIG MISSION 3 SET RESTOCK We have managed to find a small quantity of this cassette reissue set. It includes Rumble, Frenzy, Laserbeak and Overkill, and the set of four is listed at $54.99.

TRANSFORMERS CHRONICLE EZ COLLECTION SERIES 02 BOX OF 12 The latest assortment of EZ Chronicle figures includes G2 Optimus Prime, Bluestreak, Prowl, Hot Rod, G2 Megatron (Purple Tank), Starscream, Skywarp and Hound. The box of 12 will also contain duplicates, and we have it listed at $81.99. We also have the Case of 24 in stock, priced at $159.99.

DARTH NIHILUS MINI BUST Yet another Sith lord has been memorialized in a bust by Gentle Giant. Darth Nihilus' bust shows him with his lightsaber held high, and we have it priced at $84.99.

HOT TOYS 1/6 SCALE TRUETYPE BODY TTM-19 - CAUCASIAN MUSCULAR The latest TrueType body includes a well-defined upper torso for a new look, and also includes alternate hands and a display base. It comes with a head sculpt and all of the quality Hot Toys is known for, and is priced at $54.99.

FOX SPORTS FOOTBALL ROBOTS We have a wide variety of 10" Fox Sports Robots in stock now. Styled after the original on-screen animation from Fox, these figures come in a
variety of versions from many different NFL teams, like the Lions, the Broncos, the Chargers and more, each priced at $24.99. Check out the menu and find your favorite teams!

MARVEL INCREDIBLE HULK HEROCLIX This new wave of Marvel Heroclix centers on the Hulk and his allies and enemies. We have it available in a variety of waves: We have the
ClixBrick of 10 Boosters with the bonus A.I.Marine, priced at $94.99, and the Case of two ClixBricks with two A.I.Marines at $183.99. We also have single Booster Packs available at $9.99; we also have the Countertop Display of 24 blind-boxed figures at $59.99 and the Fast Forces 6-Pack at $13.99 - each of these assortments has figures with all-new dials compared to the regular ClixBrick figures, and are great for mixing up the fun.

DISNEY PIXAR REVOLTECH - WALL-E, NEMO The first two figures from the Pixar Revoltech line have arrived. Wall-E includes a shoe with plant, a garbage cube and a fire extinguisher, while the Nemo figure includes a coral display base, multiple faces and Dory. Each figure is listed at $39.99.

EMMA FROST LEGENDARY SCALE 13" BUST This bust shows Emma's new look as one of the X-Men. It stands 13" tall and is priced at $209.99, saving you $15 off of the MSRP.

MADAME HYDRA 17" COMIQUETTE The villainess also known as Viper has been known under many aliases, and is an assassin, nihilist and sometime head of HYDRA. Her statue shows her in her usual green bodysuit with a gun in hand; we have this 1/5 Scale statue listed at $264.99, saving you $15 off the MSRP.

WOMEN OF MARVEL SAVAGE SHE-HULK COMIQUETTE This piece shows the new She-Hulk, Lyra. Daughter of Thundra and the Hulk, she is clad in a red outfit and stands 20" tall. We have her priced at $194.99, $5 off the MSRP.

CYCLOPS 19" PREMIUM FORMAT FIGURE The leader of the X-Men is shown in this piece in his Jim Lee-created outfit, complete with leather jacket. He is done in approximately 1/4 Scale, and is priced at $299.99.

DESTROYER MAQUETTE This character from the Thor movie is now available as an individually-painted 26" tall Maquette. It is listed at $459.99, $40 off of the MSRP.

AVATAR NEYTIRI 16.5" POLYSTONE STATUE The Na'Vi princess is shown on a branch, bow in hand in this sculpture. It stands 16.5" tall by 18.5" wide and is listed at $279.99, $10 off the MSRP

MYSTIQUE LEGENDARY SCALE BUST The shapeshifting mutant Mystique is the latest Legendary Scale bust from Sideshow. It stands 12.5" tall and is listed at $214.99, $10 off the MSRP for the piece.

HULK LIFE-SIZE BUST This huge item has come back into stock. It stands 20" tall and appears to be designed from the early Kirby designs. We have it listed at $469.99, $30 off of the MSRP for the piece.

WALROCK MAGUS VARIANT 13" EXCLUSIVE STATUE This piece by Bowen Designs is the dark part of Adam Warlock's personality from an alternate future where he is the head of the Universal Church of Truth. We have this statue in stock, priced at $224.99.

DISTRICT 9 EXOSUIT STATUE This new piece by WETA is limited to 600 pieces worldwide and stands almost 12" tall. it is loaded with the kind of detail that WETA is known for, and is priced at $598.99.

THE WIND IN THE WILLOWS BOOKEND SET WETA is also producing this bookend set for the production company of the upcoming film, RG Entertainment. The left side includes Ratty and Mole, with Mr. Badger and Mr. Toad on the other. The set is priced at $399.99.

BATMAN BLACK & WHITE STATUE BY PAT GLEASON This new piece is done from Gleason's work on "Batman & Robin", and has a beefier Batman with an angry look on his face. We have this piece listed at $69.99, saving you $10 off the MSRP.

MASS EFFECT SSV NORMANDY REPLICA - SR-2 CERBERUS The Cerberus version of the Mass Effect Normandy replica has arrived. This ship is listed at $29.99, $5 off the MSRP, and measures 6" long with a display base.

CDMW-27 OMEGA GIANT'S POWER PARTS CUSTOM CLAW This set includes three new claw parts, each of which has an articulated tip that can bend in 90 degrees for grasping and holding. The set is priced at $29.99 and is a perfect upgrade for this giant robot.

BigBadToyStore.com