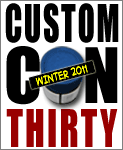 December 16, 2011 - CustomCon 30 Day Five is online!

The Day Five batch of galleries includes:
Arkham Asylum Minimates by Martin
Mutants that couldn't quite grab the spotlight by Devitciiu
AHNULD by craarl
Marvel Universe – What the buck!! – by Industrial
GI Joe Arctic Commandos by JoeCustoms.com
Marvel Legends Terrorist Threats by lefthook
Marvel Legends Kitana by Raynir
Mighty Marvel Maniacal Mechanical Menaces by Jake Schroeder
Jake's Massive CustomCon Effort
Masters of the Universe Evolution of Heroes by Grundy
---
Take a look back at the previous CustomCon events.