Black Friday Sale at Big Bad Toy Store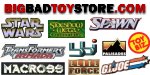 November 23, 2011 - (Sponsor Announcement) - Online retailer BigBadToyStore.com has several new item of interest to collectors:

------------------------------
BLACK FRIDAY SALE - STARTS NOW
------------------------------

This sale ends on Monday afternoon - take advantage of our lowest prices ever on items like this: Seacons = $30, Star Wars 2-Pack = $2, Macross Battlepod Exclusive = $9, Mumm-Ra = $3, Futurama 09 = $13, Sonicron = $29 and dozens more great deals! Stock up on all these great deals before the prices go back up on Monday - Dealers welcome to purchase in bulk.
http://www.bigbadtoystore.com/bbts/list.aspx?list=8007

-------------
NEW PREORDERS
-------------

MAKETOYS - BATTLE TANKER ADD-ON KIT This set gives the Generations G2 Optimus Prime the extra firepower he deserves. In addition to the Tanker Trailer and Battlestation modes of the original G2 Optimus Prime, this set also converts into Battle Armor for Optimus. We have this set listed at $102.99.

HOT TOYS STAR WARS LUKE SKYWALKER BESPIN TWO-PACK This set is truly a great deal. You get two complete figures, one of Luke Bespin and one of Battle-Damaged Luke Bespin, along with extra hands, a light-up weathervane base, an additional figure base, lightsabers and much more. This set of figures is priced at $279.99, $20 off MSRP - be sure to grab yours before they're gone.

LIVING DEAD DOLLS PRESENTS SNOW WHITE & EVIL QUEEN This season is seeing a resurgence of fairy tales, with Television, comics and even Living Dolls getting into the act. This set includes Snow White and her nemesis the Evil Queen, and we have the set of two listed at $47.99, $8 off the MSRP for the pair.

POWER TEAM ELITE This new line from MC Toy includes 3.75" figures along with a whole host of vehicles and play sets. You can get soldiers in sets of 6 and 36, along with boats, horses, camels, infantry vehicles, helicopters, jets and even a military base; and the prices range from $16.99 to $79.99. Be sure to check these out to swell the ranks of your collection, or to start a new one.

DRAGON BALL KAI S.H. FIGUARTS SUPER SAIYAN TRUNKS This figure of one of the younger heroes of the series includes both regular and Super Saiyan heads, along with 8 different faces and 14 different hands for a plethora of display options. It is listed at $48.99, and is scheduled to arrive next May.

MARVEL SELECT AVENGERS FIGURES The first two Marvel Select figures from the upcoming "Avengers" movie are now up for pre-order. The Hulk and Hawkeye are each priced at $19.99.

SCI FI REVOLTECH #035 IRON MAN MARK II Finally the silver armor suit gets some Revoltech love. This figure appears to be loaded with articulation, and we have it listed at $54.99.

1/7 SCALE YODA ARTFX STATE - EMPIRE STRIKES BACK VERSION This figure kit contains two heads - one with eyes closed in silent thought and the other with eyes open - as well as light-up parts. We have this piece listed at $89.99, $10 off the MSRP.

NEW LEGO LISTINGS check out more fun new Lego kits here - a variety of cool new kits, small and large

IRON MAN CLASSIC AVENGERS FINE ART STATUE Kotobukiya completes their Classic Avengers trio with Iron Man. This statue stands nearly 14" tall on his base and includes a Tony Stark head as well; we have this piece listed at $179.99, $20 off the MSRP.

NEW GENTLE GIANT ITEMS - STAR WARS, MARVEL Nine new pre-orders are up for new stuff from gentle Giant. We have the 12" Walrus Man at $71.99, a General Veers Mini Bust at $67.99, a Sebulba & Anakin Mini Bust Two-Pack at $121.99, a Harry Potter Deathly Hallows Mini Bust at $62.99, a Deadpool Pencil Cup Desk Accessory at $88.99 and Marvel Mini Busts of Hawkeye, Iron Man Classic Silver, Deadpool and Thor Modern, each at $79.99.

SPLINTER CELL SAM FISHER 1/4 SCALE FIGURE The latest M|X Format figure from Triad Toys is Sam Fisher from Splinter Cell. He comes with a light up base, interchangeable heads and light-up goggles, and we have him listed at $284.99, $15 off the MSRP.

NEW BOWEN MARVEL STATUES Three new statues are up for pre-order courtesy of Bowen Designs. The Spider-Man 15" Action Statue is $199.99, with the Sunfire 15" Statue at $249.99 and the Union Jack 12.5" Statue at $229.99.

NEW TOON TUMBLERS This pint glass line has a whole bunch of new entries. In addition to a JLA/JSA Pitcher priced at $39.99, we have glasses of the Amazing Spider-Man, the Avengers, Captain America, Deadpool, Dr. Doom, Dr. Strange, the Hulk, Iron Man, the Punisher, the Silver Surfer, Thor, Wolverine and the X-Men team, each priced at $9.99.

REAL STEEL CHRONOGRAPH WATCH PROP REPLICA This prop's design is taken straight from the movie, and it comes with a carrying case and keychain as well. It is priced at $419.99, $10 off the MSRP.

TEAM FORTRESS 2 13" SOLDIER STATUES - BLUE, RED EXCLUSIVE The popular game is spinning off a line of statues as well. The Soldier comes in two versions, the blue version which is listed at $199.99 ($20 off MSRP), and the Red Exclusive version which comes with a switch-out weapons and is priced at $214.99 ($20 off MSRP).

SIDESHOW 12" BLACK DRAGON NINJA The latest GI Joe 12" figure from Sideshow is the Black Dragon Ninja. He comes with multiple hands, weapons, boots and much more, and is priced at $129.99, $5 off MSRP.

GREMLINS - SANTA GIZMO 33CM VCD This furry version of Santa Gizmo stands just shy of 13" tall, and is the cutest thing to put under the tree this year. He is currently listed at $425.99, although the price may decrease if a domestic supply is found.

JOJO'S BIZARRE ADVENTURE BLONO BUCCELLATI This mafioso is now available as a 12" figure from the Real Action Heroes line. He is listed at $266.99, but again, if a domestic supply is found, this price may decrease.

FEMME FATALES STEAM PUNK LEXI This 9" tall piece is dressed in a steampunk-inspired mini dress, leggings and boots, with a large pistol in hand. We have it listed at $39.99, $5 off the MSRP.

STAR TREK MASTERPIECE COLLECTION KHAN MAXI BUST Khan Noonien Singh, antagonist from both the Original Series and "Star Trek II: The Wrath of Khan" is now going to be a bust in the Masterpiece Collection. This piece is a great likeness to Ricardo Montalban, and is priced at $74.99, $5 off the MSRP.

BATMAN MINI FIGURE COLLECTION This set of 7 3" - 4" figures includes two Batmans (one with cape spread out), plus Robin, Joker, Harley Quinn, Penguin and Poison Ivy. We have the set of 7 listed at $54.99, saving you $8 off the MSRP.

BARELY THERE MARVEL IPHONE CASES These new cases fit both the iPhone 4 and the iPhone 4s, and you can pick your favorite of five different heroes and groups, each with three different styles. Each case is listed at $34.99.

STAR WARS SPYWARE Four new Star Wars items are listed under the Spyware line from Jazwares. The Bounty Hunter Watch is priced at $19.99, with the Night Vision Goggles at $16.99, the Perimeter Droids at $19.99 and the Voice Changer at $19.99 as well.

MASS EFFECT SSV NORMANDY SR-2 ANTIQUE SILVER SHIP REPLICA Dark Horse is releasing a new version of this ship, done with an antique silver finish. It will go great in any Mass Effect collection, and we have it listed at $42.99, $7 off the MSRP.

FANTASY FIGURE GALLERY RITUAL 1/4 SCALE STATUE This 22" tall statue of a warrior woman with sword outstretched is taken from the artwork of Luis Royo. We have it listed at $309.99, saving you $40 off of the MSRP.

STAR TREK HEROCLIX TACTICS - COUNTERTOP DISPLAY, STARTER PACK Heroclix is branching out, this time using the ships of Star Trek. It uses the same game mechanics as the original game, so it will be easy to pick up, and the Starter Pack includes rules, maps, dice and four ships for $21.99, while the Countertop Display of 12 includes random ships from the set of 28, and is priced at $51.99.

FINAL FANTASY XIII-2 PLAY ARTS KAI SERAH The lead in Final Fantasy XIII-2 gets her own figure in this latest release from the Play Arts Kai series. She comes with her bow, and is priced at $54.99.

REVOLTECH LIGHTNING MCQUEEN The next Pixar characters in the Revoltech line is Lightning McQueen. He comes with a racetrack display base as well as alternate eyes and mouth parts, and is priced at $38.99.

SENGOKU BASARA NENDOROID FIGURES The big-head Nendoroid line comes to the Sengoku Basara franchise. The first two figures are Masamune Date and Yukimura Sanada, and each is listed at $58.99.

NEW SILVER BUFFALO ITEMS We have a wide variety of new items listed from Silver Buffalo. We have 40 oz. Goblets, Mini Backpacks, Travel Mugs, Ceramic Mugs and much more with Marvel and DC Comics licenses, so browse the links and grab what you like.

------------
NEW ARRIVALS
------------

MOVIE MASTERPIECE SUPERMAN CHRISTOPHER REEVE 1/6 SCALE COLLECTIBLE FIGURE This fantastic new figures comes with an excellent likeness of Christopher Reeve, as well as a Fortress of Solitude base, interchangeable hands and more. It has been praised online for its likeness, and is priced at $194.99, saving you $15 off the MSRP.

TFX-01B SHADOW COMMANDER TRAILER This set is the perfect add-on to the Nemesis Prime Classics figure. It turns Nemesis Prime into an evil version of the enhanced Ultra Magnus, is made in black, grey and blue, and is priced at $129.99

DC UNIVERSE CLASSICS SERIES 18 We have restocked singles of Bronze Tiger and Captain Boomerang, as well as the sets of 6 with the Apache Chief C-n-C figure, priced at $16.99, $16.99 and $99.99, respectively. We also have stock now of Case Y of 8 figures, which is priced at $119.99 and contains two each of Captain Boomerang and Bronze Tiger, as well as one each of Toyman, Samurai, El Dorado and Black Lightning.

STREET FIGHTER 4" CLASSIC TWO-PACK SERIES 01 - CASE, SET, SINGLES Jazwares first figure release from the Street Fighter license comes in the form of two-packs of 4" figures. Ryu Vs. Sagat and Ken Vs. Blanka are each listed at $17.99; you can also opt for the set of two two-packs at $34.99, or the case of six (three of each pack) at $94.99.

MARVEL SELECT EXCLUSIVE AVENGERS FIGURES We have stock now of all four of the Marvel Select Exclusive figures that lead up to the upcoming "Avengers" movie. Classic Thor, Classic Captain America, Black Widow and Hawkeye are each listed at $35.99.

TMNT SHREDDER COMIQUETTE Sideshow's new Comiquette of the Turtles' enemy Shredder blends the original look with that of the new cartoon villain. He wears a red body suit and is decked out in bladed armor pieces. We have the 16" statue listed at $214.99 ($10 off the MSRP), and he stands on a rooftop, ready to join your TMNT Comiquette collection.

BLACKEST NIGHT ACTION FIGURE BOX SET This series of figures continues with a great new box set. It includes Indigo Lantern Munnk, Green/Blue Lantern Hal Jordan, Star Sapphire Fatality and Black Lantern Blue Beetle, along with a 48-page book reprinting three issues of Blackest Night stories. We have this box set listed at $59.99.

YELLOW LANTERN 1/4 SCALE POWER BATTERY & RING SET The penultimate entry in this line has arrived. The yellow lantern of fear comes with a clear acrylic stand and ring replica, and is priced at $29.99, $5 off the MSRP.

FEMME FATALES LADY DEATH PVC STATUE The latest Femme Fatales statue is of popular indy character Lady Death. This 9" tall statue shows her with her cape flowing behind her, and we have her priced at $34.99, $5 off the MSRP.

TRANSFORMERS DA-33 AIR RAID The import version of this figure has arrived. It comes with a bonus character card, and we have it listed at $37.99.

FIFTH SUN T-SHIRTS A number of new and returning t-shirts are now in stock. We have shirts from both versions of Voltron as well as Star Wars, so be sure to take a look at them.

BigBadToyStore.com