DCU All Stars, Mezco Mumm-Ra, Scarface, UFC, Cybermat at Big Bad Toy Store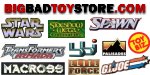 November 16, 2011 - (Sponsor Announcement) - Online retailer BigBadToyStore.com has several new item of interest to collectors:

-------------
NEW PREORDERS
-------------

DC UNIVERSE ALL STARS SERIES 01 Mattel has started a new line of figures to continue creating the DC Universe in plastic. This line includes Superboy Prime, Larfleeze the Orange Lantern, Batman Beyond and Flashpoint Plastic Man. We have them listed singly at $18.99 each, or you can pick up the set of 4 at $69.99, saving $10 off the MSRP.

THUNDERCATS 14" MUMM-RA After the success of the Lion-O 14" figure, Mezco's next release in the line will be the Thundercats' enemy Mumm-Ra. He will stand 14" tall as well, and is priced at $34.99, $5 off the MSRP.

SCARFACE - THE WAR VERSION REAL MASTERPIECE FIGURE Enterbay has just announced a new version of Scarface as their latest Real Masterpiece 1/6 scale figure. It includes multiple hands, a briefcase with bags of (fake) cocaine, a wristwatch, his dark suit and more, and we have it priced at $234.99.

METAL GEAR SOLID PLAY ARTS KAI - SOLID SNAKE, CYBORG NINJA The next wave of MGS Kai figures goes back to the first Playstation iteration of the game and gives us Solid Snake and the Cyborg Ninja. Each figure should come with weapons and excellent articulation, and we have them listed at $49.99 apiece.

SUPER STREET FIGHTER IV PLAY ARTS KAI SERIES 02 The Street Fighter line of Play Arts Kai figures continues with Akuma and Cammy. Each is shown wearing their standard outfit, and we have them listed at $59.99 each.

UFC ULTIMATE COLLECTOR SERIES 09 This new wave includes Jason Miller, Ben Henderson, Nick Diaz, Cain Velasquez and Chris Leben, in two different assortments of varying mixes, as well as a Specialty Retailer case that includes all five figures plus Don Frye as well; each case of 6 figures is listed at $84.99. The Limited Edition version of this wave's case includes Jason Miller, Ben Henderson, Don Frye, Chris Leben and a Diaz Brothers Two-Pack; each includes special accessories, and we have them listed as a case of 7 for $174.99, with singles listed at $24.99 - $49.99 each.

STAR WARS SPY GEAR Night Vision, Voice Changer, Perimeter Guard and Bounty Hunter Watch - all fun new Spy Gear from Jazwares will be arriving soon - each item is priced at $19.99 or less - check them out here

DOCTOR WHO BUMP-N-GO CYBERMAT This little creature of the Cybermen is now available to join your collection. It runs around by itself due to its motorized tail, and automatically changes direction when it runs into something. We have this figure listed at $38.99, $5 off the MSRP.

NEW STAR WARS ELECTRONICS Three new Star Wars electronic items have been put up for pre-order. Both Captain Rex and Darth Vader each have a figural alarm clock listed, priced at $49.99 apiece; in addition a Darth Vader CD "Boombox" is up, shaped like the helmet of the Dark Lord, and it is listed at $79.99.

STARCRAFT PREMIUM SERIES 02 - SET, SINGLES DC Direct has resolicited this series, which is now due out in March of 2012. It includes Kerrigan, the Queen of Blades and Tychus Findlay, and we have them listed singly at $29.99 each, or as a set of 2 for $57.99.

CLASSIC CONFRONTATIONS: GREEN LANTERN HAL JORDAN VS. PARALLAX STATUE Continuing the second month of DC Direct resolicitations, this statue shows the comic version of Parallax with its tail wrapped around Hal Jordan, who is ready to blast Parallax with his ring. It stands 12.5" tall and we have it listed at $244.99, saving you $50 off the MSRP.

BATMAN 5.75" BUST This latest Batman bust is done in full color from a design by Gary Frank. It has Batman in his black and gray costume, with a batarang ready to fly and a horde of bats around the base. This bust is priced at $59.99, $10 off the MSRP.

AME-COMI WONDER WOMAN 9" PVC FIGURE - REPAINT VERSION This figure takes the original Wonder Woman Ame-Comi figure and makes a few style changes, like removing the ankle wings and recoloring parts such as the hilt of her sword. This piece is listed at $59.99, $10 off the MSRP.

GREEN LANTERN: THE ANIMATED SERIES ATROCITUS MAQUETTE Fresh from his appearance on the preview of the new show, the Atrocitus Animated Statue is back and ready for pre-orders. He stands 8.25" tall and is priced at $99.99, saving you $25 off of the MSRP for the piece.

DUTCH SCHAEFER PREMIUM FORMAT FIGURE Arnold Schwarzenegger's character from the original "Predator" movie is now up for pre-order as a 20.5" tall Premium Format figure. It includes multiple weapons and a fabric outfit, and is priced at $349.99.

SCI-FI REVOLTECH GOHTEN-GO (ATRAGON) The super-warship Gohten-Go (also known as Atragon) from "Kaitei Gunkan" ("Undersea Warship") is the latest Sci-Fi Revoltech figure to be listed for pre-order. It is poseable and includes two different drills as well as a display stand, and is priced at $54.99.

NEW HEAD PLAY 1/6 SCALE HEADS We have just listed almost 60 new 1/6 scale heads from head Play. Once again these are recognizable characters as well as more generic options, so if you are looking for a specific person you may be in luck, and if you are just seeing what suits your fancy, you may be in luck as well. Each sculpted head is priced at $24.99.

TEKKEN 1/6 SCALE YOSHIMITSU STATUE Kotobukiya is producing a new 1/6 scale Tekken statue, this time based on the mysterious Yoshimitsu. He is shown standing atop the severed head of what appears to be a robot of some kind, and he is currently listed at $649.99, although this price may decrease once a domestic release is announced.

MORE NEW TINTIN STATUES Two new Tintin statues from WETA are up for pre-order. We have a new Snowy the Terrier statue at $39.99, while the pair of Thomson & Thompson Statues are priced at $298.99.

1/72 SCALE GEMINI SPACECRAFT WITH SPACEWALKER Dragon's latest Space Collection model includes two pilots, one of which is performing a spacewalk, as well as an opening hatch for better viewing of the inside of the capsule. This item is listed at $40.99.

UP: CARL & RUSSELL MERITORIOUS MOMENT PORCELAIN STATUE Enesco has announced a new statue from the Pixar movie "Up". It shows Carl congratulating Russell on his final badge; it stands 6.75" tall and is priced at $259.99.

PLAYMOBIL PIRATES, GHOST PIRATES Ten new Playmobil items have been listed from the Pirates and Ghost Pirates lines. They range from $8.99 for the Ghost Pirates figure trio to the $129.99 for the Large Pirate Ship; be sure to take a look at all of the new items at the link.

JUSTICE LEAGUE UNLIMITED For the benefit of our international and other customers, we have a small stock of new and returning exclusives on the way. The Gotham City Criminals, Legion of Super-Heroes, Shazam Family and Doom Patrol four-packs, as well as the Darkseid and Kalibak Two-Pack are coming back, priced at $24.99 each. In addition, we have the new JLU 7-Pack up, priced at $84.99.

MOTU CLASSICS SNOUT SPOUT, BUBBLE POWER SHE-RA, SWIFT WIND We also have small quantities of the new Snout Spout, Bubble Power She-Ra and Swift Wind on the way, and they are priced at $31.99, $34.99 and $47.99, respectively.

12" GREEN LANTERN HAL JORDAN FIGURE WITH STAND This new figure from the movie has light-up functions in both the figure and the base to give you options for play and display. We have this figure listed at $89.99.

--------------
OVERSTOCK SALE
--------------

We've cut prices on 30 older overstocked items, many figures are in the $3 to $5 range each. We've also updated the rest of our sales menus so all current sale items can be found here:
http://www.bigbadtoystore.com/bbts/list.aspx?list=7909

------------
NEW ARRIVALS
------------

ROBOCOP FIGMA ACTION FIGURE Max Factory's new Robocop Figma action figure comes with multiple hands and additional body parts, including a pistol with firing effect that can be stored in his leg like in the movie. He also includes a Figma stand, and is listed at $56.99.

HALO PLAY ARTS KAI MASTER CHIEF, COMBAT EVOLVED SPARTAN MARK V BLACK Most of our shipment of this great figure is already out the door, but we still have a small quantity in stock. This 9" figure is all ready for battle, and we have him priced at $49.99, $5 off the MSRP. We also have received the Spartan Mark V Black figure, and it is priced at $53.99.

MICKEY MOUSE MIRACLE ACTION FIGURE - RUNAWAY BRAIN EDITION This crazy version of the figure includes the same level of articulation as the regular version, with the added Runaway Brain deco. We have him listed at $29.99.

CAPTAIN AMERICA MOVIE FIGURE RESTOCK We have received a small restock shipment of Captain America figures. We now have stock of Crossbones, Hydra Movie Figure 2, Super Combat Captain America, Desert Ambush Captain America and more - be sure to take a look and grab whatever you need.

BIG BANG THEORY SOFT KITTY PLUSH Now you can have your very own version of Sheldon's Soft Kitty, inspired by the song his mother would sing to him when he was sick. This plush measures about 19" long including tail, and is priced at $29.99.

GREEN LANTERN MOVIE MASTERS KILOWOG EXCLUSIVE Mattel's exclusive Kilowog Movie Masters figure has arrived. This figure measures almost 8" tall and comes in a white mailer box; we have it listed at $29.99.

ADVANCED GRAPHICS CARDBOARD STAND-UPS We have received another shipment of these life-sized (or so) stand-ups. This shipment includes characters like Raiden, Popeye, Animated Batman, Draco Malfoy, Daffy Duck and more - check the link to find the new items.

NINTENDO 5" CLASSIC FIGURE SERIES 01 - SET, SINGLES This set of 3 includes Mario, Luigi and Yoshi, and is available at $23.99. We also have singles available of all three figures, priced at $8.99 - $9.99 each.

STAR WARS DEATH STAR TRENCH RUN SET This exclusive new box set goes back to the original movie and includes Luke Skywalker's X-Wing with Luke in Pilot Suit and R2-D2 plus Darth Vader and his TIE Advanced. We have this great new set listed at $134.99, and it will make a great gift for any fan.

REAL GHOSTBUSTERS MINIMATES SERIES 02 BOX SET This second set will allow you to complete the basic cast of the show, with Peter, Winston and Lewis, as well as an angry Stay-Puft Marshmallow Man to round it out. We have this set priced at $15.99, $2 off the MSRP.

STAR WARS STEALTH OPS CLONE TROOPER This new exclusive figure has a new deco and comes with a pistol, stand, die and card. We have this figure listed at $17.99.

MARVEL LOGO NEON SIGN The true Marvel Zombie will not want to miss out on this great piece. It has the red Marvel "M" with the word "comics" through the middle, done in white. It can be mounted on the wall or on its own display stand, and it is priced at $109.99, $15 off the MSRP.

MARVEL GUITARS AND ACCESSORIES A number of new Marvel Guitar items have come into stock. We have the Captain America Rockmaster Electric Guitar at $189.99, $10 off the MSRP, as well as picks, straps and more - check them all out at the link.

ROBOT DAMASHII WING GUNDAM - ENDLESS WALTZ EXCLUSIVE VERSION This Tamashii Online Store exclusive version comes from the follow-up OVA to the original Gundam Wing series and includes additional hands, a beam saber, a shield, a laser rifle and more. We have this exclusive figure listed at $96.99.

BigBadToyStore.com