NYCC Minimates, 1/4 Gort Predator, Transformers Prime, Batman Mez-Itz, Hot Wheels Cult Classics at Big Bad Toy Store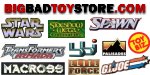 November 9, 2011 - (Sponsor Announcement) - Online retailer BigBadToyStore.com has several new item of interest to collectors:

-------------
NEW PREORDERS
-------------

TRANSFORMERS PRIME - SPECIALTY MARKET EXCLUSIVE The Transformers Prime Series 01 First Edition figures are finally ready for pre-orders. The first waves of Deluxe includes Bumblebee, Starscream, Arcee, and Cliffjumper. The set of four available @ $59.99, cases of 8 are $99.99 and some figures are available singly. The Voyager wave 01 includes Optimus Prime and Bulkhead, and the Entertainment Pack includes Deluxe versions of Optimus Prime and Megatron as well as Jack, Miko, Rafael and a DVD of the series' first episode, and is priced at $34.99. Finally, we have a Transformers Prime Blaster for role-play, and it is priced at $24.99.

GORT PREDATOR WITH MASK 1/4 SCALE FIGURE NECA has just announced a limited edition 5000-piece run of the 1/4 scale Gort Predator with mask from "Predator". This figure comes with a new left hand with skull and spine trophy, as well as his extendable blades, removable backpack and more. We have this figure listed at $84.99 -- be sure to grab one before they're gone.

SERENITY LITTLE DAMN HEROES MAQUETTE The Firefly model Serenity has been added to the Little Damn Heroes line of maquettes from the show. it measures about 8" long (1:400 scale) and was created from the show's CGI files; we have it listed at $89.99, saving you $10 off the MSRP.

HOT WHEELS CULT CLASSICS The new Hot Wheels Cult Classics line of 1:18 scale and 1:43 scale toys takes vehicles from famous movies and shows and brings them home. We have listings for Ecto-1 and Ecto-1A from "Ghostbusters" and "Ghostbusters 2", the Batpod, the 1989 Batmobile, the A-Team's van, K.I.T.T and the Time Machine from "Back to the Future".

ROBE SHOW LICENSED ROBES - TREK, SW, DC & MORE We have listings from a new vendor. Robe Show produces fleece and terry cloth robes for a variety of licenses, and we have listings up for Star Wars (Yoda, Jedi, Empire), Star Trek, DC Comics, Rocky, Bruce Lee and Evel Knievel robes, and even some kid sizes as well.

LOTR ORTHANC - ISENGARD TOWER ENVIRONMENT WETA brings their mastery of sculpture to yet another location from the Lord of the RIngs Trilogy with this Environment of Orthanc before the War. It stands almost 17" tall and is surrounded by trees and other plants. We have this piece listed at $248.99.

BATMAN MEZ-ITZ Four new items have been added to the Batman Mez-Itz line. The 2" figure line expands with the Batmobile Tumbler & 2" Batman and Bat-Pod & 2" Batman & Joker packages, each priced at $21.99. There is also a four-pack of 2" Mez-Itz - Batman, Joker, Two-Face and Scarecrow, and it is priced at $17.99. Finally, the 6" Mez-Itz line adds the Series 04 set of Batman & Joker, which is priced at $25.99; you can also get the two figures individually, priced at $13.99 each.

BOWEN - THE THING STATUE The first of this month's Bowen Designs statues is a new statue fo the Thing. This new version of the Fantastic Four mainstay is sculpted by Randy Bowen and stands 13.5" tall. We have it priced at $199.99.

BOWEN - CLINT BARTON GOLIATH WEBSITE EXCLUSIVE STATUE The next Marvel statue is Clint Barton (Hawkeye) from back when he substituted as the Avengers' resident giant. This Goliath statue stands 16.5" tall and is listed at $249.99.

BOWEN - SURTUR WEBSITE EXCLUSIVE BUST This bust of the fire giant from the Norse myths stands 13" tall, towering next to other Marvel busts and measuring as tall as (or taller than) many statues! This website exclusive is priced at $199.99 and includes translucent 'fiery' parts.

FUNKO POP! DISNEY FIGURES The POP! line continues with the new Disney figures. The first assortment includes Mickey Mouse, Tinker Bell, Pinocchio, Jiminy Cricket, Snow White, Cruella De Vil, Maleficent and Stitch, and each figure is priced at $9.99.

VINYL INVADERS: KISS ROBOT - THE DEMON Gene Simmon's The Demon is the first KISS Robot figure in the Vinyl Invader line. It stands 11" tall with a Shogun Warriors-style, and is priced at $35.99, saving you $4 off the MSRP.

NEW JUNKION BLACKSMITH ITEMS This third party company has announced a few new items. Their head figure line expands with three new figures - Earth Command, Broadcaster and
Destruction Lord - and each changes into a Head form that is compatible with G1 Headmasters, as well as a familiar robot mode and a third mode. We have these figures listed at $16.99 each. We also have both the red and blue versions of the infinity Warfare II set, which has a number of weapons that can form into one larger weapon. These sets can also combine with the original Infinity Warfare sets to form giant weapons for huge Transformers, and each set is listed at $29.99.

GUNDAM MODEL KITS Many new Gundam model kits are now up and ready for pre-orders. The Endless Waltz version of Master grade 1/100 Gundam Sandrock is available, priced at $62.99. We also have Real grade 1/144 ZGMF-X10A Freedom Gundam, priced at $39.99 and 1/144 High Grade RGM-79R GM II at $22.99. The Gundam AGE line continues in 1/144 scale with Advanced kits at $9.99 and High Grade at $19.99. Finally, six Gundam Seed model kits get the Remaster treatment and are priced at $19.99 as well.

TINTIN STATUES - SNOWY, THOMPSON & THOMPSON WETA has two more statues from the Adventures of Tintin line on the way. Snowy stands over 5" tall and is priced at $39.99, while Thompson & Thompson are 12.4" each, and are priced at $298.99 for the pair.

1/10 SCALE I.S.S. SPACE SUIT EXTRAVEHICULAR MOBILITY UNIT This kit is the current design of the units that International Space Station astronauts use while doing extravehicular work. We have it priced at $98.99.

DRAGON EXPO FIGURES, TANK This year's Dragon Expo brings four new exclusive figures as well as a Sherman Tank. The tank is a 1/6 scale Sherman M4A3 75(W) and is priced at $649.99 ($50 off the MSRP), while the four new German Wehrmacht soldiers are listed at $94.99 - $99.99 each.

JACK SKELLINGTON'S HOUSE SURREAL ESTATE STATUE This new Enesco statue shows Jack Skellington's house, perched atop a rickety staircase. It contains flickering lights (with added batteries), stands 12.5" tall and is priced at $149.99.

GAME OF THRONES ACCESSORIES Dark Horse has announced a whole line of Game of Thrones collectible items. These includes House Crests, bookmarks, playing cards, magnet sets, mugs, journals and even a lapel pin so you can be the Hand of the King!

NEW MAD ENGINE SHIRTS We have listings up for a number of new Mad Engine shirts. From a Darth Vader ("V") basketball jersey and a Star Wars Tank Top to Marvel T-shirts featuring the Punisher, Wolverine and Spider-Man, this new assortment has a decent variety and gets some new styles into the mix.

------------
NEW ARRIVALS
------------

MARVEL UNIVERSE 3.75" 2011 SERIES 03 RESTOCK - CASE, SET, SINGLES Our latest restock shipment included a number of cases of Marvel Universe 2011 Series 03. This assortment includes Falcon, Scarlet Spider, Skaar, Dr. Doom and Dr. Strange, and they are available as a set of 5 for $49.99. They are also available as a case of 12 (two of each plus one each of Apocalypse and Gladiator) at $104.99. Finally, we have singles available of all the figures in this assortment, so if you've missed any, now is a great time to pick them up.

TRANSFORMERS RAGE OVER CYBERTRON THREE-PACK This set includes recolored versions of War For Cybertron Bumblebee, Optimus Prime and Megatron. Megatron even includes clear purple parts, including his cannon turret. This set is listed at $59.99.

CRYSIS 2 1/18 SCALE FIGURE RESTOCK A small restock shipment has arrived of the Crysis 2 1/18 scale figures. We haev the set of six listed at $59.99, along with singles of Alcatraz Nanosuit 2.0, NOMAD Nanosuit 1.0, Heavy, Grunt and C.E.L.L., priced at $5.99 - $8.99 each.

PHICEN LIMITED - LAURA II 1/6 SCALE FIGURE This new 1/6 scale figure just happens to resemble a certain video game archeologist lady, and includes multiple weapons, a full clothing set, a display stand and replaceable hands. We have her listed at $114.99.

NYCC SPIDER-MAN & FIREFIGHTER MINIMATES TWO-PACK The first of two NYCC Minimates two-packs, this one not only contains a New York Firefighter, but also Spider-Man in a New York Firefighter outfit. They comes with firefighter accessories like an axe and a flashlight, as well as interchangeable parts, and are listed at $8.99 for the pair.

NYCC 2011 EXCLUSIVE ZOMBIE MINIMATES TWO-PACK This two-pack from NYCC includes a Biker Zombie and Surgeon Zombie, as well as two variant heads. This set is limited to 3000 pieces, and we have it priced at $8.99.

TRANSFORMERS DOTM VOYAGER SERIES 04, 04 REVISION 02, 04 REVISION 03 - CASE, SINGLES These new cases each contain the new recolor of Ironhide and the original Megatron; Wave 04 includes Optimus Prime and Sentinel Prime, while Wave 04R02 includes Sentinel Prime and Fireburst Optimus Prime and Wave 04R03 includes Shockwave and Fireburst Optimus Prime. These cases are each listed at $89.99; in addition, we have singles available of the new Ironhide ($34.99) and most of the other figures.

TRANSFORMERS DOTM CYBERVERSE COMMANDER SERIES 04 REVISION 02 - CASE, SINGLES This new case assortment includes two of Battle Steel Optimus Prime and one each of Ironhide with Blasters, Powerglide with Missiles, Autobot Guzzle and Dark Sentinel Prime, and is priced at $54.99. We also have singles available of all but Autobot Guzzle, priced at $9.99 - $14.99 each.

NHL SPORTSPICKS 29 - CASE, SINGLES This new assortment includes Alex Burrows (x2), Alexander Ovechkin (x2), Patrick Kane 2, Steven Stamkos and Terry Sawchuk, as well as a Chase or Collector Level figure, and is priced at $99.99. We also have a few singles of some figures in stock, priced at $13.99 each.

BATMAN FILES DELUXE HARDCOVER This Book begins with a fabric cover that has a metallic Batman emblem, and opens to give a more complete understanding of Batman and his war on crime. It includes computer files, news articles, blueprints, crime scene photos, schematics and maps of Gotham City, among others. This book is listed at $84.99, saving you $15 off the MSRP.

FEMME FATALES MINIMATES SERIES 01 BOX SET This set includes four of the most well-known females among indy and not-so-indy comics. Lady Death, Tarot, Dawn and Darkchylde are here, along with their weapons and other interchangeable parts. This set is listed at $15.99, $2 off the MSRP.

GUND PLUSH WINNIE THE POOH Our latest Gund shipment includes 12" Eeyore, 12" Winnie the Pooh and 12" Tigger at $24.99 each; we also have 12" Piglet at $19.99, and 9" Holiday Eeyore and 9" Holiday Winnie the Pooh at $16.99 each.

BigBadToyStore.com