Sale, Walking Dead, Batman Legacy, Predators, Doctor Who, Rocky at Big Bad Toy Store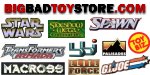 November 3, 2011 - (Sponsor Announcement) - Online retailer BigBadToyStore.com has several new item of interest to collectors:

Hi - Here is a quick update from http://www.bigbadtoystore.com about some great new arrivals, more new preorders, and 2 sale menus:

---------
SALE MENU
---------

15% OFF - 1600 ITEMS: We've reduced pricing by 15% on all the older items on the menu below. Menu will be updated daily to remove items as they sell out:
http://www.bigbadtoystore.com/bbts/content.aspx?content=60

20% TO 40% OFF - 1300 ITEMS: Over 600 items have already sold out on this sale, be sure to check through the remaining items for some great deals:
http://www.bigbadtoystore.com/bbts/content.aspx?content=59

-------------
NEW PREORDERS
-------------

WALKING DEAD TV SERIES 02 The second assortment of figures from the Walking Dead TV Series will includes Shane, Andrea and two new Zombies. Each figure is listed at $14.99, or you can grab the set of 4 at $54.99, saving $13 off the MSRP.

WALKING DEAD COMIC SERIES 02 The second assortment of comic-based figures is also listed. This group includes Riot Gear Glenn, the Governor and two different Zombies. Like the TV figures, these are listed at $14.99 each or $54.99 for the set, saving you $13 off the MSRP.

BATMAN LEGACY SINGLE SERIES 03 - SET, SINGLES The third assortment of Batman Legacy singles includes classic versions of First Appearance Batman and Catwoman, as well as Arkham City versions of Harley Quinn and Nightwing. Each figure is listed singly at $17.99, or as a set of 4 for $67.99, saving you $12 off the MSRP.

PREDATORS 7" FIGURE SERIES 04 - CASE, SET, SINGLES This assortment includes the City Hunter Predator, the Predator Shaman and the Boar Predator. They are available as a set of three for $47.99 ($9 off the MSRP) and as a case of 14 (5 City Hunter, 5 Shaman, 4 Boar) for $199.99 ($66 off the MSRP). We also have singles of the City Hunter and Shaman figures available, priced at $16.99 each.

NEW HERCULES ROBOTS - DR. CRANK, STRUCTOR Two more robots from TFC Toys' Hercules group have been put up for pre-order. Dr. Crank transforms into a hook truck, while Structor is a earth mover; each will join with the rest to form the giant Hercules robot. We have each figure listed at $99.99.

HALO 4 FIGURES, BOX SETS We also have preliminary listings up for McFarlane figures based on the upcoming Halo 4 video game. The first assortment is listed by case of 8 at $89.99, with early singles of Cortana and Master Chief available at $11.99 each. There will also be two Deluxe figures in the first assortment, and one of them will be Frozen Master Chief in Cryotube. In addition, there are two Deluxe Box Sets in Series 01, one of which is a Warthog.

DOCTOR WHO 2011 SERIES 03 SET The latest wave of Doctor Who figures includes the Eleventh Doctor with Beard, Cyberman with Face Damage, Cyberman with Chest Damage, a pack of 20 Cybermats and a Peg Soldier. We have them listed as a set of 5 for $79.99, and they are set to arrive in early December.

TAMASHII NATION FEBRUARY 2012 PRE-ORDERS Eight new items from Bandai Japan are up for pre-orders now. We have Ultra-Act Ultraman Dyna, S.H. Figuarts Sky Rider and Sky High, Saint Cloth Myth Harpy Valentine, Figuarts Zero Boa Hancock with Salome and Crocodile, Super Robot Chogokin Zeorymer of the Heavens and Robot Damashii Arbalest Lambda Driver. You can check them all out at the link.

HALO MICRO OPS McFarlane is branching out into small figures to provide more action per product. We have these listed as Small Card Sets, Large Card Sets and Box Sets, which are split into Small Box and the Large Box Elephant Vehicle, which transforms into a playset. They are priced from $19.99 to $74.99; we are waiting on pics and more details, but we have rough descriptions of many of the items up now.

HALO UNIVERSE SERIES 03 Speaking of Preliminary listings, we have Halo Universe Series 03 listed. We have no details on figures yet other than that the case assortment will contain eight figures, and those are up for pre-orders as a case at $89.99.

NEW MORTAL KOMBAT STATUES Three lovely ladies are joining this statue line by Syco. Jade, Kitana and Mileena each measure 10" tall and are shown with their signature weapons. We have them listed at $114.99 each, saving you $15 each off of the MSRP.

ROCKY 7" ACTION FIGURE SERIES 01 - SET, SINGLES NECA's new line of Rocky figures starts off with Rocky Balboa and Apollo Creed from "Rocky". They are available singly at $17.99 each, or as a set for $33.99, saving you $4 off the MSRP.

IGEAR W-01 UPGRADE KIT This assortment of weapons includes a Sniper Rifle and two Pistols for Universe/Henkei Perceptor and two Pistols for Universe/Henkei Kup, along with an ABS case to store them all in. This set of weapons is listed at $17.99.

CDMW-02 CONSTRUCTION BRIGADE POWER PARTS CUSTOM HIPS/WAIST (YELLOW) CrazyDevy is going back to production on the Constructicon hips/waist piece, but this time it will be made to match the G2 yellow plastic color. This set is listed at $35.99.

WORLD WAR ROBOT 7" HEAVY BRAMBLE FIGURES The World War Robot line continues with six different versions of the 7" Heavy Bramble figure. We have listings for Gravedigger, JEA Marine, Deimos Defence, African Defence, Cydonia Defence and NG Defence up for pre-order, priced at $64.99 each.

BTVS ANGEL 17.5" STATUE Sideshow's offerings start out with an Angel statue to join Buffy and her friends in the new line. It stands 17.5" tall and shows the vampire hero in his leather jacket perched atop a gargoyle-decorated rooftop. This statue is listed at $269.99.

ASAJJ VENTRESS 1:1 SCALE BUST This Sith assassin will now be getting her own life-size bust. It stands almost 24" tall, includes a removable cloth cowl, and is priced at $494.99.

BIGFOOT 1/5 SCALE STATUE Sideshow is branching out into new areas, and this Bigfoot statue is one of those new ideas. It stands 19" tall and shows him walking on a grassy base; we have it listed at $279.99, saving you $20 off the MSRP.

ARCH ANGEL 14" STATUE The Archangel Michael from the Might & Magic video game series will now be available as a statue courtesy of Ubisoft. He comes with wings outstretched and sword in hand, and is priced at $329.99, saving you $20 off the MSRP.

ASSASSIN'S CREED II EZIO 15" STATUE The lead of the second Assassin's Creed game is being made into a 15" Polystone statue. It has Ezio running through the ruins of a temple, and is priced at $349.99, saving you $50 off the MSRP.

PLAYMOBIL SETS We have listed eight sets from the Playmobil Egypt line. From the Egyptian Chariot at $17.99 to the Pyramid at $117.99 to the Tomb with Treasure at $33.99, these sets are sure to spark imagination at playtime. We will have more listings for other lines up soon, so keep watching.

DOCTOR WHO - PERI & SHARAZ JEK from "THE CAVES OF ANDROZANI" The latest Doctor Who Classics Box Set includes companion Peri and Sharaz Jek. Jek comes with an alternate head, and we have the set listed at $39.99.

FIFTH SUN T-SHIRTS We now have listings up for t-shirts from a new vendor, Fifth Sun. This first assortment includes t-shirts from Voltron (lion and vehicle versions), Star Wars and Futurama, so take a peek at them and see what you like.

STAR TREK CUFFLINKS Three new pairs of Star Trek cufflinks are now listed. We have the Enterprise Ship in silvertone, the Red Squadron symbol and the Starfleet Command symbol, and each pair is listed at $64.99.

NEW MARVEL GUITARS Peavey Electronics has announced some new guitars under the Marvel license. The Predator Plus EXP Electric Guitar gets a new Captain America paintjob and is priced at $399.99. The Rockmaster Electric Guitar is now available in X-Men and Spider-Man versions, with each priced at $199.99. Finally, the new Junior Acoustic Guitar is available in Captain America and Thor versions, priced at $54.99 each.

------------
NEW ARRIVALS
------------

DC UNIVERSE CLASSICS SERIES 19 - SET, SINGLES Series 19 includes Classic Hawkman, Stargirl, Sandman, the Atom, Lord Naga of Kobra and Magog, and we have them listed individually for $17.99 each. We also have them listed as a set of 6 with all of the parts to assemble the S.T.R.I.P.E. C-N-C figure, and the set is priced at $99.99.

MOVIE MASTERPIECE DX05 INDIANA JONES Indiana Jones from "Raiders of the Lost Ark" is next to get the Deluxe Movie Masterpiece treatment. In addition to getting the PERS movable eye system, he comes with a display with movie backdrop, two different outfits, pistols and other accessories, the Staff of Ra, alternate hands and more. This Deluxe figure is listed at $239.99, $10 off the MSRP.

HALO: REACH SERIES 05 - CASE, SINGLES This case assortment includes two each of Carter (Unhelmeted) and Elite Ranger, along with one each of Brute Chieftain, Skirmisher Murmillo, Spartan Gungnir Custom (Male) and a Halo: Reach Weapons Pack. We have the case listed at $87.99; we also have singles remaining of some figures and Weapons Packs, priced at $11.99 each.

HERCULES HEAVYLABOR The second figure in TFC Toys' Hercules line is Heavylabor this large green and purple robot transforms into a dump truck and also becomes the midsection of the Hercules gestalt robot. We have this figure listed at $97.99, and he also includes an upgraded scoop shovel arm for Exgraver, the first figure in the line.

BATMAN LEGACY TWO-PACKS SERIES 02 - SET, SINGLES The second wave of two-packs includes Robin & joker from Arkham City and Dark Knight Batman & Police Honor Guard Joker from "Batman: The Dark Knight". We have the two-packs listed at $33.99 each, or as a set for $64.99.

MOVIE MASTERPIECE IRON MAN MARK V Hot Toy's 1/6 Scale Iron Man Mark V figure comes with LED-lit parts as well as a number of interchangeable regular and battle-damaged pieces. It also comes with an LED-lit figure stand, a suitcase and more, and is priced at $209.99.

DANGER ROOM SESSIONS GAMBIT STATUE Kotobukiya's latest Danger Room Sessions statue shows X-Man Gambit with staff in one hand, getting ready to throw a charged card from the other. It stands 13.75" tall and is priced at $189.99, saving you $20 off the MSRP.

MASS EFFECT SSV NORMANDY SHIP REPLICA This miniature version of the Normandy from Mass Effect measures 6.25 long and includes a display base. As the first in a new line of ships, fans won't want to miss this one; we have it listed at $29.99, saving you $5 off the MSRP.

THRONE OF CHAOS UNICRON STAND This 7" tall stand is made to hold Unicron in planet mode, but can also be used for Primus, Tidal Wave or any number of other figures. It is priced at $34.99, and is made of 3/16" thick acrylic for added strength.

MARVEL UNIVERSE SECRET WARS COMICS TWO-PACKS 2011 SERIES 03 CASE, SINGLES The 2011 Series 03 Case includes two each of Bullseye & Daredevil and Wonder Man & Quicksilver, along with one each of Thor & Iron Man, Wolverine & Captain America, Spider-Man & Captain Britain and Power Man & Iron Fist. The case is listed at $119.99; we also have some leftover singles available of the four latter sets, so if you missed any fo them before, feel free to take a peek and grab what you need.

GOKAI RANGER GOKAIOH This import figure of the Samurai Shinkenger Megazord can separate into its five vehicles, giving a whole new aspect to playtime. We have it listed at $44.99.

SOUTH PARK CLASSICS SERIES 03 - SET, SINGLES The third assortment of Mezco's South Park Classics includes Motorcycle Cop Cartman, Frozen Kenny and Mr. Hanky. Each figure is available singly at $12.99, or you can pick up the set of three for $32.99, saving you $6 off the MSRP.

LIVING DEAD DOLLS PLUSH SERIES 02 SET Sin and Posey make up the latest pairing of Living Dead Dolls Plush. They each stand 8" tall, and the set of two is listed at $24.99, saving you $4 off the MSRP.

PE-11 SFX SCOUTING FORCE X CAMERA SET - CONVENTION EXCLUSIVE We have managed to get a small quantity of the convention version of the Scouting Force back into stock. his set is redone in a light gray/dark gray color scheme, and is listed at $169.99.

SDCC 2011 EXCLUSIVE ZARANA - PINK HAIR VERSION Zartan's sister from GI Joe is now available again. She goes great with our new Dreadnoks set of 7, and we have this convention exclusive listed at $59.99.

HEADROBOTS BUTCHER This new black and red Headrobot is compatible with original Headmaster bodies as well as newer figures. He has a clear red visor and two plasma knives, and is priced at $31.99.

REPRODUCTION TECHNICAL SPECIFICATIONS CARD SET RESTOCK We have restocked all currently available sets of the Reproduction Tech Spec Card Sets. We have the '84 set, '85 sets 1 and 2 and '86 set 1; we also have the special Mail-In Figure set. Be sure to grab the ones you need before they're gone.

CDMW-24 OMEGA GIANT'S POWER PARTS CUSTOM LEGS CrazyDevy's latest release is a set of extensions for Omega Supreme's legs. These pieces are colored to match the original parts, and we have the set listed at $39.99.

MARVEL UNIVERSE SINGLES We've got a good amount of stock of Doctor Doom, Falcon, Skaar, Scarlet Spider, Gladiator and Apocalypse available now, so get your orders in for what's needed in your collection.

BigBadToyStore.com