Diamond Select Toys Signs Lenore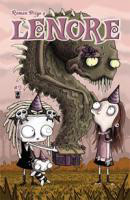 Diamond Select Toys Secures License for Ghoulishly Funny Comic Book Lenore, The Cute Little Dead Girl by Roman Dirge

(BALTIMORE, MD) - (October 21, 2011) - Diamond Select Toys, the Maryland-based collectibles company that is quickly becoming known for their supernatural product lines, has secured a new license: Lenore, The Cute Little Dead Girl, from creator- writer-artist Roman Dirge. Celebrating her 20th anniversary next year, Lenore has been the star of her own comic book and animated series, and will soon be the star of a diverse product line from DST including action figures, MiniMates™, PVC figurines, banks, bottle openers and ice cube trays.

"The team at Diamond Select is thrilled to be working on new product for this fun, dark and occasionally gruesome series," said Chuck Terceira, Director at DST. "Diamond has been getting a great response to their horror-themed brands -- The Munsters, Universal Monsters, Ghostbusters, Calico Jack's Pirate Raiders and Maximum Zombies -- and we think Lenore is just the right mix of terrifying and irreverent. The character of Lenore is instantly recognizable to a wide audience, and her supporting cast consists of some beautifully creepy, wonderful characters who will make great collectibles."

"I have been working on numerous new Lenore comic books this year and I am excited to see her popularity continuing to grow," stated Roman Dirge. "Diamond is in touch with Lenore's fan base and I am looking forward to working with them to develop some great new Lenore products for her fans. With the feature film in development, I believe Lenore is on a course for phenomenal growth."

Inspired by the eponymous poem by Edgar Allan Poe, the character debuted in Xenophobe magazine in 1992 and received her own comic book from Slave Labor Graphics in 1998. In her adventures, the undead, homicidal waif wanders in and out of people's lives, wreaking havoc everywhere she goes, and the comic was turned into a web cartoon in 2002. More recently, Lenore Volume II began publishing in 2009 from Titan Books, and a CGI film adaptation is in development with Neil Gaiman (author of Coraline, the comic book series The Sandman, and novels Stardust, American Gods, and The Graveyard Book) set to be executive producer.

For more information on Lenore, The Cute Little Dead Girl, visit www.spookyland.com.

All DST toys and merchandise are available online from www.diamondselecttoys.com or by visiting your local comic book specialty shop-go to www.comicshoplocator.com to locate a shop near you.

ABOUT DIAMOND SELECT TOYS AND COLLECTIBLES, LLC-Diamond Select Toys and Collectibles, LLC was founded in 1999 by sister company Diamond Comic Distributors, Inc. Envisioned to create unique and exciting collectibles for children and adults alike, the company has licensed a variety of pop culture properties to be turned into merchandise. In 2007, Diamond Select Toys made a move to acquire select assets of the New York based Art Asylum, creators of the global Minimates brand. Minimates have been recognized as the #1 selling block figure in the world and were the first toys ever to be inducted into the Toyfare Hall of Fame in 2007. With partners such as Marvel Enterprises, Microsoft, Universal Studios, Twentieth Century Fox, Hasbro, MGM and Sony Pictures, Diamond Select Toys and Collectibles produces a large range of products based on a wide variety of properties, and is headquartered in Timonium, MD. For more information, visit www.diamondselecttoys.com and www.artasylum.com.