MP-11 Coronation Starscream, Thundercats, Marvel Minimates 43, Marvel Select Amazing Spider-Man at Big Bad Toy Store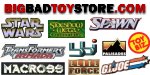 October 22, 2011 - (Sponsor Announcement) - Online retailer BigBadToyStore.com has several new item of interest to collectors:

-------------
NEW PREORDERS
-------------

MP-11 MASTERPIECE CORONATION STARSCREAM We have just listed the newly-announced MP-11, Coronation Starscream. This new version of the Sky Commander will come with a crown, shoulder armor and multi-part cape, and appears to have newly-designed parts. We have this figure listed at $159.99.

BIGBADTOYSTORE EXCLUSIVE GI JOE SEVEN-PACKS - DREADNOKS, MARAUDERS We are proud to announce the newest BBTS exclusives - two new GI Joe Seven-Packs! The Slaughter's Marauders includes Bull (Taurus), Mercenary (Mercer) Red Dog and Falcon, along with Spirit, Low Light and Barbecue, while the Dreadnoks includes Road Pig, Zanzibar, Gnawgahyde, Burnout, Thrasher, Zandar and Zanya; each set of 7 is listed at $49.99. We also have them listed as a set of the two seven-packs at $89.99, and as a set of four seven-packs with the Resolute GI Joe and Cobra sets at $124.99.

NEW THUNDERCATS LISTINGS Bandai America has announced many new items in the Thundercats line. We have two new case assortments of 12 4" figures for Series 02, and they are priced at $89.99 per case. We also have a 4" Deluxe Figure Series 02 Set of 3, including Lion-O, Panthro and Slithe, and it is priced at $39.99. The Classic Collector line appears to have switched to a 6" format, and the first assortment includes Lion-O and Mumm-Ra - we have them listed as a set of 2 for $31.99. The regular 6" Collector Series 02 line has two different case assortments available, with each case listed at $63.99 and including 4 figures. The 12" Armor of Omens Exoskeleton figure includes a semi-articulated 4" figure of Lion-O within and is priced at $25.99. Finally, the Eye of Thundera 6-Pack includes Stylized versions of Lion-O, Tygra, Panthro, Cheetara, Mumm-Ra and Slithe, and is priced at $24.99.

NEW BOWEN STATUES, BUST Bowen Designs has announced four new Marvel collectibles. We have listings for a 13.5" Mr. Fixit Statue at $239.99, a 12" Madelyne Pryor Goblin Queen statue at $229.99, a Rogue Classic 14.5" statue at $224.99, and a Magneto Variant 6" Mini Bust at $79.99.

MARVEL MINIMATES WAVE 43 SET OF 8 "The Death of Jen DeWolff" is the basis for the next assortment of Marvel Minimates. This assortment includes Jean DeWolff, Spider-Man, Daredevil, Sin Eater, Aunt May, J. Jonah Jameson and two SHIELD Agents, and is listed at $29.99, saving you $6 off the MSRP.

STAR WARS RETAILER EXCLUSIVE - 12" TEDN D'HAI & NALAN CHEEL BITH BAND Sideshow has announced their latest Retailer exclusive - this time, it is a set of Tedn D'Hai and Nalan Cheel, two members of the Bith Cantina Band. Each comes with their signature instrument, and the set is listed at $144.99, $5 off the MSRP.

CAPTAIN AMERICA CLASSIC COSTUME FINE ART STATUE The second piece in Kotobukiya's Avengers statue trio is up for pre-order. This figure shows Cap on a chunk of rocky ground, standing 15" tall and including both masked and unmasked heads. We have it listed at $189.99, saving you $20 off the MSRP.

STAR WARS SILICONE ICE TRAYS Kotobukiya has announced four new Star Wars Silicone Ice Trays for shaping ice cubes, chocolate treats and more. This wave includes Darth Vader's head, a Stormtrooper head, the Millennium Falcon and the X-Wing Fighter, and each is listed at $9.99.

TRANSFORMERS DA-15 DARK NIGHTWATCH OPTIMUS PRIME Takara is releasing another great exclusive Dark of the Moon figure for Japanese customers, but we will have some for our customers as well. This figure includes the huge cannons and wings of Jetwing Optimus Prime, and is done with red windows and teal flames and hubcaps, reminiscent of Nemesis Prime's color scheme. We have him up for pre-order, priced at $274.99.

OPTIMUS PRIME DUAL MODEL KIT EXCLUSIVE CLEAR VERSION WITH JAPANESE BLU-RAY This new version of the Optimus Prime Dual Model Kit comes with clear armor parts and weapons, and also includes the Japanese version of the "Dark of the Moon" Blu-Ray (may not be playable on North American machines). This Japanese exclusive is listed at $299.99, and should arrive in December.

FANSPROJECT TFX-01B SHADOW COMMANDER TRAILER SET This new custom kit set is perfect to upgrade your Classics Nemesis Prime into a powerful new form. It has been upgraded with additional metal screws, improved joints and more, and is available for pre-order at $129.99.

KAMEN RIDER FOURZE FIGURE, ACCESSORY SETS We have three listings up for the first items from the new Kamen Rider series. The Base States figure includes Rocket and Drill accessories as well as clear eye and belt pieces, and is listed at $36.99. The Stand & Effect set includes a specialized stand for displaying the figure in flight with the rocket, as well as rocket flames and two different drill effect ground parts; this set is listed at $19.99. Finally, the Module Set 01 includes a missile launcher, a radar unit, a magic hand with four points of articulation, a camera with articulated finder and interchangeable Astro Switch parts; this set is priced at $25.99.

A NIGHTMARE ON ELM STREET 7" FIGURE SERIES 02 - SET, SINGLES A second assortment of Freddy figures has been announced. The Dream Warriors Freddy has a chest full of souls and comes with a replica of the Elm Street house, while the Dream Master Freddy has the souls bursting out, complete with 8 articulated arms. We have the figures individually priced at $16.99 each, or as a set for $31.99 (saving you $4 off the MSRP for the set).

LEGEND HEROES 01 - Q'S JUDGE SRC Toys is producing a new line of legends-size TF-related figures. The first figure is a new 3" version of a Quintesson Judge, with all five faces that can be aligned as you wish. This new set is listed at $26.99, and should arrive late next month.

DOCTOR WHO CLASSIC COLLECTOR SETS Underground Toys has announced three new Classic Doctor Who figure sets. Enemies of the First Doctor includes a "Master Plan" Dalek, a Roboman and a 10th Planet Cyberman; Enemies of the Third Doctor includes a Drashig figure/puppet, an Omega figure with detachable head and an Auton; and "The Chase" includes a Mechonoid and two "The Chase" Daleks. Each set is listed at $49.99.

MARVEL SELECT - THE AMAZING SPIDER-MAN A Marvel Select figure from the upcoming Spider-Man movie has been announced. The Amazing Spider-Man is still in prototype form, but we already have pre-orders available for this new figure, priced at $19.99

GI JOE 12" REAL AMERICAN HERO SERIES 02 - CASE, SINGLES The second assortment of 12" figures includes two of the new Navy Commando along with one each of the Army Heavy Gunner and First Responder Firefighter. We have the case priced at $84.99, with the new Navy Commando at $29.99, and the other two figures at $23.99 each.

STAR WARS DARTH MAUL LEGENDARY SCALE FIGURE Sideshow's new Legendary Scale line displays figures in 1/2 scale with cloth pieces, accessories and more. The first figure is Darth Maul, who measures 40" tall, and includes his cloak and both lit and unlit light saber versions. We have this figure listed at $1949.99, saving you $50 off the MSRP.

STAR WARS 1/10 SCALE DARTH MAUL ARTFX+ STATUE Kotobukiya's latest 1/10 Scale ArtFX+ Statue is Darth Maul from "The Phantom Menace". This figure comes with multiple parts to display in different ways, and is priced at $49.99.

MAZINGER 12" VINYL FIGURE Our first listing from SD Toys is a new 12" articulated version of Mazinger. His hover pilder appears to be removable, and the figure is priced at $44.99.

DYNAMIC CHANGE GETTER ROBO SET This trio includes fully-transformable versions of Eagle, Jaguar and Boar, and these small versions and transform and be formed into all three Getter Robo figure. This set is priced at $139.99.

KRATOS BLADE OF CHAOS FOAM SWORD REPLICA This new replica has a core of fiberglass and rubber that is coated with foam of a safe and flexible play item. It includes a hard plastic chain and is priced at $39.99, saving you $5 off the MSRP.

STRAWBERRY SHORTCAKE GARDEN PRETTY FIGURES This assortment of figures in sundresses includes two each of Strawberry Shortcake and Cherry Jam, along with one each of Orange Blossom and Blueberry Muffin. The case of six is listed at $59.99, with singles at $11.99 - $13.99 each.

HERE COMES THE MAID 1/6 SCALE CHIHAYA EXCLUSIVE VERSION The first item from the "Here Comes the Maid" line of 1/6 scale figures is the Chihaya exclusive. It comes with alternate hands, feet and legs, and is listed at $159.99.

GRENDIZER VINYL, DIORAMA, STICKERS A number of new Grendizer items are up for pre-order. First, we have Baby Grendizer in four different versions (regular, with Special Weapon, Manga and Black) at $52.99 each. We also have a Grendizer Vs. Janus Limited Edition Diorama which is 8" tall and limited to just 444 pieces worldwide, and it is priced at $294.99. Finally, we have a Grendizer 6' Removable Wall Sticker at $39.99, with a set of 23 jumbo Removable Wall Stickers at $24.99.

COBRA REMOVABLE WALL STICKERS In addition to Grendizer, we have a couple of Cobra the Space Pirate sticker entries. The 6' Removable Wall Sticker is priced at $39.99, with a set of 23 jumbo Removable Wall Stickers at $24.99 as well.

TWILIGHT BREAKING DAWN ACCESSORIES NECA has announced many new accessories inspired by "Breaking Dawn". They include bookmarks, bag clips, earrings, dog tags, keychains, bracelets, picture frames, lunch boxes, water bottle, prop replicas, lockets, necklaces and fleece throws. Fans of the Twilight saga will not want to miss out on these new items.

------------
NEW ARRIVALS
------------

ENTERBAY REAL MASTERPIECE LEON 1/6 SCALE FIGURE This new figure from "The Professional" includes a head sculpt of Jean Reno, along with a number of handguns, grenades, a dagger, interchangeable hands, cloth outfit pieces, a suitcase, a houseplant, a milk carton and glass and more. We have this set listed at $229.99, so don't miss out on this fantastic figure.

ENTERBAY 1/6 SCALE ORIGINAL ACTION BODY RM-X Enterbay's newest iteration of the 1/6 scale figure body has a rubber body coating and contractible biceps for realistic posing and feel. In addition, it comes with over 26 points of articulation, interchangeable hands and more, and is listed at $84.99.

REVOLTECH #107 ARX-8 LAEVATEIN WITH XL-3 BOOSTER This robot and booster wing set comes loaded with guns as well as extra hands, energy effects and more. We have this Full Metal Panic figure set listed at $57.99, and it also includes a display stand that can be used with both the robot and the wing unit.

MUNSTERS SELECT - HERMAN, LILY, GRANDPA Just in time for Halloween, we've received the first wave of Munsters Select figures. Grandpa, lily and Herman each come with accessories as well as part of a build-an-electric chair, and each figure is listed at $19.99, $2 off the MSRP.

MARVEL SELECT RESTOCK - DOCTOR DOOM, THANOS Two of the most powerful villains in the Marvel Universe are back, in the form of Marvel Select figures. Doom comes with his throne, while Thanos includes the Infinity Gauntlet and his love, Death. Each figure is listed at $19.99, saving you a couple of bucks off the MSRP.

MARVEL HEROCLIX - GIANT-SIZED X-MEN VARIANT APOCALYPSE, SENTINELS These variant figures were originally Toys R Us exclusives, but now they are available on our website. Each figure has a new and different dial from the original releases in the booster packs, and we have them listed at $12.99, $2 off of the MSRP.

CDMW-25 CONSTRUCTION BRIGADE POWER PARTS CUSTOM SHIELD SET This new add-on set from CrazyDevy includes a bigger waist shield with moving lateral parts, an upgraded chest shield and a silver color cement mixing barrel. This set is listed at $28.99.

MAD ENGINE - NEW T-SHIRTS A large shipment of new t-shirts from mad Engine has arrived. We have new shirts from licenses such as Marvel, Star Wars and Ghostbusters, so be sure to take a quick peek at the new offerings.

NEW BIOWORLD ITEMS All kinds of new items were in our recent Bioworld shipment and are now available for ordering. From molded wristbands for licenses like TMNT, Thundercats, Sesame Street and Marvel to belt buckles, money clips, wallets, beanies, hoodies and light sets, there is something for everyone this season. Take a look at the menus at the link to see the new items.

ENERGY DRINK & CANDY RESTOCK A shipment from Boston America Corporation has brought us a number of energy drinks and more. We now have drinks in stock from Resident Evil, Pac-Man, "Alice in Wonderland", Mega Man and Super Mario Brothers, along with Sour Candies from Super Mario and Pac-Man - check them out at the link.

BigBadToyStore.com