GI Joe 7-packs, Doctor Who, Young Justice, DC HeroClix at Big Bad Toy Store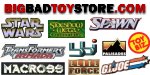 October 12, 2011 - (Sponsor Announcement) - Online retailer BigBadToyStore.com has several new item of interest to collectors:

-------------------------------
BBTS EXCLUSIVE - GI JOE 7-PACKS
-------------------------------

Hasbro will be debuting our two awesome new GI Joe 7-Packs at the New York Comic-Con tomorrow! We can't tell you any specifics about the sets, but there are never before released figures included and you can only get them at BigBadToyStore! Check our site tomorrow for preorder listings!

--------------
4500 ITEM SALE
--------------

We've just reduced pricing on hundreds of older items and updated the sales menus. There are over 1100 items priced at 50% off or higher and thousands more priced 20% to 50% off. We have 50 featured sale items from the previous sale listed as well - check the menus out here:
http://www.bigbadtoystore.com/bbts/list.aspx?list=7664

-------------
NEW PREORDERS
-------------

NEW TRANSFORMERS UNITED ITEMS - UN-23 TO UN-31 We have pre-orders up now for a number of new items in the Transformers United line. We have UN-23 Rodimus Convoy, UN-24 Warpath. UN-25 Thunder G2 Megatron, UN-26 Thunderwing, UN-28 Axalon, UN-30 Optimus primal and UN-31 Beast Megatron at $37.99 each, with UN-27 Windcharger & Decepticon Wipeout Two-Pack and UN-29 Ark Unicron listed at $49.99 each.

DOCTOR WHO - 1/6 SCALE ELEVENTH DOCTOR FIGURE Big Chief Studios has announced a brand new 1/6 scale version of the Eleventh Doctor. This figure comes with a complete outfit including jacket and bow tie, open and closed versions of the Sonic Screwdriver, his blue invitation from the series premiere and much more. We have this figure listed at $199.99, and it should arrive early next year.

YOUNG JUSTICE 6" FIGURE SERIES 04 - SET, SINGLES The newest wave of 6" Young Justice figures includes Batman and Kid Flash. Each is to include a large number of accessories as well as a display base, and they are listed at $24.99 each, or $47.99 for the set.

COWBOYS & ALIENS RAH FIGURES Two characters from the movie are being released as Real Action Heroes figures from Medicom. Jake Lonergan and Colonel Woodrow Dolarhyde will each include heads with likenesses of their famous actors along with accessories, and each is listed at $184.99, saving you $45 off of the MSRPs.

NEW ICUP OFFERINGS Icup has announced many new items. We have listings for ice cube trays, can holders, glasses, shot glasses, aprons, mugs, and more from licenses like DC Comics, Marvel Comics, "A Nightmare on Elm Street", "Gremlins", Looney Tunes, "A Christmas Story", The Simpsons, "The Goonies" and Friday the 13th - be sure to check them all out!

LIVING DEAD DOLLS PRESENTS SCARY TALES SERIES 03 Hansel & Gretel take a sinister turn as the next dolls in the Scary Tales series. Each comes with their own coffin, and the pair is priced at $47.99, saving you $8 off the MSRP.

STAR WARS EPISODE IV SANDTROOPER PRECISION CAST REPLICA HELMET EFX continues their line of amazing helmet replicas with the Sandtrooper helmet from Episode IV. It is based on an original helmet from the Lucasfilm Archives, is limited to 1000 pieces worldwide with a numbered certificate of authenticity, and is priced at $179.99.

GI JOE 12" - CRIMSON GUARD, URBAN THREAT ENVIRONMENT Cobra gets another army builder with Sideshow's new Crimson Guardsman 12" figure. This one comes loaded with alternate pieces and weapons, and is listed at $134.99, $5 off the MSRP. Sideshow has also announced a new 12" Figure Environment; the Urban threat 'Condition Red' piece stands 13" high and comes with a Cobra bomb to display with the shelled husk of a building. This Environment is listed at $169.99, $10 off the MSRP.

STAR WARS FINE MOLDS 1/144 SCALE SLAVE 1 - BOBA FETT, JANGO FETT Both versions of the Slave 1 ship from Star Wars will soon be available as 1/144 scale Fine Molds Model Kits. Both the Boba Fett and Jango Fett versions are up for pre-order, priced at $74.99 per model kit.

BOWEN DESIGNS WARLOCK ORIGINAL STATUE - WEBSITE EXCLUSIVE Adam Warlock, formerly known as Him, will be the recipient of a new 15" website exclusive statue by Bowen Designs. It measures 15" tall and is listed at $224.99.

MORTAL KOMBAT EXCLUSIVE FIGURE ASSORTMENTS - CASES, SET Jazwares has announced two new exclusive MK9 assortments, one each of 6" and 4" figures, with some previously-announced figures making an appearance. The 6" case of 6 includes two each of Sub-Zero & Scorpion, along with one each of Reptile and Jax, and is priced at $94.99 ($15 off the MSRP). The 4" assortment includes three each of Sub-Zero & Scorpion, along with two each of Reptile, Raiden and Baraka; we have them available as a case of 12 for $119.99, as well as a set of 5 for $59.99.

BATMAN LEGACY SINGLES SERIES 01/02 CASE This new assortment includes all six currently-released figures - Golden Age Joker, Silver Age Mr. Freeze, Modern Age Batman, Golden Age Batman, Silver Age Batgirl and Modern Age Catman. This assortment is listed at $99.99, and should arrive next month.

REVOLTECH #114 ALUCARD The Protagonist from Hellsing will now be the newest Revoltech figure to be released. He'll include both pistols and other accessories, and we have it priced at $46.99.

POWER RANGERS S.H.FIGUARTS GOKAI SILVER The next release in the Gokaiger S.H.Figuarts line is the Gokai Silver figure. He includes a trident that can change into a gun, and is listed at $49.99.

BRAVE GOHKIN 036 TEKKAMAN & PEGAS This set includes three figures - Tekkaman, Pegas and a human (possible Blade?). Tekkaman includes his spear weapon as well as his retrieving whip, and can ride on (and presumably inside) Pegas. This set is listed at $309.99, and is to arrive early next year.

LADY DEATH FAUX BRONZE STATUES - TRADITIONAL, WHITE VERSIONS CS Moore Studio is producing a fantastic new Lady Death statue in two finish versions. The Traditional Golden Brown versions is limited to 100 pieces and has black and red metallic details, while the White version is limited to 200 pieces and has her in her standard coloring. Each statue is listed at $226.99, saving you $72 off the MSRPs for the pieces.

DARK IVORY WHITE EDITION STATUE This version of the Dark Ivory statue stands 15.75" tall and is done in a striking white finish, with highlights of red and dark gray. It includes a Certificate of Authenticity, and is listed at $233.99, saving you $65 off of the MSRP.

WETA TINTIN & SNOWY 1/6 SCALE STATUE SET Tintin and his dog Snowy are the subject of the second statue set from WETA for the upcoming movie. They show the boy and dog running, and are listed at $199.99 for the pair.

WETA: THE COLLECTOR'S GUIDE BOOK This 300 page book includes photos and information of all of the items created by WETA in the last 10 years, from Lord of the Rings and Dr. Grordbort's guns to one-of-a-kind customized pieces and more, including information on edition sizes, availability, artist credits and release dates. This incredible reference book is priced at $29.99, and is scheduled to arrive next month.

GRAPHITTI DESIGNS DC T-SHIRTS Graphitti has new DC t-shirts up for pre-order. We have them listed under Batman, Superman, DC Comics and Green Lantern, and they're priced at $18.99 - $21.99 each.

DC HEROCLIX - SUPERMAN FAST FORCES 6-PACK This set includes sculpts of Superman, Lex Luthor, Bizarro, Supergirl, Steel and a Kryptonian Renegade, all with brand-new dials. It also has two exclusive maps, dice and a rules insert; it also contains an Online Code to unlock six Superman figures and a map for your Heroclix Online account. We have this set listed at $15.99, saving you $3 off the MSRP.

1/48 SCALE APOLLO 11 LUNAR MODULE "EAGLE" Dragon's newest die-cast vehicle is this piece of American history. It is covered with delicate imprinted detailing and makes a great gift for both history and space buffs; we have it listed at $59.99, and it should arrive next month, in plenty of time for Christmas.

DRAGON 1/6 SCALE FIGURES Dragon has a number of new figures up for pre-order. Rolf Falkner the Fallschirmjager Mortarman is listed at $89.99, with Jim the U.S. Paratrooper with Bazooka and Richie the U.S. Ranger BAR Gunner each listed at $99.99; Ernst Kunkel the Heavy Machine Gunner is listed at $86.99.

ROCKMAN (MEGAMAN) DODEKA E-TANK CAN CUSHION This item is a life-size replica of the energy tank that refill's Megaman's life. It is available as a cushion for your comfort, and is listed at $129.99.

HOBBY FAN 1/4 SCALE MILITARY ACCESSORIES We have listed a new line of 1/4 scale military weapons. We have the R.O.C 65K2 rifle at $29.99, the M249 Minimi Machine Gun at $44.99, the T91 Rifle at $29.99, the T91 Rifle with Grenade Launcher at $39.99 and the U.S. M41A Carbine at $29.99.

TEKKEN 6 JIN KAZAMA MIX FORMAT FIGURE This new polystone statue wears a cloth outfit taken directly from the game and stands atop an acrylic display base with metal, felt-covered risers. It is listed at $249.99, and is set to arrive in February of 2012.

ABBOT FUYU 1/6 SCALE FIGURE Triad Toys has also announced a new figure in their Legends line. Abbot Fuyu (Xueting Fuyu) is one of the fathers of Shaolin martial arts, and his figure comes with a number of alternate hands , a cloth outfit and a 13-part modular Abbot's Staff weapon, that can convert into a cane, a crescent blade, nunchaku and more. This figure should arrive in December and is listed at $119.99.

BOONETOWN TRIARAMA 1/6 SCAEL DISPLAY ENVIRONMENT This Wild West environment includes multiple business signs, a barrel, a cow skull, and swinging doors with metal hinges, and is perfect for displaying your 1/6 scale western figures. It is listed at $119.99.

NEW BARBIE FIGURES Seven new Barbie figures are now up for pre-order. The Dolls of the World line adds Australia, China, Argentina and Ireland version Barbies, priced at $34.99 each. The Shoe Obsession Barbie is listed at $40.99 and wears a dress with many of her shoe styles sewn in. The "Rear Window" Grace Kelly doll dresses the star from the famous film and is priced at $34.99. Finally, the Hope Diamond Barbie is listed at $74.99 and has the famous doll with red hair and a navy gown, wearing the famous gem.

------------
NEW ARRIVALS
------------

MOVIE MASTERPIECE ALICE 1/6 SCALE COLLECTIBLE FIGURE This piece is drawn from Milla Jovovich's character in the "Resident Evil: Afterlife" movie. It includes multiple pairs of hands, interchangeable hair styles, pistols, shotguns, machine guns, knives and more, and is listed at $154.99, saving you $10 off the MSRP.

MOVIE MASTERPIECE 1/6 SCALE NEW GOBLIN LIMITED EDITION COLLECTIBLE FIGURE Spider-Man's Friend/Foe from "Spider-Man 3" has finally arrived. He comes dressed in his green and black outfit and includes his Sky Stick, an interchangeable head, swords, a pumpkin bomb, cloth outfit parts and more. We have this figure listed at $154.99, saving you $15 off of the MSRP.

STAR WARS DARTH VADER ROTJ LIGHT-UP ARTFX STATUE This figure recreates Darth Vader's fight at the end of "Return of the Jedi" and not only includes a light-up lightsaber and chest piece, but also a light-up helmet from the Emperor's lightning bolts. This statue is priced at $109.99, saving you $20 off of the MSRP.

BTS-04 SONICRON SALE We have a special deal on the Sonicron figure right now. This upgraded version of Soundwave transforms into a recording device and can also hold his original cassettes, and we have him listed at $44.00.

TRANSFORMERS UNITED UN-20 RUMBLE & FRENZY RESTOCK This things flew out of here last time, and now we have received a small restock shipment. The box set includes both tanks (only one of which have been hinted to be released domestically, at SOME point), and it is priced at $74.99.

TRANSFORMERS RESTOCK We have also received a number of other (mostly import) Transformers items from a variety of lines. We have Hasbro's Masterpiece Skywarp, Encores Ironhide, Sky Lynx, Omega Supreme and Metroplex, Universe Ultra Powerglide, Music Label Convoy, Masterpiece Movie Edition Starscream, Galaxy Force Ligerjack and First Gunner, the Evolution of a Hero Bumblebee Two-Pack, BT-16 Skids and the SDCC 2007 Ford GT Rodimus, Premium Series Optimus Prime Limited Edition with Battle Damage, Classics Bumblebee and Grimlock, Crystal Classics Optimus & Rodimus and Transformers Animated Optimus Prime, Bumblebee, Starscream, Wingblade Optimus Prime and the Bumblebee Vs. Starscream Two-Pack. Check out the menus at the link for more information.

WONDER WOMAN #600 STATUE This new piece from DC Direct stands 9.75" tall and shows Wonder Woman in her recently-new costume from her reboot-before-the-reboot. It is listed at $99.99, saving you $25 off of the MSRP.

X-FORCE WARPATH 12" FINE ART STATUE Kotobukiya's next X-Force statue has arrived. Warpath stands 12" tall in his black and gray costume, and wields a vibranium knife in each hand. This statue is listed at $164.99, saving you $35 off of the MSRP for the piece.

HALF-LIFE 2 HEADCRAB ZOMBIE STATUE This new piece stands 20" tall and is limited to 750 pieces worldwide. It shows a pitiful former human whose body has been taken over by a Headcrab, and is priced at $259.99 ($40 off the MSRP).

MOTU CLASSICS NEW RELEASES Two new Master of the Universe Classics figures have arrived for the benefit of our international and other customers. Hurricane Hordak and Leech are each listed at $31.99, and are ready to join your collection.

STAR WARS KIT FISTO'S JEDI STARFIGHTER EXCLUSIVE We have managed to find a small quantity of this recent Star Wars Exclusive. Kit Fisto's Starfighter is able to split into two separate fighters for battle, and we have it listed at $24.99.

STAR WARS EXCLUSIVE MINI MIGHTY MUGGS THREE-PACKS We also received a number of the Star Wars Mini Mighty Muggs Three-Packs in our recent shipment. We have the Bossk/Boba Fett/IG-88, Cad Bane/General Grievous/Captain Rex and Yoda/Darth Vader/Stormtrooper pack in stock, priced at $11.99 per three-pack.

UNIVERSAL MONSTERS SELECT MUMMY RESTOCK Just in time for Halloween, our restock shipment of the Mummy has arrived. This figure comes with an enormous sarcophagus, and is listed at $19.99.

WALKING DEAD SERIES 01 PREVIEWS EXCLUSIVE BLACK & WHITE ZOMBIE TWO-PACK This black & white two-pack of the zombies from Series 01 of the Walking Dead comic figures matches the way they look in the comics themselves, with the addition of red blood sprayed on them from their victims. This box set is listed at $33.99 - don't miss out on this popular exclusive set.

ASSASSIN'S CREED BROTHERHOOD 7" EZIO - IVORY HOODED COSTUME The newest version of Ezio from Assassin's creed brotherhood has arrived. This version includes pop-out blades on each gauntlet and is priced at $15.99, $2 off the MRSP.

MARVEL CURSE OF THE MUTANTS MINIMATES BOX SET Marvel's latest Minimates box set comes from the Curse of the Mutants storyline and includes Blade and Dracula as well as vampire versions of Wolverine and Jubilee. We have this set listed at $15.99, saving you a couple of bucks off the MSRP.

MARVEL SELECT BLACK CAT RESTOCK Spider-Man's lovely "partner-in-crime" is coming back in the form of her Marvel Select figure. It even includes a wall segment with window, through which Spider-Man is peeking, and it is listed at $19.99.

UNIVERSAL MONSTERS MINIMATES BOX SETS Both the Dracula and Frankenstein Minimates Box Sets have arrived. Dracula's set includes the titular vampire, plus Dr. Van Helsing, Renfield and an exclusive Mina Harker; the other set includes Dr. Henry Frankenstein, the Monster, the Bride of Frankenstein and an exclusive Elizabeth figure. Each set is listed at $15.99, $2 off the MSRP.

STAR WARS GEONOSIS ARENA SHOWDOWN - CASE, SINGLES We have just received a shipment of Geonosis Arena Showdown two-packs. We have them listed as a case of 6 two-packs for $59.99, or singly at $12.99 each.

STAR WARS HAN SOLO IN CARBONITE SILICONE ICE TRAY RESTOCK This silicone tray was so popular that we ran out almost immediately, but now we have received a restock shipment. It can make one larger cube (chocolates, or whatever else you'd like) and six smaller ones all at once, and is priced at $9.99.

LEGEND OF ZELDA TWILIGHT PRINCESS 1/4 SCALE WOLF LINK & MIDNA CENTER PIECE This statue stands 15" tall by 15.5" long and shows the magician Midna riding atop the back of Link, transformed into wolf form. It is priced at $334.99, $15 below MSRP.

EAGLEMOSS LEAD FIGURE & MAGAZINE RESTOCK Many Eaglemoss Figure & Magazine sets are now back in stock. We have DC figures like Doctor Fate, Black Canary and Golden Age Flash, along with Marvel figures like Doc Ock, Iceman and Beta Ray Bill, among many, many others. In addition, we have a couple of Special Editions back in stock, specifically Juggernaut and Black Costume Spider-Man, so if you've missed out on these or the regular figures, be sure to check the listings and see if yours are back in stock now.

CRAZYDEVY TRANSFORMERS UPGRADE RESTOCK A good-sized shipment of the CrazyDevy upgrade sets has arrived. We have the CDMW-06* Aviation Brigade Custom Head, the CDMW-02* Construction Brigade Custom Hips/Waist, the Construction Brigade Hands & Giant Magna Laser and more - check them out and grab what you need.

BigBadToyStore.com