Dark Horse: Green Screen NYCC Schedule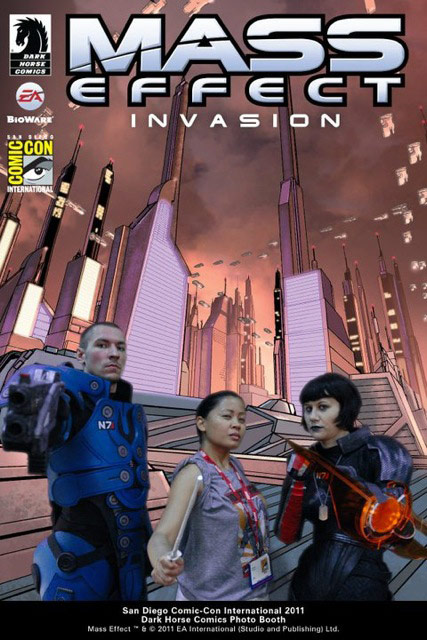 PICTURE YOURSELF IN COMICS!

DARK HORSE COMICS ANNOUNCES NYCC GREEN-SCREEN SCHEDULE!

October 5, MILWAUKIE, OR - How would you like to be on the cover of a comic? Now's your chance! Get your photo taken at our green-screen photo booth at New York Comic Con, and we'll give you a 4 x 6 inch photograph of yourself featured on the cover of one of the following awesome comics:

Hellboy
Buffy the Vampire Slayer/Angel & Faith
Star Wars
Mass Effect
Avatar: The Last Airbender
Axe Cop

Be sure to check out the schedule below. Props will not be available, but feel free to bring your own!


Call for cosplayers! We're looking for cosplayers to hang out at the booth and get their photo taken at the green screen in exchange for special schwag and prizes! Do you have a great costume for one of our green screens? E-mail us at [email protected] before Wednesday, October 12, at 5 p.m.


Thursday, October 13


4:00 p.m.–7:00 p.m. - Hellboy


Friday, October 14


10:00 a.m.–2:30 p.m. - Buffy the Vampire Slayer/Angel & Faith


2:30 p.m.–7:00 p.m. - Star Wars


Saturday, October 15


10:00 a.m.–1:30 p.m. - Mass Effect


1:30 p.m.–5:00 p.m. - Avatar: The Last Airbender


5:00 p.m.–7:00 p.m. - Axe Cop


Sunday, October 16


10:00 a.m.–2:00 p.m. - Hellboy


2:00 p.m.–5:00 p.m. - Buffy the Vampire Slayer/Angel & Faith


About Dark Horse Comics
Since 1986, Dark Horse Comics has proven to be a solid example of how integrity and innovation can help broaden a unique storytelling medium and establish a small, homegrown company as an industry giant. The company is known for the progressive and creator-friendly atmosphere it provides for writers and artists. In addition to publishing comics from top talent like Frank Miller, Mike Mignola, Neil Gaiman, Gerard Way, and comics legend Will Eisner, Dark Horse has developed such successful characters as the Mask, Timecop, and SpyBoy. Additionally, its highly successful line of comics and products based on popular properties includes Star Wars, Indiana Jones, Buffy the Vampire Slayer, Aliens, Conan, Emily the Strange, Tim Burton, Trigun, Serenity, and Domo. Today Dark Horse Comics is the largest independent comic-book publisher in the US and is recognized as one of the world's leading publishers of licensed comics material.