Clearance Sale, Funko Blox, Doctor Who Building Sets, Walking Dead at Big Bad Toy Store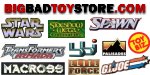 October 6, 2011 - (Sponsor Announcement) - Online retailer BigBadToyStore.com has several new item of interest to collectors:

--------------
CLEARANCE SALE
--------------

We've cut prices on 50 popular listings including a variety of BBTS Exclusives, Transformers, Marvel, Green Lantern, Thundercats, Hot Toys, Star Wars, DC & More. BBTS Seacons are at only $45, GI Joe Resolute at $49, Green Lantern Movie Masters wave 01 at $18, various 3.75" figures $3.50 to $4.50 and much more!
http://www.bigbadtoystore.com/bbts/list.aspx?list=7664

-------------
NEW PREORDERS
-------------

TRANSFORMERS ENCORE 21, 22 Takara has announced two new entries in the Encore line. Soundwave's upgraded form Soundblaster is # 21 and includes cassettes Wing Thing, an orange and black recolor of Ratbat, and Enemy, the red recolor of Rumble/Frenzy that originally appeared on the front of the G1 radio. Blaster's second form of Twincast #22, and includes Stripes, a tiger-like recolor of Ravage, and Nightstalker, a black/gray recolor of Steeljaw. We have each set priced at $69.99; be sure to get your pre-orders in for these great mixes of old and new.

TRANSFORMERS CHRONICLES EZ COLLECTION SERIES 02 Takara continues its releases of Legends-scale figures with this new assortment. It includes the G2 versions of Optimus Prime and Megatron, along with Starscream, Skywarp, Bluestreak, Prowl, Hound and Hot Rod, and is priced at $159.99 for the case of 24. We also have them listed as boxes of 12 at $81.99.

BATTLESTAR GALACTICA DUAL SIGNATURE VIPER HELMET eFX has created a reproduction of the original Colonial Viper helmet from the 1970's version of BSG. It is limited to 500 pieces worldwide with LED lighting, and also comes with signatures of Richard Hatch and Dirk Benedict, the original Apollo and Starbuck actors. This piece is priced at $599.99 and should arrive later this year.

TWILIGHT PRINCESS LINK ON EPONA STATUES First 4 Figures is producing another in the line of Master Arts Zelda statues. This one shows Link on heroic horse Epona. We have it listed two ways - the regular statue itself at $419.99 ($30 off MSRP), or as a set of the regular and faux bronze variant, priced at $899.99.

MS-01 MEGA-GUN, BROWN-KING Mastershooter Collectibles has released new Targetmaster figures in the forms of a certain evil leader and his redeco 'cousin'. These figures can fit 4mm-5mm post holes in gun mode, and are articulated in the arms in robot mode. We have them priced at $34.99 for the set of 2, or $17.99 for Mega-Gun singly.

G1-TSC-86V2 REPRODUCTION TECHNICAL SPECIFICATIONS CARD SET Atomic Laser continues their line of updated tech specs for the Transformers with this second set covering the 1986 releases. This set includes 31 cards and is listed at $34.99.

HEADLESS HORSEMAN 1/4 SCALE STATUE Hollywood Collectibles is also releasing a statue based on the Headless Horseman of Sleepy Hollow, This figure wields an axe and a sword and has a skull-head atop his caped form which can be removed. This statue is priced at $279.99.

FUNKO BLOX FIGURES Funko has started a new line of designer figures. These Blox figures stand about 7" tall and have sculpted details, done in a retro way. The first wave includes Batman and Joker from DC, Count Chocula, Franken Berry and Boo Berry Ad Icons and The Demon from KISS. Each figure is listed at $18.99.

DOCTOR WHO CHARACTER BUILDING CYBERMAN COLLECTOR SET This new set of tiny figures includes three regular, old-school Cybermen, one Cyberman Controller and a Pandorica Guard Cyberman. We have this set listed at $15.99, $3 below MSRP.

TONNER MARVEL FIGURES Two new Marvel figures have been announced by Tonner. Emma Frost and Jean Grey (Phoenix) will each measure 16" tall and be limited to 300 pieces; we have them listed at $144.99, $5 off the MSRP.

TONNER DC - DONNA TROY DC is also getting another 16" Tonner figure. Some may know her as Wonder Girl, while others will recognize her as a Teen Titan; Donna Troy is limited to 300 figures worldwide, and is priced at $144.99 as well.

MR. SPOCK 1/6 SCALE STATUE The Science Officer from the U.S.S. Enterprise is the second in Hollywood Collectibles' line of 1/6 scale Star Trek statues. Spock stands 13" tall atop his Science console floor, and is priced at $199.99.

YODA USING THE FORCE LIMITED EDITION STATUE Attakus has unveiled a new 21.26" statue of Yoda using the force, from the scene on Dagobah where he lifts the X-Wing out of the swamp. This piece is loaded with details, is limited to 399 pieces worldwide, and is listed at $1299.99, saving you $200 off of the MSRP.

STAR WARS SANDTROOPER PRECISION CAST REPLICA The eFX Precision Cast Replica of the Sandtrooper Helmet is once again available. This wearable version of the movie prop is based on an original helmet, is limited to 1000 pieces worldwide and comes with a numbered Certificate of Authenticity. We have this classic collectible listed at $179.99.

KIT FISTO'S JEDI STARFIGHTER EXCLUSIVE This ship was a previous retailer exclusive, but now we have managed to get a number of them on pre-order. The ship not only includes a spot for an Astromech droid, but it can also split into two fully-armed ships for battles. We have this ship listed at $24.99, and it is expected to arrive this November.

DOCTOR WHO CLASSIC - LEELA & STOR FROM "THE INVASION OF TIME" This new two-pack includes the Fourth Doctor's companion Leela and Commander Stor of the Sontarans. The set also includes a De-Mat rifle, and is listed at $39.99.

MONOPOLY - FUTURAMA, STAR TREK KLINGON We have two new versions of Monopoly from USAopoly listed for pre-order. The Futurama version has tokens like the Hypnotoad, a Brain Slug and the Planet Express Ship, while the Klingon Star Trek versions comes with instructions in both English and Klingon and tokens like a Bird of Prey, a Bat'leth and a captain's chair. Each set is listed at $39.99.

RISK - METAL GEAR SOLID EDITION This new set comes with hundreds of custom pieces, an Outer Heaven game board (in addition to a version of the Earth board), eight Boss figures, a Battleship and more. We have this Risk game listed at $39.99.

MAGE KNIGHT BOARD GAME The collectible miniature game will now be available as a self-contained board game set. One to Four heroes or villains can play either
competitively or cooperatively, and we have it listed at $64.99, $10 off of the MSRP.

GUNDAM 1/100 SCALE FULL ARMOR UNICORN GUNDAM VERSION KA This new model kit of the Full Armor Unicorn Gundam comes with a large battle axe, guns, backpack weapons and more. It is set to arrive in December and we have it listed at $119.99.

BSG VIPER MARK II KEYCHAIN This metal keychain is finished in pewter and is a two-inch scaled version of the heroic ship from the series. We have this keychain listed at $9.99.

"NIGHT OF THE LIVING DEAD" KAREN COOPER BOBBLEHEAD Impact Merchandising has announced the beginning of a new line of pop culture bobbleheads. The child-zombie Karen Cooper is first on the list, and is decorated in a black-and-white color scheme highlighted in red. She measures 7" tall and is priced at $19.99.

A BETTER TOMORROW MINIFIGURES - MARVEL, SOUTH PARK New vendor A Better Tomorrow has pre-orders available for three new minifigure lines. In addition to standard minifigures of Marvel heroes, they have a line of Buildable Marvel heroes and villains with large round heads; the South Park line of Buildable figures has the same style, and encompasses most of the main characters. Each minifigure is priced at $.69, so grab all you want.

MUV-LUV ALTERNATIVE REVOLTECH FIGURES Two new Revoltech figures are on their way to join your Muv-Luv collection. The F-18E/F Super Hornet Black Naivisu Custom and Takemikazuchi Type-00P Yui Takamura Custom Revoltech figures are ready for battle and priced at $48.99 each.

ATA BOY MAGNETS, MOUSE PADS & STICKER Ata Boy has announced a number of new magnets and more. We have Magnet sets, sticker sets and mouse pads in licenses like Marvel, Watchmen,
Mortal Kombat and DC Comics, so take a peek at them and grab your favorites.

NJ CROCE ITEMS Another new vendor has a wide variety of items available. We have mugs, notebook sets, clocks, musical figurines, bendable figures and more, from licenses such as Mr. Bill, Betty Boop, Marilyn Monroe, Audrey Hepburn, Felix the Cat, Gumby and more.

1/6 SCALE WOODEN FURNITURE We have listings available for 1/6 scale wooden furniture from new vendor Wooden Face. These include rocking chairs, dining chairs, hardwood tables and coat hangers in a variety of wood and finish choices, priced from $15.99 - $22.99 each.

------------
NEW ARRIVALS
------------

CA-05 BACKFIERY The third of the new versions of the Insecticons from FansProject has arrived. This purple, black and yellow grasshopper comes loaded with 6 kunai and is ready for battle. Get yours now and complete your trio; we have him priced at $51.99.

THE WALKING DEAD SERIES 01 - CASE, SET, SINGLES This first assortment is drawn from the comic versions and includes Michonne, Officer Rick Grimes, a Zombie Lurker and a Zombie Roamer. They are available as a set of 4 at $54.99, singly at $14.99 each, and as a case of 12 (4 x Rick, 3x each Zombie, 2x Michonne) for $149.99.

DARTH VADER ARTFX STATUE - KOTOBUKIYA Priced $20 under MSRP at $109.99, this piece features Vader in a crouching pose and includes light-up helmet, lightsaber, and chest piece.

DA-32 ULTIMATE OPTIMUS PRIME The Takara version of Ultimate Optimus Prime has arrived. This figure comes with a full trailer, which can in turn merge with the cab section to form a giant winged backpack with weapons and more. We have this great figure listed at $199.99.

DA-30 HUMAN ALLIANCE LEADFOOT & STEELJAW The Takara version of Leadfoot is clean and does not include all of the decos from Target and the other sponsors. It includes the transforming Steeljaw pet as well as the human driver, and is listed at $79.99.

TRANSFORMERS MASTERPIECE CONVOY - BLACK JAPAN VERSION We have found a small restock quantity of the Japan version of Black Convoy. This figure is decorated in a black and silver color scheme with turquoise highlights and red windows, and is listed at $149.99.

UNIVERSAL MONSTERS SELECT FIGURES Just in time for Halloween these movie monsters have arrived. The Creature from the Black Lagoon, Frankenstein and Dracula himself have
arrived, and each comes with a load of accessories to make scene displays; we have them listed at $19.99 each, $2 off the MSRP.

METAL GEAR SOLID PEACE WALKER PLAY ARTS KAI FIGURES VOLUME 04 Two new figures are here from the new fourth volume of the Metal Gear Solid Play Arts Kai line. Kazuhira Miller and Snake in Battle Dress are both armed and ready, priced at $49.99 each.

LEGO DARTH VADER 7.5" TORCH ACTION FIGURE This large 7.5" figure not only has a light-up lightsaber, but the bottoms of his feet contain lights to use as a flashlight. We have this LEGO Darth Vader listed at $27.99, saving you $2 off the MSRP.

HEADROBOTS BLOOD THE DARK WARRIOR UPGRADE KIT This new set allows you to upgrade your new Generations version of Bludgeon, giving you two new face choices as well as two shiny chromed swords. The swords also work with the original Pretender Bludgeon, allowing this set to perform double duty. We have this upgrade set listed at $17.99.

HEADROBOTS HOTHEAD MINI FIGURE RESTOCK This Headrobot works with both G1 and Classic versions of Hardhead, along with any other Headmaster body. He comes with additional guns to add to your robot's firepower, and is priced at $34.99.

THANOS MUSEUM STATUE This statue shows the Mad Titan with a look of glee on his face and the Cosmic Cube clutched in his right hand. It stands 14" tall and is listed at $274.99.

DC UNIVERSE ONLINE ZATANNA STATUE DC's first lady of magic gets a new statue. Zatanna is sculpted in her tuxedo tails and fishnet stockings, and we have her listed at $74.99, saving you $10 off of the MSRP.

GUNDAM ROBOT DAMASHII TALLGEESE III (EW) The Tallgeese III Mobile Suit from Endless Waltz is finally making an appearance in the Robot Damashii line. This roman-inspired suit comes with laser swords and more, and is listed at $41.99.

STAR WARS SLAVE 1 VEHICLE BANK Boba Fett's ship is now available for you to save your change. This vinyl piece is detailed and perfect for collecting coins or just displaying. We have it listed at $19.99.

ADVANCED GRAPHICS CARDBOARD STAND-UPS Another shipment of life-size cardboard stand-ups has arrived. This assortment includes many Marvel Super Heroes along with Mortal Kombat characters, and most are listed at $34.99 each.

SONIC 20TH ANNIVERSARY 3" GAME PACK SERIES 01 - SET, SINGLES This assortment includes Classic Sonic, Modern Sonic and Classic Tails, which are available singly at $9.99 each. The set of 7 includes these three figures plus Modern Shadow, Modern Knuckles, Modern Silver and Modern Tails, and is listed at $69.99.

BigBadToyStore.com