Marvel Universe, JLU, MP-10, MP-09, GI Joe at Big Bad Toy Store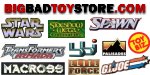 September 28, 2011 - (Sponsor Announcement) - Online retailer BigBadToyStore.com has several new items of interest to collectors:

------------
NEW ARRIVALS
------------

MP-10 OPTIMUS PRIME 2.0, MP-09 RODIMUS SECOND RUN The long-awaited Masterpiece Optimus Prime Version 2.0 has arrived. This figure includes his trailer with repair bay, Roller and even a Spike figure, and is priced at $249.99. We have also received the second run of Rodimus Prime figures, which are listed at $209.99.

FANSPROJECT CA-04 STORMBOMB We have received the rest of our shipment of this item. The second of the new versions of the Insect line, Stormbomb takes Bombshell's lead and adds ninja weapons to make a deadly mix. We have this figure listed at $51.99.

MARVEL UNIVERSE 3.75" 2011 SERIES 05 - CASE, SET, SINGLES Hasbro has released the newest assortment of Marvel Universe figures. This set includes Ultimates Magneto, Astonishing X-Men Wolverine, Tony Stark Iron Man, Absorbing Man and Iceman, and they are available at $49.99 for the set of 5. They are also available as a case of 12 (2 of each figure, plus Steve Rogers and the Sub-Mariner) for $104.99. Finally, we also have singles available of Steve Rogers and the Sub-Mariner, priced at $14.99 each.

GI JOE MIDSIZE VEHICLES SERIES 02 - SET, SINGLE The new Cobra Crimson HISS Tank joins the Black Dragon VTOL in this assortment. They are available as a set for $44.99, or singly at $24.99 for the Black Dragon and $22.99 for the Cobra Crimson HISS Tank.

GI JOE 2012 SERIES 02 - CASE, SET, SINGLES This assortment marks the debut of the figures from the new "Renegades" cartoon. This set of 4 includes Duke, Snake-Eyes, Cobra Commander ad Firefly and is listed at $39.99. We also have them as a case of 12 for $84.99, which includes two of each figure as well as one each of the package refresh versions of Viper, Iron Grenadier, Cobra - the Enemy and Hazard-Viper. In addition we have restocked the 2012 Series 01 Case, which is priced at $84.99 as well. We also have singles from this and other assortments in stock, so be sure to take a peek and grab what you need, including the popular army builder figures.

TRANSFORMERS CHRONICLE SETS The first two sets in the imported Chronicle subline have arrived. These sets include both the G1 and Dark of the Moon versions of a Transformer, and Set 01 includes Optimus Prime while Set 02 includes Megatron. Each set is listed at $124.99 each.

THANOS - BOWEN STATUE Sculpted by Khurram Alavi, this hefty statue stands 14" tall and is in stock now at $274.99

ALICE 1/4 SCALE STATUE "Resident Evil Afterlife" Star Milla Jovovich can now join your collection in this 19" tall statue of Alice. It is limited to 750 pieces worldwide and shows Alice with both guns held at the ready. We have this statue listed at $279.99.

POP AD ICONS - FRANKEN BERRY, BOO BERRY, COUNT CHOCULA Three new figures have joined the POP Ad Icons line. Franken Berry, Boo Berry and Count Chocula are now available, priced at $9.99 each.

FUTURAMA FIGURE RESTOCK We have restocked a number of Futurama figure pairs. We have Chef Bender & Mom, Wooden Bender & URL, Calculon & Super King Bender, Nudar & Fry as Captain Yesterday and Leela as Clobberella & Amy Wong back in stock, priced at $17.99 - $23.99 per set of 2.

LIVING DEAD DOLLS SERIES 22 VARIANT CASE OF 6 This assortment of six figures includes the five original Zombies of Series 22 in new black and white color schemes, along with an exclusives 6th doll, Patience Xero. We have this exclusive set listed at $329.99.

BRAVE GOHKIN 35B KOTETSU JEEG BLACK VERSION This figure is exclusive to the Italian website www.toyshunter.it and is limited to 300 pieces worldwide. It has a metallic black paintjob and is listed at $474.99.

EXCLUSIVE JLU THREE-PACKS We're nearing the end of the JLU era, but these two three-packs show that it has a little life left in it. There is a JSA-inspired three-pack with Flash, Green Lantern and Hawkman, as well as a space adventurer three-pack with Adam Strange, Animal Man and Star Man. Each three-pack is listed at $31.99.

RETRO ACTION DC SUPER HEROES GREEN LANTERN KYLE RAYNER The final figure in the Retro Action line also finishes off Earth's Green Lanterns. Kyle Rayner is priced at $31.99 and is ready to join your corps today.

OPTIMUS PRIME THEATRICAL COSTUME This XL-sized theatrical costume comes with a helmet with light-up eyes, a jumpsuit with 3D chest pieces, gauntlets and a codpiece, and is priced at $289.99, saving you $110 off the MSRP.

GOD CLOTH DRAGON SHIRYU This special silver and green re-release is a perfect display-mate for the Hades and Seiya God Cloth Figures. It is priced at $79.99.

-------------
NEW PREORDERS
-------------

ARKHAM ASYLUM PLAY ARTS KAI BATMAN, JOKER Continuing the new tradition of large figures with articulation and detail, these two new figure of Batman and the Joker from the Arkham Asylum video game should be crowd-pleasers. We have them listed at $59.99, although that price may decrease once a domestic supplier is found.

NEW BOWEN STATUES AND BUSTS Bowen Designs has announced a number of new statues and busts. Regular statues includes a 14" Taskmaster at $259.99 and a 12.5" Shanna at $239.99. Website Exclusive statues include a Faux Bronze 15.5" Thanos at $324.99, a 15.5" Wolverine Original at $234.99, and a 12" X-Factor Cyclops at $199.99; there is also a Website Exclusive 9" Hydro-Man Bust, priced at $119.99.

MOVIE MASTERPIECE 1/6 SCALE IRON MONGER FIGURE This new limited edition figure of Iron Man's enemy from the first "Iron Man" movie stands almost 18" tall and has over 60 points of Articulation. It includes light-up eyes, palms and ARC Reactor, and is listed at $444.99, $35 off the MSRP.

NEW EAGLEMOSS CHESS FIGURES Eaglemoss has started a new subline of DC lead figure and magazine sets. This line has the heroes and villains as chess pieces, and the magazines include instructions for each piece. The first four figures include Batman as White King, Robin as White Bishop, Commissioner Gordon as White Pawn and the Joker as Black King; these figures are listed at $15.99 each.

MASS EFFECT BISHOUJO LIARA STATUE Fans have been waiting for this since this summer's announcement, and now we have the Liara T'Soni Bishoujo statue up for pre-order. She is priced at $54.99, $5 off the MSRP, and should arrive next June.

GREMLINS FIGURES SERIES 01 - CASE, SET, SINGLES NECA is releasing a line of Gremlins figures to menace the Mogwai that just came out. Series 01 includes George, Daffy and Flasher, and they are available as a set of 3 for $43.99 ($10 off MSRP) or a case of 14 (5 George, 5 Daffy, 4 Flasher) for $197.77 ($54 off MSRP). We also have singles of George and Daffy, priced at $15.99 each.

SDCC 2008, 2009 STAR WARS FIGURES Two older SDCC Star Wars Exclusives are up for pre-order. We have both the 2008 Senate Security Clone Trooper and the 2009 EU Stormtrooper Commander available, priced at $12.99 each.

HALO SERIES 06 BOX SETS - CASE, SINGLES McFarlane Toys has added another box set to this assortment. The Spirit of Fire Assortment includes three figures from before the fall of Reach, and is priced singly at $22.99. The case assortment includes one each of this set and the Generator Defense set, and is listed at $44.99

MLB SPORTSPICKS SERIES 29 - CASE, SINGLES This new assortment includes Alex Rodriguez, Carl Crawford, Troy Tulowitzki, Starlin Castro and more. They are available singly at $11.99 each, or as a case of 8 (including a Chase or Collector Level figure) for $84.99.

COLLEGE FOOTBALL SPORTSPICKS SERIES 04 - CASE, SINGLES McFarlane has also announced a new assortment of College Football figures. Series 04 includes Cam Newton, Peyton Manning, Tim Tebow and others, and are available as a case of 8 with a Chase or Collector Level figure at $84.99, or at $11.99 each singly.

FEMME FATALES BO PEEP The Femme Fatales line continues with a new version of classic nursery rhyme character Bo Pee. This figure wears wolfskin boots and carries a scythe. We have her listed at $39.99, $5 off the MSRP.

MAGDALENA ARTIFACTS STATUE This 18" tall version of the current incarnation of the Magdalena from Top Cow Productions is shown with a flowing cloak and crossed swords. It is priced at $169.99, saving you $30 off of the MSRP.

NEW BIF BANG POW FIGURES Bif Bang Pow continues their 8" figure lines with a new crop of figure sets. Venture Brothers gets Billy Quizboy and Molotov Cocktease while the Twilight Zone gets a Clown and Nurse Janet Tyler; each of these sets is priced at $48.99. Doctor Who gets two new sets; Scaroth & Morbius and Leela and Sutekh; each is priced at $49.99.

1/72 SCALE FINE MOLDS MILLENNIUM FALCON REISSUE If you are a Star Wars fan who missed out on this before, now is your chance to own this great kit. The finished model measures 60 cm in diameter (about 23.6") and comes with a number of standing and sitting figures. We have this kit listed at $249.99, and it should arrive in October.

SKAAR PREMIUM FORMAT FIGURE Sideshow has announced a new statue of Skaar, Son of Hulk. This piece stands 27" tall and is priced at $35.999, saving you $20 off the MSRP.

ROBOTECH DVD SET We have a pre-order listing up now for the Robotech Complete Series DVD Box Set. This set contains all of the Macross, Masters and New Generation material as well as four DVDs of all-new extras, and is listed at $96.99.

BEAST WARS DVD SET This much-loved Transformers series from the 90's will soon be available in one complete box set. This set includes all 52 episodes plus a comic, art galleries and more, and is priced at $54.99.

DOCTOR WHO LEELA BUST The Fourth Doctor's Companion Leela is the next in line to get an 8" Maxi Bust. She is sculpted holding a crossbow with a dour look on her face, and is priced at $74.99, $5 off the MSRP.

BATMAN LEGACY TWO-PACK SERIES 01 RESTOCK We have backorders up now for a restock wave of Batman Legacy Two-Packs Series 01. This assortment includes Arkham City Batman & Two Face and Batman Begins Prototype Suit Batman and Lieutenant Jim Gordon. Each two-pack is available at $36.99, or you can pick up a set of both for $69.99.

NEW BIOWORLD ITEMS Bioworld Merchandising has just announced a number of new items. We have listings for Moulded PVC Wristbands in licenses like Sesame Street, Marvel Comics, South Park, Thundercats, DC Comics and more; in addition, we have items from Nintendo, Sesame Street, Harry Potter, Call of Duty and others, like wallets, beanies, money clips and backpacks.

MARVEL FLEXIBLE SPATULAS, APRONS Marvel's line of kitchen accessories continues with these aprons and spatulas. The aprons are priced at $40.99 each and the spatulas are at $25.99 each; you can get them in Captain America, Iron Man, Spider-Man or Hulk versions.

DC SKELANIMALS Toynami and DC have combined forces to make these cute skelanimal figures. We have ChungKee as Green Lantern, Jae as Batman, Jack as Flash and Dax as Superman, and they come in three sizes - 10" Plush at $24.99 per single, 6" plush at $17.99 per single and Clip-Ons at $8.99 per single. We also have them available in sets of 4 - the 10" set is priced at $89.99, with the 6" set at $69.99 and the Clip-On set at $34.99.

MAD ENGINE JACKETS A number of new Fleece Jackets and Track Jackets from Mad Engine have just been listed. They are priced at $44.99 for the Track Jackets and $62.99 for the Fleece Jackets, and include licenses like Star Wars, Marvel and GI Joe.

BigBadToyStore.com