Skelanimals DC Heroes, Halo, Enterbay T-800, Lord of the Rings Heroclix, MLB Playmakers at Big Bad Toy Store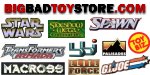 September 21, 2011 - (Sponsor Announcement) - Online retailer BigBadToyStore.com has several new items of interest to collectors:

-------------
NEW PREORDERS
-------------

ENTERBAY HD MASTERPIECE T-800 FIGURE This new 1/4 scale figure of Arnold Schwarzenegger as the T-800 Terminator has over 30 points of articulation as well as multiple weapons with bullets and shells, the famous gold box of roses, interchangeable body parts and more. We have this hot new figure listed at $399.99.

ARKHAM CITY SERIES 01 - SET, SINGLES DC Direct's first assortment of Arkham City figures includes an Unmasked Batman, Harley Quinn and Robin. We have them listed as a set of three for $49.99 ($7 off the MSRP); we also have singles remaining of Batman and Robin, priced at $17.99 each.

HALO ANNIVERSARY SERIES 02 This new assortment has figures from a wide variety of games. We have "The Package" version of Master Chief, Captain Jacob Keyes, a Spartan Mark VI (White/Blue), a Sentinel & Guilty Spark Two-Pack and Mickey from ODST. This figures are available singly at $11.99 each, as a set of 5 for $54.99, and as a case of 8 (two each of MC, Spartan and Mickey) for $84.99.

KOTOBUKIYA THOR CLASSIC AVENGERS FINE ART STATUE This new figure of Thor in his original Marvel look is the first of a trio representing the "Big Three" - Thor, Cap and Iron Man - in time for the release of the "Avengers" movie. The statue stands about 13.5" tall and shows Thor or a rocky base, holding Mjolnir aloft. We have this statue listed at $174.99, saving you $25 off of the MSRP

DC PLUSH - TOYNAMI SKELANIMALS Now available is the comic-book crossover you never thought you'd see: the all-new Skelanimals DC Heroes! For the first time, your favorite Skelanimals pals are here in their secret identities as the World's Greatest Super-Heroes! Dax the Dog has become Superman, Jae the Fox has taken up the mantle of the Batman, ChungKee the Panda has transformed into Green Lantern and Jack the Rabbit is now the Flash!

BRAVE GOHKIN 35 KOTETSU JEEG CMS' Kotetsu (Steel) Jeeg figure is being reissued. This version comes with his Panzaroid so the two can be joined into a centaur form, and we have the set listed at $349.99. If you missed out on this great figure the first time, now is your chance to pick it up.

BROWNNOIZE PRODUCTIONS 'THRONE OF CHAOS' UNICRON STAND This accessory to the extremely popular Supreme class Unicron toy is a must-have for fans wishing to replicate the iconic look of the chaos bringer from 1986's "Transformers: The Movie". Unicron's planet mode is securely held aloft on a crystal clear acrylic display stand, ominously pointing straight forward, matching the classic animation look. The stand features instant, tool-free assembly and extremely solid construction. Each stand is listed at $34.99.

FWI-1 ALIEN JET ENGINE KIT This add-on set works with Leader class Starscream (sold separately). It includes new thrusters that can be mounted in a variety of ways, as well as a buzzsaw hand piece. We have it listed at $29.99.

DC COMICS SILICONE ICE TRAY - SUPERMAN, BATMAN LOGOS As a follow-up to the immensely popular Star Wars trays, Kotobukiya has announced two new trays with DC hero logos. Batman and Superman's iconic logos are now available, and each tray includes both large and small versions; each tray is listed at $9.99.

NEW JAPANESE EXCLUSIVES We have new listings for a number of Japanese exclusive figures and more. We have the Dragon Shiryu Final Bronze Cloth Original Color Edition at $113.99, Blue Exorcist Shura Kirigakure at $89.99, Kamen Rider Ryuuki Blank Body S.H. Figuarts at $74.99, Kamen Rider Tamashii Stage Mirror World Exclusive Stand Set at $38.99, Saint Cloth Myth EX Custom Orange Display Stage at $49.99 and the Busou Shinki Battle Masters Mark 2 Special Edition Complete PSP Set at $479.99.

BLUE BOX 1/18 SCALE MH-80 BLACK HAWK HELICOPTER The latest release in the Elite Force 1/18 scale line is a Black Hawk helicopter, perfect for GI Joe and other 3.75" figures. It comes with weapons, a rappelling system and more, and is listed at $169.99, saving you $10 off the MSRP.

B-CLUB 1/100 SCALE MS LEO FULL KIT B-Club is Bandai's offshoot dedicated to complex high grade model kits. This 1/100 scale version of the Leo Mobile Suit from Gundam Wing will require a good level of skill as well as painting, and is listed at $199.99.

ZONE OF THE ENDERS ANUBIS REVOLTECH FIGURE Jehuty's opponent Anubis is the latest Revoltech figure to be announced. We have this figure listed at $44.99, with an expected release date of December of this year.

LORD OF THE RINGS HEROCLIX The long-awaited Heroclix release of Lord of the Rings is finally on the way. The initial release of the game consists of two options - an 8-piece Starter Pack (with 3 exclusive figures) for $29.99 and a 24-pieces Countertop Display containing random single-packed figures from the 21-piece assortment. This set is compatible with other Heroclix releases, such as Indy, Marvel and DC, so don't miss out.

FINAL FANTASY XIII-2 PLAY ARTS KAI LIGHTNING KNIGHT VERSION The first release in the Play Arts Kai line from this game is the Knight version of Lightning, heroine of FFXIII. She includes her sword and shield, wings and more, and is listed at $54.99.

MLB PLAYMAKERS SERIES 03 - CASE, SINGLES McFarlane's third assortment of MLB 4" Playmaker figures includes players like Adrian Gonzales, Derek Jeter, Robinson Cano, Josh Hamilton and more. We have them listed as a case of 12 for $74.99; you can also pick your favorites singly, priced at $6.99 each.

JUST-US-LEAGUE OF STUPID HEROES 2011 - SET, SINGLES These new and re-released figures are being done in celebration of Mad Magazine's 60th Anniversary. The reissued figures even contain some color changes, most obviously on Superman. Each figure is Alfred E. Neuman done up as one of DC's greatest heroes; the first assortment includes Superman, Green Arrow and Aquaman. They are available singly at $17.99 each, or as a set of 3 for $49.99, saving you $7 off of the MSRP.

GREEN LANTERN: THE ANIMATED SERIES ATROCITUS MAQUETTE The leader of the Red Lanterns is the second maquette in the Animated Series' line. This version stands 8.25" tall and is listed at $99.99, saving you $25 off the MSRP for the piece.

BATMAN BLACK AND WHITE SAM KIETH STATUE This line continues with a statue by noted artist Sam Kieth, creator of The Maxx. His Batman statue measures 5.5" tall by 6" wide and is priced at $79.99, $15 off the MSRP.

SUPERMAN PATINA MINI STATUE Jim Lee's statue of the Man of Steel gets a new iteration in this 6" version complete with bronze-like patina. It shows Superman standing with one foot atop an eagle gargoyle, and is listed at $79.99, saving you $15 off the MSRP.

ZOIDS ULTRASAURUS D-STYLE MODEL KIT The gigantic Zoid has been shrunk to a cute D-Style model for this release. It includes its humongous side guns and is priced at $29.99.

WORLD OF MMA CHAMPIONSHIP SERIES 02 VERSUS SET OF 4 The Versus line continues with this assortment of two-packs. It includes Forrest Griffin Vs. Stephen Bonnar, Lyoto Machida Vs. Randy Couture, Georges St. Pierre Vs. BJ Penn and Brock Lesnar Vs. Cain Velasquez. We have the set of four two-packs listed at $114.99, $5 off the MSRP.

LOST IN SPACE DR. ZACHARY SMITH LIMITED EDITION 3/4 SCALE BUST This bust is taken from the snarky Doctor from the original TV Series "Lost in Space". It is part of a limited numbered edition and stands 11" tall; we have this bust listed at $279.99, $20 off of the MSRP.

INDIANA JONES FERTILITY IDOL PROP REPLICA Sideshow is going back for a new run of this classic prop replica. It stands 10" tall and is listed at $179.99, $10 off the MSRP.

FUNKO SIMPSONS Funko is releasing Simpsons items as a part of two of their lines. The Plushies line has Itchy, Scratchy, Krusty, Bart and Homer at $10.99 each, while the POP! Television line has Homer, Marge, Bart and Krusty at $9.99 each.

STAR WARS T-SHIRTS Mad Engine has a wide variety of Star Wars t-shirts ready to go. They feature Darth Vader, Boba Fett, the droids, the Cantina Band and much more, and they are priced at $15.99 - $20.99 each.

STAR WARS BELTS & WALLETS In addition to their belt buckles and other accessories, Rock Rebel Shop is now producing a number of new Star Wars wallets and belts. They are priced at $19.99 each for the wallets and $23.99 each for the belts, so take a peek at them and grab your favorites.

MINECRAFT ITEMS This popular game has spawned a number of new items. In addition to a line of T-Shirts, we also have listings for foam weapons, hats, magnets and more. Be sure to check out all of the items at the link for more information.

HUNGER GAMES ACCESSORIES The Popular Hunger Games series has also got a number of new items available courtesy of NECA. There are Prop Replicas, journals, bracelets, bookmarks, and even a Strategy game, and they are priced from $3.49 to $24.99 each.

WORLD OF WARCRAFT T-SHIRTS Jinx has come up with a number of new t-shirts for World of Warcraft, and we have them listed for pre-order now. This variety of shirts is listed at $17.99 - $19.99 each, so grab your favorites.

------------
NEW ARRIVALS
------------

BLITZWAY 12" TONY MONTANA FIGURE This new version of the "Scarface" character comes with guns, necklaces, a cigar and even his signature chair. Note that his shoes are actual single units - the legs attach directly ball-joint-style to holes in the shoes, negating a need for separate feet. We have this figure listed at $199.99.

MARVEL UNIVERSE 3.75" 2011 SERIES 04 - CASE, SET This assortment includes X-23, Commander Steve Rogers, Ultron, Namor the Sub-Mariner and Darkhawk. We have them available as a set of 5 for $49.99; we also have them as a case of 12 (two each plus Doctor Doom and the Falcon) at $104.99. Doctor Doom and the Falcon are also available as singles.

GI JOE 2011 MIDSIZE VEHICLES SERIES 01 - CASE, SINGLES The new GI Joe Vehicle assortment includes the GI Joe Vamp, priced at $21.99, and the Black Dragon VTOL with Cobra Air Trooper, priced at $24.99. We also have them listed as a case of two, priced at $44.99.

TRANSFORMERS ULTIMATE OPTIMUS PRIME This version of Optimus Prime includes his trailer, which converts into armored wings and a Super Cannon for his robot mode. We have the Hasbro version of this figure in stock, listed at $89.99.

SCI-FI REVOLTECH #030 DOTM OPTIMUS PRIME The second version of Optimus Prime to be made in Revoltech form has arrived. This version is designed based on his appearance in the "Dark of the Moon" movie, and includes five different guns that can peg all over him or to each other, as well as an energon sword and multiple hands. We have this figure listed at $54.99.

GI JOE 2012 SERIES 01 - CASE, SET Just a quick update to let everyone know that we have restocked the 2012 Series 01 case and set of GI Joe, priced at $84.99 and $44.99,
respectively.

BRIGHTEST DAY SERIES 03 RESTOCK We have received yet another shipment of Brightest Day Series 03 figures. We have Hawk, Dove, Jade and Jackson Hyde Aqualad available as a set of four at $64.99 (411 off MSRP). We also have singles left of Hawk, Dove and Aqualad, priced at $17.99 each.

GREEN LANTERN MOVIE MASTERS SERIES 04 - SET, SINGLES The latest Green Lantern Movie Master assortment to arrive includes Green Lantern Galius Zed and Hector Hammond. We have these figures available singly at $17.99 each, or as a pair for $33.99.

GREMLINS MOGWAI SERIES 01 - SET, SINGLE The first assortment of cute mogwai figures is now in stock. This assortment includes Gizmo George and Lenny, and they are available as a set of 6 for $44.99. We also have singles left of Gizmo, priced at $13.99 each.

BUCK ROGERS 8" FIGURE SERIES 01 SET SALE Zica Toys has given us the go-ahead to put the pair of Buck Rogers and Tigerman on sale at the low price of $24.99 for the pair. If these figures interest you, now is definitely the time to pick them up, as they're going fast.

BigBadToyStore.com