2012 GI Joe, Marvel Minimates 41, LEGO, GX-60 Space Emperor God Sigma, Sentinel at Big Bad Toy Store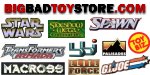 September 7, 2011 - (Sponsor Announcement) - Online retailer BigBadToyStore.com has several new items of interest to collectors:

------------
NEW ARRIVALS
------------

GI JOE 2012 SERIES 01 FIGURES - CASE, SET This new assortment includes package refreshes of Steel Brigade, Cobra - The Enemy, Viper and iron grenadier, along with Sgt. Stalker and Hazard-Viper. We have them listed as a set of 6 for $44.99, and as a case of 12 (two of each figure) for $84.99.

MARVEL MINIMATES SERIES 41 SET This new assortment includes the Green Goblin with Glider & unmasked Spider-Man (for remaking the famous comic cover scene), the Incredible Hulk and First Appearance Iron Man, Mr. Sinister & Nimrod and variant Age of Apocalypse Mr. Sinister, also with Nimrod. We have this set listed at $29.99, $6 off the MSRP.

GX-60 SPACE EMPEROR GOD SIGMA This huge set includes all three of God Sigma's combiner robots, as well as the wing unit and two different weapons for each sub-robot. We have this fantastic SOC set listed at $239.99, saving you $40 off of the MSRP for the piece.

NEW LEGOS We have recently received a large shipment of LEGO items, with another due soon. We now have sets available from LEGO Atlantis, LEGO Kingdoms, Cars 2, Star Wars, Harry Potter, LEGO Technic, LEGO Creator, Spongebob Squarepants, LEGO Alien Conquest, LEGO Ninjago, LEGO DUPLO and more. Check them out at all of the menus at the link for pricing and more information.

COMMANDER CODY 1/5 SCALE STATUE This great statue by Attakus stands 15.75" tall and weighs over 10 pounds. It is of a limited edition of 750 pieces, and includes a 'hologram' of Darth Sidious that can be lit up or not, as you prefer. This statue is priced at $359.99, saving you $50 off the MSRP.

DOCTOR WHO CHARACTER BUILDING - ELEVEN DOCTORS MICRO-FIGURE SET For those of you that have caught on to the Character Building line, this will be a must buy; for those that haven't, this may be the thing that gets you in to this great new line. The box itself is designed to look like the TARDIS, and inside are micro-figures of each of the Eleven doctors, along with sonic screwdrivers and even an umbrella. We have this set listed at $39.99, $10 off the MSRP.

-------------
NEW PREORDERS
-------------

MARVEL UNIVERSE SENTINEL RECOLOR The SDCC 2011 recolor of the 16" Sentinel figure is now being rereleased as a regular part of the line, complete with the purple and maroon color scheme. We have this figure up for sale, priced at $59.99.

TRANSFORMERS GENERATIONS 2011 SERIES 05 - CASE, SETS Hasbro is back with new figures in the Transformers Generations line. This assortment includes two each of new figures Blackshadow and Junkion, as well as two each of Wheeljack and one each of Sergeant Kup and Warpath, and is priced at $99.99. We also have them available as a set of two (one each of Blackshadow and Junkion) for $37.99, and as a set of 4 (Blackshadow, Junkion, Wheeljack and Warpath) for $59.99.

MARVEL UNIVERSE 3.75" 2011 SERIES 06 - CASE, SET, SINGLES Hasbro has announced the newest wave of Marvel Universe 3.75" figures. This assortment includes Patriot, Thunder Age Thor, Shadowland Daredevil, iron Fist, Storm and Psylocke, and we have them available as a case of 12 (two of each figure) at $104.99, and as a set of 6 (one of each figure) for $54.99. We also have singles available of all but Storm and Psylocke (who have already sold through) at $9.99 - $11.99 each.

SCI-FI REVOLTECH LEGION This huge monster from "Gamera 2: Attack of Legion" is the largest single Revoltech release to date. It includes Legion soldiers, a flying Gamera with stand and a nameplate, and we have it priced at $69.99. Don't miss out on the in-scale Gamera to go with it, below.

NARUTO PROJECT BM FIGURES This line of figures is a collaboration between Bandai and Medicom, and brings the best of both worlds together. The 1/6 scale figures are wonderfully detailed, and this assortment brings us both Naruto and Sasuke, each priced at $259.99.

CAPTAIN AMERICA SHIELD NEON SIGN Diamond Select is releasing a new neon sign, this time based on Captain America's shield. It measures 10.5" in diameter and comes with an exclusive Captain America comic book, as well as being able to hang from the wall or stand on a tabletop. We have this piece listed at $114.99, $10 off the MSRP.

ASSASSIN'S CREED BROTHERHOOD EZIO - IVORY VERSION This new version from the latest game includes retractable & removable blades on the gauntlets as well as three sets of interchangeable hands. The figure is listed at $15.99, $2 off the MSRP.

TRANSFORMERS DELUXE MECHTECH SERIES 05, 05 REVISION 02 - CASES, SET The three new figures in Series 05 are Air Raid, Autobot Topspin and Dark Steel, but unfortunately they are only available in two assortments, each of which have large amounts of repeat figures. As a result, we have had to list the set of three at $64.99, although we hope to lower the price if successive assortments are better mixed. Meanwhile, you can also pick them up in the Series 05 case - one of each, along with one each of Specialist Ratchet, Mudflap and Nitro Bumblebee and two each of Cyberfire Bumblebee, at $99.99. The Series 05 Revision 02 case includes one each of Air Raid and Autobot Topspin, along with one each of Bumblebee, Starscream, Roadbuster, Sideswipe, Nitro Bumblebee and Thundercracker, and is also listed at $99.99.

TOMY TECH F-22A RAPTOR KIT - TWO VERSIONS, AFTERBURNER STAND Tomy is releasing the F-22A Raptor that is Starscream in two versions - one in USAF markings and the other in Cybertronian tattoos; each is listed at $57.99. Each comes with a display stand, but Tomy is also releasing a separate stand complete with LEDs to light up the afterburners on the jets, and it is listed at $35.99.

MARVEL SELECT EXCLUSIVE HAWKEYE Hawkeye stands victorious over a beaten, battered Ultron on this Marvel Select Action Figure featuring a detailed base. As one of the Avengers from the upcoming film, this Hawkeye figure features Marvel Select's standard points of articulation. 7 1/2" H without base

STAR TREK - WESTLAND GIFTWARE A variety of fun mugs, bobbles and other collectibles has just been listed. Check out all the cool items here

LOONEY TUNES - WESTLAND GIFTWARE Almost 40 new items have just been listed - all your favorite looney tunes characters in the form of salt & pepper shakers, figurines, banks, cookie jars and more

STAR WARS DX KUBRICKS SERIES 04 - CASE, BOX Medicom's newest assortment of figures includes Princess Leia, Darth Vader, a three-legged version of R2-D2, Captain Antilles, an Imperial Dignitary and a TIE Fighter Pilot. Each set of figures comes with the pieces to assemble a Probot; we have them listed as a box of 12 at $209.99 and a case of 48, priced at $774.99. The case also includes a Death Star Diorama display for your figures.

TRANSFORMERS CYBERVERSE LEGION SERIES 04 CASE This assortment includes three of Stealth Bumblebee, two of Soundwave and one each of Flak, Starscream redeco and Roadbuster; we have the case listed at $44.99.

TRANSFORMERS RESCUE BOTS SERIES 04 CASE This assortment includes Optimus Prime, Bumblebee, Chase the Police Bot and Boulder the Construction Bot, and we have the case listed at $53.99.

NEW FUNKO DC WOBBLERS Batman, Superman, Joker and more - check out the full selection of fun DC collectibles from Funko here

MARVEL UNIVERSE 3.75" 2011 SERIES 05 REVISION 02, SERIES 06 REVISION 01 CASES We also have two other new case assortments listed for the Marvel Universe line. These cases are great opportunities to grab large numbers of past heroes and villains. The Series 05R02 case includes characters like Magneto, Red Hulk, Ronin and Steve Rogers, while the Series 06R01 case has Hawkeye, Kitty Pryde, Archangel and the upcoming Psylocke, Storm, Iron Fist, Daredevil and Thor. Each case is listed at $104.99.

MARVEL UNIVERSE SECRET WARS 2011 SERIES 03 CASE The latest assortment of comic two-packs includes two each of Wonder Man & Quicksilver and Bullseye & Daredevil, as well as one each of returning favorites Thor & Iron Man, Wolverine & Captain America, Spider-Man & Captain Britain and Power Man & Iron Fist. This assortment is currently available for pre-order, priced at $119.99.

LIVING DEAD DOLLS ROTTEN SAM & SANDY SET This set of two dolls is eerily familiar, but now done with black yarn hair and much less humor. We have them priced at $47.99 for the set of two, saving you $8 off the MSRP.

TFC TOYS JUNKION BLACKSMITH HEAD FIGURES These four figures not only have their own robot and and alternate modes, but they can also transform into heads for other robots. We have Justice Leader, Evil Commander, Tactical Officer and Tactical Officer Hyper Mode listed individually at $11.99 each, or you can also order them as a set of 4 for $44.99.

LOTR ARWEN 13.5" STATUE This new piece has the elven princess done in 1/5 scale, and shows her holding a slim blade, with her gown flowing around her. We have this statue listed at $234.99, $15 off the MSRP.

NBX SALLY 10" STATUE Electric Tiki's latest Leading Lady statue is this 1/8 scale version of Sally from "Nightmare Before Christmas". In it, Sally holds a black flower and is displayed with her cat; we have this statue listed at $189.99, saving you $10 off of the MSRP.

INCREDIBLE HULK HEROCLIX NECA & Wizkids have announced their next wave of Heroclix figures, based on the Incredible Hulk. We have them listed as a ClixBrick of 10 Boosters at $94.99, as single boosters at $9.99 each, as a Fast Forces Six-Pack at $13.99 or as a Countertop Display of 24 singles at $59.99.

STRAWBERRY SHORTCAKE - MINI PLAY SET SERIES 02 CASE OF 2, MINI DOLL STORY IN A BOX We have a few new listings for Strawberry Shortcake this month. The Mini Play Set Series 02 Case includes the Berry Fun Clubhouse and the Smoothie Maker, and they are available as a case for $36.99. We also have the new line of Mini Doll Story in a Box, priced at $13.99 each; you can choose from Camping, Gardening or Talent Show.

MY LITTLE PONY WITH ANIMAL FRIEND SERIES 04 - CASE, SINGLES Hasbro's newest MLP Animal Friend assortment includes one each of Rarity, Applejack, Rainbow Dash, Honeybuzz, Plumsweet and Flitterheart, along with two each of Feathermay, Twinkleshine and Snowcatcher. This assortment is priced at $61.99 for the case of 12; we also have singles available of many of the figures, priced at $6.99 each.

LITTLEST PET SHOP WALKING PETS SERIES 2.5 CASE The new LPS Walking Pets are proving to be very popular with our LPS fans. This new assortment includes Dog, Spider, Snail, Fish, Dachshund and Butterfly and is priced at $49.99.

LITTLEST PET SHOP FAVORITE PET PAIRS SERIES 02, 03 CASES LPS Pet Pairs Series 02 includes Monkey & Iguana, Giraffe & Ostrich, Hamster & Boxer, Fish & Snail, Bunny & Cat and Duck & Frog, and the Series 03 assortment includes Basset Hound & Cat, Soft Chinchilla & Ladybug, Soft Horse & Pig, Chick & Soft Lamb, Soft Labradoodle & Mouse and Soft Porcupine & Angora Bunny. We have each case listed at $29.99.

NEW BEYBLADE LISTINGS We have a number of new Beyblade items listed for pre-order. We have eight different cases of 2011 Metal Fusion Faceoff Series, as well as three Triple Battle Assortment cases, three waves of Electro Battlers cases and a Deluxe Gear Assortment - be sure to check them all out and grab what you like.

SOUL OF CHOGOKIN ONE PIECE FRANKY This new die-cast figure of the Straw Hats' cyborg mechanic Franky includes interchangeable parts, a display stand, colas to power him and more. This figure is listed at $114.99, $5 off the MSRP.

GAMERA COLD CAST STATUE This figure also comes from "Gamera 2: Attack of Legion" and is done at 7.5 cm tall, in scale to the Legion Revoltech figure. We have this piece listed at $49.99.

CARS 2 LIGHTNING MCQUEEN & MATER BEARBRICK TWO-PACK This set includes Bearbrick versions of Lightning McQueen and Mater from the recent movie "Cars 2". We have the set of two listed at $43.99.

PATHFINDER MINIATURES - BEGINNER 4-PACK, HEROES & MONSTERS BRICK NECA & Wizkids have announced a new line of miniatures based on the Pathfinder fantasy game. The Beginners four-pack has four specifically-chosen miniatures of four of the main characters and is listed at $11.49, while the Heroes & Monsters Brick includes 16 boosters with one medium or two small monsters plus three boosters with one large creature each, and is priced at $67.99.

WORLD OF MMA CHAMPIONS ULTIMATE COLLECTOR SERIES 08, LIMITED EDITION SERIES 08 Round Five has announced their newest lines of UFC figures. Series 08 includes Jon Jones Championship Edition with Belt, Georges St. Pierre Championship Edition with Belt, Brock Lesnar and more, and is priced at $84.99 for the set of 6, or $99.99 for either case assortment; we also have singles of some of the figures, priced at $13.99 each. We also have the Limited Edition version of this wave listed, with singles of Jon Jones and Brock Lesnar at $19.99 each.

MAD ENGINE T-SHIRTS We have listed a bunch of new t-shirts from Mad Engine. We have new listings under licenses like GI Joe, the Avengers, Marvel Team-Ups, Iron Man, Punisher & Deadpool, so be sure to check them out at the link.

BigBadToyStore.com