Bandai Japan, Hot Toys 1989 Joker & Batman, Marvel Select Red Skull, DCUC 15 at Big Bad Toy Store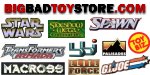 September 3, 2011 - (Sponsor Announcement) - Online retailer BigBadToyStore.com has several new items of interest to collectors:

------------------------
INVENTORY CLEARANCE SALE
------------------------

The sale continues with more items added and pricing further reduced. Take a look at the link below for a variety of featured items as well as the huge sales menus that contain thousands of items priced 20% to 90% off list price.
http://www.bigbadtoystore.com/bbts/list.aspx?list=7223

-------------
NEW PREORDERS
-------------

MOVIE MASTERPIECE 1/6 SCALE BATMAN 1989 FIGURES - BATMAN, JOKER These fantastic new Hot Toys figures are taken from the 1989 movie "Batman". The figures feature head sculpts of Michael Keaton and Jack Nicholson as well as coming with appropriate accessories, and we have them listed at $224.99 for Batman and $249.99, each $15 off the MSRP.

TRANSFORMERS ALTERNITY NEW FIGURES We have pre-orders up for the two new Alternity figures. The Asia-Exclusive Dai Atlas and Goldbug are each going to come with newly-sculpted heads from what we've been told, and are listed for pre-order at $74.99 each.

TOYNAMI BANDAI JAPAN SDCC EXCLUSIVES Two more of the popular SDCC 2011 exclusives are now ready for pre-orders. The D-Arts Metallic Megaman X figure is listed at $59.99, and the S.H. Figuarts Super Saiyan Son Goku figure is priced at $49.99.

THANOS ON THRONE WEB EXCLUSIVE STATUE This new piece stands 15.5" tall and shows the mad Titan seated on his flying throne, which he has used on and off for decades. We have this web-exclusive statue listed at $349.99, and it is set to arrive before the end of the year.

BATMAN THE DARK KNIGHT LIFE SIZE BUST This bust of Batman from "Batman: The Dark Knight" stands 32.5" tall and is a perfect complement to the Joker Life Size bust (also up for pre-order). It is made from fiberglass and mixed media and hand-painted, and is limited to 750 pieces worldwide. We have this piece listed at $799.99, and it is set to release sometime early next year.

NEW BANDAI JAPANESE EXCLUSIVES The new month brings a whole bunch of new Japanese exclusive Bandai items, and we have them up for pre-order. We have the Gokai Pink S.H. Figuarts figure at $92.99, the Armor Plus SG Tekkaman Aki at $129.99, Robot Damashii Tallgeese 2 at $89.99 and more - check out all the new listings at the link.

TONNER 16" MS. MARVEL Tonner's first figure from their new Marvel license is the Avenger Ms. Marvel. She is dressed in her standard black outfit, limited to 300 pieces, and listed at $139.99.

NEW EAGLEMOSS LEAD FIGURES & MAGAZINES The new DC and Marvel Eaglemoss lead figures for the month are up for pre-order. Marvel offerings includes Karnak the Inhuman, Hydro-Man and Special Edition M.O.D.O.K., while DC has Special Edition Clayface, Cheetah and the Phantom Stranger. We have the Special Edition versions at $34.99 each, with the regular figures at $13.99 each.

RED FACTION ARMAGEDDON 1/18 SCALE SERIES 01 CASE Unimax is releasing a new assortment of 1/18 scale figures based on the Red Faction: Armageddon video game. We have the case of 12 figures listed for pre-order, priced at $89.99 per case.

GANDALF 5.9" STATUE This new piece by WETA shows the wizard seated, with a sculpt right out of the movies. We have this piece priced at $69.99, and it is scheduled to arrive in January 2012.

GI JOE EXCLUSIVES We have pre-orders up for three returning GI Joe Exclusives. From 2000 comes the Flying Tiger 1/6 Scale Convention Set, which includes two figures, another figure, a VHS and a whole lot more, and is priced at $99.99. 2004 brings us the glow-in-the-dark Heavy Water 3.75" figure,
priced at $9.99. Finally, we have the COBRA Headhunters 2008 box set, priced at $299.99.

TRANSFORMERS MECHTECH TITANIUM DOUBLE BLASTER EXCLUSIVE WEAPON The lucky folks in Japan have a new MechTech weapon coming out, and we have been able to secure a small supply for our customers. This Titanium Double Blaster is available with a 3000 yen purchase from four different stores, but we have them ready for pre-order, priced at $49.99.

CRAZYDVEY CDMW-25 CONSTRUCTION BRIGADE POWER PARTS CUSTOM SHIELD SET This new set to upgrade your Devastator figure includes a new Waist Shield with moving parts to allow for thigh movement with the CDMW-22 set, an upgraded chest shield that matches the CDMW-09 mounting plate and a new silver colored cement mixing barrel for Mixmaster. This set is up for pre-order, priced at $28.99.

DC COMICS HEADPHONES We have a variety of new listings up from vendor iHip. The have a number of DC comics headphones available such as Wonder Woman, Green Lantern, Justice League, Batman, Superman and Flash, and we have them listed at $12.99 - $14.99 for ear buds and $19.99 for folding headphones. We also have a pair of Justice League Extreme DJ-Style Headphones listed, priced at $34.99.

RISK LEGACY PREVIEWS EXCLUSIVE BOARD GAME The longtime hit board game Risk is getting an upgrade this fall. This new version is meant to be played in multiple game sessions, and added new surprises, cards and mechanics that come in to play over the course of a campaign. We have this new Previews-exclusive version listed at $52.99, saving you $7 off the MSRP.

HIGHLORD'S JUSTICE SWORD - RED, BLUE, SILVER This giant new add-on sword comes with three colors of blades, so you can match it to the use you need it for. It can also be used with or without the long handle, and each version is listed at $74.99.

JOE LEDBETTER PIGGY BANKS Designer toys get a new entry with Joe Ledbetter's new piggy banks. These stylish new designs are done in pink and limited-edition blue, and are priced at $24.99 and $34.99, respectively.

HALO: COMBAT EVOLVED SPARTAN MARK V BLACK PLAY ARTS KAI FIGURE The Play Arts Kai Halo line gets its second figure in the Mark V Black Spartan. He comes with a rocket launcher and a pistol, and is listed at $53.99.

GREAT ULTRON PREMIUM FORMAT FIGURE Ultron's newest version comes to you in the form of this 1/4 scale statue. It stands 21" tall and includes a cloth cape and light-up eyes and chest vents, and is listed at $304.99, saving you $20 off the MSRP.

THE DEAD: THE TEMPLAR'S VERDICT PREMIUM FORMAT FIGURE This 1/4 scale statue shows an undead Templar coming back to get his vengeance. The statue is 21" tall and is priced at $329.99, $20 off the MSRP.

MAX FORCE GUNS & SHOT REFILLS Jakks Pacific's line of toy guns uses a small shot that splats when it hits, and we have both the guns and the shot refills available for pre-order. We have the Blow Gun 35 at $11.99, the Maximizer 60 Pistol at $21.99, the Shadow Hawk 100 Rifle at $44.99, the 150 Shot Refill at $5.99, the 300 Shot Refill at $9.99, the 1000 Shot Refill with Bandolier Belt at $18.99 and the Target set at $10.99.

UFC TITANS VINYL SERIES 01 - CASE, SET, SINGLES This new line by Round 5 brings the most popular UFC warriors home. The case of 10 includes two each of Randy Couture, Chuck Liddell and BJ Penn, with 3 of Georges St. Pierre and one of Royce Gracie; we have the case priced at $139.99, $10 off the MSRP. We also have the assortment listed as a set of 5, priced at $74.99, and singly (Penn, St. Pierre, Couture and Liddell), priced at $13.99 each.

DOCTOR WHO MINI TALKING PLUSH CLIP-ONS SERIES 01 - SET, SINGLES The first assortment of mini talking plush Clip-Ons includes a Cyberman, the TARDIS, a blue Dalek and a red Dalek. We have them available singly at $9.99 each, or as a set of 4 at $34.99.

DOCTOR WHO TARDIS SAFE This new key-lock safe can keep your things protected with the power of time itself. The TARDIS light flashes and the materialization sound is played when it is opened, and we have it priced at $42.99, $9 off the MSRP.

DOCTOR WHO CHARACTER BUILDING MICRO-FIGURE SERIES 02 - BOX, RANDOM SINGLE This second assortment of micro-figures includes the Eleventh Doctor, two versions of Amy Pond, Rory in regular and Roman Centurion outfits, River Pond and four different enemies. We have them listed as blind-bagged singles at $3.99 each, or at $109.99 for a box of 36.

THE WALKING DEAD TV ZOMBIE BUSTS Two new zombie busts from the Walking Dead TV series are up for pre-order. The Bicycle Girl and Tank Zombie are each priced at $42.99, saving you $5 off the MSRP for each bust.

DOUG SNEYD MERMAID STATUE This piece comes from art that was first run in Playboy Magazine. The statue stands 7" tall and is listed at $149.99.

CAPTAIN JACK HARKNESS' COAT The famous coat worn by the star of Torchwood and frequent guest on Doctor Who will now be available to join your wardrobe. We have it available in sizes Small - 2XL, and each coat is priced at $29.99, $30 off of the MSRP.

MICKEY MOUSE ROEN COLLECTION UDF FIGURES These new Mickey Mouse figures are now back with new coloring and a smaller size. We have listings up for Crown, Mummy, Guitar, Pirate and Two-Gun versions of the famous mouse, and each figure is listed at $10.99.

------------
NEW ARRIVALS
------------

HALO: REACH ANNIVERSARY THREE-PACKS, SINGLES SERIES - SET, SINGLES The Halo: Reach Anniversary Series includes Master Chief, Grunt, Arbiter, Cortana and Dutch. We have each of the singles listed at $11.99, or you can opt for the set of five, priced at $54.99. We also have the two new Three-Packs - Fearless Leaders and Master Chief Evolution, and each three-pack is listed at $32.99.

SOUL OF CHOGOKIN - GX-60 GOD SIGMA Arriving Thursday morning - this long awaited release stands approximately ten inches tall and features three die-cast combining robots! As usual, Bandai has gone all out and given the fans exactly what they wanted and it is priced competitively at $239.99

BATMAN LEGACY SINGLES SERIES 02 - SET, SINGLES Batman Legacy continues its Singles line with Golden Age Batman, Silver Age Batgirl and Modern Age Catman. We have them each available singly at $17.99, or you can grab all three at once in a set, priced at $49.99.

PREDATORS 7" FIGURE SERIES 03 - SET, SINGLE The third series of "Predators" figures is here as well. This set includes an Elder Predator, a Predator Hound and a Masked Classic predator. They are available as a set of three for $47.99 ($9 off the MSRP); we also have the Predator Hound available singly at $15.99.

CAPTAIN AMERICA: THE FIRST AVENGER - MARVEL SELECT RED SKULL Cap's nemesis in the recent movie is now available as a Marvel Select figure. He is wearing a long black leather coat and comes with a display stand that can be connected to the Captain America display stand to form a diorama from the movie. We have the Red Skull listed at $18.99, saving you $3 off of the MSRP.

GI JOE PURSUIT OF COBRA EXCLUSIVE COBRA COMMANDER This figure was previously unreleased, but now we will be able to bring it to you. The figure comes in special packaging with both a letter from General Hawk and a HISS Drone Mini Tank, and we have the box set listed at $34.99.

HEADROBOTS: BLOOD THE DARK WARRIOR UPGRADE KIT This new set not only includes two chromed weapons, but also a new head for Bludgeon, complete with two faces. We have this new set priced at $17.99.

FORCES OF VALOR VEHICLES Just a quick note to let you know that we have received a large shipment of Forces of Valor items. From 1:32 scale tanks to 1:700 scale battleships to 1:72 scale airplanes, there is quite a bit to choose from and something for all kinds of interests.

A NIGHTMARE ON ELM STREET 7" FIGURE SERIES 01 - SET, SINGLES This first assortment of Nightmare figures includes the original Freddy with outstretched arms as well as the Freddy from "Freddy's Revenge". We have them available singly at $16.99 each, or as a set of 2 for $31.99.

DC UNIVERSE CLASSICS SERIES 15 SET This set is finally back in stock. It includes Jemm Son of Saturn, Martian Manhunter, OMAC, Sinestro Corps Batman, Golden Pharaoh, two different versions of Starman and Raven, along with all of the pieces to assemble the Validus Collect-N-Connect figure. We have this set listed at $129.99.

FINAL FANTASY DISSIDIA PLAY ARTS KAI SERIES 01 - SET, SINGLES Final Fantasy Dissidia is a new game bringing together characters from throughout the Final Fantasy universe, and this is the first series of figures from it. It includes Cloud Strife, Squall Leonhart and Judge Gabranth; we have them listed singly at $48.99 each, or as a set of three for $139.99.

IGEAR BLACK TRAILER FOR MASTERPIECE TRANSFORMERS IGear has produced a new black version of their Masterpiece Trailer. It would logically go with the Black version of Prime, but can be used with an of the figures, and is listed at $119.99.

STAR WARS: THE FORCE UNLEASHED SITH & IMPERIAL TROOPERS BOX SET This new set includes Starkiller, Darth Phobos, an Imperial Navy Commando, an Imperial Navy Commando Officer and an Imperial EVO Trooper. We have the set of 5 listed at $69.99.

NHL SPORTSPICKS SERIES 28 - CASE, SINGLES The newest assortment of NHL Sportspicks includes two of Sidney Crosby 5 and one each of Jonathan Toews 2, Roberto Luongo 3, PK Subban, Wendel Clark and Taylor Hall, along with a random Chase or Collector Level figure. The case assortment is available for $99.99; we also have some singles available, but they're going fast.

MARVEL SUPER HERO ADVENTURES FIGURES TWO-PACK SERIES 02 - SET, SINGLES Hasbro's second assortment of these two-packs includes Spider-Man & Green Goblin, Hulk & Thor, Iron Man & Dr. Doom, Spider-Man & Doc Ock, Captain America & Wolverine and Iron Man & Silver Surfer. We have the set of six two-packs listed at $39.99; we also have singles available of the Spider-Man and Green Goblin and Spider-Man & Doc Ock two-packs available, and they are priced at $5.99 each.

TRANSFORMERS RESCUE BOTS SERIES 03 - CASE, SINGLES The third assortment of Rescue Bots includes Optimus Prime, Bumblebee, Blades the Copter-Bot and Heatwave the Fire-Bot. We have them listed as a case of 4 at $49.99, or you can pick your favorite singles, priced at $13.99 - $14.99 each.

TRANSFORMERS DOTM HUMAN ALLIANCE BASIC SERIES 03 REVISION 02 CASE The assortment of Human Alliance Basic Series 03R02 includes two each of Decepticon Dragstrip with Master Disaster and Half-Track with Major Altitude, along with one each of Autobot Whirl with Major Sparkplug, Tailpipe with Sergeant Noble, Backfire with Spike Witwicky and Ice Pick with Sergeant Chaos. We have this assortment listed at $89.99.

BigBadToyStore.com