DC vs MOTU, Green Goblin, Vampirella, DCUC 20, Venture Brothers at Big Bad Toy Store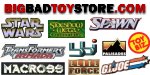 August 24, 2011 - (Sponsor Announcement) - Online retailer BigBadToyStore.com has several new items of interest to collectors:

-------------
NEW PREORDERS
-------------

MARVEL BISHOUJO X-23 Wolverine's female clone is next in line for a Bishoujo statue from Kotobukiya. She is done at 1/7 scale and shown half-kneeling with claws extended; we have this statue listed at $53.99, $6 off the MSRP.

DC UNIVERSE VS. MASTERS OF THE UNIVERSE SERIES 02 SET, SINGLES The new assortment of two-packs includes Supergirl Vs. She-Ra and Green Lantern Vs. Zodac, and we have them listed as a set of two two-packs for $63.99. Each set is also available singly at $34.99 each.

NEW EAGLEMOSS LEAD STATUES Six new Eaglemoss items have been listed for this month. On the Marvel side we have Karnak and Hydro-Man at $13.99 each with Special Edition MODOK at $34.99, while on the DC front we have Phantom Stranger and Cheetah at $13.99 each and Special Edition Clayface at $34.99.

FRIDAY THE 13TH JASON MASK REPLICAS NECA has announced two new versions of the famous hockey mask from the Friday the 13th Movies. Versions from both Part 3 and Part 4 are up for pre-order, priced at $26.99 each ($3 off the MSRP).

FREDDY KRUEGER GLOVE PROP REPLICA Not to be outdone by his horror rival, Freddy and NECA are releasing a glove replica from "A Nightmare on Elm Street" as well. This piece has metal 'blade' attachments and a mannequin hand form for display, and we have it listed at $59.99, saving you $12 off the MSRP.

MARVEL SELECT GREEN GOBLIN 2011 This new Marvel Select version of Spider-Man's nemesis is riding his rocketing Goblin Glider, pumpkin bomb in hand. He stands 7" tall with 16 points of articulation and is listed at $19.99, saving you $2 off of the MSRP.

VAMPIRELLA 25th ANNIVERSARY STATUE Vampirella's 25th anniversary is being celebrated with this new 1/8 scale cold cast statue. Each statue has an individually numbered seal and is priced at $179.99, $9 off the MSRP.

NEW BOWEN MARVEL STATUES Bowen Designs has two new statues on the way. February 2012 will see the release of a new Storm 12" statue at $229.99 as well as a Wolverine Weapon X 'Lab Wired' 14" statue at $249.99.

DC UNIVERSE CLASSICS SERIES 20 CASES Each of the four new cases includes 8 figures from Assortment 20, and they are priced at $119.99 per case. We are still waiting on pictures of White Lantern Flash, Sinestro and Green Lantern Hal, but the rest of the figures contained are shown in the pictures.

GEARS OF WAR 3 BUTCHER CLEAVER FOAM REPLICA This 3 foot foam piece allows you to play the part of a Butcher Boomer or other character and go on the attack with its 'bloodied' blade. We have it listed at $33.99, and it should arrive this September.

KNIGHT RIDER KITT SPM PX MINIMATE VEHICLE This new Previews Exclusive vehicle is of KITT in his Super Pursuit Mode. He appears to come with a Michael Knight Minimates; we have it priced at $13.99.

FEMME FATALES DAWN EXECUTIONER PVC STATUE The newest Femme Fatales figure is Dawn in an Executioner look. She is dressed in red and is listed at $39.99, saving you $5 off the MSRP.

HALO MINIMATES SERIES 04 BOX SET This set goes back to the beginning, and includes Master Chief Mark V, Cortana, Captain Jacob Keys and the Prophet of Truth. This box set is priced at $15.99, $2 off the MSRP.

JAPAN EXCLUSIVE IMPORT FIGURES We have a new month's worth of Japan exclusive figures listed. These include the new versions of the Busou Shinki Fencer, Siren and Mermaid, a 1/100 Scale MG Trans-Am Raiser and additional LED lights, an AnoHana Super Peace Busters set, the Puella Magi Madoka Magica PSP Limited Box Exclusive, a 400% Stormtrooper Bearbrick, a new Assault Suit Leynos Land Combat Type kit and the EX Gokin Black Getter Ryoma Repaint Version Changing Set, which we previously thought we would not be able to get. Be sure to check out the whole list and grab your favorites.

VENTURE BROTHERS 3.75" SERIES 01, 03 - CASE, SINGLES We have listings up for cases and singles of Venture Brothers Series 01 and 03 (waiting on Series 02). The Series 01 case includes two each of Dr. Mrs. the Monarch and Henchman 21, and one each of Hank Venture, Dean Venture, Dr. Venture in Red Speed Suit and Phantom Limb (Season 1), while the Series 03 case includes two each of Dr. Orpheus with Cape, Monarch Henchman 1 and H.E.L.P.E.R, and one each of Dr. Henry Killinger and Jefferson Twilight. Each case is listed at $84.99. We also have singles available of many of the figures, priced at $9.99 each.

OBI-WAN KENOBI "A NEW HOPE" ARTFX STATUE This new 1/7 Scale version of the Jedi warrior includes different looks so you can display him with his hood up or down. His lightsaber can light up with an LED light, and the figure is listed at $107.99 ($12 off the MSRP).

NEW STAR WARS REAL ACTION HEROES FIGURES Medicom has announced two new RAH figures. We have R5-D4 and 4-LOM listed at $219.99 and 249.99 respectively, each at $20 off the MSRP. Be sure to grab these two robots for your collection.

TRANSFORMERS KABAYA GUM PLUS SERIES 05 - BOX, SINGLE The new assortment of Kabaya Gum Plus Transformer mini model kits includes Rodimus/Hot Rod, Classics Inferno and Victory Leo. They come in a box of 8 for $44.99, or randomly as singles, priced at $5.99 each. If you order more than one random single, we will do our best to get different model kits in your order.

STAR WARS MOS EISLEY CHALMUN'S CANTINA 12" FIGURE ENVIRONMENT The newest release in Sideshow's Star Wars 12" Figure Environment line is the Chalmun's Cantina piece. It stands 17.5" tall by 24" wide by $14" long and includes a removable double-sided window graphic as well as interior lights. We have this great piece listed at $234.99, $15 off the MSRP.

CHE GUEVARA 1/6 SCALE BODY, CLOTHING SET Enterbay has announced a new figure and new set of clothing. This 1/6 scale body includes a Che Guevara head sculpt as well as over 25 points of articulation and is priced at $54.99. we also have the new Wardrobe 16 Style 312 1/6 scale clothing set, which includes a Che Guevara long-sleeve white t-shirt, a pair of Army green combat trousers and a pair of boots, and is priced at $39.99.

GREMLINS CHANGING PLUSH FIGURE Medicom's new 8.25" plush Gizmo has a secret hidden inside -- turn him inside out and there is a Gremlin! This import plush figure is listed at $179.99, and is set to arrive around the middle of December.

DOCTOR WHO "CITY OF DEATH" COLLECTOR SET This set goes back to the Fourth Doctor's era, and includes a Fourth Doctor figure as well as Count Scarlioni, along with accessories including a changeable head for the Count. This figure set is priced at $39.99 and is slated to arrive in October.

DOCTOR WHO 2011 5" ACTION FIGURE SERIES 02 CASE This case assortment of 10 figures includes one or more each of the Eleventh Doctor, the Ganger Doctor, River Song, the Astronaut, Idris with Psychic Container and Uncle. Each figure comes with a "Flesh mask" accessory, and we have the case of 10 listed at $149.99, saving you $50 off the MSRP.

THUNDERCATS MUMM-RA STACTION FIGURE In addition to the SDCC version, we now have a listing up for the regular edition of the Mumm-Ra Staction Figure. It stands 9" tall with an 11" "wingspan" and is listed at $49.99 with a December arrival date.

TWISTED METAL R/C SWEET TOOTH ICE CREAM TRUCK Sweet Tooth's ride from Twisted Metal can now join your collection as a Remote Control vehicle. The new game is coming out early next year, so now is the perfect time to get your pre-order in for this piece, which is listed at $29.99.

TRANSFORMERS DOTM JAPAN EXCLUSIVE TITANIUM DOUBLE BLASTER MECHTECH WEAPON The newest Takara exclusive can only be had by spending 3000 yen or more in certain stores in Japan, but we have managed to get our hands on some for our customers. This rare item is listed at $71.99.

THE WALKING DEAD PINT GLASS SET OF 4 This new set of glasses from Taverncraft features zombie art from the Walking Dead comic, with different art on each glass. This set is listed at $24.99, and should arrive about the same time as the start of the new season.

GODZILLA 2000 MILLENNIUM ORGA STATUE Orga from Godzilla 2000 Millennium is now available as an 18cm statue, and we have it listed at $219.99.

PAC-MAN COSTUMES Incogneato has announced a number of costumes from the Pac-Man video game. We have listings for Pac-Man and his ghost enemies for both men and women, priced from $31.99 to $69.99 depending on costume and size. We also have knit ski caps, priced at $14.99 each, and "The Big Lebowski" t-shirts and sunglasses - check them all out at the menus under the link.

------------
NEW ARRIVALS
------------

LIVING DEAD DOLLS SERIES 22 CASE The new Zombies assortment of Living Dead Dolls has arrived. This assortment includes Goria, Menard, Roxie, Ava and Peggy Goo, and we have them listed at $99.99 for the case of 5, saving you $25 off of the MSRP.

BATMAN: THE DARK KNIGHT SPECIAL EDITION COWL This replica is a great gift for any Bat-fan. it includes a full-size display cowl on a pedestal display, and measures 18" tall; we have this piece listed at $394.99.

TRANSFORMERS DOTM LAWSONS EXCLUSIVE VOYAGER OPTIMUS PRIME DARK VERSION This Japan-exclusive figure is black with gold flames and red windows, and comes with blades. We have a small quantity of this figure remaining, priced at $149.99.

MEZ-ITZ BATMOBILE WITH BATMAN This set includes a 6" Batmobile along with a 2" Batman Mini Mez-Itz to drive it. Batman comes in his black and gray outfit, and we have the set listed at $18.99, $3 off the MSRP.

BITS & PIECES SERIES 01 This new set of 1/6 scale accessories includes a machete, a Woodsman's axe, a Medieval axe, a meat cleaver, a severed head and a severed arm, and is the perfect way to dress up your displays. We have the set listed at $27.99, and it is ready to join your collection.

SUPERMAN FAMILY STATUE PART 2 This second and final piece of the statue set includes Supergirl and Steel, along with the rest of the parts to finish the Superman statue himself. We have this piece listed at $159.99, saving you $35 off of the MSRP.

SWORD OF INIGO MONTOYA REPLICA Factory Entertainment has released this life-size replica of the famous sword from "The Princess Bride". This piece has a swept basket style hilt and is made directly from the original prop; we have it listed at $299.99, saving you $50 off of the MSRP for the piece.

TRANSFORMERS DOTM CYBERVERSE COMMANDER SERIES 03 - CASE, SINGLES The newest assortment of Cyberverse Commander figures includes two of Battle Steel Optimus Prime and one each of Sentinel Prime, Megatron with Cannon, Ironhide with Blasters and Decepticon Hatchet. We have the case of 6 listed at $54.99; we also have singles available of all figures, priced at $9.99 - $12.99 each.

STAR WARS BATTLE PACKS 2011 SERIES 06 - CASE, SINGLES This assortment includes the Hunt for Grievous, Defend Kamino, Assault on Geonosis, Cad Bane's Escape, Stop the Zillo Beast and Capture the Droids. We have them available as a case of 6 for $134.99; you can also pick them up singly for $24.99 - $29.99 each.

TRANSFORMERS COMBINER 5-PACKS 2011 SERIES 01 SET OF 2 This set includes the Dinobots and the Constructicons, and is a great way to pick these disappearing sets up before the are gone. We have the set of 2 listed at $47.99, so grab yours now.

TRANSFORMERS COMBINER COMMANDER 2-PACKS 2011 SERIES 02 SET Undertow with Waterlog and Salvage with Bombburst are the two Commander packs in this set, and we have them listed at 29.99 for the pair. This last assortment of Combiner Commanders didn't ship as heavily as the previous assortments, so this is a good chance to get them for your collection.

MARVEL SELECT CAPTAIN AMERICA MOVIE FIGURE Captain America from "Captain America: The First Avenger" can now join your Marvel Select figure collection. This figure comes with half of a diorama that can show the two nemesis (Cap and Red Skull) in a scene from the movie, and this figure is listed at $18.99, $3 off the MSRP.

DOCTOR WHO 2011 5" ACTION FIGURE SERIES 01 - CASE, SET, SINGLES This new assortment includes the Eleventh Doctor with Cowboy Hat, two versions of the The Silent, Young Amelia Pond and an Ood with Green Ball. We have them available as a set of 5 for $84.99 ($15 off MSRP), and as a
case of 10 (3x Doctor, 1 x Ood, 2x each of the others) for $149.99 ($50 off MSRP). We also have singles available of all but the Ood, priced at $16.99 each.

DOCTOR WHO PANDORICA SET OF 6 This assortment contains the Eleventh Doctor, a Roman Auton, a Screaming Angel, a Cyberman Pandorica Guard, Amy Pond and a Silurian Warrior, plus the six sides of the Pandorica (without CDs). We have the set listed at $84.99.

8" FLOCKED SNOOPY FIGURES Dark Horse has brought us a flocked 8" Snoopy in a variety of colors. You can choose from Orange, Blue, Violet, White, Brown, Green, Yellow, and Pink, all in a variety of rarities and each priced at $23.99.

MOTU CLASSICS MEGATOR We have received a small quantity of this figure for the benefit of our international and other customers. We have him listed at $64.99, and we expect Man-E-Faces and other MOTU Classics figures to join him soon.

KAIZOKU SENTAI GOKAIGER GOZYUJIN This mech from the new iteration of the Power Rangers can transform into a Tyrannosaurus-like creature as well as a drill vehicle. We have this figure in stock now, priced at $109.99.

CREEPY CUDDLERS SERIES 02 SET Mezco's second assortment of zombie plushes includes Deathmittens, Zach and Ophelia, and we have the trio listed at $35.99, $7 off the MSRP.

BigBadToyStore.com