Thundercats, Bruce Lee, Skywarp, Sweeney Todd, LEGO at Big Bad Toy Store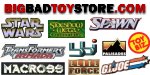 August 17, 2011 - (Sponsor Announcement) - Online retailer BigBadToyStore.com has several new items of interest to collectors:

------------
NEW ARRIVALS
------------

BANDAI THUNDERCATS - ARRIVING THURSDAY/FRIDAY A huge shipment of Bandai's Thundercats will be arriving in the next day or two! Full shipments of the first waves of 4", 6" and 8" figures + Thundertank and Role Play figures will be in stock soon. Remember we can only ship to the USA and Canada, any other orders will not be fulfilled. Take a look here for the full lineup and get your preorders in place now:
http://www.bigbadtoystore.com/bbts/menu.aspx?menu=2569&company=951

ENTERBAY 1/6 SCALE BRUCE LEE "GAME OF DEATH" 3RD EDITION This new "behind the scenes" version includes the EVision eyeball system, multiple costumes, a wooden background, a USB LED studio light, a director's chair and a whole lot more. We have this set listed at $349.99; it is limited to 5000 pieces worldwide and each has its own series number.

SIDESHOW STAR WARS & LOTR INVENTORY FIND We've just listed a handful of 2005 to 2006 Sideshow Statues purchased from a local collector. Key characters and some hard to find pieces. There are 2 - 4 pieces available of 10 different statues - take a look here and grab them before they are gone for good.

TRANSFORMERS DARK OF THE MOON DD-10 SKYWARP The new import-only Skywarp has arrived. The black and purple seeker completes the trio, and is listed at $37.99.

MOVIE MASTERPIECE 1/6 SCALE SWEENEY TODD FIGURE This figure of Sweeney Todd includes the Johnny Depp likeness as the title character as well as alternate hands, his straight razor and more. We have this figure priced at $194.99, $15 off the MSRP.

PREVIEWS EXCLUSIVE MS. MARVEL BINARY VERSION STATUE This exclusive figure shows Carol Danvers in her super-powered Binary version, although she is clad in her Ms. Marvel costume. We have her listed at $54.99, $5 off the MSRP.

GHOSTBUSTERS LUCY BISHOUJO STATUE This new characters is dressed in the remains of a Ghostbusters costume, with a beam thrower on her shoulder and a ghost trap at her feet. This figure is priced at $49.99, $10 off the MSRP.

STAR WARS 1/7 SCALE COMMANDER CODY LIGHT-UP ARTFX STATUE This figure is shown holding a hologram of Emperor Palpatine, which can be swapped out to allow him to hold another weapon. He is priced at $109.99, saving you $20 off the MSRP.

STAR WARS SILICON ICE TRAYS We have received both the R2-D2 and Han in Carbonite Silicon ice trays. These trays have large and small molds so you can make a variety of ice cubes, chocolates and more, and they are priced at $9.99 per tray.

LEGO SHIPMENT A large shipment of LEGO items is in the process of being entered into stock. We have new Star Wars LEGO, Harry Potter, LEGO City, LEGO Atlantis, LEGO Ninjago, LEGO Hero Factory and more. Be sure to keep your eye on the menus and the New In Stock tab on top of the front page to keep track of all the new additions.

DC FLASHPOINT SERIES 01 - SET, SINGLES This assortment from the current game-changing DC event includes Flash, Wonder Woman, Batman and Cyborg, and we have them available at $64.99 for the set of 4 ($11 off MSRP) or at $17.99 each singly.

DC UNIVERSE CLASSICS SERIES 17 RESTOCK We have received a decent shipment of DC Universe Classics Series 17, and we have stock available of the case assortment of 8 at $114.99, the Set of 7 with CnC figure at $104.99 and singles available of all characters except White Lantern Hal Jordan (including the 'Best Of' Superman and Martian Manhunter figures) at $16.99 each.

POWER RANGERS 4" FIGURE SERIES 02 CASE This assortment includes three Fire Samurai Ranger, two each of Water, Forest and Light Samurai Rangers, and one each of Evil Deker and Rita Repulsa (MMPR) figures, and is listed at $89.99.

TAKARA MASTERPIECE GRIMLOCK RESTOCK The Import version of Masterpiece Grimlock is back in stock. This popular figure is listed at $174.99, so if you missed out the first time, now is your chance to fill that hole in your Masterpiece collection.

SDCC 2011 EXCLUSIVE VINTAGE COLLECTION REVENGE OF THE JEDI DEATH STAR FIGURE PACK We were able to get a small quantity of these items for our international and other customers. This set includes figures on the Revenge of the Jedi card backs, and is listed at $279.99.

SDCC 2011 EXCLUSIVE MARVEL BISHOUJO EMMA FROST DIAMOND VERSION This version of the Marvel Bishoujo Emma Frost figure shows her in her diamond form, ready for battle. We have it listed at $64.99, so grab yours before they're gone.

ANGRY BIRDS We have received our shipment of Angry Birds plush, and have them available as sets and singles in 5" and 8" sizes with or without sound, as well as a 16" Jumbo Plush Pig. Check them all out and grab your favorites.

FOOTZEEZ AND SUPERDEFORMED PLUSH - STAR WARS, UNIVERSAL MONSTERS A new shipment of plush pieces has arrived. We have superdeformed versions of the AT-AT, Millennium Falcon and X-Wing Fighter available, as well as Footzeez of Wicket, Darth Vader, R2-D2, Dracula, Frankenstein and many more. Take a look at the new plush at the menus under the link.

VENTURE BROTHERS 8" FIGURE SERIES 04, 05 SETS We have received stock of the two latest waves of Venture Brothers 8" figures. Series 04 includes Dr. Girlfriend and Hank Venture while Series 05 includes Dr. Orpheus and Phantom Limb, and we have each set available at $43.99.

CDMW-21 SEA BRIGADE POWER PARTS CANNON AND SHELL BLADE SET This add-on set for the Seacon gestalt includes add-on cannon parts as well as new chromed blades to replace the originals in the shell shield. This set is priced at $29.99.

CDMW-23 THE KING'S POWER PARTS CUSTOM HANDS Predaking doesn't like to be left out, so he has a new custom pair of hands in this new offering. These hands are articulated, and also include an add-on hilt so that he can hold any of the swords; we have this set listed at $39.99.

CDMW-22 AUTO BRIGADE POWER PARTS CUSTOM HEAD Finally we have a new head for Menasor. This one is sculpted in an angry look and lights up with red LEDs; it is listed at $31.99.

1/18 SCALE HOT WHEELS ELITE FOUNDATION 1966 BATMOBILE This vehicles has all of the detail from the original, from chrome-plated parts to the orange bats on the hubcaps, and it comes with a plastic display inside the diorama-like box. We have this fabulous piece listed at $39.99, so grab one for yourself or the Bat-fan in your life.

BLEACHER CREATURES We have another shipment of the plush sports stars in stock. This one includes 7" and 14" characters like Drew Brees, Tony Romo, the Manning boys, Ben Roethlisberger and more, and we have them priced at $11.99 for the 7" figures and $21.99 for the 14" figures.

SOYLENT GREEN CRACKERS Although the packaging is meant to evoke the feel of the original sci-fi movie, these crackers are made from high-energy seaweed and are perfectly good to eat (even if they're not made of people). The 4.4 ounce box is listed at $8.99.

STAR WARS CLONE WARS 2011 SERIES 06 - CASE, SET, SINGLES This new assortment includes Clone Commander Colt, Jedi Evan Piell, Armored savage Opress, Kashyyyk Warrior, R7-D4 and Jar Jar Binks, and we have them as a set of 6 for $69.99. We also have them in a case of 12 with 6 returning characters at $104.99. Finally, we have a number of restocked singles available, like Shirtless Savage Opress, Captain Rex with Jetpack, Super Battle Droid and more, so check out the whole list to find what you need.

STAR WARS VEHICLE 2011 SERIES 04 - CASE, SINGLES Contained in this assortment are Anakin's Delta 2 Starfighter, Kit Fisto's Jedi Starfighter, Obi-Wan's Starfighter and the Republic Artillery Cannon. We have them available as a case for $109.99; we also have them available singly at $29.99 - $34.99 each.

STAR WARS VINTAGE 2010 SERIES 05 REVISION 01 CASE This case is a great assortment to fill gaps in your collection. It includes figures like Darth Vader, R2-D2 with Lightsaber and Drink Tray, Wicket, Wedge Antilles, Yoda and more, and is priced at $109.99. We also have many of them available singly, so be sure to take a look at the menu for more information.

-------------
NEW PREORDERS
-------------

MAGNETO 1/6 SCALE FINE ART STATUE Kotobukiya's newest Statue shows the Master of Magnetism over a pile of debris, with metal objects 'floating' around him. The piece is sculpted by Erick Sosa and also includes a variant helmetless head that you can swap in; we have this statue listed at $184.99, $25 below the MSRP.

NEW BANDAI JAPAN FIGURES The new month brings a new list of import Bandai figures. From Super Robot Chogokin versions of Solar Aquarion and ChoRyuJin from GaoGaiGar and Robot Damashii figures from the new upcoming Gundam Age show to new Saint Seiya, One Piece and Kamen Rider figures, you're sure to find something to catch your eye.

PHICEN 'SEAMLESS' 1/6 SCALE BODIES & FIGURES Phicen Limited has a line of seamless 1/6 scale female figure bodies, and we have them up for pre-order. These figures feature 'skin' that covers all the joints so they look even more like perfect miniature women. We have Large Chest versions of Pale or Tan bodies at $64.99 each; we also have their Amy figure in Overcoat or Leather Coat versions at $89.99 each and the Kefira figure at $89.99 as well.

JUSTICE LEAGUE HEROES & FOES SERIES 01 - SET, SINGLES This new assortment includes Batman, the Flash, the Joker and Wonder Woman in her costume from the Straczynski run. We have these figures listed individually at $17.99 each, or as a set of 4 at $64.99, saving you $11 off the MSRP.

YOUNG JUSTICE TWO-PACKS SERIES 02 SET, SINGLES; 6" SERIES 03 SET, SINGLES A number of new Young Justice figures have been listed. On the 6" front we have Solar Suit Superboy and Sportsmaster for Series 03; they are listed at $23.99 individually or at $44.99 for a set of 2. The 3.75" two-packs are also getting a new wave; previous listings Ra's al Ghul & Cheshire and Flash & Kid Flash make a comeback in this assortment, along with a mystery third pack, and they are priced at $23.99 singly or $67.99 for the set of three two-packs.

DC UNIVERSE VS. MASTER OF THE UNIVERSE TWO-PACKS SERIES 01 - SET, SINGLES We now have pre-orders up for these former exclusives. Series 01 consists of Hawkman Vs. Stratos and Aquaman Vs. Merman, and they are available as a set of two two-packs for $63.99, or singly at $34.99 per two-pack.

VAMPIRELLA 13" PREMIUM FORMAT FIGURE The sultry vamp comes to life in this new Premium Format statue by Sideshow. It shows her in her signature outfit, straddling a giant skull with horns. It is listed at #29.99, $20 below the MSRP.

NEW ARH STUDIOS STATUES - 1/4 SCALE THOR, MEDUSA, ATHENA, POCAHONTAS ARH Studios has four fantastic new statues up for pre-order. These 1/4 scale statues include Thor, Athena, Medusa and Pocahontas, and they range in price from $274.99 to $599.99 each. be sure to check out the detail on these figures - they are great pieces of work.

MASTERS OF THE UNIVERSE CLASSICS - MAN-E-FACES, MEGATOR, BEAST-MAN REISSUE For the benefit of our International and other customers we have a small quantity of pre-orders available for the new Master of the Universe Classics figures. We have Megator priced at $64.99, with Man-E-Faces and the Beast-Man Reissue at $31.99 each.

KNIGHT MORPHER COMMANDER - SECOND PRODUCTION RUN Just a quick note to those of you who are wondering -- the new pre-order for the KM-01 Knight Morpher Commander is indeed a new production run, so if you were waiting for this, now is your chance to get your pre-order in, priced at $89.99.

TOMICA DIE-CAST TRANSFORMER VEHICLES This die-cast line of Transformers-inspired vehicles continues. We have listings up for the Black Optimus Prime with Trailer at $17.99, a red and silver Optimus-inspired Truck with Wrapped Trailer at $17.99, a second version of Bumblebee at $11.99 and a Bumblebee-inspired Bus with Wrap at $11.99.

NHL SPORTSPICKS SERIES 30 - CASE, SINGLES This new wave includes Mario Lemieux 4, Daniel Sedin 3, Brian Gionta, Pavel Datsyuk 2 and Ryan Smyth 2; the case assortment includes two each of Sedin and Lemieux and one each of the rest plus a Chase or Collector Level figure and is listed at $99.99. We also have singles listed of the five figures, priced at $13.99 each.

CONAN THE BARBARIAN 14" FAUX BRONZE STATUE With the new movie on the way, now is a great time to pick up this statue for yourself or the Conan fan in your life. The 14" piece shows the Barbarian holding his sword atop a rocky outcropping, hair flowing in the wind, and it is listed at $189.99, $10 off the MSRP.

WARLORDARIA TROOPERS - CASE, SINGLES These new soldiers are 3.75" scale and inspired by a certain Sci-Fi/Fantasy game and storyline. We have them listed singly at $17.99 each, or by the case of ten (which includes 8 of the regular figures plus 2 of the Red & Black Captain figure) for $179.99. They make great enforcers and army builders, so if you are looking for troops, look no further.

1/6 SCALE U.S. ARMY SPECIAL FORCES PLAYHOUSE 5 ANNIVERSARY EDITION This new Special Forces figure comes loaded with equipment and accessories like a Glock pistol with magazine, an MK18 MOD 1 Rifle with all of the trimmings and much more. We have this figure listed at $134.99, with a September arrival date.

DARTH MAUL 19.5" BRONZE STATUE (LE 50) This piece show the Sith Apprentice wielding his lightsaber with his cloak flowing in the breeze. It is cast in bronze, stands almost 20" tall and is limited to just 50 pieces worldwide. We have this piece listed at $4699.99, saving you $50 off the MSRP.

AME-COMI RAVEN - ANGEL, DEMON Teen Titan Raven is now getting two new Ame-Comi figures to showcase the halves of her lineage. Her Mother's side gives us the Angel of Azarath variant, while her father is responsible for the Demon Daughter variant; each figure is listed at $59.99, $10 off the MSRP.

HEROES OF THE DCU 2 BATMAN BUST This new Batman bust shows him surrounded by bats, ready to throw a batarang. We have it listed at $64.99, saving you $10 off the MSRP.

K-9 4" OFFICIAL COLLECTOR FIGURE The new K-9 comes from the British/Australian show of the same name, where the famous robotic dog teams up with a group of kids to solve mysteries. The new 4" figurine is listed at $19.99.

G1-TSC REPRODUCTION TECHNICAL SPECIFICATIONS CARD SET FOR MAIL-IN FIGURES Atomic Laser continues their series of Reproduction Tech Specs with this special mini-set. Included in the set are the three Powerdashers, the three Omnibots and all three robots that make up Reflector. None of these figures has ever had Tech Specs before, so this set is all new; we have it listed at $15.99.

1/6 SCALE HEAD PLAY HEAD SCULPTS This new vendor produces accurate head sculpts for your 1/6 scale bodies based on a wide variety of real life people. We don't want to give anything away, but suffice to say that when you take a look, you'll be able to figure out who they are. They also have a number of more generic head sculpts, so there is something for everyone. We have them listed at $17.99 - $24.99 each.

IT'S ALWAYS SUNNY IN PHILADELPHIA TALKING BOBBLEHEADS This hit comedy is getting talking bobbleheads of five popular characters. We have Dennis, Mac, Sweet Dee, Charlie and Frank available, each listed at $19.99.

STAR WARS CLONE WARS PLUSH We have three new 9" plush Clone Wars items for you. Commander Cody, Captain Rex and Commander Fox are each available, priced at $22.99 apiece.

BigBadToyStore.com