Clearance Sale, Thundershred, Gears of War, Street Fighter Heroclix at Big Bad Toy Store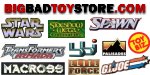 August 12, 2011 - (Sponsor Announcement) - Online retailer BigBadToyStore.com has several new items of interest to collectors:

--------------
CLEARANCE SALE
--------------

We've cut pricing on hundreds more items this afternoon and updated all our sales menus. Take a spin through the menus for great discounts on over 4000 total items. Many great items from top brands and manufacturers are included - take a look here:
http://www.bigbadtoystore.com/bbts/list.aspx?list=7223

------------
NEW ARRIVALS
------------

FANSPROJECT CA-03 THUNDERSHRED The latest amazing figure from FansProject is now in stock at $47.99 - A wounded outer space warrior, was converted and recovered. Also learned Ninja jutsu and able to control over the power of "sky" in godai. Having the ability to transform into a stag beetle. Carrying 4 sickles which can compose into a manji shaken, and a set of gauntlets attach with 4 blades (* they can be stored on the back of shoulders). Multiplex combinations to switch different forms of weaponry. High quality and superior posability as always.

GEARS OF WAR 7" FIGURE SERIES 06 - SET, SINGLES We have the newest assortment of Gears of War figures in stock. This series includes Skorge, a Kantus Priest, a newly-articulated COG Soldier and a Boomer Mauler; we have them listed as a set of 4 for $69.99, or singly at $15.99 - $21.99 each.

SDCC 2011 EXCLUSIVE PREDATOR WITH GORT MASK This new 7" Predator figure includes not only the Gort mask created by Stan Winston, but also a bloody skull and spine for him to hold. We have this convention exclusive in stock now, priced at $34.99.

TRANSFORMERS RESCUE BOTS OPTIMUS PRICE'S FIRE STATION This large playset for the new Rescue Bots line includes light and sound effects, with a giant from doorway that transforms from the front of the Fire Station into Optimus' head. The playset also includes a fire truck and driver, and we have it listed at $54.99.

TFX-02 G3 TRAILER & CLASSIC ACCESSORY PACK This new trailer emulates the style and function of Prime's original G1 Trailer, and is meant to be used with the Classics or Henkei version of Prime or any of his mold-mates. It includes a number of guns and weapons like Grimlock's sword and even a blaster for Bumblebee, and we have it listed at $79.99.

SDCC 2011 EXCLUSIVE THUNDERCATS 8" CLASSIC COLLECTOR LION-O The SDCC version of this figure comes with a chromed sword as well as a shiny outfit, and we have it listed at $79.99.

NEW LEGO ITEMS We have just received a bunch of new LEGO items. From Emperor Palpatine's Shuttle Set and the mighty Death Star to Harry Potter's Knight Bus and Forbidden Forest to the Technic Container Truck and Mini Mobile Crane to the Ninjago Garmadon's Dark Fortress and Skull Motorbike to the Power Functions Motor Set and Emerald Night Train Set, we have something for everyone - check them all out at the various pages under the link.

SEVEN DEADLY SINS STATUES - PRIDE, GLUTTONY The first two Deadly Sins statues have arrived at our warehouse. Pride is a beautiful woman staring away from a broken mirror, her eyes gouged out, while Gluttony is a corpulent man gorging himself on massive pieces of meat. Each statue is listed at $109.99, and all seven statues fit together into one long display piece.

STREET FIGHTER HEROCLIX Our shipment of Street Fighter Heroclix has arrived. We have the Starter Pack with six different heroes listed at $15.99 ($5 off MSRP); we also have the Counter Top Display of 24 available, priced at $59.99 ($15 off MSRP) as well as random singles from the Counter Top Display, priced at $2.99 each.

PE-11 SFX SCOUTING FORCE X CAMERA SET - CONVENTION EXCLUSIVE This special version of Scouting Force X is redone in a Black and gray color scheme, more befitting a current camera than the original G1-inspired version. We have this limited edition figure set listed at $119.99.

IMPOSSIBLETOYS.COM SHIPMENT We have received a large shipment that includes a number of new and restocked items. We have stock available of Quint-01 through Quint-05 as well as the TFA Figure Set, the Nightbird Ninja, the Transforming Exo-Suit Set of Spike & Daniel, the G1-Scale Sparkplug and Spike Set and Kremzeak. If you are missing any of the accessory figures, now is the time to grab them.

Y-MSF MINIYA & MINI HEDORAH Two new Godzilla figures have arrived. Miniya and Mini Hedorah each stand about 3" tall, and we have Miniya priced at $26.99, with Mini Hedorah at $11.99.

TRANSFORMERS DARK OF THE MOON BUMBLEBEE, ARCEE EXCLUSIVES These exclusive figures have Cybertronian markings all over them, setting them apart from the original releases. We have them both in stock now, priced at $19.99 each.

MARVEL SELECT RESTOCK We have a restock shipment of the Marvel Select Figures. We now have stock available of Captain America (Bucky), Deadpool, Juggernaut, Spider-Man and Thor, so if you are missing any of these figures, you can now add them to your collection.

-------------
NEW PREORDERS
-------------

NEW IGEAR TRANSFORMING FIGURES We have four new listings from iGear. The PP05M Medical Specialist and PP05W Weapons Specialist are near-Masterpiece scale figures of two of the original G1 characters, each loaded with weapons and accessories; we have each of these two figures listed at $119.99. We also have pre-orders up for MW-01 Spray and MW-02 Rager; these figures are new versions of two of the Minibots from G1, and are listed at $19.99 each.

NEW BANDAI IMPORT FIGURES A new month's worth of Bandai figures has been announced. We have listings for new Saint Seiya Myth Cloth like the Garuda Aiacos reissue and Ophiuchus Shaina, SIC Sky Rider and Kamen Rider Kaixa, Ultrama Agul and Mirror Knight Ultra-Act figures, One Piece Figuarts Zero Sentomaru, Tony Tony (New World) and Nico Robin (New World), Robot Damashii 08th MS Team Gouf Custom, S.H. Figuarts Rock Bison and more - check them out at the link.

RESIDENT EVIL ZOMBIE COP STATUE Hollywood Collectibles has announced the first in a new series of 15th Anniversary Collection 1/6 scale statues from the popular game series. Zombie Cop measures about 13" tall, is limited to 500 pieces worldwide and is listed at $159.99.

MARVEL GUITARS & ACCESSORIES Peavey Electronics Corporation is releasing a whole new line of guitars and accessories featuring the Marvel characters. First up is their Rockmaster Electric guitar in either Captain America or Deadpool deco, priced at $189.99 each ($10 off the MSRP). In addition to these, keep an eye out for straps, picks and another style of guitar, all to be listed soon!

DC COMICS THE NEW 52 HARDCOVER This mammoth tome collects the first issues of all 52 titles of the DCNu. It will look great on the bookshelf of any DC comics fan, and also marks the advent of the new version of the DC Universe; we have it listed at $119.99, saving you $30 off of the MSRP.

HEADROBOTS BUTCHER FIGURE This new black and grey figure has a remolded head with clear red visor, and also comes with red plasma knives in addition to all of Hothead's weapons. It works with either new or vintage Headmasters and Classics toys, and is listed at $31.99.

KOTOBUKIYA 1/10 SCALE ARTFX+ 501ST LEGION CLONE TROOPER EXCLUSIVE PACK Kotobukiya has announced a new ArtFX+ 1/10 scale pair of Clone Trooper from the 501st Legion. This set is currently limited to 501 pieces worldwide, and we have it listed at $73.99, $6 off the MSRP. With this exclusive set and the previous Darth Vader release, you can now have a display from Revenge of the Sith.

BLEACH FIGUARTS ZERO FIGURES Bandai is expanding their Figuarts Zero line into the Bleach anime characters. Aizen and Ichigo are the first two figures to be announced, and we have them listed at $39.99 each.

NARUTO FIGUARTS ZERO FIGURES The Naruto series is also getting into the Figuarts Zero line. Uzumaki Naruto and Uchiha Sasuke are the first to get the new figures, and they are listed at $29.99 each.

DRAGONBALL S.H. FIGUARTS SUPER SAIYAN VEGETA UPDATE We have just learned that this identical item will be brought in domestically as well as being a Japanese web exclusive; as a result, we wll be lowering our price from the original $88.99 to $39.99.

DARKSIDERS CANVAS GICLEES The new Darksiders video game already has a series of art giclees on canvas ready for pre-orders. We have Darksiders Battle, Darksiders, Stallion Flames and Sword of Power up, each in two or three different sizes, priced for $44.99 to $314.99 each.

MEON STAR WARS PICTURE MAKERS Three listings for new Meon Star Wars Picture Makers are up. They appear to use light-piping tubes to make artwork from the Star Wars series, like an updated version of Lite Brite. We have three sizes listed - Animation Studio at $36.99, Picture Maker at $24.99 and Mini Picture Maker at $12.99; each comes with a differently-sized frame and one or more picture designs.

STAR TREK MASTERPIECE COLLECTION 3/4 BUSTS Titan UK has announced the first two busts in their new Masterpiece Collection Star Trek series. 8" busts of Captain James T. Kirk and Captain Jean-Luc Picard are each up for pre-order, priced at $74.99 ($5 off the MSRP).

DOCTOR WHO CHARACTER BUILDING TARDIS CONSOLE ROOM MEGA SET This new building set includes all of the pieces to create the TARDIS' control room as well as a bit of alien planet outside the doors. It also comes with figures of the Eleventh Doctor, Amy Pond, Rory Williams and River Song, and we have it listed at $84.99, saving you $20 off of the MSRP.

SCARED STUFFLESS PLUSH A new style of plush is on its way. The Scared Stuffless line includes a 19" Bram Poke-Her,a 23" Wolfman Puck and an 18" Dead Ted figure, and each is listed at $24.99.

BURGER KING DARK OF THE MOON TOY SET We have a listing up for the entire set of 8 Transformers Dark of the Moon figures from Burger King. Each big-headed figure has a special feature, and the set of 8 is listed at $39.99.

JOHN WAYNE ON HORSEBACK 20" BRONZE STATUE Fans of the Duke will certainly want to get this piece. it show John Wayne sitting atop a charging horse, with his gun at his side. We have this limited edition piece listed at $399.99.

DINOSAURIA STEGOSAURUS MAQUETTE The newest Dinosauria piece shows a mother Stegosaurus and her child. It measures 27" long by 16" high, and is listed at $329.99, saving you $20 off of the MSRP.

SNOW TROLL POLYSTONE STATUE The Lord of the Rings statue line continues with this 18" Snow Troll from the upcoming video game. It holds a giant hammer in one hand and a tasty dwarf in the other, and is listed at $309.99, $15 off the MSRP.

STAR WARS MIMOBOT FLASH DRIVES New Star Wars Mimobot Flash Drives are up for pre-order. We have Boba Fett, Bossk, Han Solo in Carbonite and Leia as Boushh, and each is available as a 4 GB Drive at $24.99 - $34.99 or 8GB at $39.99 - $44.99.

NEW MARVEL CARDBOARD STAND-UPS, WALL STICKERS A number of new Stand-Ups have been listed. We have Black Widow, Captain America, Mystique, Iron Man, Wolverine, Silver Surfer, Spider-Man and more. We also have Walljammer stickers of many Marvel characters as well - take a look at all of them at the link.

NEW MORTAL KOMBAT CARDBOARD STAND-UPS Advanced Graphics is also releasing Stand-Ups of many of the Mortal Kombat characters. Ermac, Goro, Kitana, Raiden, Scorpion, Sonya Blade and Sub-Zero are available, priced at $24.99 each.

DISNEY FILM CELLS Many new film cells have been listed for pre-order, from movies like "Cinderella", "Beauty and the Beast", "Bambi" and more - check them all out at the link for more information.

BigBadToyStore.com