Hot Toys Tracker Predator, Skystriker, Captain America, Marvel Universe at Big Bad Toy Store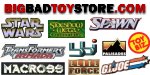 August 3, 2011 - (Sponsor Announcement) - Online retailer BigBadToyStore.com has several new items of interest to collectors:

------------
NEW ARRIVALS
------------

HOT TOYS MOVIE MASTERPIECE TRACKER PREDATOR WITH HOUND This new 14" tall figure from "Predators" is now available for your collection. It comes with extra hands, weapons and other accessories, along with his Hound companion, and we have it listed at $209.99, $20 below MSRP.

GI JOE SKYSTRIKER JET WITH PILOT This reissue is a joyful thing for GI Joe collectors. It comes with its pilot, Ace, and includes pivoting wings, retractable landing gear and removable missiles. We have the Jet and Pilot set listed at $37.99.

DARKSIDERS: WAR & RUIN RESIN STATUE This statue of the hero of the Darksiders video game shows War astride his horse ruin. The piece is lit be high-intensity LEDs, and we have it listed at $199.99, $50 off the MSRP.

CA-01 WARCRY & CA-02 FLAMEBLAST We have restocked these two figures, which are resculpts of the add-on figures made to complete Bruticus. Warcry and Flameblast are not able to replace those figures in the Bruticus formation, but are instead recolored and given their own weapons. Each figure is listed at $47.99.

MARVEL SUPER HERO TEAM PACKS The new assortment of Team Packs has arrived. We have stock available of the new Fantastic Four set, priced at $26.99. We have also restocked the X-Force and Classic Avengers Sets, which are priced at $25.99 and $23.99, respectively; we also have these latter two as a set, priced at $44.99.

MARVEL UNIVERSE 3.75" 2011 SERIES 02 REVISION 04 CASE This assortment includes new and older favorites like Cable, Cyclops, Thanos, Mystique, Wolverine and more, and is priced at $104.99 for the case of 12.

HERCULES EXGRAVER TFC Toys' first figure from their Hercules gestalt line has arrived. Exgraver transforms from a scoop shovel to an about-Voyager-sized robot, and also forms the arm of the Hercules robot. We have a small quantity of these remaining, priced at $97.99 each.

SDCC 2011 EXCLUSIVE STORMBREAKER MINIMATES SET This four-pack includes Loki, Sif, Thor and Beta Ray Bill. We have it listed at $19.99.

STAR WARS CLONE WARS 2011 SERIES 04 - CASE, SET, SINGLES The newest assortment of Clone Wars figures to arrive includes Hondo Onaka, Clone Commander Jet, Anakin Skywalker, El-Les, Cold Weather Gear Plo Koon, Shirtless Savage Opress and Kamino ARF Trooper. We have them listed as a set of 7 for $74.99; we also have them as a case of 12 with Yoda, Battle Droid, Super Battle Droid, Mace Windu and Hevy in Training Armor for $104.99. We additionally have singles available of many of the figures; feel free to take a look and grab your favorites.

SDCC 2011 LDD RESURRECTION SERIES 05 SET This exclusive set includes reimagined versions of Penny, Deadbra Ann, Damien and Inferno, each with its own coffin and new outfit. We have the set in stock, priced at $324.99.

KAMEN RIDER S.H. FIGUARTS FIGURES Four new S.H. Figuarts figures have arrived. We have Kamen Rider Black ($29.99), Kamen Rider Black RX ($29.99), Kamen Rider Shadow Moon ($38.99), and Kamen Rider Birth ($38.99) each in stock now, so grab your favorites while they're here.

ROBOT DAMASHII WING ZERO GUNDAM (ENDLESS WALTZ) The final form of the Wing Gundam has been released as a Robot Damashii figure by Bandai. This figure has wings which can also be used as a shield, as well as a double blaster and a laser sword, and is listed at $44.99.

STAR WARS 12" BOIL & WAXER WITH NUMA SET This set of Clone Troopers comes originally from an episode of the Clone Wars animated series, where they rescue a young Twi'lek girl who in turn helps them rescue themselves and her people from a droid attack. Each Clone Trooper comes with two different removable helmets, switch-out boots, multiple weapons and more, and the bonus 5.5" Numa figure, and the set is priced at $209.99, $15 off the MSRP.

BATMAN INCORPORATED SERIES 01 - SET, SINGLES This new figure series comes from Batman traveling the world in search of allies in his war on crime. It includes Batman, Damian as Robin, the Knight and Man of Bats, and we have them listed as a set of four at $64.99 ($11 off the MSRP) or singly at $17.99 each.

FAMILY GUY INTERACTIVE ACTION FIGURE SERIES 01 SET, LIVING ROOM PLAYSET This new line from Playmates has sound chips built in to the playsets, so it speaks in the characters voices when they are attached to the playset. Series 01 of the figures includes Peter, Brian, Stewie, Halloween Stewie, Cleveland and Quagmire, and we have the set of 6 listed at $62.99. The first playset is the Griffin Living Room with bonus figure Lois, and it is priced at $32.99.

TRANSFORMERS JAPANESE COLLECTION HEADMASTERS DVD SET This new DVD set is the Japanese continuation from the end of Season 3 of the American Transformers cartoon. It includes all 35 episodes subtitled in English, and is priced at $29.99.

TFX-05 SIDEARM This figure from FansProject is a Targetmaster meant to go with the Protector Armor for Classics Hot Rod/Rodimus. In addition to being able to transform into a gun, he also comes with gold-chromed spoiler and wing extension, to be used to upgrade Hot Rod's look. This figure is listed at $14.99.

ENCORE IRONHIDE RESTOCK We've got the Encore #05 Ironhide in stock, priced at $19.99. If you passed over this one before, now is the perfect time to add him to your collection.

CAPTAIN AMERICA 3.75" SINGLES We have a number of singles in stock from the Captain America Movie line. Now available are Ultimates Captain America, Heroic Age Captain America, Battlefield Captain America, Hydra (Movie), Captain Britain, Super Combat Captain America, Crossbones, Desert Ambush Captain America, US Agent and Night Mission Captain America. These figures are priced at $9.99 - $14.99 each.

STAR WARS JEDI FORCE DELUXE VEHICLE The first wave of this new series has arrived, and it includes Anakin's Jedi Starfighter with Anakin & R2-D2 and Snowspeeder with Luke and Han. We have them listed singly at $23.99 each, or as a set of 2 for $44.99.

STAR WARS JEDI FORCE FIGURE TWO-PACK SERIES 01 The new Jedi Force Figure Two-Pack wave includes two each of Anakin & Jar Jar and C-3P0 and R2-D2, and one each of Yoda & Luke Skywalker, Darth Vader & Stormtrooper, Han Solo & Chewbacca and Obi-Wan Kenobi & Commander Cody. They are available as a case of 8 for $49.99, and also as a set of 6 (one of each two-pack) for $43.99. Finally, we also have extra singles of Anakin & Jar Jar and C-3P0 & R2-D2, priced at $5.99 each.

STAR WARS VEHICLE 2011 SERIES 03 - CASE, SINGLES This assortment includes Xanadu Blood, Super Vulture Droid, Republic Artillery Cannon and Obi-Wan's Starfighter; they are listed as a case of four at $109.99. We also have singles available of all except the Cannon, and they are listed at $29.99 - $34.99 each.

STAR WARS BATTLE PACKS 2011 SERIES 04 - CASE, SINGLES This new case includes two each of Cad Bane's Escape and Assault on Geonosis and one each of the Hunt for Grievous and Defend Kamino, and is priced at $134.99. We also have singles available of all sets except Defend Kamino, priced at $24.99 - $29.99 each.

STAR WARS CLASS I FLEET VEHICLE FIGURE PACKS SERIES 01, 02 - CASE, SINGLES Included in this assortment are Castas & Speeder Bike, General Grievous & Attack Cycle, Battle Droid, Separatist Droid Speeder and ARF Trooper and Republic Scout Speeder. This case is available at $69.99. Series 02 includes ARF Trooper & Republic Scout Speeder, Pilot & Y-Wing, Anakin & Naboo Skiff and Cad Bane & Pirate Bike, and is also listed at $69.99. We have singles available of many of these as well, so take a look at the link for more information.

THOR 3.75" FIGURE SERIES 04 - CASE, SET, SINGLES This new assortment contains figures like Light-Up Destroyer, Warrior Thor and Glow-In-The-Dark Battle Thor, among others. We have them listed as a case of 12 at $104.99, and a set of 5 at $69.99; we also have singles available of many new and returning figures, like all-King Odin, Thunder Crusader Thor and the Ice Giant.

CAPTAIN AMERICA DELUXE FIGURES SERIES 03 - CASE, SET, SINGLES The newest wave of Deluxe figures includes Dark Threat Hydra Soldier, Captain America with Glider 2 and Assault Shield Captain America. We have them listed as a set of three for $54.99; we also have them as a case of 6 with two extra Assault Shield Captain America and a Captain America with Parachute, priced at $84.99. We have singles available of Assault Shield Captain America as well, priced at $17.99.

-------------
NEW PREORDERS
-------------

HOT TOYS - 1/6 CLASSIC PREDATOR FIGURE A perennial favorite in any scale, the Classic Predator returns to Hot toys with even more gear than before. Take a look at this masterpiece here - listed for preorder at $199.99

TFC TOYS HERCULES HEAVYLABOR The next figure in the Hercules set is Heavylabor, who turns into a dump truck and also the waist and hips of the Hercules gestalt. The figure is broad and bulky, with twin guns ready to make short work of anyone in his way. This figure is listed at $97.99, with a September arrival date.

S.H. MONSTERARTS FIGURES Bandai has announced a new offshoot lin of their S.H. Figuarts line - S.H. MonsterArts. The first figures to be released will be Godzilla (November) and Mechagodzilla (December), and we have them up for pre-order at $$65.99 and $77.99, respectively. These figures will have loads of articulation, and the first run of each comes with bonus energy effect parts.

SYCO COLLECTIBLES MORTAL KOMBAT STATUES & BUSTS We have listings up for Mortal Kombat items from a new manufacturer, Syco Collectibles. Four new items are ready for pre-orders - A Scorpion 1/2 Scale Bust at $189.99 ($10 off MSRP), a Sub-Zero 18" Premium Format Statue at $279.99 ($20 off MSRP), and 10" statues of Scorpion and Sub-Zero, priced at $154.99 each )each $10 off MSRP). Be sure to take a look at the detail on these pieces, which are made from the designs used in Mortal Kombat 9.

NEW MARVEL BOWEN ITEMS Bowen Designs has announced two new Marvel items. Dazzler is getting her own 14.5" statue showing her in her costume from the 70s (sans roller skates) - she stands atop a disco ball and even has a real crystal necklace, and is priced at $229.99. Ms. Marvel is getting a 6.5" mini bust of her modern look, and is listed at $79.99.

TEKKEN BISHOUJO CHRISTINE MONTEIRO The first entry in the new Tekken Bishoujo line is Christine Monteiro. This piece has her dressed in a multicolored bikini-type outfit with silver leggings, and she is priced at $54.99, $10 off the MSRP.

SCI-FI REVOLTECH WAR MACHINE Iron Man's backup is the next in the Sci-Fi Revoltech line. He comes loaded with weapons and blast effects, and is priced at $54.99.

PRESIDENTIAL MONSTERS 8" FIGURES Huckleberry Toys has announced a new series 8" Mego-style figures blending real-life Presidents with Universal Movie Monsters. Series 01 includes Baracula, Lincolnstein, the Ronmy and Wolf Bill, while Series 02 includes the Monster of the Watergate Lagoon (Nixon), the Phantom of the White House (Kennedy) and Zom-Bush. Sets are available of the four figures in Series 01 at $89.99 and the three figures of Series 02 at $67.99; we also have all figures listed separately at $24.99 each.

MOTU CLASSICS PRE-ORDERS We have listed pre-orders for the upcoming MOTU Classics figures, for the benefit of our international and other customers. We have Leech, Snout Spout, Demo-Man, Sorceress, Fisto, Icarius and Kobra Khan, and each is up for pre-order at $31.99.

GHOSTBUSTERS PRE-ORDERS We also have pre-orders up for the first few Ghostbuster figures of the new year. We have 6" Peter Venkman in Lab Cat, 6" Dana Barrett as Zuul and 6" Rookie with Gear, each listed at $31.99.

VOLTRON PRE-ORDER The first Voltron Lion and driver set is Red Lion and Lance, and we have the set listed at $79.99. It should release in early 2012, starting you on your way to assembling the massive 23" Voltron!

SERENITY BIG DAMN HEROES KAYLEE ANIMATED MAQUETTE The second statue in the BDH line shows Kaylee sitting on one of Firefly's engines, enjoying the box of strawberries that she received from Shepherd Book in the pilot of the show. It stands 5.5" tall and is listed at $59.99.

SERENITY FIREFLY LES FEMMES POSTER SET Quantum Mechanix' newest item up for pre-order is a set of four mini-posters of the four ladies of the ship. Zoey, Kaylee, Inara and River each have their own 24" x 12" 100 pound satin finish paper, and the set is listed at $29.99.

PENNY ANIMATED MAQUETTE The love interest of Dr. Horrible and his nemesis Captain Hammer is depicted in this 5.5" statue wearing a cardigan with a basket of laundry in her hands. It is limited to 1000 pieces and is priced at $49.99.

NEW BEYBLADE We have listed a variety of new Beyblade items. We have the 2011 Metal Masters Triple Battle Assortment Wave 02 Set of 3 at $29.99 and the Wave 03 Set of 2 at $19.99. We also have the 2011 Electro Battlers Wave 03 case of 6 at $87.99, the 2011 IR Spin Control Wave 02 Revision 02 Case of 3 at $104.99 and the Deluxe Gear Assortment Wave 02 Case of 3 at $33.99.

DOCTOR WHO - FLESH BOWL FIGURE CREATOR The first of a number of new Doctor Who items allows you to make a figure out of "flesh", using this playset. You just put the skeleton in the "bowl", mix the "flesh" and add it, and let it set. This new item is listed at $52.99, $12 off the MSRP.

DOCTOR WHO NEW CHARACTER BUILDING SETS Three new items are available in the new Character Building line of mini figures and playsets. We have the Cyberman Conversion Chamber Set at $47.99 ($12 off MSRP), the Dalek Factory Set at $52.99 ($12 off MSRP), and the Eleven Doctors Micro-Figure Set at $39.99 ($10 off the MSRP), which comes in a TARDIS box.

PREVIEWS EXCLUSIVE GOLIATH NEW UNIFORM STATUE This 17" tall statue of Hank Pym has him in his blue and red Goliath Costume. It is limited to 500 pieces worldwide and is listed at $269.99.

KID ROBOT SOUTH PARK Three new South Park items are up for pre-order from Kid Robot. We have a box of 25 blind-boxed zipper pulls with 1" figures priced at $98.88, a display of 20 blind boxed 2" mini figures at $198.99, and a special Dead Kenny Mini Figure at $10.99. We will soon be listing the blind-boxed items singly, so keep checking back for those as well.

NFL SPORTSPICKS SERIES 28 - PEYTON HILLIS FIGURE McFarlane Toys has announced a new figure that will ship alongside NFL Sportspicks 28 - Peyton Hillis. The cover player on the new Madden NFL 12 video game will receive his first figure, and we have it listed at $11.99.

RATCHET AND CLANK PLUSH SERIES 01 - SET, SINGLES The famous duo from the video games is now getting their own plush series. The first assortment includes the titular heroes, and we have them available for pre-order singly at $13.99 each, or as a set at $24.99.

NEW VANDOR ITEMS A number of new items have been listed from Vandor. They includes lenticular notebooks, ceramic mugs, tin totes and water bottles, from licenses like Sesame Street, Marvel Heroes, Kiss and Bruce Lee. You can see them all at the menus by following the link.

NEW KURT S ADLER ITEMS We have also listed a number of new holiday items, courtesy of Kurt S. Adler. We have Santa statues, stockings, tree toppers, nutcrackers and more from Star Trek, Star Wars, and "The Wizard of Oz". Take a look at them via the menus at the link.

NEW WESTLAND GIFTWARE - DISNEY, PEANUTS Figurines, water globes, salt & pepper shakers, cookie jars and plaques are now up for pre-order from Westland Giftware. These pieces will make wonderful additions to Peanuts and Disney collections, and you can find them at the menus at the link.

BigBadToyStore.com