Clearance Sale at Big Bad Toy Store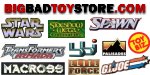 July 24, 2011 - (Sponsor Announcement) - Online retailer BigBadToyStore.com has several new items of interest to collectors:

---------------------------
CLEARANCE SALE - 4000 ITEMS
---------------------------

We've just reduced pricing on hundreds more items and now have thousands of figures priced at 30% off, 40% off and more! The link below will show you the 4000+ items on sale and we've also highlighted about 50 individual items - many with special discounts. Lots of Transformers, Exclusives, Marvel 3.75" and more is on sale - take a look here:
http://www.bigbadtoystore.com/bbts/list.aspx?list=7223

-------------
NEW PREORDERS
-------------

DC UNIVERSE - SERIES 20 Mattel has just announced the next round of extremely popular DCU figures. Wave 20 features a set of 7 figures with Collect-N-Connect Nekron. The seven figure set includes Green Arrow (Hooded), Flash II (White Lantern), Reverse Flash, Hawk, Dove (Dawn Granger), Red Arrow, and Sinestro (Corps Uniform). The set is available at $109.99 and singles are each available at $16.99. There is also a 'Best of' Green Lantern figure available at $16.99. Take a look here for the preorders:
http://www.bigbadtoystore.com/bbts/search.aspx?search=dc+universe+20

HOT TOYS IRON MAN 2 MOVIE MASTERPIECE SUIT-UP GANTRY, GANTRY WITH MARK IV Hot Toys is releasing the Armor Suit-Up Gantry from "Iron Man 2" as a great 12" Scale Figure Environment to go with the already-released Iron Man figures. The Gantry is listed at $329.99 alone, or at $459.99 with a new Iron Man Mark IV to display with it. The Gantry contains all manner of moveable arm pieces so you can display it in various states of armor attachment/removal.

MARVEL MINIMATES WAVE 42 SET OF 8 This new assortment draws its essence from this summer's "Thor" and "Captain America: The First Avenger" movies. It includes Armored Thor & Beta Ray Bill, Civil War Captain America & Arnim Zola, Thunderstrike with a Stone Man and Eric Masterson Thor with a Stone Man. We have this set listed at $29.99, $6 off the MSRP.

ENTERBAY REAL MASTERPIECE LEON 1/6 SCALE FIGURE The lead from "The Professional" is now getting his own figure. Starting with an excellent sculpt of actor Jean Reno's head, this figure comes with different articles of clothing and a number of guns, and is listed at $229.99.

1/6 SCALE ORIGINAL ACTION BODY RM-X Enterbay has also got a new version of the Original Action Body coming out. This one has contractible biceps and 26 points of articulation; it also includes shoes, socks, interchangeable hands and more, and is priced at $84.99.

SDCC 2011 HASBRO EXCLUSIVES We're going to have a small quantity of a number of SDCC 2011 exclusives after the convention, and the pre-orders are up for them now. We have the Avengers Mini Muggs set at $69.99, the Spider-Man Mighty Mugg at $31.99, the Marvel Masterworks Sentinel at $119.99, the Starscream Deco Sky Striker at $99.99, the Thor Marvel Legends figure at $49.99 and the Indiana Jones 'Lost Wave' Collector's Pack at $129.99. We will also have the My little pony Special Edition figure at $29.99, the Nerf N-Strike Barricade in Optimus Prime Deco at $49.99, Zarana (Pink Hair Version) at $29.99, the Transformers Prime Optimus Prime in Matrix Packaging at $39.99 and the DOTM Ultimate Optimus Prime at $159.99. In addition to the we also have listings up for the Masterpiece Rodimus Prime at $119.99, and the Star Wars Delta Squad Republic Commander Figure Set at $79.99. If the item you are looking for is sold out currently, be sure to check back in the next few days, as we expect to add stock over the weekend and possibly early next week.

SDCC 2011 GENTLE GIANT EXCLUSIVES Gentle Giant has announced five mini bust exclusives for SDCC, and we have listings up for those of our customers who will be unable to attend. We have the McQuarrie Concept Snowtrooper Mini Bust listed at $139.99, with the Captain America Movie Mini Bust at $149.99, and the "Sucker Punch" Baby Doll Mini Bust at $129.99.

SDCC 2011 OTHER EXCLUSIVES We also have a number of miscellaneous exclusives listed. We have the Marvel Vs. Capcom 3 Second Player Colors Box Set at $39.99, Keepsake
Ornaments of IG-88 & Dengar, Comic Book Guy and Batman "Descending Upon Gotham" at $69.99, $49.99 and $49.99 respectively, Lightning Fury Raiden at $39.99, Flocked 10" Sonic the Hedgehog at $59.99 and Platinum Master Chief at $39.99. In addition to these we also have pre-orders remaining on a number of Mezco exclusive figures, so be sure to check those out as well.

REAL GHOSTBUSTERS MINIMATES SERIES 03 BOX SET The new assortment of Minimates is the four Anti-Ghostbusters that reanimated their brown outfits from the Gozer incident. Each has the hair and face of their doppelganger, but done in green to more accurately reflect their ghostly existence, and the set of four is listed at $15.99.

MINIMATES VEHICLES SERIES 03 SET This assortment of vehicles includes KARR the evil enemy from Knight Rider along with his driver Garth Knight, an Armored Personnel Carrier with Driver and a new Jolly Roger Pirate Ship with crew Member. We have the set of three listed at $37.99, $7 off the MSRP.

PLAYSTATION MINIMATES BOX SET This four-pack includes Ratchet and Clank (who appear to be a bit different from the original release) plus Nathan Hale and an Advanced Hybrid Chimera from Resistance. This set is listed at $15.99, $2 off the MSRP.

FEMME FATALES DARKCHYLDE The Femme Fatales line continues with comic character Darkchylde. She is sculpted in a red dress with a devilish wing giving her a 9" height, and we have her listed at $39.99, $5 off the MSRP.

SECRET WARS OMNIBUS HARDCOVER - REGULAR, DIRECT MARKET VERSION The seminal Crossover that started it all is now available as an Omnibus Hardcover. This version includes all 12 issues plus Thor #383, She-Hulk (2004) #10 and What If? #4 and #114. We have both the regular version with the original Issue #1 cover and the Direct Market version with the Alex Ross painted version of said cover listed, each at $79.99 ($20 off the MSRP).

DOCTOR WHO LEELA FIGURE Leela, one of the Fourth Doctor's companions, is now getting her own figure. This version comes with a crossbow and bolt, knife, and pistol, and is listed at $25.99, saving you $4 off the MSRP.

WORLD WAR ROBOT 1/12 SCALE JDF LARGE MARTIN & SQUARE EXCLUSIVE SET This year's Wonderfest is getting an Ashley Wood exclusive. The 1/12 scale Large Martin is getting a JDF colorway and a Square sidekick, and we have the set listed at $147.99.

------------
NEW ARRIVALS
------------

JOECON 2011 MISSION BRAZIL SETS - BOXED, LOOSE We were able to find a few more of this year's Mission Brazil GI Joe Convention exclusive set. It includes Python Patrol versions of Cobra figures as well as GI Joes like Leatherneck, Wet-Suit and Mainframe, along with all kinds of weapons and accessories. The Boxed version is listed at $499.99, with the loose version at $399.99.

NFL PLAYMAKERS SERIES 02 - REGULAR & EXTENDED FIGURES We have received a small shipment of NFL Playmakers Series 02. We have figures like Ben Roethlisberger, Aaron Rodgers, Troy Polamalu and Darren McFadden available, priced at $7.99 each. We also have the case of 12 in stock, priced at $79.99.

BigBadToyStore.com