Hot Toys Jake Sully, 12-inch IG-88, DC Universe Online Figures at Big Bad Toy Store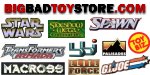 July 21, 2011 - (Sponsor Announcement) - Online retailer BigBadToyStore.com has several new items of interest to collectors:

-------------
NEW PREORDERS
-------------

MOVIE MASTERPIECE AVATAR JAKE SULLY Hot Toys has announced a new license - "Avatar". The first figure in the line is Jake Sully in his Avatar form, and he stands 18" tall and comes with a lit base. We have this piece listed at $289.99, saving you $25 off of the MSRP.

MARVEL BISHOUJO MYSTIQUE STATUE Not to be outdone by DC, Marvel's latest lovely Bishoujo lady is Mystique the shapeshifter. This figure has translucent hair and her signature skull belt and forehead piece, and is listed at $49.99, saving you $10 off of the MSRP.

LIVING DEAD DOLLS 13th ANNIVERSARY FIGURES The new anniversary wave of Living Dead dolls includes all five of the original dolls - Eggzorcist, Damien, Posey, Sin and Sadie - redone with new details and parts. Each one also has a special 13th Anniversary tattoo; we have them listed by the case of 5 for $99.99, $25 off the MSRP, and also singly at $24.99 each.

DC UNIVERSE ONLINE ACTION FIGURE SERIES 01 - SET, SINGLES The DC Universe Online video game continues to gain visibility with this new assortment of action figures. The wave includes Wonder Woman, Cyborg, Catwoman and Batman, and we have them listed as a set of 4 at $64.99 ($11 off the MSRP), and also singly at $17.99 each.

GI JOE 12" FIGURES - ZARTAN, ROCK 'N' ROLL Sideshow has announced two more figures from the GI Joe line. Good guy Rock 'N' Roll and bad guy Zartan will each come with signature accessories, weapons and other items, and we have Rock 'N' Roll priced at $129.99 and Zartan priced at $154.99 (each $5 off the MSRP).

CDMW-24 OMEGA GIANTS POWER PARTS CUSTOM LEGS This new add-on set for Omega Supreme includes newly-crafted leg parts to increase his height up to 13" from the top of his head to the ground. From the description these parts will also transform and be able to replace the bridges in his rocket base mode, and they are created to match the robot's original color scheme. We have the set listed at $39.99, and they should arrive this September.

STAR WARS 12" SCALE IG-88 FIGURE The robotic bounty hunter IG-88 is Sideshow's next 12" scale Star Wars figure, in a new sub-line called Scum & Villainy. It stands 14.5" tall and comes with weapons, and we have him listed at $164.99, saving you $10 off of the MSRP.

DC BISHOUJO POISON IVY STATUE This statue of Batman's villain is loaded with details, like the snakelike vines swirling around her legs and her hair flowing in the breeze. The statue is listed at $58.99, $6 off the MSRP.

X-FORCE ARCHANGEL 17.7" FINE ART STATUE Kotobukiya is continuing their X-Force statue line with Archangel. This piece measures 17.7" tall to the top of his "metal" wings and shows Warren in his new black and silver X-Force outfit. We have this piece listed at $224.99, saving you $25 off the MSRP.

SUCKER PUNCH 1/6 SCALE MOVIE MASTERPIECE FIGURES Hot Toys has announced the license for "Sucker Punch" figures, and the first two releases are up for pre-order. Amber and Baby Doll each come with the outfit, weapons, accessories and more, and are priced at $159.99 each, saving you $10 each off of the MSRP.

"HEAR THE ROAR" THUNDERCATS GUIDE This new books is an "Unofficial and Unauthorized Guide" to the 1980's Thundercats cartoon. It includes interviews with cast and crew, story guides, production paperwork and more, and we have it listed at $33.99.

FORCES OF VALOR VEHICLES A wide variety of Forces of Valor military vehicles has just gone up for pre-order. We have 1:16 scale vehicles, 1:32 scale D-Day, Infantry Division and other vehicles, 1:32 scale Airplanes, 1:48 scale Helicopters, 1:72 scale D-Day vehicles, 1:72 scale Airplanes, 1:72 scale Micro Military
series vehicles, 1:72 scale Battle Sets, 1:1000 scale Battleships, and 1:700 scale Battleships. Be sure to check all of the menus to find what you need and like.

FEMME FATALES SNOW WHITE PVC STATUE Snow White is the next in the Femme Fatales line from Diamond Select. She is dressed in a white strapless dress, with a scissors in hand and a bag of dwarven gold at her feet; this statue is listed at $34.99, $5 off the MSRP.

R2-D2 & C-3P0 ARTFX+ STATUE SET This new snap-together set is the latest announcement in the 1/10 scale Star Wars ArtFX+ line from Kotobukiya. The droids are loaded with detail and are listed at $71.99, $8 off the MSRP.

POWER RANGERS KAIZOKU SENTAI GOKAIGER NEW RELEASES A wide variety of recent and new releases from the Gokaiger line have been put up for preorder. We have the DX GoZyuJin mech at $99.99, the GokaiGalleon Buster gun at $99.99, the Gokai Machine 05 DX Engine MachFalcon at $112.99, the Gokaiger Ranger Key Chest at $52.99, the Gokaiger Red Ranger 15 Key Set at $44.99, waves 06, 07, 08, and DX of the 5-Key packs at $15.99 each, and what looks to be a smaller version of the GoKaiOh (possibly a Jointo Gattai version) at $44.99.

MORTAL KOMBAT SCORPION 1/4 SCALE MIXED MEDIA STATUE The first piece from PopCultureShock's new Mortal Kombat license is this 16.5" tall version of Scorpion. he stands above a glow-in-the-dark lava base and is shown throwing his spear; we have this statue listed at $299.99, $15 off of the MSRP.

PARASAUROLOPHUS HERD DIORAMA This new diorama shows a family of herbivorous dinosaurs crossing a river on their way to find food. It stands 13" tall by 22" deep and is listed at $284.99, saving you $15 off of the MSRP.

DOG ALIEN 1/5 SCALE STATUE This creature from "Alien3" will now be available to grace your shelves with it's frightening features and wicked tail. It is perched atop a cement-style base and is priced at $224.99, $10 off the MSRP.

DC COMICS: THE NUMBER ONES COMIC COVER PORTFOLIO SET: THE FULL COLLECTION By now everyone has heard of the Restart of the DC Universe, and this set includes 9" by 12" cover reproductions of all 52 #1 issues. They are suitable for framing, and the set is listed at $109.99, $20 off the MSRP.

CLASSIC CONFRONTATIONS: GREEN LANTERN HAL JORDAN VS. PARALLAX STATUE This statue stands 12.5" tall by 10.5" wide by 7.5" deep and shows Hal Jordan in battle with Parallax the entity of Fear that powers the yellow power rings. The clear yellow Parallax has Hal wrapped in its tail while Hal aims his ring at the beast; we have this statue listed at $244.99, saving you $50 off the MSRP for the piece. This statue is a great collectible or gift for any Green Lantern fan.

GREEN LANTERN: THE ANIMATED SERIES HAL JORDAN MAQUETTE This statue of the hero of the upcoming Green Lantern animated series show Hal with his ring held aloft, and a Lantern battery in his left hand. The statue is listed at $99.99, $25 off the MSRP.

WOMEN OF THE DC UNIVERSE 4 ARISIA BUST The newest wave of Women of the DC Universe busts starts with Arisia, the elf-like Green Lantern girl. Her base continues the Blackest Night base style with the Will symbol on the front and the other symbols around the sides and back, and her bust is listed at $54.99, $10 off the MSRP.

DC UNIVERSE INFINITE HEROES PRELUDE TO DOOMSDAY GIFT PACK We have been able to get a small quantity of these sets. It includes Doomsday, Battle-Damaged Superman, Bloodwynd, Guy Gardner, Ice and Fire (clear version), and we have the set of six listed at $29.99.

BOBA FETT MAIL-AWAY EXCLUSIVE FIGURE We now have a pre-order up for the Boba Fett Mail-Away figure from last year. He will include the shooting backpack missile and is priced at $34.99.

STAR WARS VINTAGE 2011 SERIES 05 REVISION 01 CASE This case includes new figures Echo Base Trooper, Ponda Baba and Bastila Shan (the EU Fans Choice winner), as well as returning favorites like Darth Vader, Wicket, Logray, Keyan Farlander, Admiral Ackbar and Jedi Luke Skywalker. We have this case listed at $109.99, and it is set to arrive in September.

HAMMER FILMS VAN HELSING BUST The new bust in the Hammer Films 3/4 Scale mini bust line is Peter Cushing as Professor Abraham Van Helsing. He is holding two ornate candlesticks in the shape of a cross, and is listed at $74.99, saving you $5 off the MSRP.

YOUNG JUSTICE DVD SEASON 01 PART 01 SET The new DC cartoon "Young Justice" is getting its first DVD release this September. This DVD is priced at $14.99 and includes the first four episodes - Independence Day, Fireworks, Welcome to Happy Harbor and Drop-Zone.

------------
NEW ARRIVALS
------------

BATMAN ARKHAM ASYLUM SERIES 01, 02 - SETS, SINGLES The second series of Arkham Asylum has beat the first series to the punch. Series 02 is now in stock, and includes Armored Batman, Mr. Zsasz, Poison Ivy and Bane, and they are available as a set of four at $64.99 ($11 off the MSRP), and singly at $17.99 - $18.99 each. We are expecting the Series 01 figures to arrive soon, so keep your eyes out for those as well.

BATMAN RETURN OF BRUCE WAYNE SERIES 01 - SET, SINGLES This assortment from the popular miniseries follow-up to Final Crisis includes High Seas Batman, prehistoric Batman, Wild West Batman and Witch Hunter Batman. We have these figures available as a set of four at $64.99 ($15 off the MSRP) or singly at $17.99 each.

BLUE BOX 1:18 SCALE F-16 ENDURING FREEDOM Our latest shipment of Blue Box military vehicles included the 1:18 Scale F-16 366TFW 389TFS Enduring Freedom. This new version includes hard plastic wing antennae and reinforced rear landing gear in addition to a pilot, many detachable weapons and more. We have this vehicle listed at $164.99, saving you $15 off of the MSRP.

BRUCE LEE 1:1 SCALE LIFE SIZE BUST Hollywood Collectibles has released their life-sized Bruce Lee bust. This piece is limited to 500 pieces worldwide and was created by Bob Causey; we have it listed at $599.99.

DA-15 JETWING PRIME This Japan-exclusive version of Prime from TakaraTomy includes huge cannons and wings that fit on him in both robot and vehicle modes. We have this import figure listed at $199.99.

FX LIGHTSABERS RESTOCK Our latest Hasbro shipment included a number of Force FX Lightsabers. We have the Mace Windu, Anakin Skywalker and Darth Maul Force FX Lightsabers in stock at $99.99 each, and the Luke Skywalker (Blue), Obi-Wan Kenobi and Darth Vader FX Lightsaber with Removable Blade at $119.99 each.

STAR WARS VINTAGE 2011 SERIES 01 CASE This assortment is a great way to start a collection, with Yoda, Darth Vader, Anakin with new Sith head, General Grievous, Jedi Luke Skywalker, Han Solo, a Stormtrooper, a Sandtrooper, Commander Gree and more. The case of 12 is listed at $109.99.

STAR WARS VINTAGE 2011 SERIES 02 CASE We also have the Vintage 2011 Series 02 case in stock, with characters like Lando Calrissian, R2-D2, Dagobah Luke Skywalker, Obi-Wan Kenobi, a Rebel Commando, two different Clone Troopers, Weequay, a Stormtrooper and more; this case is also listed at $109.99.

STAR WARS VINTAGE 2011 SERIES 03 SET, SINGLES The most recent assortment includes Bariss Offee, Bespin Han Solo, Bom Vindin, ARC Trooper Commander, Logray and Rebel Fleet Trooper, and they are available as a set of 6 for $89.99. We also have singles available of figures like VC23 Endor Capture Luke Skywalker, VC15 Clone Trooper, VC45 Episode II Clone Trooper, VC09 Boba Fett and more, so grab the singles you need to complete your collection.

STAR WARS VINTAGE 2011 SERIES 06 REVSIONS 01 RESTOCK - CASE, SET, SINGLES This popular wave is now back in stock. It includes figures such as Peasant Disguise Anakin and Amidala, Kit Fisto, Zam Wessel, Mace Windu and others, and we have them available as a case of 12 for $109.99 and a set of 8 for $84.99. In addition we have many of the figures available as singles; be sure to check the menu to find the ones you need.

GREEN LANTERN MOVIE MINI KIT This set includes a light-up Power Ring as well as a booklet with a bio of Hal Jordan, the Green Lantern Oath and a background about the Corps. It is priced at $8.99.

ARH STUDIOS STATUES We have received a good-sized shipment of statues from ARH Studios. We have the 14" King Arthur statue in either regular or Golden armor versions, priced at $179.99. The 1/6 scale S.W.A.T. statues in either Stealth Black or Officer Blue are listed at $179.99 each as well. The 1/4 scale Leonidas statue from "300" is priced at $269.99, $25 off the MSRP. The 14.5" Anubis the Egyptian God statue is priced at $194.99, while the 1/4 scale Cleopatra Queen of Egypt statue is priced at $249.99.

NEW GUND PLUSH FIGURES Many new Gund items are now in stock. We have Sesame Street items like Bert and Snuffleapagus, dinosaurs like Tristen Tyrannosaurus, aquatic wonders like Dolphin and Seal, pigs like Hamlet and When Pigs Fly and many more. Be sure to check the menus at the link and find your favorite new stuffed friends.

MOTU CLASSICS CLAWFUL We have received a number of MOTU Classics Clawful figures for the benefit of our international and other customers. He comes with a mace and a shield, and he is listed at $34.99.

DEVIL MAY CRY 4 NERO AKUMAJIN STATUE This figure shows Nero, blade in hand, with his Devil Trigger behind him. It stands 13" tall and is listed at $144.99.

BigBadToyStore.com