12% Off Sale at Big Bad Toy Store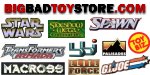 July 17, 2011 - (Sponsor Announcement) - Online retailer BigBadToyStore.com has several new items of interest to collectors:

Hi - Here is a quick update from http://www.bigbadtoystore.com about a few cool new listings and our latest sale:

-------------
12% OFF SALE!
-------------

Everything except 'New' and 'Preorder / Backorder' is now on sale at 12% off our current pricing! We've just removed the 'new' designation from roughly 4000 products this morning so a ton of items are on sale for the first time. Please note that the sale is not retroactive to previous orders or Pile of Loot orders.

Please browse through your favorite menus to take advantage of the deals.

This sale ends Tuesday 19th in the evening.
http://www.bigbadtoystore.com/bbts/default.aspx

-------------
NEW PREORDERS
-------------

A few quick mentions about some great preorders listed in the last few days:

HOT TOYS - SUCKER PUNCH - AMBER & BABY DOLL
http://www.bigbadtoystore.com/bbts/menu.aspx?menu=2479&category=7823

SIDESHOW GI JOE - ZARTAN & ROCK 'N' ROLL
http://www.bigbadtoystore.com/bbts/search.aspx?search=sideshow+gi+joe

MARVEL BISHOUJO - MYSTIQUE
http://www.bigbadtoystore.com/bbts/product.aspx?product=KOT10768&mode=retail

THUNDERCATS BOOK
http://www.bigbadtoystore.com/bbts/product.aspx?product=VGM10000&mode=retail

IMPORT POWER RANGERS
http://www.bigbadtoystore.com/bbts/search.aspx?search=kaizoku

BigBadToyStore.com