Mezco Reveals Edition Sizes For 2011 Summer Exclusives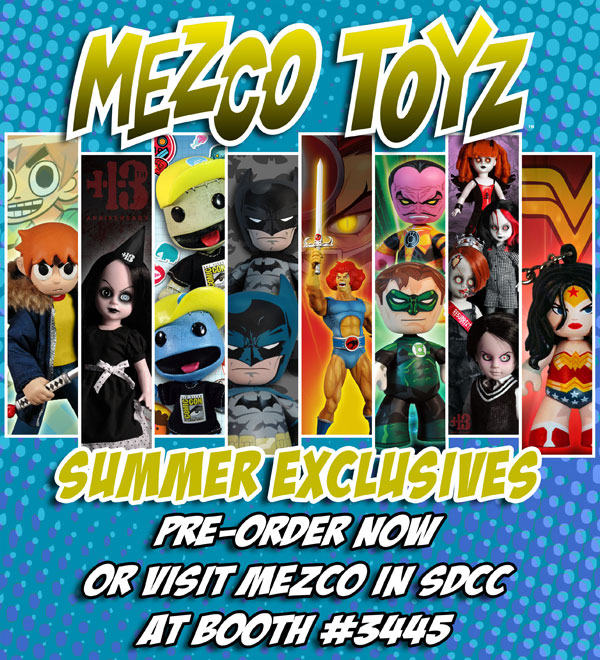 Mezco Reveals Edition Sizes For 2011 Summer Exclusives

July 2011 - With the 2011 San Diego Comic Con less than 3 weeks away, Mezco Toyz is revealing the production runs of their Summer Exclusives.

Mega–Scale Thundercats Lion-O Variant - 500

Scott Pilgrim Summer Exclusive - 492 - SOLD OUT*

Mez-Itz Green Lantern & Sinestro Comic Version 2-Pack -600 sets

Little Big Planet: SDCC SackBoy Beige - 220

Little Big Planet: SDCC SackBoy Blue - 900

Living Dead Dolls Resurrection 5 Set – 300 sets - SOLD OUT*

DC Universe Mez-Itz Wonder Woman Key Chain - 1000

Living Dead Dolls 13th Anniversary Celebrating Sadie - 1002 (US release)

DC Universe Mez-Itz Mega Scale Batman BLACK Edition – 300

DC Universe Mez-Itz Mega Scale Batman BLUE Edition – 75

*The bulk of the production run has sold out through MezcoDirect.com, a small amount of product will be available at SDCC on preview night and possibly the 1st day.

Two items have already sold out and the rest are well on their way to joining them.

The Mega Scale Batman Mez-Itz, standing 22 inches tall, are two of the rarest licensed Batman products ever produced and have already caught the attention of collectors worldwide.

For more information on the Mezco Summer Exclusives or to place on order on remaining inventory, visit:
http://www.mezcotoyz.com/store/SearchResult.aspx?CategoryID=155

Mezco Toyz will be at San Diego Comic Con at booth 3445.