Star Trek, GI Joe, Marvel Universe, Captain America at Big Bad Toy Store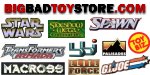 July 7, 2011 - (Sponsor Announcement) - Online retailer BigBadToyStore.com has several new items of interest to collectors:

--------------
INVENTORY SALE
--------------

Our clearance sale continues and all the menus were cleaned up yesterday - there are still thousands of items remaining, many of them in small quantities. Check out the entire menu here:
http://www.bigbadtoystore.com/bbts/content.aspx?content=18

-------------
NEW PREORDERS
-------------

MP-09B MASTERPIECE BLACK RODIMUS The new redeco of Rodimus Prime is colored black with purple and light blue detailing. Emblazoned with the Decepticon symbol, he is a perfect way to increase your enemy army and add some new color to your shelf, and we have him listed at $224.99.

STAR TREK COSTUME REPLICAS - ST: TOS, ST XII MOVIE New vendor Anovos Productions is releasing a number of new Star Trek costume replicas. We have listings up for the Red, Blue and Gold shirts and Red and Blue dresses from both "Star Trek XI" and Star Trek: The Original Series. They are priced from $275.99 to $340.99 each and are exact replicas of the original screen-used items, down to the fabric and dyes used.

BATHING APE X TRANSFORMERS OPTIMUS PRIME This new exclusive import version includes a green Optimus Prime with a camouflaged trailer complete with new stickers and a green Roller unit. We are hoping to not run into any issues with this product, and have it listed for pre-order at $174.99.

GI JOE FIGURES WAVE 01, 02 - CASES, SETS Two new assortments of GI Joe figures are on the way. 2012 Series 01 includes Package Refreshes of Steel Brigade, Cobra - the Enemy, Viper and Iron Grenadier as well as Sergeant Stalker (Modern) and Hazard-Viper; we have them listed as a set of 6 for $44.99 and a case of 12 (two of each figure) at $84.99. We also have 2012 Series 02 listed; the set of 4 includes Renegades versions of Firefly, Snake Eyes, Duke and Cobra Commander and is listed at $39.99. The case assortment includes two of each of these figures plus one each of Hazard-Viper and the Package Refresh versions of Cobra - the Enemy, Viper and Iron Grenadier, and is priced at $84.99.

TRANSFORMERS MIMOBOTS USB FLASH DRIVES Optimus Prime and Megatron are getting new versions - Mimobot USB Flash Drives. We have pre-orders for both 4GB and 8GB versions, and each comes with a variety of extras preloaded.

STAR TREK U.S.S. ENTERPRISE NCC-1701-D IMPORT Aoshima is the latest company to get into the Star trek business, and they are releasing a new version of the NCC-1701-D Enterprise from the Next Generation. It measures 12" long by 9" wide by 5" tall and is loaded with lights, and we currently have it listed at $149.99, with a November release date.

GI JOE 2011 VEHICLES WAVE 02 - SET, SINGLES The new assortment of midsize vehicles includes the returning Black Dragon VTOL along with the new HISS Tank. We have them listed at $44.99 for the case of two, or singly at $24.99 for the VTOL and $29.99 for the HISS Tank.

C-3P0 1:1 SCALE LIMITED EDITION LIFE SIZE BUST This fantastic piece is back for a second go-around. It stands 24.5" tall and is made of fiberglass and polystone, with light-up eyes. This piece is a great gift for any Star Wars fan, being one of the few characters to appear in all six movies and most of the offshoot material. We have it listed at $619.99, saving you $30 off of the MSRP.

ES GOHKIN MUGEN CALIBUR DORVACK TRANSFORMING FIGURE This Super Deform figure is a 5.9" version of G1 Roadbuster, loaded with weapons. He can transform into his jeep mode, and is listed for pre-order at $84.99.

MARVEL UNIVERSE 2011 SERIES 04, 04R01, 04R02, 05 - CASES, SETS, SINGLES All kinds of new Marvel Universe 3.75" figures are on the way. Series 04 includes Commander Steve Rogers, X-23, Namor the Sub-Mariner, Darkhawk and Ultron, and they are available as a set for $49.99, or as a case (two each of the five plus one each of Falcon & Dr. Doom) for $104.99. Series 05 has Magneto, Astonishing X-Men Wolverine, Absorbing Man, Iceman and Tony Stark Iron Man, and their set of 5 is also listed at $49.99, with their case (two of each plus one each of Sub-Mariner & Steve Rogers) at $104.99 as well. Finally, the two Revision assortment for Series 04 include new figures like X-23 and Commander Rogers as well as older figures like Hulk, Bullseye, Constrictor and Black Costume Spider-Man and are also listed at $104.99 per case of 12.

MARVEL UNIVERSE SECRET WARS 2011 SERIES 02 - CASE, SET Hasbro is adding some classic figures to the new assortment of Comic Two-Packs. The new assortment includes Spider-Man & Captain Britain and Power-Man & Iron Fist, and we have them listed as a set of two for $37.99. We also have the case assortment listed, which includes three each of the previous sets as well as one each of Wolverine & Silver Samurai and Deadpool & Taskmaster, and it is listed at $119.99.

MARVEL UNIVERSE SUPER HERO TEAM PACK SERIES 03 - CASE, SINGLES Hasbro's newest case assortment of Super Hero Team Packs includes one each of X-Force and the Fantastic Four, as well as two of the new Guardians of the Galaxy Box Set, which includes Star-Lord, Rocket Raccoon, Drax and a miniature potted Groot. This case assortment is listed at $84.99; we also have them listed singly, with the Guardians and Fantastic Four Sets at $26.99 each and the X-Force Set at $25.99.

STAR WARS VEHICLES 2011 SERIES 05 - CASE, SINGLES The newest assortment of Star Wars Vehicles includes Anakin's Delta 2 Starfighter, a V-19 Torrent Fighter, a Mandalorian Gunship and a Droid Gunship. We have them as a case of 4 for $109.99, and singly at $29.99 - $37.99 each.

STAR WARS ULTIMATE FX LIGHTSABER Hasbro has announced a new assortment of this new lightsaber style. This assortment includes new packaging versions of the Anakin Skywalker Blue and Darth Vader Red Lightsabers, plus the new Luke Skywalker Green version. The first two are listed at $44.99, with the Luke version at $49.99.

CAPTAIN AMERICA PREMIUM FORMAT FIGURE Sideshow is producing a new Premium Format Captain America based on his look in the new "Captain America: The First Avenger" movie. This 21" tall statue includes a fabric costume and switch-out helmet, and we have it listed at $329.99, saving you $20 off of the MSRP.

CAPTAIN AMERICA 1:1 SCALE LIFE SIZE BUST The new Captain America bust is taken from Cap's look in the comics, and shows him in his blue chain mail outfit, gazing boldly upwards. It measures 24" tall and is listed at $574.99, $25 off the MSRP.

PSYLOCKE PREMIUM FORMAT FIGURE The 1/4 scale Psylocke Premium Format figure comes with a cloth costume as well as what appear to be switch-out hands - one with a sword and the other with her psychic knife. She stands 22.5" tall, comes on an X-Men symbol base and is priced at $284.99, $15 off the MSRP for the piece.

NEW GUND ITEMS - SAN DIEGO ZOO, NUZZLES, SNUFFLES, BEARS, DOGS, SCOOPS All kinds of new Gund plush toys have been listed, from San Diego Zoo animals and dressed bears to dogs, stylized Snuffles teddy bears and splayed-out Scoops huggables.

NEW ENESCO ITEMS We have a wide variety of new pre-orders up for Enesco products. We have licenses represented like "The Little Mermaid", "Peter Pan", Winnie the Pooh, "Cinderella", "Fantasia", "Beauty and the Beast", "Sleeping Beauty", "Snow White and the Seven Dwarfs" and Mickey Mouse himself. Be sure to check the menus at the link for more information.

STAR WARS CLASS I FLEET VEHICLE FIGURE PACK SERIES 03R02 CASE This new case assortment includes Obi-Wan & Freeco Bike, Battle Droid and Separatist Droid Speeder Bike, Clone Trooper & BARC Speeder Bike and Clone Scout & AT-RT; we have it listed for pre-order at $69.99 for the case of 4.

STAR WARS TRANSFORMERS 2011 CLASS I SERIES 02 SET The second wave of the new Class I Transformers includes Clone Trooper (Y-Wing) and new head versions of Darth Vader (Jedi Starfighter) and Saesee Tiin (Jedi Starfighter). We have them listed as a set of 3, priced at $32.99.

STAR WARS SAGA LEGENDS 2011 SERIES 03R04 (WAVE 01R04 FALL) CASE This refresh case is a great way to catch up on figures you may have missed. This assortment includes figures like Mace Windu, Yoda, R2-D2, a Shock Trooper, a Super Battle Droid, a Destroyer Droid and more, and we have it listed at $104.99.

TRANSFORMERS DELUXE MECHTECH SERIES 04 - CASE, SET, SINGLE This assortment includes two new figures, Cyberfire Bumblebee and Specialist Ratchet, and we have them listed as a set of two for $39.99, with singles of Bumblebee priced at $17.99. The case assortment contains one Specialist Ratchet and the Cyberfire Bumblebees plus one each of Jolt, Laserbeak, Mudflap and Thundercracker, and is priced at $99.99.

TRANSFORMERS VOYAGER MECHTECH SERIES 04, 04R02, 04R03 - CASES, SINGLE The new Series 04 case assortments each include a Megatron and a new Ironhide Redeco, filling out the third and fourth slots in the cases with one of the Optimus Prime decos and Sentinel Prime or Shockwave. We have the three case assortments priced at $89.99 apiece, and also have the new Ironhide Redeco priced singly at $34.99.

TRANSFORMERS HUMAN ALLIANCE BASIC SERIES 03 SET, 03R02 CASE New figures in these assortments include Decepticon Dragstrip with Master Disaster and Half-Track with Major Altitude, and we have them listed as a set of 4 with Autobot Whirl with major Sparkplug and Tailpipe with Sergeant Noble for $44.99. The new 03 Revision 02 case assortment gives you two each of the new figures, one each of the older figures and adds one each of Backfire with Spike Witwicky and ice pick with Sergeant Chaos, and is listed at $89.99 for the case of 8.

TRANSFORMERS HUMAN ALLIANCE SERIES 02R03 CASE This assortment includes two of the Bumblebee Redeco, as well as one each of Skids & Elita-1 with Epps and Roadbuster with Sergeant Recon, and is listed at $129.99.

TRANSFORMERS CYBERVERSE LEGION SERIES 03R02 CASE Included in this assortment are three of Stealth Bumblebee and one each of Autobot Ratchet, Crowbar, Mudflap, Starscream Redeco and Roadbuster. We have this case of 8 listed for $44.99.

TRANSFORMERS CYBERVERSE ACTION SET SERIES 03, 03R02 - CASES, SINGLE These two case assortments debut the two new figures - Autobot Ratchet with Repair Crawler and Shockwave with Fusion Tank, and include two of either Bumblebee with Orbital Battle Bunker or Optimus Prime with Armored Weapon Platform; each case is priced at $64.99. We also have singles of Autobot Ratchet with Repair Crawler up for pre-order, priced at $19.99 each.

TRANSFORMERS CYBERVERSE COMMANDER SERIES 04, 04R02 - CASES, SINGLE Autobot Guzzle and Dark Sentinel Prime add spice to the two new assortments of Cyberverse Commanders. Each of the new cases includes one of each of them as well as two of the new version of Optimus Prime, with the Series 04 case including Megatron and Blackout and 04R02 including Ironhide and Powerglide; each case is listed at $54.99. We also have singles listed for Dark Sentinel Prime, priced at $14.99 each.

TRANSFORMERS ELECTRONIC COIN BANK - OPTIMUS PRIME, BUMBLEBEE We have listings up for two new Dark of the Moon coin banks. Optimus Prime and Bumblebee each have donated their heads to the electronic saving cause and are priced at $44.99 apiece.

TRANSFORMERS RPMS 2011 SERIES 01 SINGLE PACKS SET, STEALTH FORCE 2011 SERIES 01 CASE The RPM die-cast cars are back, and the new assortment includes vehicles like Optimus Prime, Bumblebee, Mirage and Crumple Zone. There is a mix of regular and clear cars in the assortment, which is priced at $39.99 for the case of 12. The weaponized Stealth Force is back as well, and the first case includes one each of Big Hoss and Starscream, priced at $29.99.

TRANSFORMERS DISNEY LABEL MICKEY MOUSE - STANDART, CHROME CHRISTMAS VERSIONS Two new Mickey Mouse Transformer figures have been announced. The Standart version is colored like Mickey himself (rather than Optimus Prime) and is priced at $52.99, while the new Chrome Christmas exclusive is red, white and shiny with the driver in a little Santa jacket, and is priced at $89.99.

CAPTAIN AMERICA 3.75" FIGURE SERIES 4R3 CASE This assortment is a great refresh wave, and includes Winter Soldier, Red Skull, US Agent, Hydra and a number of different Captain America figures. We have the case of 12 priced at $104.99.

------------
NEW ARRIVALS
------------

BTS-04 SONICRON This great new figure has just arrived and is loaded with articulation and transforms into a more current microcassette recorder unit. We have this new figure listed at $59.99.

TRANSFORMERS DELUXE MECHTECH SERIES 01 - SET, SINGLES The first assortment of movie Deluxes has been restocked. This set of 6 includes Bumblebee, Autobot Ratchet, Starscream, Autobot Skids, Roadbuster and Crankcase and is priced at $83.99. We also have the figures in stock as singles (except Crankcase), individually priced at $12.99 - $13.99.

M-ICON BRUCE LEE IN SUIT COLLECTIBLE FIGURE Hot Toys' second release in their M Icon Bruce Lee line is Bruce Lee in Suit. This figure comes with a complete outfit, switch-out hands, a director's chair and much more, and is listed at $144.99 ($10 off the MSRP).

BRIGHTEST DAY SERIES 02 - SET, SINGLES The second assortment of Brightest Day figures includes Hawkman, Martian Manhunter, Firestorm and Mera. We have them available as a set of 4 for $64.99 ($11 of the MSRP); we also have single left of Firestorm and Martian Manhunter, priced at $17.99 each. We are awaiting the remainder of our Mera figures, so we still have pre-orders remaining for her.

PE-03 & PE-04 LASER & BUZZER SET This new set from Perfect Effect includes new versions of two of Soundwave's original cassettes, who are now able to transform into thrusters and laser weapons. We have the set in stock now, priced at $59.99.

1/10 SCALE DARTH VADER CLOUD CITY VERSION ARTFX+ STATUE This new kit from Kotobukiya brings to life the dark lord as he appeared near the end of "The Empire Strikes Back". He comes with the grating that he stood on in the Carbon Freezing chamber, which you can use to create a diorama with the separately-sold Boba Fett figure. We have Darth Vader listed at $39.99, $5 off the MSRP.

DC UNIVERSE ONLINE WONDER WOMAN STATUE The newest statue from the DC Universe Online MMO is Wonder Woman herself. She stands 7.8" tall and wields her sword and shield. We have her listed at $74.99, saving you $10 off of the MSRP.

DC BISHOUJO SUPERGIRL STATUE Supergirl is the next to get a cute Japanese statue version in the DC Bishoujo line. It shows her in her recent costume, flying above a cloud with Super-Cat Streaky along for the ride, and we have her priced at $49.99, $10 off the MSRP.

DANGER ROOM SESSIONS COLOSSUS STATUE Kotobukiya's Danger Room Sessions line of statues continues with the X-Men's strongman, Colossus. He is shown in his organic steel form, fists raised to continue the destruction of the Sentinel at his feet. The 1/6 scale statue stands about 15" tall and is listed at $209.99, saving you $40 off of the MSRP for the piece.

MINIMATES MAX SERIES 01 BOX SET This new box set includes four figures from the lineup, including the first female police officer MAX figure. This set includes many accessories and is listed at $15.99, $2 off MSRP.

REAL GHOSTBUSTERS MINIMATES SERIES 01 BOX SET The first assortment of Minimates from the "Real Ghostbusters" cartoon (based on the movie characters) includes Ray, Egon, Slimer and Janine in her office outfit. This set of four is listed at $15.99, saving you $2 off the MSRP.

STAR TREK CLOTH RETRO SERIES 08 SET OF CAPTAIN PIKE & SALT VAMPIRE The Star Trek Cloth Retro line continues with Captain Pike (the original captain of the Enterprise) and the alien Salt Vampire. Each figure is 8" tall and features a cloth costume; we have the set of two listed at $34.99, saving you $5 off of the MSRP.

BACK TO THE FUTURE 1:15 SCALE DELOREAN MARK I REPLICA This 14" long version of the time machine from the movie has lights and sounds from the movie. We have it priced ay $39.99, saving you $10 off of the MSRP.

JEAN GREY: X-FACTOR STATUE Bowen Designs has done a number of different Jean grey statues based on her looks from different periods, and this version features the orange and yellow costume she wore during part of her X-Factor days. it stands 12.5" tall and is listed at $224.99.

JUSTICE LEAGUE CLASSIC ICONS SERIES 01 - SINGLES The first wave of this new line was very popular, and most of our first shipment sold out immediately. We have remaining stock of the Batman and green lantern Hal Jordan figures, priced at $16.99 each. We also have pre-orders for Superman, Wonder Woman and the set of four, so feel free to get your order in now for the new shipment.

REVOLTECH BLACK GETTER ROBO ARK This black and silver version of the super-sized Getter Robo Ark character is now in stock. The figure itself stands just over 5" tall and features axes and more; we have it listed at $35.99.

ANGRY BIRDS PLUSH - 5", 8", 5" WITH SOUND, 8" WITH SOUND The plush toys from the hit cell phone game are now ready to ship out. We have them in 5" and 8" size, both with and without sound effects, and they come in sets as well as singles.

DALEK PARADIGM SINGLES - SCIENTIST, DRONE, SUPREME, ETERNAL We have a number of leftover singles from the latest shipment of Dalek Paradigm sets. We have the Orange Scientist Dalek, the Red Drone Dalek, the White Supreme Dalek and the Yellow Eternal Dalek in stock, each listed at $17.99.

BigBadToyStore.com