4000 Item Sale at Big Bad Toy Store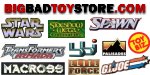 June 29, 2011 - (Sponsor Announcement) - Online retailer BigBadToyStore.com has several new items of interest to collectors:

--------------
4000 ITEM SALE
--------------

We've just cut pricing on hundreds more items and updated the sales menus. There are now over 4000 items priced between 20% and 90% off our list price! Check for many new additions in the lower discount brackets and check for great deals on previous sale items in the higher discount brackets. View the link below for all the sale items:
http://www.bigbadtoystore.com/bbts/content.aspx?content=18

------------
NEW ARRIVALS
------------

DARKSIDE OPTIMUS PRIME & DARKSIDE MEGATRON SET This year's Tokyo Toy Show brought Trans-Fans a new exclusive box set. The Darkside Optimus Prime and Darkside Megatron set has the War for Cybertron versions of both figures repainted in new dark color schemes, with Optimus in black, silver and teal and Megatron in black and purple. This box set is in stock and ready to go, priced at $84.99.

MEGA SCALE 14" LION-O The leader of the Thundercats now has his own large size figure, just in time for the beginning of the new version of the cartoon on Cartoon Network. This articulated figure includes the Claw Shield and the Sword of Omens, and we have it listed at $34.99, $5 off the MSRP.

HOT TOYS BRUCE LEE IN CASUAL WEAR Hot Toys has released its new M Icon - Bruce Lee in Casual Wear figure. This version comes with a beach chair to relax on as well as interchangeable hands, sunglasses, and authentic 70's outfit and more, and is priced at $144.99, saving you $10 off the MSRP.

COMIC IMAGES PLUSH FIGURES - STAR WARS & MARVEL We have received a large shipment of plush items from Comic Images. We have Super Deformed and Footzeez figures of Marvel characters like the Silver Surfer, Hulk, Storm, Captain America, Thor and more, and Star Wars characters like Obi-Wan, Yoda, R2-D2, Anakin, Darth Maul and many others. In addition to these, we have Star Wars Golf Club Head Covers and Back Buddies, so be sure to check the menus and grab your favorites.

GANDALF THE GREY STATUE Sideshow's new line of Lord of the Rings statues continues with this version of Gandalf, clad in his mouse-colored robes. This piece stands 17.5" tall with sword in one hand and staff in the other and is listed at $224.99, saving you $15 off of the MSRP.

14" HEAVY BRAMBLE - 2 VERSIONS The latest of the World War Robot figures stands 14" tall and comes in two versions - Western Def and African Def - each carrying a huge RPG. We have them both in stock now, priced at $269.99 each ($10 off the MSRP).

BUMBLEBEE DUAL MODEL KIT This set includes an articulated frame and a full set of armor with which you can assemble the complete Bumblebee figure from the movies. He stands 5.5" tall and is listed at $54.99.

TRANSFORMERS DARK OF THE MOON EXCLUSIVES A small quantity of four different Dark of the Moon exclusives is now in stock. We have the Cyberverse sets Bumblebee Vs. Megatron and Target Leadfoot & Ironhide available, each priced at $15.99. We also have the Scan Series Ironhide and Sideswipe figures, each priced at $16.99.

TRANSFORMERS CYBERVERSE COMMANDER SERIES 03 - CASE, SINGLES The third assortment of Cyberverse Commanders includes two of Battle Steel Optimus Prime, and one each of Decepticon Hatchet, Ironhide with Blasters, Megatron with Cannon and Sentinel Prime. We have the case of 6 available for $54.99, and singles of all but Hatchet, priced at $9.99 to $12.99 each.

ADVANCED GRAPHICS STAND-UPS We have received a couple more shipments of Advanced Graphics cardboard stand-ups. These near-life-size characters come from licenses like Popeye, DC, Bruce Lee, Austin Powers, Star Trek, Harry Potter, Doctor Who, Terminator, Nightmare Before Christmas, Looney Tunes and Star Wars - be sure to check the menus at the link and find your favorites.

SOUL OF CHOGOKIN RESTOCK We have received a small restock shipment of Soul of Chogokin figures. We now have GX-38 Iron Gear, GX-43 Daimos, GGX-44 New Tetsujin-28, GX-46 Daizengar and Aussenseiter, GX-47 Energer Z, GX-48 The Big O and GX-50 Combattler V (new design) in stock. If you were looking for them, now is your chance to fill the spaces in your collection.

REVOLTECH BATMAN RESTOCK The popular Sci-Fi Revoltech figure of Batman as the Dark Knight from the movies is now back in stock. This figure comes with a display stand, and alternate head, swappable hands and more, and is listed at $37.99.

DISGUISE COSTUMES Another shipment of costumes is now in stock. This new bunch includes Optimus Prime adult costumes for men and women, Bumblebee, the Black Widow, the Baroness, Iron Man, Stewie Griffin, Spider-Man and all kinds of other costumes, masks and accessories.

CAPTAIN AMERICA 3.75" FIGURE SERIES 03 - CASE, SINGLES The Series 03 case assortment includes 3 of the Hydra Movie figure, 2 each of Jungle Trooper Captain America and Night Mission Captain America, and 1 each of Crossbones, the Red Skull, Super Combat Captain America, Captain Britain and Classic Update Captain America. We have them as a case of 12 for $104.99, and we also have a number of the figures singly at $9.99 to $13.99 each.

TRANSFORMERS COMBINER 5-PACKS SERIES 02, 03 A small shipment of Combiner 5-Packs has also arrived. We have the 2011 Series 02 Case of 4, including 2 sets of Stunticons and 1 each of Dinobots and Constructicons, priced at $89.99. We also have the 2011 Series 03 Set of 2, including the Destrons and the Protectobots, which is priced at $47.99. Finally, we have singles in stock of the Destructicons and Rallybots, priced at $19.99 and $18.49, respectively.

-------------
NEW PREORDERS
-------------

MOVIE MASTERPIECE 1/6 SCALE CAPTAIN AMERICA COLLECTIBLE FIGURE Hot Toys' newest figure is of the title character in "Captain America: The First Avenger". He comes with over thirty points of articulation, his shield, weapons, interchangeable hands and more. This figure is listed at $159.99, saving you $10 off of the MSRP, and is the perfect gift for fans of the movie and the character.

GI JOE SNAKE EYS WITH TIMBER STATUE This new 20" tall piece is sculpted in 1:5 scale and shows the ninja and his wolf prowling rocky terrain. This piece includes switch-out heads with the visor or goggles as well as switch-out hands with a katana or a pistol, and we have it priced at $299.99, saving you $25 off of the MSRP.

CITY HUNTER COMIC MASTERPIECE FIGURES Hot Toys has also announced two new figures from the anime and manga series City Hunter. Both hero Ryo Saeba and police woman Saeko Nogami are getting their own 1/6 scale figures, each loaded with accessories and priced at $179.99 apiece.

BOWEN EXCLUSIVE GOLIATH STATUE The next in the Hank Pym line of statues is the Goliath exclusive piece. This one measures 19" tall and has a base that is crafted to go with all of the others Hank Pym statues, so he can be displayed in all of his various guises. We have this version listed at $259.99.

NEW DOCTOR WHO NOVELTIES We have listed three new items from Doctor Who. The Personalize Your Sonic Screwdriver Set includes combinable parts from three different Screwdriver setups to give you over 80 combinations, each with sounds and lights, and is priced at $39.99, $5 off the MSRP. The Nano-Recorder has 10 second of voice recording as well as sounds and lights and is priced at $33.99, $4 off the MSRP. The Flesh Goo Pod is a TARDIS-shaped container filled with "flesh" goo along with random body parts, and is listed at $11.99.

NEW GUND LISTINGS A wide variety of new Gund items are now up for pre-order. We have the Earth, Sea and Sky line of animals, priced from $7.49 for the 4.75" Doodle Doo plush chicken to $269.99 for the 58" Roman Lion ($30 off the MSRP). We also have a number of new Dinosaurs and Veggie Tales plushes; be sure to check the menus at the link for all of the details.

RONIN WARRIORS ARMOR PLUS JAPANESE EXCLUSIVES We have listings up for two new Ronin Warriors Armor Plus import figures. The first is the Powered-Up version of Ryo, while the second is a brand new version of Rowen (Touma), and each comes with their complete armor, which can also be formed separately from the figure with the included seat. These Tamashii-exclusive figures are priced at $169.99 each.

IMPORT EXCLUSIVE FIGURES In addition to the Armor Plus Ronin Warriors we have new listings for 19 other Japan exclusive figures. From the Black versions of Super Robot Chogokin Raideen and God Raideen to Kubricks of R2-D2, Alphonse Elric and Kyubey and a number of Kamen Rider and other figures, we have a wide variety with something for everyone - be sure to check out the list and grab your favorites.

GOKAI RED PBM FIGURE Medicom & Bandai's Project BM line continues with the Red Ranger from Kaizoku Sentai Gokaiger, the most recent Power Rangers series. This
figure promises loads of articulation as well as equipment, weapons and more, and is priced at $249.99.

A SONG OF FIRE & ICE / A GAME OF THRONES BUST SERIES The popular book series has recently become a hit HBO show, and now you can also pick up busts of three of the major characters. Sculpted from their book descriptions, these busts of Eddard "Ned" Stark, Sandor "Hound" Clegane and Daenerys Targaryen are all done in 1/6 scale, and are priced at $54.99 each.

NEW GREEN LANTERN MOVIE LANTERN LAUNCHER BLASTER We have listed two more items from the "Green Lantern" movie. The Lantern Launcher Blaster transforms from a Lantern to a disc-shooting blaster and is priced at $20.99.

NEW GREEN LANTERN MOVIE RING BLAST JET We have also listed the Hal Jordan's Ring Blast Jet, which changes from a jet (with Hal Jordan figure) to a ground-based tank with missles. This set is listed at $44.99.

ARIEL STATUE Electric Tiki's third animated lady release is Ariel from "The Little Mermaid". This statue measures 10" tall and has the mermaid coming up out of translucent water with a metallic base. We have it listed at $189.99, $10 off the MSRP.

SUZETTE 10.6" STATUE Suzette is one of famous animator and artist Dean Yeagle's lovely creations, and this statue shows her standing in a skimpy red outfit. It is listed at $184.99, saving you $5 off the MSRP.

COMIC CON EPISODE IV: A FAN'S HOPE BOOK This deluxe book is a great way to remember (or experience for the first time) the majesty of Comic Con. It is fabric bound with loads of extras and comes with 224 pages of interviews and photos about movie, television and comics, and we have it priced at $64.99, $10 off the MSRP.

SNOW WHITE DWARF ASSORTMENT CASE Mattel is giving a little love to the costars of one of Disney's founding films. This new case includes figures of the seven dwarves, complete with cloth costumes, and is priced at $79.99 for a case of 12.

CARS 2 CASE ASSORTMENTS We now have listings for all of the case assortments for a number of different "Cars 2" releases. We have a total of 7 different cases of 24 single packed Cars, priced at $104.99 per case; we also have the Checklane cases of 18 Cars priced at $84.99. The two-Pack cases of 12 are priced at $104.99, and the Lights and Sounds Cars cases of 12 are at $109.99. Finally, the Oversized Cars cases of 6 are priced at $47.99; all cases now list complete packouts, so check them out and find your favorite cars.

NEW ENESCO ITEMS Enesco has also announced new items for the season. We have items from "Bambi", "Mulan", "The Little Mermaid", Rudolph the Red-Nosed Reindeer, "Finding Nemo", "Beauty and the Beast" and "101 Dalmations", all available at the link.

BigBadToyStore.com