Brightest Day, GL Movie, Transformers, Duke Nukem Forever, Gears of War at Big Bad Toy Store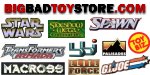 June 15, 2011 - (Sponsor Announcement) - Online retailer BigBadToyStore.com has several new items of interest to collectors:

----------------------------
OVERSTOCK SALE - ENDS FRIDAY
----------------------------

We've added 50 Overstock & Exclusive items to our sale menu - prices have been cut on items like our Seacon Exclusive, Predaking, GI Joe Resolute, Star Wars, Marvel and more! Most of these prices will revert back to normal full price on Friday - so take advantage of the discounts now!
http://www.bigbadtoystore.com/bbts/list.aspx?list=6936

------------
NEW ARRIVALS
------------

TRANSFORMERS SHARED EXCLUSIVES A number of new shared exclusives have arrived at our warehouse. The Dinobot Minicon set of 4 includes Rav, Catilla, Triceradon and Dualor colored in a gold and silver color scheme, and is priced at $19.99. The Optimus Prime Vs. Megatron Battle Pack consists of deluxe size versions of the two characters (Megatron with a tank alt-mode) that was originally released a few years ago, and it is listed at $23.99. The Universe Basic Set of 3 includes Backstop (with a Transmetal Rhinox color scheme), Undermine and Wreckloose and is listed at $29.99. Last but not least, the Deluxe & Legend Scene Two-Pack Set includes Decepticon Brawl Vs. Jolt and Bumblebee Vs. Grindor, and is priced at $39.99.

TFX-04C PROTECTOR TRAILER LIMITED EDITION CLEAR VERSION This new version with mostly translucent parts was released just in time for Botcon, and we have them ready to go. This version works with the Sons of Cybertron clear Rodimus version, and also with any of the other figures made from the same mold, and we have it listed at $94.99.

BRIGHTEST DAY - SERIES 02 In stock now at $64.99 for the set, this wave features 1x Martian Manhunter, Hawkman, Firestorm, and Mera. Comics' biggest event continues as BRIGHTEST DAY burns away the BLACKEST NIGHT! In this best-selling follow-up, the white light has resurrected twelve heroes and villains. Though the exact reasons for their rebirths remain a mystery, each is destined to play an intricate role in the future of the DC Universe.

GREEN LANTERN MOVIE MASTERS - SERIES 02 Isamot Kol and Sinestro make up this wave - get the set of 2 at $33.99 or pick up singles at $17.99 each. Wave 1 and 1.5 are also currently in stock

STAR WARS 12" KENNER REPRODUCTIONS A shipment of the 12" Star Wars figures from Gentle Giant has arrived. It includes Princess Leia at $67.99 and Darth Vader at $71.99, each of which is limited to just 2500 pieces.

TRANSFORMERS DOTM - SILVER COINS - PERTH MINT Imported from Australia, this cool 3 coin set is now in stock. Licensed from Hasbro, each coin is struck from 1oz of 99.9% pure silver in proof quality and issued as legal tender under the authority of the Government of Tuvalu. Each coin is housed in a clear presentation box which comes in a spectacularly illustrated shipper, accompanied by a numbered Certificate of Authenticity.

GEARS OF WAR SERIES 06 - CASE, SINGLES Our first shipment has left us with a few cases of 14, as well as singles of a Kantus Priest and Skorge. The cases include 5 of Skorge, 4 of the Kantus Priest, 3 of the COG Soldier and 2 of the Boomer Mauler. We have the singles listed at $15.99 each, and the case of 14 at $184.99; the remainder of our pieces are still on the way.

DUKE NUKEM FOREVER - NECA 7" From the long awaited Duke Nukem Forever videogame, comes this brand new highly articulated Duke Nukem action figure. Duke stands 7" tall and comes with his trusty 1911 pistol and a cigar. In stock now at $15.99

SHOCKER TOYS - EXCLUSIVE MUCUS TICK Green variant tick is now in stock at $34.99 - take a look here.

SOUTH PARK CLASSICS SERIES 02 - SET, SINGLES The new wave of South Park Classics includes Kyle with Ike, Stan with pets and A.W.E.S.O.M.-O., and we have them listed as a set of 3 for $32.99, with singles available of each figure at $12.99 apiece.

DC UNIVERSE CLASSICS SERIES 17 SINGLES After our initial shipment of these popular figures we were able to fill some of our set and singles order, and ended up having leftover singles of a few characters. We have Indigo Lantern The Atom, Orange Lantern Lex Luthor and White Lantern Hal Jordan currently, priced at $16.99 each.

GUND SESAME STREET SHIPMENT We have received a large shipment of Gund's Sesame Street Plush toys. From finger puppets for a 41" Big Bird, we have something for every fan with characters like Elmo, Oscar the Grouch, Cookie Monster, Grover, Zoe, Abby, Bert, Ernie and the Count.

12" SCALE YODA'S HUT DAGOBAH FIGURE ENVIRONMENT Sideshow has produced a fantastic 12" scale Figure Environment of Yoda's Hut with a cutaway view of the inside. it is a great place to display your Luke, R2-D2 and Yoda scale figures, and we have it listed at $264.99, $10 off the MSRP.

MR. POTATO HEAD SPORTS FIGURES - MLB, NHL, NFL, COLLEGE FOOTBALL These cute half-size Potato Head figures come in a wide variety of your favorite sports teams. We have NFL, MLB, NHL and even College Football. We have them listed at $13.99 each, and are expecting even more versions soon.

BLEACHER CREATURES We have received a shipment of 7" and 14" Bleacher Creatures. We have the 7" versions priced at $11.99 and the 14" at $21.99 with both MLB and NFL players in this first assortment. Check out the menu and find your favorite players.

BRIGHTEST DAY SERIES 01 - SET OF 4 The first assortment of DC Direct's Brightest Day figures has arrived. This assortment includes Deadman, Hawkgirl, Aquaman and Green Arrow, and is priced at $64.99, $11 off the MSRP.

MECHA WARFARE SUPREME TACTICAL COMMANDER GRAND PATRIOT SINGLES For those of you that were waiting for the chance to pick up the single version of either the Red or Green version of the grand Patriot transforming figure, now is your chance. We now have them listed individually, with the Green version at $49.99 and the Red version at $89.99.

MARVEL SUPERHERO SQUAD 2011 SERIES 02 TWO-PACKS This new assortment includes new two-packs like Wolverine & Polaris, Thor & Spider-Man and War Machine & Iron Patriot as well as older favorites like Iorn Man & M.O.D.O.K. and the Human Torch & Silver Surfer. Take a look through the menu and grab your favorites!

IRON MAN 2 COMIC FIGURES SERIES 04 - SET, SINGLES This new assortment includes Mandarin, War Machine, Ivan "Whiplash" Vanko and Ultimate Iron Man, and the set of 4 is listed at $49.99. We also have many other figures listed singly, like the Guardsman, Silver Centurion Iron Man, Arctic Iron Man and more, so be sure to check the menu and find the singles you've been looking for.

CAPTAIN AMERICA 3.75" FIGURE SERIES 02 - SET, SINGLES This assortment inspired by the movie includes Winter Combat Cap, Crossbones, U.S. Agent, the Red Skull, Super Combat Cap, Captain Britain and Heroic Age Cap. We have the set of 7 listed at $69.99; we also have singles available of many of the figures in this and the previous assortments, and you can see them under the menu at the link.

TRANSFORMERS CYBERVERSE LEGION SERIES 03 - SET, SINGLES This assortment includes Roadbuster, Stealth Bumblebee, Flak and Starscream, and we have the set of four listed at $29.99. The case assortment adds two more of Stealth Bumblebee, as well as Leadfoot and Crowbar and is priced at $44.99. Finally, we have most of these figures available singly, priced at $5.99 - $7.99 each.

TRANSFORMERS VOYAGER MECHTECH SERIES 03 - SET, SINGLES Voyager Series 03 includes Shockwave, Sentinel Prime and Fireburst Optimus Prime. They are available as a set of three for $74.99, or singly at $24.99 for Optimus and $29.99 for the others.

TRANSFORMERS BATTLE IN SPACE BOX SET RESTOCK This popular set is back in stock and ready to go. It includes Hot Rod/Rodimus, Cyclonus with Targetmaster and a chromed Matrix of Leadership, and is priced at 23.99

-------------
NEW PREORDERS
-------------

FANSPROJECT CAUSALITY FIGURES We now have listings up for all three of the new Causality figures from FansProject. They feature multiple weapons, great color nostalgic color scheme, great articulation and quality. Pre-orders are up for CA-03 Thundershred, CA-04 Stormbomb and CA-05 Backfiery, priced at $47.99 each.

NEW GENTLE GIANT FIGURES, STATUES & BUSTS - STAR WARS & MARVEL Gentle Giant has just announced a dozen new items to start off the new year. First are the 12" scale remakes of the Kenner Star Wars figures; we have C-3P0 at $67.99 and R2-D2 at $71.99, and fans won't want to skip this special wave. The Star Wars love continues with the 1/6 Scale Darth Vader ESB statue at $224.99 ($25 off the MSRP) and the Savage Opress 10" statue at $85.99, as well as the 6.5" busts of Logray and Watto, priced at $62.99 and $58.99, respectively. Also getting statues are Rocket from "Sucker Punch" with an 18" statue at $224.99 ($25 off MSRP) and Deadpool on his 'ride', priced at $329.99 ($39 off MSRP). Finally, we have listings for four new Marvel busts - 7" Spider-Woman, 7" Red Skull and 7" Brown Costume Wolverine at $62.99 each, and 4.5" Thor Frog at $39.99.

HALO: REACH NOBLE TEAM DELUXE BOXED SET This new box set from McFarlane Toys celebrates the members of Noble Team. It includes all six of the main characters - Carter, Kat, Jun, Emile, Jorge and Noble Six (the player). The box set is listed at $59.99, and should arrive in time for the holidays.

"I AM YOUR FATHER" - LUKE SKYWALKER VS. DARTH VADER ON BESPIN DIORAMA This new Sideshow piece shows Luke and his father having a lightsaber duel on a platform in Bespin. The 1/5 scale diorama is loaded with detail, from Luke's outfit and Darth Vader's armor to the tubes and pipes that comprise Bespin's systems, and we have it listed at $299.99, saving you $25 off of the MSRP.

AVATAR NEYTIRI MAQUETTE This huge new statue of the heroine from "Avatar" stands 35" tall when measured to the top of the bow. The representation of the on-screen character is practically lifelike, and we have it listed at $1599.99. Note that there is a nonrefundable $320 deposit required at the time of ordering, and that the item may end up having to be shipped by freight, which may change the shipping costs.

SDCC 2011 EXCLUSIVES The convention hasn't even happened yet, but the pre-orders for a number of the items are ready to go. We have the Marvel Vs. Capcom Minimates Box Set at $19.99, the Marvel Bishoujo Emma Frost Diamond Version statue at $64.99, the Green Lantern Movie Light-Up Bearbrick at $19.99, the DC Mini Mez-Itz Wonder Woman keychain at $12.99, and the LDD 13th Anniversary Sadie figure at $76.99. The link will also bring up previously-listed SDCC 2011 exclusives, so be sure to check them all out and grab your favorites.

DC DIRECT NEW BATMAN STATUES DC Direct has announced their new month's worth of items, and it includes a trio of Batman statues for fans of the Caped Crusader. The Batman Mini Statue II - Patina version is a 6.75" version of the classic Jim Lee statue, done in metallic colors, and is priced at $79.99, $15 off the MSRP. The Mike Mignola version of the Batman Black and White statue is being rereleased with a white base and oval chest symbol, and is priced at $79.99 as well, (also $15 off the MSRP). Finally, The upcoming "Batman: Year One" animated DVD release has inspired a Maquette which stands almost 10" tall and is priced at $99.99, saving you $25 off of the MSRP.

DC DIRECT NEW AME-COMI FIGURES DC is also releasing two more figures in their Ame-Comi Heroine series. A female version of the Black Flash entity and Black Canary's enemy White Canary will each be getting their own figure, priced at $59.99 ($10 off the MSRP).

ANDY WARHOL BANANA - PLUSH, KEYCHAINS Medicom and Andy Warhol have gotten together to produce these new banana-inspired items. We have banana keychains in yellow, blue, green, pink and chrome, at $16.99 each; we also have 36" and 48" plush bananas complete with removable peels, at $249.99 and $369.99, respectively.

HOBBY BASE DISPLAY CASES Merit International has announced the first wave of a new line of figure and toy display bases. These appear to be made of clear acrylic, and come in Small through Jumbo, in square and rectangle configurations so far. We have them listed at $12.99 - $29.99 for the first four items; go ahead and give them a peek.

K-ON! CUTE-RATE 23 FIGURES, COSTUME More cute K-On! items are on their way from Cospa. Ritsu Tainaka and Azusa Nakano are getting 23 cm (almost 10") figures complete with cloth outfits and accessories, and are priced at $249.99. There is also a 23 cm scale High School costume set for dressing up other figures to match, and it is priced at $109.99.

REI AYANAMI 1/6 SCALE APRON/UNIFORM VERSION FIGURE This figure of Rei from the Evangelion films and series has her dressed in an apron over her school uniform. The 1/6 scale figure is listed at $274.99 and should arrive this August.

NEW TRIAD 1/6 SCALE OUTFITS A number of new female outfits from Triad Toys have been listed for pre-order. We have the Ryder 2.0 Outfit set in Cream or Orange at $22.99, the Bliss Streak Set in Khaki or Gray at $24.99, the Kabuki 2.0 set at $14.99, the Harley Chic 4.0 Outfit set at $34.99, and the Hero Type Female Bodysuit in Brown, Dark Brown, Green, Khaki, Olive Drab, Orange and Purple, at $14.99 each.

PEANUTS 2011 HOLIDAY ITEMS Round Two has announced the first of its upcoming holiday items. The Peanuts gang is getting a 9-Piece Decor Block set at $29.99, a 9-Piece Christmas Pageant Figure Set at $37.99 and a Snoopy's Doghouse Display with lights at $37.99, with more to come soon.

RUDOLPH 2011 HOLIDAY ITEMS Rudolph and friends are also getting some releases this holiday season. We have the Santa Sleigh with team and Music set at $44.99, the Ultimate Figurine Collection at $59.99 and a Rudolph the Red-Nosed Reindeer Kit at $8.99.

RESERVOIR DOGS QEES Three new listings from Toy2R are up on the Reservoir Dogs menu. We have the 2.5" Bear Qee Box of 25 Blind Boxed Figures at 169.99, $30 off of the MSRP. We also have two new Three-Packs of 8" Bear Qees - Series 01 includes Qees with White, Blue and Gold ties, while Series 02 includes Qees with Brown, Orange and Pink ties; each set of three is listed at $134.99, $15 off the MSRP.

WATCHMEN HEROCLIX FAST FORCES PACK This set includes six of the Watchmen Heroclix figures - Nite Owl, Dr. Manhattan, the Comedian, Ozymandias, Silk Spectre and Rorschach - with all-new dials as well as exclusive maps, dice and a rules sheet. This set is priced at $14.99, and should arrive this September.

NEW TREVCO T-SHIRTS We have listed a number of new "Green Lantern" movie t-shirts from Trevco. We have Hal Jordan, Sinestro, Tomar Re, Kilowog and and more, priced at $18.99 - $20.99 each.

NEW RIPPLE JUNCTION T-SHIRTS We also have Ripple Junction shirts listed. There are a variety of new listings under "The Hangover II", Futurama and Metal Gear Solid, priced at $17.99 - $18.99 each.

BigBadToyStore.com