Toy2R: 3 New Qee Releases - Voltaire, Horvath and Kaiser
Toy2R is pleased to unveil 3 new releases coming soon from Voltaire, David Horvath and Jon-Paul Kaiser!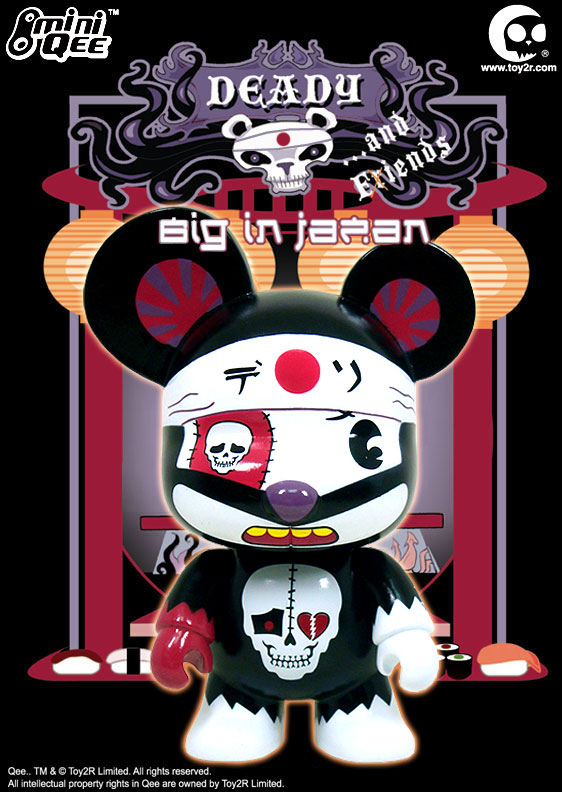 June 2011 - Deady "Big in Japan" 5" Mini Qee from Voltaire - Toy2R reveals the newest Deady creation by famed poet, artist and singer Voltaire. Taken from an original appearance of Deady in Voltaire's works, this figure will include a gaming code that will allow online players of Adventure Quests Worlds, to play the game with Deady tagging along for all the mayhem. With over 25,000 players online at any given time, fans will want to place an order for this new Deady figure as it will be limited but will also include a few variant surprises with an SRP of $28.00! Expect to see an early appearance by this Mini Qee at SDCC!

David Horvath's 5" Monster Bossy Bear continues to grow with the announcement of the Day Stomp Edition. This limited edition version will be exclusive to Rotofugi and should be ready next month - so keep your eyes peeled for pre-order availability. The Kaiju inspired editons of Bossy Bear continues... stay tuned for more updates!

and finally....

Toy2R is please to unveil the next line of Jon-Paul Kaiser Mini Qees as The Forgotten prepared to be 'found' in the coming months. Part of a new collection from JPK, Toy2R will continue to utilize the 5" Mini Qee platform to translate these beautiful designs. SRP $28.00 and limited to 500 pieces!

Jon Paul Kaiser presents The Forgotten....

There we lie
lost, forgotten,
and unseen.
Behind drawers, under beds and
atop long unexplored shelves.
In the dark recesses of the attic
swathed in dust and age
we wait.

All these as well as yesterday's announcements as part of Toy2R's mammoth return to the vinyl scene with new artists, new designs and new figures!

Stay tuned for even more announcements tomorrow........!!!

Both the Deady "Big in Japan" and The Forgotten Bunee Mini Qees are currently available for whoelsale throguh The Apex at [email protected]