Mezco's Lion-O Summer Exclusive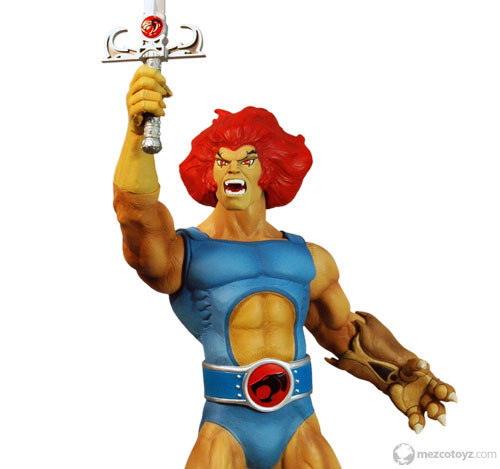 Mezco Reveals Summer Exclusive #7: Variant Limited Edition Lion-O Figure

ThunderCats Ho!

June 2011 - Straight from the ThunderCats' Lair on Third Earth, it's Lion-O and the legendary mystic Sword of Omens.

This mega-scale figure measures over 20 inches tall from the tip of his upraised, extended sword to the soles of his Thunderian boots.

Featuring 7 points of articulation this mega figure is superbly detailed, perfectly capturing not only the iconic look of Lion-O as he appeared in the classic television series, but the essence, of Lion-O as he proudly raises the mystic Sword of Omens towards the heavens and roars out "Thundercats, Ho!"

This special Summer Exclusive Variant Edition features:
Interchangeable glowing eyes head and open mouth heads
Both Sword of Omens and short sword of Omens
Alternate left hand Claw Shield

Lion-O is packaged in a collector friendly window box that allows him to be displayed while remaining Mint In Box. This is a non-numbered limited edition item. Edition size TBD.


Limited Edition Variant Mega-Scale Lion-O will premiere at the world famous San Diego Comic Con, but is also available for pre-order at:
http://www.mezcotoyz.com/store/SearchResult.aspx?CategoryID=155