Clearance Sale, Walking Dead, Angry Birds, Kre-O, DCUC 19 at Big Bad Toy Store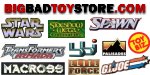 June 9, 2011 - (Sponsor Announcement) - Online retailer BigBadToyStore.com has several new items of interest to collectors:

--------------
CLEARANCE SALE
--------------

We've just reduced pricing on hundreds of older and overstocked items - there are now over 3800 total items listed at 20% to 90% off our list price with 900 of them at 50% off or more! The lists are long, but a lot of cool stuff is included - take a look here:
http://www.bigbadtoystore.com/bbts/content.aspx?content=18

-------------
NEW PREORDERS
-------------

FANSPROJECT TFX-04C PROTECTOR TRAILER LIMITED EDITION CLEAR VERSION FansProject has announced a new mostly clear version of their Protector armor to go with the clear Hot Rod from the Sons of Cybertron Autobot Classic two-pack. This set includes all of the original pieces with a clear version of Rodimus' Roller car, and is listed at $94.99.

TRANSFORMERS KRE-O CONSTRUCTION KITS The Transformers are getting a new look in an exciting new line of block kits. Each set comes with instructions to form the 'Bot or 'Con into either vehicle or robot mode, and most kits also come with mini block figures (called Kreons) of a number of the Transformers themselves, along with human figures as well. These sets range from $8.99 for the Basic Bumblebee and Basic Optimus Prime (who do not come with Kreons) to $59.99 for a large Optimus Prime with full trailer, motorcycles and a handful of Kreon figures. Most of the sets have a decidedly-G1 look to them, and are sure to be popular with both G1 and movie fans.

TFC TOYS HERCULES EXGRAVER The first robot of the new Hercules Gestalt is called Exgraver, and transforms into a scoop shovel machine. We have this piece listed at $97.99, and the others should follow over the course of the year.

BOWEN MARVEL STATUES & BUSTS The new assortment of statues & busts from Bowen Designs this month includes statues of Thor in a Classic Action pose swinging his hammer ($274.99), Avenger Jocasta ($199.99), Wolverine from the "Old Man Logan" series ($234.99) and X-Man Polaris ($224.99). They are joined by the 7" tall Iron Man Unmasked bust, which is priced at $79.99.

DC UNIVERSE CLASSICS SERIES 19 - SET, SINGLES Mattel has announced their newest upcoming wave of DC Universe Classics figures. This Justice Society-oriented assortment includes Sandman, the Al Pratt version of the Atom, Classic Hawkman, Lord Naga of Kobra, Stargirl and Magog, with a S.T.R.I.P.E. Collect-N-Connect figure. We have the set of 6 listed at $99.99 with all of the CNC pieces; you can also choose from the single figures, priced at $17.99 each.

THE WALKING DEAD TV FIGURE SERIES 01 - SET, SINGLES The second series of Walking Dead figures from McFarlane will be the first assortment from the AMC TV Series. It includes Deputy Rick Grimes, Daryl Dixon, a Zombie Walker and a Zombie Biter, and each figure is sculpted with an excellent likeness of their TV counterpart. They are available singly at $14.99, or you can pick up the set of 4 for $54.99, saving you $5.

ANGRY BIRDS MERCHANDISE We have listed over 100 items from the popular game, We have plushes, talking plushes, hats, backpacks, magnets and much more - be sure to take a look at all of the great new items at the link.

ROBOCOP 7" FIGURE NECA has announced a number of new figures. First up is a 7" version of Robocop, complete with interchangeable hands and an Auto-9 pistol. We have this figure listed at $15.99, $2 off the MSRP.

IRON MAIDEN FINAL FRONTIER EDDIE Also coming soon from NECA is a 9" version of Eddie from the artwork of Iron Maiden's "The Final Frontier" album. He has over 25 points of articulation and is listed at $17.99.

A NIGHTMARE ON ELM STREET FREDDY KRUEGER SET NECA's new Nightmare line starts off with two versions of Freddy - the original, with outstretched and regular arms, and "Freddy's Revenge" Freddy with gloved and ungloved hands. We have this set listed at $31.99, $4 off the MSRP.

HARRY POTTER DEATHLY HALLOWS PART 2 SERIES 01 SET The first assortment of Deathly Hallows Part 2 figures includes Harry, Voldemort and a Dementor. Each comes with a weapon, wand or other accessory and the set of three is listed at $47.99, $6 off the MSRP.

STAR WARS 1/10 SCALE BLACKHOLE STORMTROOPER BUILDPACK This new exclusive set includes all of the parts to build 2 1/10 scale Blackhole stormtroopers, along with alternate parts for a variety of poses, and we have the set listed at $119.99.

GREEN LANTERN 4" SERIES 4-7 CASES A number of new items from the "Green Lantern" movie have been put up for pre-order. Cases of Series 04, 05, 06 and 07 of the 4" figures each contain new mixes and are priced at $64.99 per cases of 8.

GREEN LANTERN BATTLE SHIFTERS SERIES 3-4 SETS We also have listings up for the two newest waves of "Green Lantern" Battle Shifters. Each set includes a mix of old and new packs and is priced at $39.99 per set of 3.

NFL SPORTSPICKS SERIES 28 CASE, SINGLES The new assortment of NFL Sportspicks includes figures like Ben Roethlisberger, Clay Matthews, Dez Bryant, Drew Brees 2, Andre Johnson and Barry Sanders 2, and are available as singles at $11.99 each, or as a case of 8 with a Chase or Collector Level figure for $84.99.

WORLD OF MMA ULTIMATE COLLECTOR SERIES 07, LIMITED EDITION SERIES 07 Round 5 has announced their latest assortment of World of MMA figures. Series 07 is available in two different assortments; each includes 3 of Georges St. Pierre with Sculpted Gi and 1 each of Junior Dos Santos, Thiago Alves, Frankie Edgar and Urijah Faber, while Assortment A includes one figure of ring girl Arianny Celeste and Assortment B includes one figure of Bruce Lee. They are also available as a set of six, with one of each figure that is common to both assortments (no Arianny Celeste or Bruce Lee); there are also singles available of the Georges St. Pierre figure, priced at $13.99. The Limited Edition version of this wave includes Frankie Edgar and Urijah Faber (each of whom are also available singly at $19.99 per figure) as well as Junior Dos Santos and Thiago Alves. They are listed as a set of 4 at $79.99, and also as a case of 6 (2 each of Urijah and Frankie) at $109.99, saving you $10 off the MSRP.

GODZILLA 1989 1/80 SCALE SOFT VINYL KIT Kaiyodo is taking a break from their Revoltech figure to produce something at the other end of the size spectrum - a gigantic soft vinyl kit of Godzilla 1989. This piece will stand 1 meter tall and 2 meters long when assembled and finished, and is priced at $1799.99. Giant Godzilla fans - here is your chance to own a limited edition Giant Godzilla worthy of the name!

THE SMURFS MOVIE - NEW FIGURES, TWO-PACKS, PLAY SET, PLUSH, MORE More Smurfs figures are on the way from Jakks. They have announced Series 1, 2, and 3 from the single figure assortments and Series 1, 2, and 3 from the two-packs, as well as an Escape from New York 2-in-1 Play Set and a Deluxe Feature Plush. In addition, we have pre-orders of the Smurfs Gift Pack Series 02 (Set and Singles), and Series 02 Case assortments of the Bean Bag Plush and Basic Plush characters. Check out all of the new pre-orders at the menu for more information.

FAITH 18" STATUE Faith from Buffy the Vampire Slayer was the bad girl to Buffy's good girl, and now is getting her own statue to go alongside Buffy's Throne. It stands 18" tall and shows the Slayer with a crossbow in one hand and a stake in the other; this statue is priced at $239.99, $10 off the MSRP.

LARA CROFT PREMIUM FORMAT FIGURE This new figure from Lara Croft and the Guardian of Light has the archeologist leaning on a carved stone with a machine gun in her hand, ponytail flying back in the wind. It measures 19" tall and is listed at $329.99, $20 off of the MSRP.

WOMEN OF MARVEL: SAVAGE SHE-HULK COMIQUETTE This 20" tall statue depicts the alternate dimensional daughter of the Hulk and Thundra. The red-haired She-Hulk wears a red outfit and is priced at $194.99, $5 off the MSRP.

BRUCE LEE FIGURES - 5", 6" Round 5 has announced new Bruce Lee figures. The 5" versions are Super Deformed and come in two versions - Bruce Lee in Jumpsuit from "Game of Death" and Bruce Lee with Scratches in "Enter the Dragon". We have them singly at $12.99 each, as a set of 2 at $23.99 and as a case of 8 (4 of each) at $89.99. The 6" figure is done in a more normal style, though slightly cartoonized, and is in his Jumpsuit from "Game of Death". This figure is priced at $13.99 singly, or $99.99 for a case of 8.

BRUCE LEE COSTUMES In addition to Round 5's announcement of figures, they have now allowed us to put up pre-orders for four different costumes representing different Bruce Lee looks. For men we have the Yellow Jumpsuit, the Black Kung Fu Outfit and the Yellow Karate Outfit, each in Regular or Plus sizes, while women can pick up the Yellow Jumpsuit Dress in Small or Medium/Large. Each costume is priced at $37.99, and we are hoping for images to arrive soon.

MARVEL CLASSIC CHARACTER SERIES Dark Horse continues their Syroco-styled series of statues with 10 newly-announced Marvel statues. Each is designed after their early appearances, and they will alternate between Marvel at large and a specific Fantastic Four sub-series. We currently have listings up for Spider-Man, the Hulk, Iron Man, Daredevil, Dr. Strange, Mr. Fantastic, the Invisible Girl, the Human Torch, the Thing and Dr. Doom. Each piece is priced at $39.99, saving you $10 off of each statue.

URBAN VINYL 7" FIGURES Funko is doing a new line of 7" figures based on Rap and Hip Hop artists called Urban Vinyl. The first wave consists of Notorious B.I.G., Tupac
Shakur, Run and DMC from Run DMC, and Chuck D and Flavor Flav from Public Enemy; each figure is listed at $13.99.

TRANSFORMERS EZ COLLECTION REAL - BOX OF 6 This new assortment of Legends-scale figures includes new paintjobs on figures like Ratchet, Optimus Prime, Megatron and more, and is listed at $51.99 for the box of 6.

DOCTOR WHO JUNK TARDIS CONSOLE SET This playset was designed by contest winner Susannah Leah, and appeared in a recent episode of the TV show as well. The set has action features to add to play value, and is listed at $44.99 with a July release date.

------------
NEW ARRIVALS
------------

D-ARTS MEGAMAN X FIGURE The D-Arts line continues with this new action figure of Megaman X. He comes with interchangeable face, hand and arm parts, as well as different buster effects. We have him listed at $39.99.

GI JOE 12" DUSTY Sideshow's latest GI Joe 12" figure is Dusty, the desert specialist. This figure comes with all manner of modern military gear and outfit parts, along with weapons. We have him listed at $119.99, $10 off of the MSRP.

1/6 SCALE JILL VALENTINE - BATTLE SUIT VERSION The classic heroine from Resident Evil is back, clad in an all-new blue and violet battle suit. She comes with alternate hands, weapons and other accessories, and we have her listed at $144.99 ($5 off the MSRP).

BRIGHTEST DAY SERIES 01 - SET, SINGLES The first assortment in the Brightest Day line will arrive in a day or so. This set of four includes Aquaman, Deadman, Green Arrow and Hawkgirl, and we have them priced at $64.99 for the set ($11 off the MSRP), or $17.99 each individually.

TRANSFORMERS VAULT HARDCOVER This new Hardcover contains a wealth of information about the cartoons, movies, figures, comics and more from the last 27 years of the Transformers franchise. It includes creator interviews, sketches, prototypes, art and more, and is listed at $31.99, $3 off the MSRP.

TRANSFORMERS WAR AXE ACCESSORY We've restocked our supply of this version of Optimus Prime's axe from the War For Cybertron video game. This version can also be used by anyone whose hand peg holes are the same size, and it is priced at $14.99.

TRANSFORMERS DARK OF THE MOON IMPORT FIGURES We've received a shipment of three of the import versions of the Dark of the Moon figures. DA-03 is Optimus Prime with MechTech Trailer, and he is listed at $97.99. We also have deluxes DA-11 Arcee and DA-08 Sideswipe, priced at $39.99 each.

MICRONAUTS SHIPMENT We've received a good-sized shipment of older Magne Power Micronaut figures. We have about 20 different figures in stock currently, priced from $5.99 to $39.99 each.

STAR WARS VINTAGE 2011 SERIES 03 SINGLES Our cases and set of this wave are already gone for now, we do have a number of singles left over. We have Sandtrooper, Jango Fett, Luke Skywalker - Endor Capture, Clone Trooper - Episode II, Clone Trooper and Boba Fett in stock, so if you're missing any of those, you can fill those holes in your collection today.

TRANSFORMERS DARK OF THE MOON HUMAN ALLIANCE BASIC SERIES 01 - SET, SINGLES This assortment includes Backfire, Thunderhead, Sandstorm and Icepick, and each of these triple-changing Transformers comes with their own human helper. We have them in stock singly at $11.99 each (except Backfire, who is sold out currently), or at $44.99 for the set of four.

MARVEL UNIVERSE 3.75" 2011 SERIES 02 - CASE, SET, SINGLES This assortment includes Cable, Cyclops, Gladiator, Apocalypse, and First Appearance Wolverine, who are available as a set for $69.99. The case adds second figures of Gladiator, Apocalypse, and First Appearance Wolverine, and also World War Hulk, Modular Armor Iron Man, Spider-Man 2099 and Spider-Woman, and is listed at $104.99. Finally, we have singles available of most of these figures, so be sure to check the menu for their prices and availability.

IRON MAN 2 COMIC FIGURES - SERIES 01, 03 SETS, SINGLES A large amount of restock Iron Man 2 figure cases have arrived. We have the set of 5 Series 01 figures (Original Iron Man, War Machine, Stealth Ops Iron Man, Crimson Dynamo and Classic Red & Yellow Armor Iron Man) available at $47.99. The Set of 6 Series 03 figures (Red & Gold Iron Man, Silver Centurion Iron Man, Classic Iron Monger, Arctic Armor Iron Man, Hulkbuster Iron Man and Modern iron Man) is also available, priced at $44.09. We also have a wide variety of Movie and Comic Iron Man 2 single figures, so check out the listings to find the ones you need.

GI JOE 2011 SERIES 01 CASE OF 12 This case includes three each of Snake Eyes Version 08, Duke Version 06, Cobra Shock Trooper Version 01 and Storm Shadow Version 06, and is currently listed at $76.49.

STAR WARS FX LIGHTSABERS A good-sized shipment of FX Lightsabers has also arrived. Mace Windu's FX Lightsaber ($99.99), Anakin's FX Lightsaber with Removable Blade ($119.99), and Obi-Wan's FX Lightsaber with Removable Blade ($119.99) are in stock now.

GHOSTBUSTERS LOGO BANK This 6" bank duplicates the sign that hangs on the Ghostbusters Headquarters and acts as a logo for the group and the franchise. It's a great place to stash your cash, and is priced at $19.99, $5 off the MSRP.

GHOSTBUSTERS MINIMATES SERIES 4 BOX SET This new assortment includes Vigo the Carpathian, the Jogger Ghost, the Titanic Ghost and a clear version of Slimer. This set is listed at $15.99, $2 off the MSRP.

BigBadToyStore.com