Living Dead Dolls Resurrection 5 Set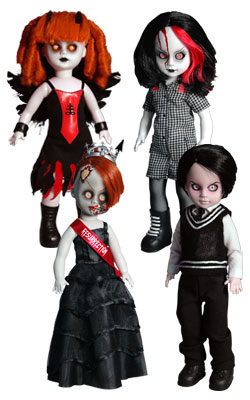 Mezco Reveals 4th Summer Exclusive: Living Dead Dolls Resurrection 5 Set

June 2011 - The Living Dead Dolls Resurrection Set returns.

This year Penny, Deadbra Ann, Damien and Inferno have been reimagined with new outfits and glass look eyes.

Each member of this limited edition comes with its own death certificate, and entombed in its own coffin.

This is a non-numbered limited edition item.

Mezco's Living Dead Dolls ressurection series is one of the fastest selling summer items produced each year.

As Fangoria reported in its May 2011 issue (#303) demand for the limited editions dolls has at times reached such a fever pitch that it has crashed both phone and internet servers.

This set will premiere at the world famous San Diego Comic Con, but is also available for pre-order at:
http://www.mezcotoyz.com/store/SearchResult.aspx?CategoryID=155